NetPayAdvance Promo Codes can get you up to a 20% discount with a few simple steps
Who doesn't like a little extra when it comes to money? At Net Pay Advance, we sweeten the deal by extending some of the best discount rates we can offer. Need a discount or Net Pay Advance discount code? Let us show you how.
Regardless of whether you are a new or existing customer, you deserve to know about our rewards program. Some of these rewards can fetch you a discount of up to 20% on your next online payday loan. How cool is that?
This piece is aimed towards informing our online payday loan customer about discounts, rewards, and everything in between.
Attention, discount shoppers: Net Pay Advance has discounts for online payday loans!
Tell me, are you a discount code snob and "full price" isn't in your vocabulary? Talk coupons, and I'll be speaking your language. Have I struck a chord now?
You know the drill. Hit checkout, then power on the discount code widgets — Honey, Rakuten, and Capital One Shopping. If none of those work, type Save20 with fingers crossed. Still nothing? Quick pop over to RetailMeNot and discover … nothing.
By now, you have caught on to the fact that you won't find a Net Pay Advance promo code on any of those deal saver sites. But customers can still access big discounts on their loans. In fact, Net Pay Advance has a program for getting up to 20% off a future loan. All customers can participate. No top-secret codes required.
Payday loan fees and pricing
Why is this discount plan so special? It's no secret there's a high cost to short-term lending. If you landed here, you get it: Every dollar counts. To help keep our costs low, we trimmed our expenses without sacrificing our standards.
Having built our business all online, we don't have to pay an overhead like other brick-and-mortar payday loan businesses. Plus, our secure verification process ensures we lend to the right people. Each helps us keep the costs of our loans down.
Hear me out. Short-term loan prices may be steep, but the benefit to these loans is twofold.
Our prices directly reflect our operating costs. Believe me, it takes a lot to make business run smoothly at the end of the day. What you pay helps us keep the lights on.
Even more importantly, the price you pay helps us help others. To keep lending, Net Pay Advance has to maintain a positive cash flow to meet the demand. If we had any less money coming in, we might not have the supply necessary to meet the demand. And that'd require us to set stricter limits on who we loan to.
We review our operations and evaluate our prices on a consistent basis. When and where we can trim our costs, we do. Because doing so helps people who need it — what we're all about.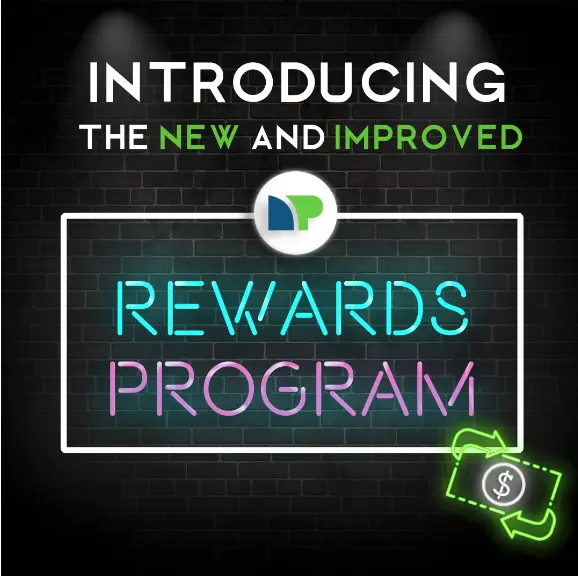 Read on to learn about our discount rewards program, and how to score up to 20% on a future payday advance loan.
Or apply to get started fast!
Net Pay Advance helps borrowers
Net Pay Advance was designed to offer single-pay payday loans, line of credit, and installment loans to those with less-than-perfect credit. Too many people are plagued by a blip on their credit score, usually the result of one bad mistake. Sometimes it's even out of their control.
Traditional lenders might look only at that number and devalue otherwise good financial behavior. Our strength is in our ability to provide loans to those who may otherwise be declined for a traditional loan or credit card.
Our philosophy is to help more people live life uninterrupted or burdened by financial stress. And we do this without unnecessary limits on who can get a payday advance. Want to know what our customers say about us? Take a look at our reviews!
Did you know that we offer several customer benefits in addition to promo codes? Learn more…
Does Net Pay Advance have a discount program?
We believe you should have the chance to easily earn discounts and cash in when you most need it.
Whether you're a savvy shopper who knows their way around a Save20 promo code, or someone looking to shave a few dollars off their next loan, Net Pay Advance has a discount program for you.
How to use NetPayAdvance promo codes for your next online payday loan
*Please note that at this time, our Net Pay Advance rewards does not integrate with our line of credit option.
How it works:
You'll start earning points from your first loan. Net Pay Advance gives you small and easy tasks that not only help your experience with us but allow you to build up points for a discount on your next online payday loan too.
To access Net Pay Advance rewards, log in to your account. Click on "Rewards."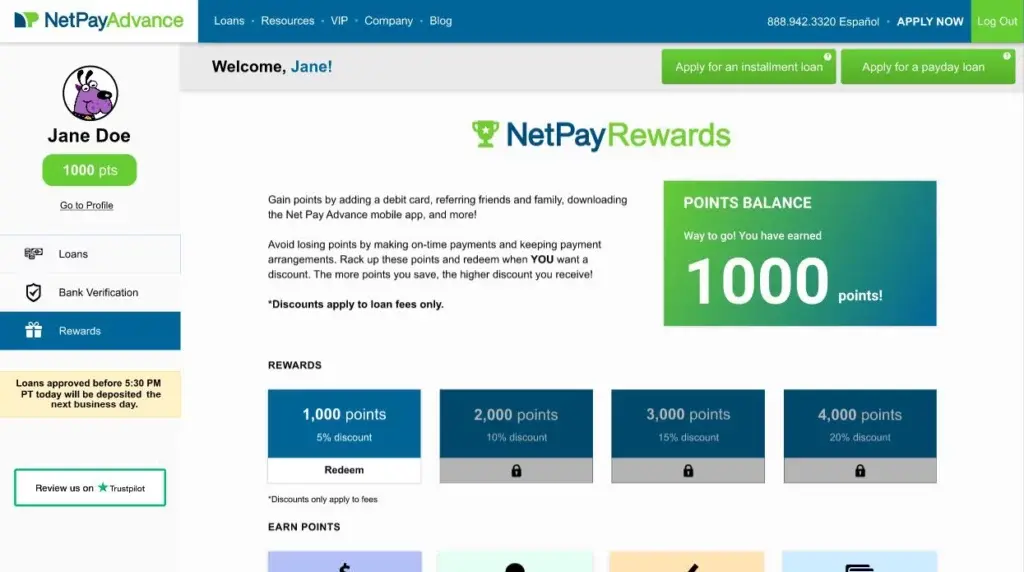 Here you can view your points bank and pending tasks to earn discounts, right this minute. Rewards start with a 5% discount for use on a standard payday loan. A 5% discount is unlocked at 1,000 points, and discounts range up to 20%.
Redeem when you like. Whether early and often, or stashed away for a big discount, you choose. Save up points to unlock a one-time discount up to 20% off.
How to earn points
Getting points is simple. Tasks include taking customer surveys, linking a debit card, and completing an on-time payment. Most of these tasks you already do or may have done. You'll receive points automatically without any extra work.
Even more opportunity? You betcha! Earn points for downloading our mobile app and opting in for email communications. Most tasks take just minutes to complete. Here's a list of all the ways you can earn points.
Earn discount points by
Opt into marketing communications, 10 points
Opt into Paydini communications, 10 points
Complete Net Promoter Survey, 25 points
Complete a new loan, 100 points
Set up a payment plan, 100 points
Add a debit card, 100 points
On time payment, 100 points
Referral submitted, 500 points
You'll receive points for being a good Net Pay Advance customer.
It's our way of saying thank you to valued customers.
The fastest way to earn points
Referrals are the easiest way to score a Net Pay Advance discount. Find your unique referral code and share links under the Rewards tab of the customer portal. Share this link, and when someone uses your referral to lend with Net Pay Advance, you'll get 500 points. And that'll put you on the fast track to a major discount on your next payday loan.
Points are automatically tallied. No need to worry about any additional work on your end. Simply earn points on eligible promotions, then decide when you'd like to cash in. It's easier to get a discount with Net Pay Advance's rewards program.
Plus, we'll help you get started!
Check out this video to find out how you can get a discount on your payday advance.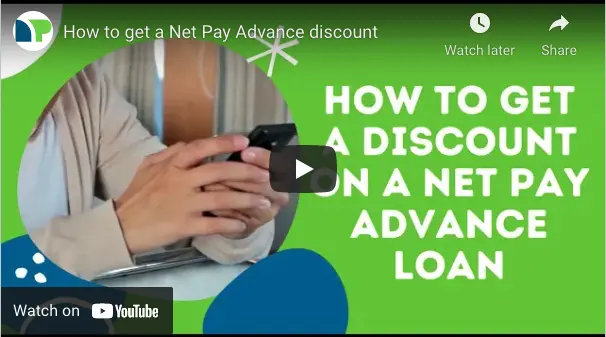 Lots of points. Lots of opportunity. One awesome rewards program.
Once you earn enough points, you'll be able to use them on a loan. You might be wondering if our rewards program applies to all of our online loans, including our installment loans and line of credit.
In the following table, you will see how the rewards program works with each of our loan types:
| | |
| --- | --- |
| Loan Type | Rewards |
| Payday | Rewards can be applied toward new payday loans |
| Installment | Rewards can be applied towards new installment loans |
| Line of Credit | Rewards program coming soon! |
Fun Fact: Rewards can be applied towards new single-pay payday loans and new installment loans (not existing ones). Rewards for new line of credit coming soon!
To learn more about our rewards program, click here.