Compliance issues?
If you are unhappy with your service at Net Pay Advance, please reach out to us. We will do our best to resolve any issues.
Our compliance department can be reached at 888-942-3320 Monday through Friday, 8:00 AM CT to 5:00 PM CT.
Limit your data sharing
To limit our sharing you can fill out and submit our Opt Out form. Updates to your sharing preferences can also be made via phone by calling 888-942-3320.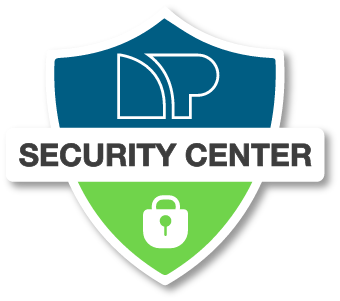 Do you think you're a victim of identity theft?
Visit our Security Center to get information on how to protect yourself.


What is a single-pay payday loan?
A single-pay payday loan is a short-term personal loan that's designed to be repaid in a single lump-sum payment. It may also be called a cash advance or traditional payday loan. The loan amounts are usually less than $500 to be used to cover a short-term financial need. This kind of loan is usually repaid when the borrower receives their next paycheck.
What is a multi-pay payday loan?
A multi-pay payday loan is designed to be repaid over multiple payments. Our installment loan and line of credit are both examples of a multi-pay payday loan. These loans may be for a couple hundred to a couple thousand dollars. With an installment loan, a borrower repays the loan in smaller payments per a defined repayment schedule. A line of credit is repaid in variable amounts. It works like a credit card where you can borrow and repay your balance.
Alternatives to taking out a payday loan
If you need to cover an emergency or essential expense, you may be considering a payday loan. Before taking out a loan, it is helpful to be aware of all your options. Here are some things to consider before taking out a payday loan.
Get financial counseling. You can find non-profit organizations who provide free financial counseling. For more information, see nfcc.org.
Borrow from family or friends. Peer lending can be complicated. However, it may be worth asking friends or family to borrow before taking out a loan.
Use a credit card. It's not ideal to take out several credit cards at once. But if you have access to a card, it may have a lower APR.
Work a side hustle. There are a few jobs that will pay you the same day you work. Others find quick cash by selling their used items.
Best practices for payday loans
When deciding to take out a payday loan, there are several best practices. These practices are designed to help customers stay out of a cycle of borrowing. For a successful payday loan experience, the following are recommended:
Borrow only what you need.
Take out a payday loan only for emergency expenses.
Call your lender if you are having problems repaying.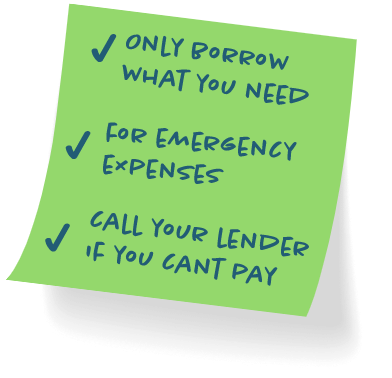 If you have repayment problems
If you have problems repaying on time, the best thing you can do is call your lender. We are here to help you and we have options to assist with repayment. However, it is difficult to assist our customers without communication. Our team is available and ready to help through call, text, email, and chat. Contact us, today.
We want to establish a repayment schedule that will work for you.
How to get a repayment plan set up
We know our customers need help sometimes. That's why we make setting up a repayment plan simple. If you need more time to repay your loan, here are the 3 ways you can set up a plan.
Online through your account. Login and follow the prompts to set up a payment plan that works with your schedule.
Follow the EZ payment link from NPA emails and SMS. You can set up a payment plan without logging into your account.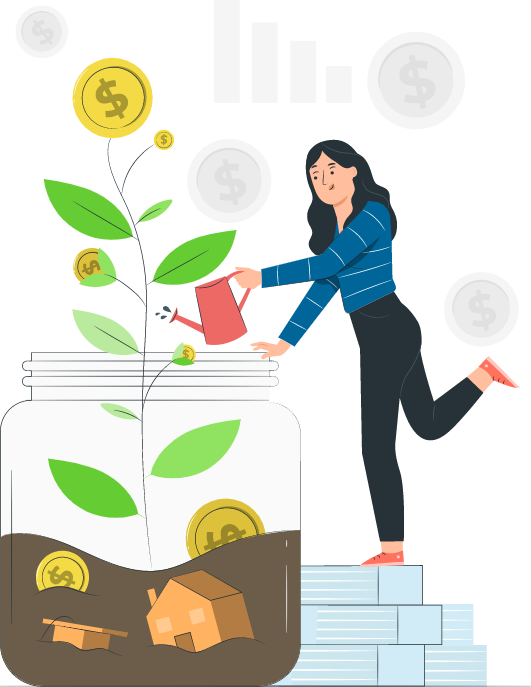 Good-sense financial tips
Avoid future money problems
Along with following best practices for payday loans, it is important to have other financial skills. Here are some ways you can help improve your financial situation.

Create a weekly budget with income and expenses

Prioritize and repay your debts

Build up a rainy day fund for emergencies
How to spot a legit loan lender
It is important to work with legitimate lenders. Illegitimate lenders may compromise your information. This can lead to scams and fraud. In order to avoid fraud, you need to ensure that a company is legitimate. Here are a few ways you can tell if you should work with a lender.

Lender has links to licenses available

Website shows phone number or support available

Website has validating trust factors
In addition to the information above you can read our privacy policy and disclosures at any time.
This information is provided for educational purposes only and should not be construed as financial or legal advice. Please consult a lawyer or financial advisor if you need these services.