Let's clear up some common misconceptions about payday loans
The fallacies are out there, circling around and bringing down the name of payday loans and lenders – when in truth, payday loans aren't as harmful as they've been made to seem. Being responsible and informed about payday loans is key. We've compiled the top five myths about payday loans to set the record straight.
Myth-busting mode on! Yes, there are a gazillion negative narratives regarding online payday loans and lenders. However, not everything you hear is factual. Don't let misleading measurements and gossip fool you.
We've been in the industry for a while – since 2007 to be exact – and every week we receive tons of positive reviews from customers who needed help before payday, and we delivered. Our services are to help those that are seeking financial relief.
There is a need for fast emergency funds, with a quick application and no hard credit check. We've all been in tight financial situations at some point in our lives and know what it's like. This is a judgement-free and educational zone for personal finance information.
So, we've taken it upon ourselves to tackle the misinformation and give you the unadulterated truth. Keep reading!
5 poplar myths surrounding payday loans and why they are just that – myths!
Ready to jump right into the myths regarding online payday loans? Become a payday loan expert by learning the truth behind these five popular myths. Let's take a look:
1. Payday loans are only for those who are struggling/poor
This is untrue.
11.6% Americans live in poverty. Yet, 75% of the population still live paycheck to paycheck. This means that three out of four Americans consistently rely on their next paycheck to make ends meet, or they don't have a stockpile of wealth sitting to the side. One late paycheck, or unexpected bill could leave their bank account in the red.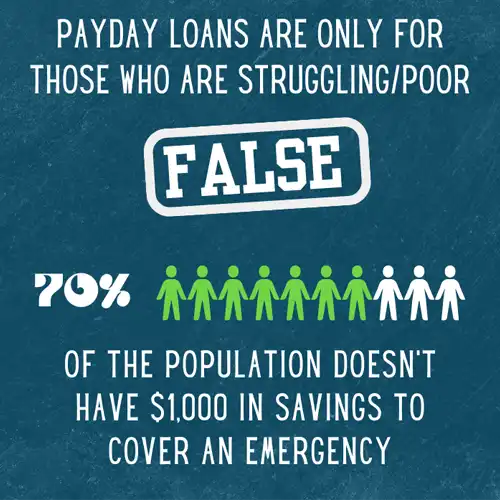 Clearly, there is a disconnect here if the narrative is that only poor and struggling people use payday loans. Numbers don't lie.
Statistically speaking, the individuals most likely to seek payday loans are full-time employed middle-class people. They simply just happen to have an emergency, or a pressing situation arise out of nowhere. In these cases, they need the funds quickly, but they don't have the money on-hand and immediately available.
Payday loan applications are easy to complete and there's no credit needed. Lenders typically require that proof of income, address, and an active bank account be given before they allow potential borrowers to loan. Payday loans are intended to be used to cover issues that arise between paychecks.
Wondering if you need a payday loan? Let's find out!
2. Payday lenders charge high interest rates to make massive profits
The truth is that payday loans are expensive to administer. Payday lenders must account for costs of defaulted loans and running a business as well. Lenders must pay bills that come with using a building and providing income to staff. It's important to remember that lenders are providing a service and it makes sense to pay a fee to use it.
Studies conducted by the Buckeye Institute have shown that the average profit margin for payday lenders is only 3.57%. Once again, actual statistics help debunk these myths.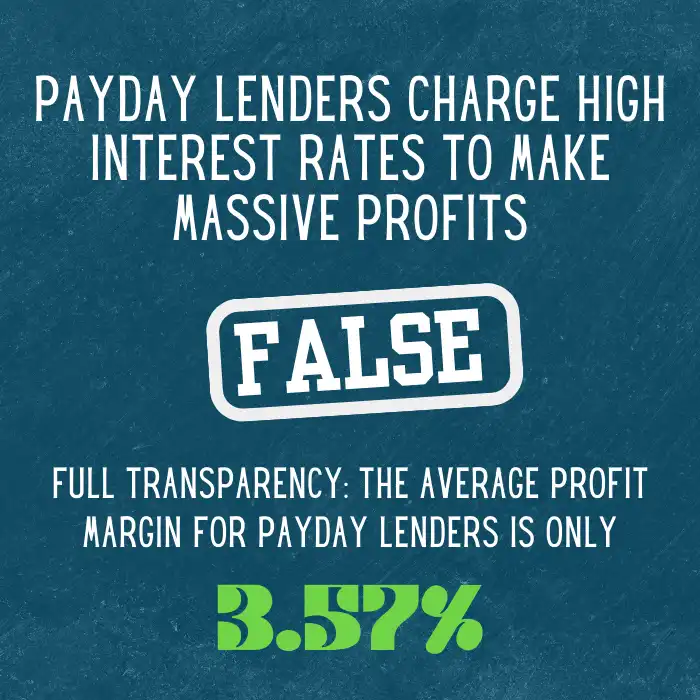 Looking for discounts and promo codes? Learn about how Net Pay Advance customers can utilize the rewards program to save.
Not only is this false, it is also illegal!
The Truth in Lending Act requires lenders by law to be upfront and forthcoming with their fees. This means the fees must be outlined in the lending agreement.
Read more information on the Truth in Lending Act and know your rights.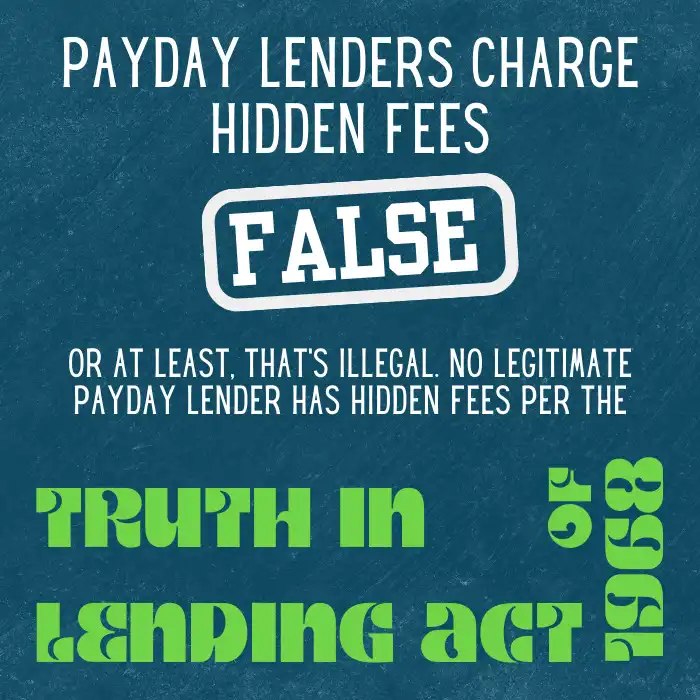 With most payday loans, there will only be a clear fee – no hidden fees or unexpected added interest. Additional fees may occur when a customer is late on payment or defaults on their loan, but all that information must be put into the loan documents.
You can see our rates and fees on our website any time! We even offer a free extension on repayment by a couple days.
No matter what company or the loan type, always make sure to thoroughly read the lending agreement. All information about the fees will be there for you to understand. If you have questions, never be afraid to ask.
4. You must have good credit to be eligible for a loan
We don't speak for other lenders but at Net Pay Advance, we strongly believe that a person's credit shouldn't impact the outcome of their loan application. That's why we offer online loans with no hard credit check.
Good people can have bad credit scores. Rich people can have bad credit scores. People good with money can have bad credit scores. Credit scores just show how you've managed credit in the past. Something as simple as not having a credit card can cause a person to have a lower score.
That's why you don't need an excellent credit score to be able to take out a payday loan. Most lenders don't even consider your credit score, meaning you could even have no credit and still be eligible for a loan.
Payday lenders are only concerned about whether you can afford to pay the loan back now – your credit history plays no part in this.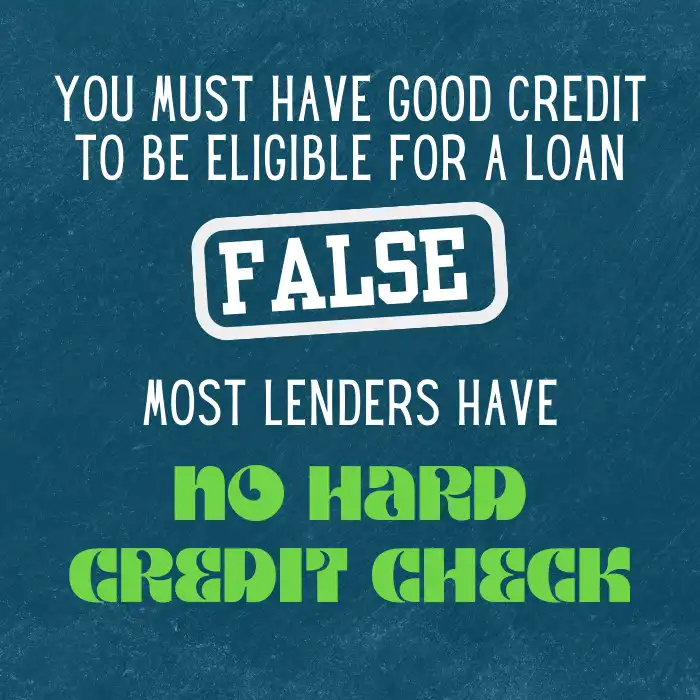 Some lenders use a soft credit check to confirm the applicant's identity. Worried that a payday loan will impact your credit score? It likely won't, but you can still read our article on credit scores and loans to see the full picture.
5. Payday loans are so expensive
Did you know in some cases, it's cheaper to use a payday loan than face an overdraft fee. Payday loan fees typically range from $10 to $30 for every $100 borrowed. Overdraft fees average about $35 per overdraft.
On top of that, overdraft fees can be applied to your bank account without notification when the overdraft occurs. That means a person could be charged multiple overdraft fees without being notified. These overdraft fees just charge an already empty account.
Ultimately, payday lenders are open and honest about their fees. Taking out a payday loan is considerably less expensive if you know you need money that you don't have. Payday loans will put funds in your bank account. This means you'll have money to cover your expenses and be able to avoid overdraft marks on your bank statement.
Of course, the more a person borrows, the more expensive their loan repayment. Some find that their payday loan is a fantastic way to save money, when compared to an overdraft fee. Others, with larger loans, may find that an overdraft fee costs less, but that it doesn't help them get access to the funds they need. It really just depends on the individual's needs and loan type.
But what about high payday loan APR?
Speaking of costs, you've likely heard that payday loans come with high APR. That is true. However, using APR to measure a payday loan is a misleading measure. APR stands for annual percentage rate. This number considers the cost of the amount financed, interest, and fees expressed as a yearly rate. We can't speak for every lender, but the average payday loan is paid off well before a year passes. Most payday loans are paid off in under six weeks.
CEI.org gives a great example of why APR isn't the right way to measure a payday loan fee. Consider, "$15 per $100 borrowed over a two-week period. Based on that, if a borrower takes out a $200 loan with a $30 finance charge for two weeks, the interest rate totals 15 percent. Yet, when that figure is annualized by multiplying it by the 26 two-week periods in a year, the APR becomes 390%, even though nothing about the loan's features has changed".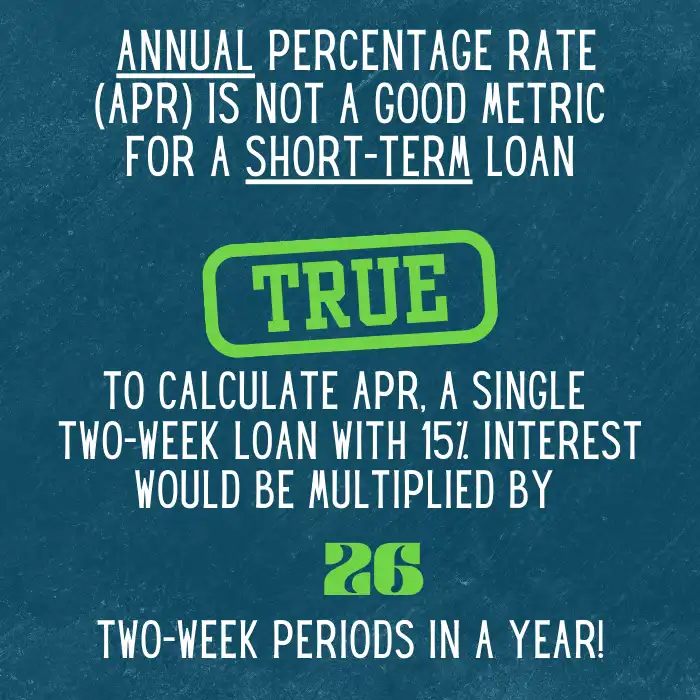 If we're considering other fees from an annual perspective, you'll find that the median interest rate of an overdraft fee would be over 4,000% APR. Wow!
Myth-busting is fun!
Payday lenders aren't built to get you – they're built to help you.
It's true you shouldn't resort to using payday loans regularly. If you have other options that are a better fit for your needs, use them.
If you find yourself considering a payday loan though, just know that using them when you really need them won't ruin your financial situation.
Instead, having the option for payday loans means that when you're in an unexpected predicament, you can rest easy knowing you can take care of the problem.
Just be smart and protect yourself from dubious lenders and payday loan scams.
Payday loans provide value to borrowers
Hope we were able to clarify your doubts regarding online payday loans. That said, if you're in a financial fix, we offer services tailored to your needs. Every situation is unique, and that calls for different types of payday loans. Your financial needs may not be the same as those of your neighbor.
At Net Pay Advance, we offer:
Explore each of the above options and determine which one is available to you and works best for your situation. These different loan options might differ in loan amount, repayment terms, extension period, etc. Compare our online loan options before you pick one for yourself.
Feel free to contact us if you have any questions, we would be happy to help you.