Do you keep getting denied for payday loans? Worry not, we'll tell you what some payday loan companies aren't.
This article explains five reasons why people may be denied for payday loans in general. If you're wondering why you might have been denied a Net Pay Advance payday loan in particular, you can jump to the section about our loans.
Have you found yourself in a bind and need some cash to cover an emergency expense? Well, you're not alone. This happens to the best of us. Most Americans wouldn't be able to cover a $400 unexpected expense! Every year, almost 12 million people get payday loans. It's okay to need a payday loan or any loan.
Loans and credit are no child's play! They are complex and can leave one confused. That's why we're here to simplify payday loan applications. One might be denied for payday loans without even realizing what they're doing wrong.
If you need cash and need it fast, the first step is exploring Five Ways to Make Fast Cash, to see if you can make some extra money quickly.
If none of those are an option or not enough to cover your unexpected expense, then it might be in your best interest to get a payday loan.
Applying for a payday loan
Step one, get online and do a quick Google search for, "how can I get cash fast online?" or "online payday loan".
Second, click on the Net Pay Advance site or another payday lender. Once you've vetted the website and can decide that they are a trustworthy lender, then you start the payday loan application process.
Application takes only minutes to complete
Payday loan applications usually can be completed within minutes. Lenders will ask you information about how to reach you, bank account information, your job and pay cycle, etc.
After the short-term loan application is completed and submitted then it will go through an "underwriting" process. There, either a person or system will review all the information on the application. Some may also pull additional industry decision tools to determine whether to loan the applicant money.
After all of this, you get the "We're sorry we are unable to approve your payday loan at this time." You're frustrated and don't understand why you were denied.
In a perfect world, every person that completes and submits a payday loan application would be approved and receive funds the same day. Yet, there are people who keep getting denied for payday loans because this is not a perfect world and there isn't (or at least to our knowledge) a payday loan company that can approve every application. No lender can truly offer payday loans online "with guaranteed approval".
Approvals and denials are just a part of the process.
A denial once doesn't mean denial forever
The good news? A denial one time doesn't mean a denial forever! Just because you got denied before, doesn't mean you'll keep getting denied for payday loans always.
Tip: If you're unsure why you were denied by Net Pay Pay advance, you're welcome to contact our customer service team to learn if it's possible for a secondary review.
Reasons for denial
One of the main reasons why someone may be denied for payday loans is simply due to systems underwriting. If the information is reviewed and doesn't meet a certain threshold then it is denied.
Underwriting, which can done by either a person or system, takes multiple factors into consideration when deciding. Here are five reasons why people might get denied for payday loans:
1. Failure to meet requirements:
Any of the following could result in automatic denial
Being under the age of 18
Not being a resident of a state where the lender is licensed 
Failing to meet other state regulatory requirements  
Be sure to check a lender's requirements so that you can decrease your chances of submitting an application just to be denied.
2. Not having an active checking account
Getting approved is great, but it wouldn't go very far if there's not some place for the lender to deposit your approved funds. In order to complete the lending transaction, some online lenders would need to deposit the approved amount to the customer. Not just any bank account works – it has to belong to the applicant. For most lenders, an open and valid checking account in the customer's name is required to deposit funds (unless the customer is eligible for instant funding to a valid debit card and instant funding is available from the lender).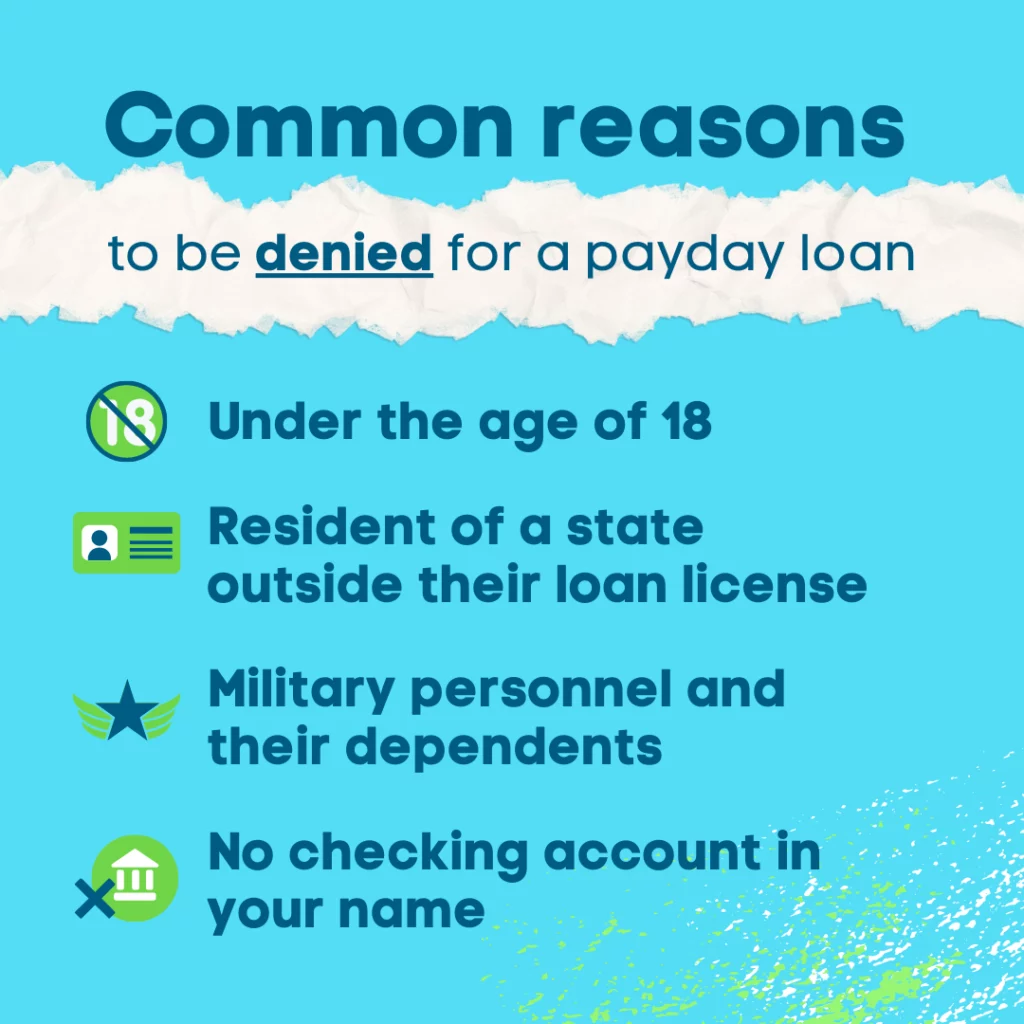 3. Lack of steady income
If an applicant doesn't have regular income, lenders may be hesitant or flat out refuse to offer a payday loan. Some lenders may have minimum income requirements too. Not only that, you might be asked to provide proof of income such as paystubs of bank statements showing direct deposits by your employer.
4. Having filed for bankruptcy in the past
There is a possibility of being denied a payday loan if you had filed for bankruptcy in the last 7 years. You might be seen as a risk by some payday lenders.
5. You frequent gambling sites'
When a lender goes over your bank statements and sees several interactions with gambling sites, it could be lead to a denial. They may presume that you're spending your money on gambling rather than paying your bills. This may make you seem like an unreliable applicant.
Every lender's underwriting system may look different. Every lender may have different requirements. The five reasons listed above are simply some of the most common reasons for application denials in the payday loan industry as a whole.
Net Pay Advance payday loans and denials
Now, if you decided to submit an application with Net Pay Advance, we'd like to reassure you of a few things. Here we'll answer a few of your loan application denial FAQs.
Is my information safe with Net Pay Advance?
Yes. We take customer data protection very seriously. We have high levels of encryption. We do not sell data to third parties.
Is there a credit requirement for a Net Pay Advance online payday loan?
If you're worried about your credit score, don't be. Your credit will remain unaffected when you apply with Net Pay Advance. We don't do hard credit checks nor consider your credit during the application. In addition, our application does not impact your credit.
Why did I receive an application decision so quickly?
Our underwriting system is all online. Our computer system is able to review your application faster, and more unbiased, than a person.
Will others know I was denied?
Your personal finances are your business! Your application status is kept confidential. Applicants will receive an instant decision after applying. The decision will be visible on the thank you screen and will be sent to the email address provided.
Can I reapply if I was denied?
You're welcome to call and see if you qualify for a secondary review.
Otherwise, we encourage you to apply again when you need funds in future. We recognize that life changes. We often have people that are denied once, have a little change in their life, and then are approved at a later time. We recommend waiting at least 60 days after your original payday loan application.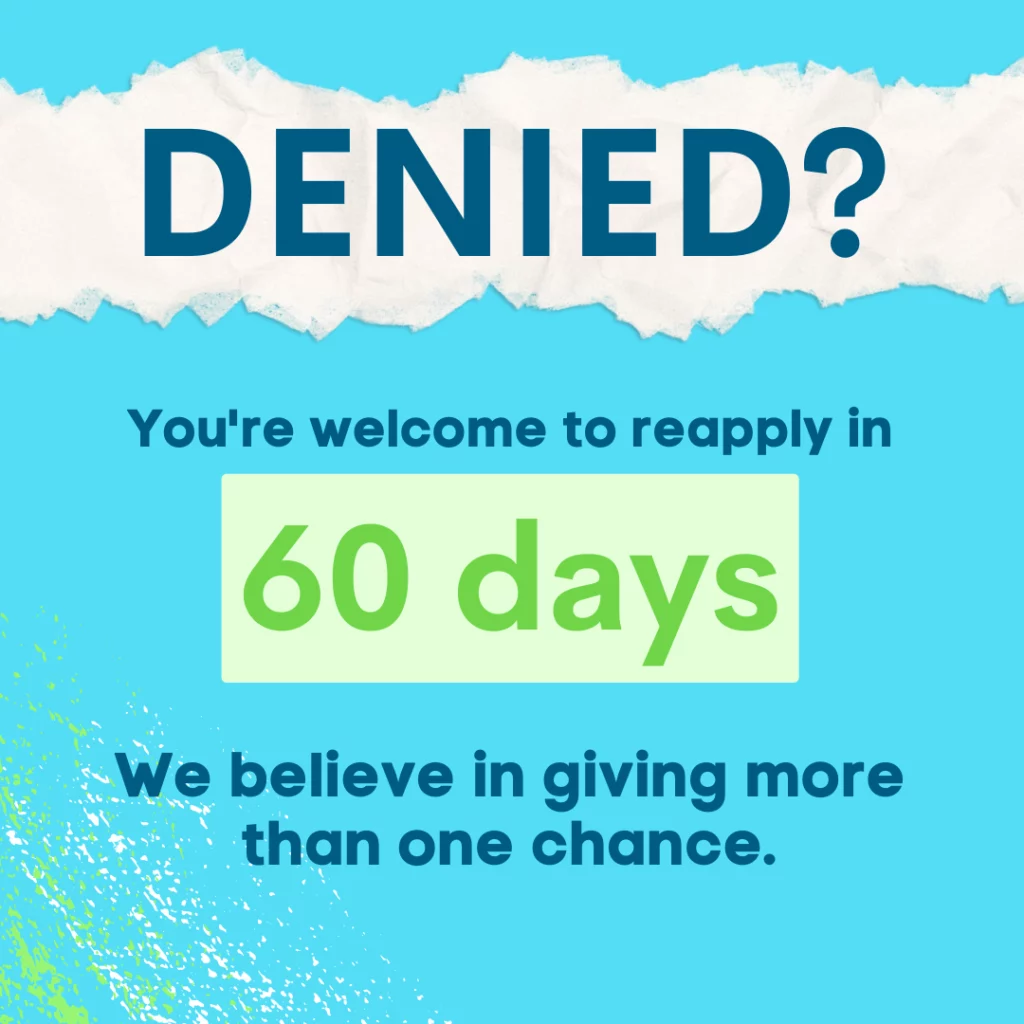 If you were denied for a payday loan, we understand your frustration. It can feel incredibly devastating when you need fast funds. Asking for help and being turned down doesn't feel very good either.
The good news though is that with most payday lenders, there are no long-term risks from denials!
Have more questions? We have more answers. Check out our online payday loans FAQs.
Being denied for a payday loan is upsetting
Sometimes, applicants wonder why they completed and signed the payday loan application in the first place, just to be denied. Again, this is part of the application process. Lenders are unable to verify your application for approval or denial until the application is completed and submitted.
Payday loan alternatives
We understand that a payday loan may not be your first choice when in a financial fix. Or perhaps you want to avoid getting turned down for a payday loan. Either way, you need to have a few alternative options to get by till your next pay day. Let's explore four payday loan alternative options:
1. Borrow from friends and family
Denied for another payday loans? Not a problem if you have friends and family to help you out.
Just remember though, the complicated thing about this option is that failure to repay could severely damage your relationships. On the other side, it won't impact your credit.
Relationships can be complex and not everyone has a rapport with their friends and family. However, if you're comfortable with the idea of asking your loved ones for help, it could in fact be a game-changer as some people might not even charge an interest!
2. Get a low-interest credit card
If you're able to get a low-interest credit card, it could help you out of some financial crisis. The APR of your card could be significantly lower than the APR of a payday loan. Be aware that most low-interest credit cards require a good or excellent credit score.
3. Try to get on a payment plan
If you owe debt, contact your creditor(s) and find out if they could put you on a payment plan. If you owe a bill, contact the service provider and find out if they could put you on a payment plan. That way, you'll pay small amounts of money each month for a certain period of time.
Most companies will be willing to work with you. Although you'll be paying more interest, it may get you out of your current situation!
4. Enquire about a Payday Alternative Loan (PAL)
Some credit unions are able to offer PALs where they charge an application fee and offer payoff periods that can go up to six months. That way, you not only get money to cover your expenses but you also get sufficient time to repay. Also, the APRs on these loans are often comparable to credit cards.
You can also check out these apps that pay instantly for possibly quicker access to cash. It could be a lifesaver when you've been denied for a payday loan and need money.
Don't let being turned down for a payday loan ruin your week
Remember that just because you were denied once, doesn't mean that you shouldn't apply again should the need help down the line. No one will keep getting denied for payday loans for all eternity if they're working on avoiding the reasons for denial.
Want the latest on money, finances, credit, payday loans, and more? We tackle day-to-day as well as complex issues and offer our two cents for our readers.
Next read: Why Do Payday Lenders Want My Debit Card Information?