Tips for booking an emergency flight ticket.
Need to take an unexpected or emergency flight? We can help with that. Here is your go-to guide on how to book emergency flight ticket at lower fares for last-minute travel. Discover how to save money on flights and find financial resources to help cover the fares.
Sometimes unexpected things happen in life. You could experience a family emergency, death, or even a much-needed journey to be with family. You might find yourself in a situation where you have to plan a last-minute trip and book flights. You might need to take off work and travel for a few days. It happens to most of us at some point in our lives. If tomorrow looks different than how you planned, we can help.
Wondering how to book emergency flights and get bereavement fares? Keep reading! 
No one can predict when they will need to travel for a tragedy. It might not be realistic to have money saved aside for travel fares and emergency flights. Who wants to think about saving money in case of a funeral! Besides, traveling is stressful as it is. Imagine the added stress when looking for flights and travelling due to an emergency. You have less time to plan, a smaller budget, and fewer opportunities to save. Along with planning your trip, you are also likely stressed about the reason you have to travel in the first place.
Family and friends aside, some of us might still opt to take impromptu trip for work emergencies. We all have reasons that might require emergency flights this year. If you need tickets for an emergency, you are not alone. Whether you are traveling for a tragedy or something fun, use this guide to save money and get the funding you need for your last-minute travel.
What airlines offer bereavement fares?
When dealing with a sudden loss, most flights would try to accommodate you but only a few airline companies have discounted fares. Also known as bereavement flights, or bereavement fares, certain airlines will offer grieving passengers flexible special rates on ticket fares. This could also apply when passengers are travelling to see a family member facing imminent death. Along with bereavement fares, flights may also offer flexible options to accommodate any needs that may arise.
Unfortunately, not every airline offers bereavement fares. We did some digging and found which airlines offer emergency bereavement fares. They are: Alaska Airlines, Air Canada, Delta, Hawaiian Airlines, and WestJet. Policies and eligibility may vary by airline.
These tickets cannot be booked online. You will have to call the airline and provide information and details about the person who passed away and their funeral arrangements.
Bereavement fare requirements
The requirements to qualify for bereavement fares include being an immediate family member such as parent, child, spouse, domestic partner, sibling etc. Some flights may consider in-laws and direct family of a domestic partner as well when offering bereavement fares.  
Also, bereavement fares could be limited within a period or window of time. Some airlines may require documentation such as a death certificate or an official note from the treating doctor.
Be sure to read the terms for each of these airlines, as they may have more detailed specifics.
Additional ways to save money on last-minute emergency flights
Emergency flights and bereavement trips usually revolve around family or close friends. There are other emergencies that may require travel. A person might need to take a tip to help a relative who is currently in a difficult situation and needs physical or financial help with the home or kids. Someone might take an emergency trip to visit a sick or dying relative.
If you do not have frequent flyer miles through an airline, you may also check in with your credit card company. Oftentimes, credit cards come with special perks. These Emergency flights might be necessary for a funeral, mental health reasons, or sometimes job-related situations etc. It could also be because someone has a once-in-a-lifetime opportunity to surprise a loved one. In certain cases, you may not qualify for bereavement fares and will need to look at other options for flights.
We have listed out a few ways that could help you score flights when bereavement flights aren't for you: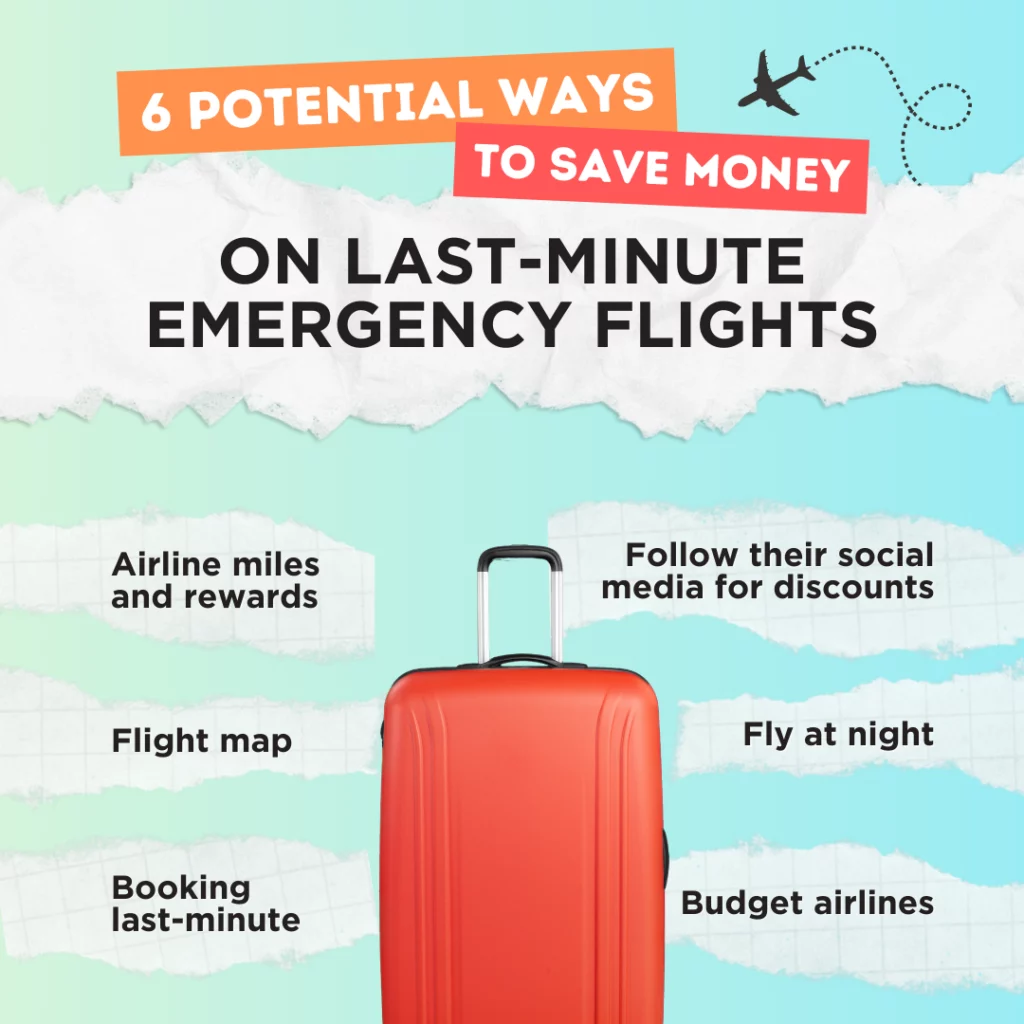 1. Use air miles and rewards
If you travel often, you might be able to cash in some frequent flyer miles. You might be surprised how much of a discount you can save on flights. Call your preferred airline to see if you have flyer miles. With most companies, you could probably check online if you prefer.
If you do not have frequent flyer miles through an airline, you may also check in with your credit card company. Oftentimes, credit cards come with special perks. These perks could include free flight miles with a specific airline company. You might have gotten them when you signed up for your card or accrued them over time. Using rewards like these could help you save hundreds, or you might even be able to fly free.
2. Use a flight map
You need to get from point A to point B. You could take a direct flight, which might be more convenient. However, that tends to come with a larger price tag. If you are flexible with your travel, you could search for cheaper trips in the area. Instead of being dropped off at your airport of choice, you could be dropped off at a different airport in a neighboring city. You might have to drive the remainder of the trip.
Along with booking last-minute flights, you might be able to find special rates if you are traveling for a funeral. Bereavement flights are discount tickets for people who Using a flight map might not be ideal and renting a car might be both timely and costly. Flight maps display several pickup and drop off points near where you want to travel. By allowing some flexibility in your schedule, flight maps can help save money!
Consider using flight maps like Kayak, Google Flights, and Skyscanner to find the best rates on affordable flights. These websites compare hundreds of options at the same time to find you the best prices! The amount you save could cover the cost of a rental car and then some.
3. Call the airline directly
Instead of flying with the big companies, consider flying with budget airlines. You might miss out on a complimentary snack and even extra leg room, but you could save It never hurts to call the airline, or even head to the airport and see what options they currently have available. If they have several passengers cancel last-minute — which happens a lot in the industry — you might be able to snag a plane ticket at much lower fares.
Unfortunately, booking at the last minute is a sign to airlines that you need to travel fast. They may charge you even more if they think you are desperate. Booking last-minute, or flying standby, is definitely a gamble. If you come to the airport without a ticket, you might leave without a flight. Flying standby might not be a good solution if you are traveling with several people. It only works in your favor if you have the ability to wait for another plane.
4. Budget airlines
Instead of flying with the big companies, consider flying with budget airlines. You might miss out on a complimentary snack and even extra leg room, but you could save decent money on fares. There are several budget brand airlines in the U.S., including Spirit, Frontier, Southwest, JetBlue, and Virgin. Not all of these airlines travel across the U.S. Destinations may be more limited with these airlines.
5. Fly at night
Only a few people want to wake up early enough to drive to the airport and board a plane at 4 A.M. Sometimes booking the first or last flight of the day can help you save money on fares. Fewer people are willing to wake up early or stay up late for flights. Those tickets often cost less than flights that take off in the middle of the day. In addition, early flights are often less crowded. If you want to avoid crowded planes right now, this might be your best bet.   
Sometimes companies share offers and discounted fares on social media and email. You can see real-time if they have any specials or offers. You never know when they will run a special. Some airlines, such as Southwest, have routine specials. You can be sure to stay up to date by signing up for email offers or following the airlines on social media.
7. Other ways to save
If you really cannot save money on ticket fares, you might want to look into business or first-class seats on last-minute flights. If a plane is about to depart, you might be surprised how much you can save on first class or business class ticket fares. Their fares might be comparable to coach ticket fares. You are not likely to save money here on the travel as a whole. However, an emergency trip is already stressful enough. If the first-class ticket prices are close enough to coach, you might as well fly comfortably.
Final note
Life is full of twists and turns and it's not uncommon to find yourself scrounging for emergency flights and bereavement fares. When tragedy strikes and you have to be with loved ones, emergency flights help make that happen. Many people rely on the support of friends and family to get through difficult times.
Just like a friend, we offer cash to help cover unexpected expenses and fares for emergency flights. Need help during difficult times? You can count on us! Learn about if our payday loan online services are right for you today!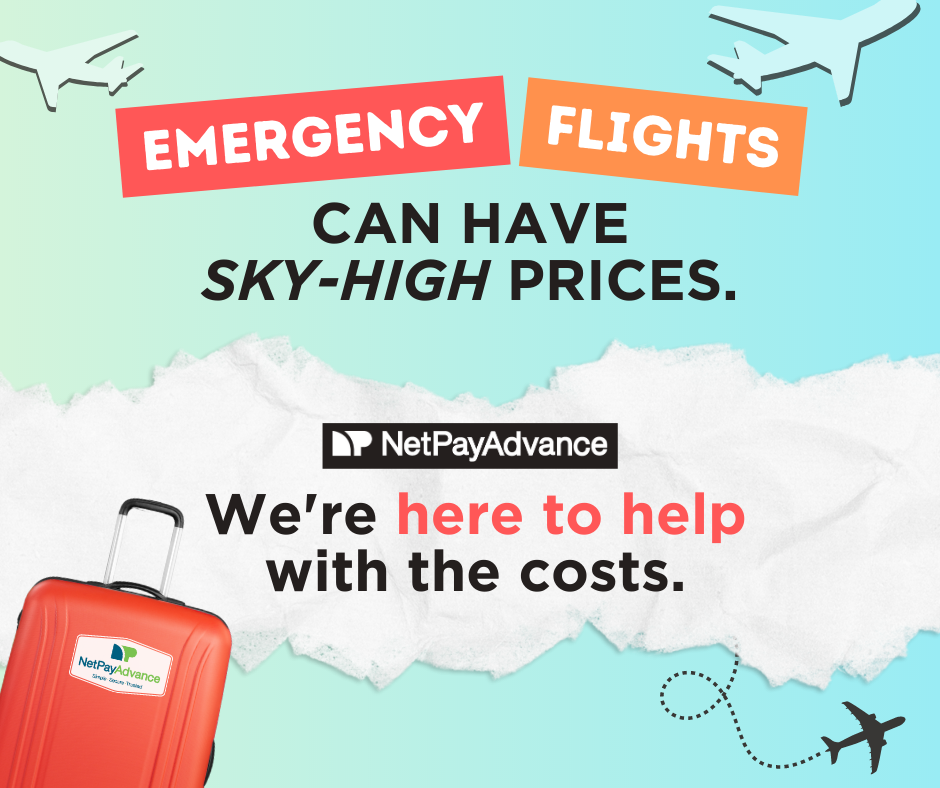 Want to save money on hotel accommodations and travel? We have a blog coming soon.