Save Time, Money, and Calories with This Easy Guide to Prepping Your Meals for the Week
Less money, less time, and less weight. Check out our meal prep ideas for weight loss. We've got 6 tips to make your meal prep better. Plus, check out our 6 guilt-free meals that can feed your family.
Meal prepping is a great way to reduce your grocery expenses during the week. It brings additional benefits beyond cutting costs though. It gives you more control of your life and helps you save time cooking during the week. Best of all, you can better control what goes into your diet, which can help you lose weight.
In this article, we split our 12 weight loss meal prep tips into two categories:
6 tips for weight loss meal prep
6 inexpensive meal prep recipes for weight loss
There are a lot of diet plans out there. But they often require expensive ingredients like fresh fish, whey proteins, quinoa, and more. Those foods are great! But when you're feeding an entire family, you want meals that are good for your health and your budget.
In this article, we're focusing on weight loss meal prep ideas that work with any budget. (In fact, we'll show you how to cook 24 healthy meals for under $85 later in this article). To help, we talked to two experts.
Meet Mai: your new fitness expert! Mai is a nutrition coach, Certified USA powerlifting coach, personal trainer, and gym owner. In addition, she's an RN USS national records holder. Mai started her fitness journey in 2014. Today, she spends a lot of time at her gym, Top Crop Barbell in Wichita, Kansas. She'll be sharing her weight loss meal prep tips!
Meet Renee. She's a master at meal planning and saving money. She spends about $65 a week on food. This includes $15 for going out to eat and $50 for groceries. She finds that she's still able to get plenty of fruits, vegetables, and protein into her diet. She'll be sharing her budget-friendly meal prep tips!
These two experts have teamed up to provide you with information to help you meal prep so that you can lose weight, save money, and save time.
6 tips for affordable meal prep ideas for weight loss
1. Set aside time to prep and keep it simple
Want to stay on track with your meal prep? Set aside the time each week to prepare. If you don't plan out when you are going to meal prep, you will keep pushing it back and it will never get done. Keep yourself accountable.
"I suggest setting aside time on a Sunday," explains Renee, "My food stays fresher longer through the week." Meal prepping on Sunday allows you to have all your meals prepped for the week ahead of time. Renee finds that a Sunday afternoon meal prep is fun. Since she has the afternoon to herself, she's able to play music or watch TV while she's in the kitchen. It doesn't feel like a chore.
Meal prep is supposed to make your life easier. So, pick easy recipes (like the ones we have further down on the page). The more you complicate a recipe, the more time and groceries needed to prepare. Keep cooking simple. Stick to the basics to keep your time and cost down!
Don't forget that you only have to meal prep as much as you want to. You can completely prep all of your meals, or you can prep your meats and veggies, then cook the rest on weeknights.
Mai shares the most important thing she's learned about nutrition and weight loss. "The best [weight loss] plan is the plan that you can commit to," Mai says, "A 100% buy-in is required for success."
Keep the process simple for yourself, but don't be afraid to ask for help either. Is there a reason your kids or partner can't help prep? You shouldn't have to meal prep solo. Keep the family entertained by getting them to participate, too. Ask young kids to help wash fruits or vegetables. Learning how to peel vegetables is a valuable life skill that can be taught to older kids.
2. Plan your grocery list and buy in bulk
Once you have your schedule done of when you plan on preparing your meals, you can make your grocery list. A list will help you cut back on impulse purchases your diet and wallet are likely to regret.
Not sure where to start your meal prep list? Make note of what's expiring in your refrigerator first. There's no sense in letting good food go to waste. What meals can you make with it, or what sides would pair nicely with it? It's a good place to start.
Next, determine which items you can buy in bulk that will save you money. Save money by purchasing those items at SAMs Club, Costco, etc. No membership? No problem. Here's how to shop at Sam's without a membership. Buying items in bulk may seem like you are buying too much food, but if it is an item you use often, then the purchase is worth it. Items like rice, beans, oats, spices, and condiments can all be bought in bulk without worrying about them going to waste.
You can buy perishable goods in bulk too if you plan right. Choose several meals that have similar ingredients. Mai explains her process, "I usually prep big batches of lean proteins, clean carbs and veggies. I store them in big containers. Then, I mix and match them for my meals throughout the week."
Renee agrees that this is a good meal prep plan. "Buy in bulk and use everything. You'll save a lot of money. I can't eat 3 pounds of sweet potatoes in a night. But I can buy the cheaper 3-pound bag and incorporate it into many of my meals the next two weeks."
Keep reading, and you'll see that our suggested recipes have a lot of similar ingredients: chicken, sweet potato, black beans, onion, bell pepper, and more.
Don't forget! So long as the date is still good, leftovers or extra ingredients can be incorporated into a recipe at the start of next week. It will set you up for a second week of meal prep.
3. Do it yourself
This one may seem slightly silly, but I think we can all admit sometimes we choose convenience over affordability. So, this time we are choosing affordability when it comes to meal prep. You don't need to spend the extra dollar to buy precut vegetables. Instead of buying a pre-made salad dressing, choose to dress your salad with lemon juice or oil and vinegar.
The shortcut to the end goal may seem like a nice track. However, going the long way and doing it all yourself can save big bucks. Cut out the prepackaged items!
"Be careful to look at details when you meal prep," warns Renee, "I saw two matching packages of tofu. Same size and price. Only one was pre-cut and the other wasn't. I looked at the small print and realized the cut block contained half as much tofu as the other package! I grabbed the uncut block. Cutting tofu is worth saving half the expense."
4. Keep yourself healthy and happy
The secret to weight loss is a caloric deficit. Mai clarifies, "At the end of the day it's calories in and calories out." The best way to get there is through a combination of eating healthy and exercising regularly.
Mai goes on further to layout the macronutrients your body needs in order to function optimally:
Carbohydrates
Protein
Fat
She explains that contrary to popular belief, there's no default ratio for these macronutrients. Instead, she shares this piece of advice: "The basic recommendation for weight loss is .8g-1g of protein per pound of lean body mass, .25g-.4 g of fat per pound of body weight, and the rest of the day's calories can are allotted for carbs." This is a good starting point. You can adjust those numbers to meet your goal. If you want specifics for your weight and size, using a macronutrient calculator may help.
Once you set your goal, aim for it with each of your meal prep plans.
Being conscious of what you eat takes work. But it can and should be an enjoyable experience, too. Yet 40% of people are most concerned about having a good variety of food when it comes to meal prep.
Our #2 meal prep tip was to buy in bulk, then mix and match. But take that advice with a grain of salt…literally.
"I mix and match [my proteins, carbs, and veggies] for meals throughout the week. Seasonings are essential though because they give you variety and keep your taste buds happy," Mai recommends. Nothing is worse than bland food. Spices give flavor to the food you cook. Best of all, if you're eating the same ingredients day after day, you can make them entirely new meals with the use of spices. Different spices can transport your tastebud from one country to another.
Last but not least, have a cheat day. Set aside one day of the week that's open for leftovers or cheap takeout. Life happens. An unexpected work shift or soccer practice can surprise you. Sometimes our plans go down the drain—our meal prep and weight loss plans, too. Schedule one cheat day for yourself a week. "Just hold yourself to it. If you use two cheat days in one week, then the following week, know that you don't get any cheat day," Renee shares.
5. Use more affordable alternative proteins
You need protein in your diet. But meat is expensive these days. The good news is there are many cheap protein alternatives to include in your meal prep. Consider these other foods rich with protein:
Peanut butter – $3/16 ounces
Eggs – $3/18 eggs
Black beans or lentils – $1.30/pound
Edamame – $2/12 ounces
Canned tuna/chicken/salmon/sardines – $1/5 ounces
Greek Yogurt – $5/24 ounces
Seeds: sunflower, pumpkin, sesame – $3/pound
Cottage cheese – $3/16 ounces
Oats – $2/18 ounces
Milk – $4/gallon
It's great to meal prep and include little snacks for yourself throughout the week. Here are a few guilt-free ideas for sides or snacks:
Celery or apples and peanut butter
Hardboiled eggs
Crackers and canned tuna
Greek yogurt with granola, fruit, and honey
Spicy sunflower seeds
6. Extend your meals when you do go out
You can meal prep with restaurant foods. Restaurants are notorious for proving 2-3 servings.
That's a lot of calories for one meal! Use it to your advantage.
If you want to lose weight, eat half the portion at the restaurant and get a box to take home the other half. It's a free meal prep. Better yet, see if you can split up your leftovers into several meals. Use your leftovers as a side and pair with a different entre. Alternatively, add ingredients to bulk up your leftover to last longer.
Renee shares her favorite hack: "Once a month I get my favorite pad thai meal for $15. I split it into 4 small servings, then add chicken, tofu, veggies, and egg. It's easy to microwave the leftovers and add fresh ingredients. It makes it taste fresher, longer."
You can still enjoy going out to eat whether you're losing weight or trying to spend less. Most importantly, you'll want to meal prep food that tastes good.
6 inexpensive meal prep recipes for weight loss
Celery and peanut butter only get you so far. When you have prepped meals you're excited for, you're more likely to stick with your diet.
Below, we have six meal prep recipes for you to try. Within each recipe, you'll see how many calories one serving has. You'll also see how much it costs to make that meal for a family of four. All of our recipes are under $14.
In fact, you could buy all the ingredients needed for these meal prep recipes for $80.31 total, and you'll still have food leftover.
You can prep these meals in their entirety for the ultimate ease. Or you can prep just the highlighted pieces, to keep your meals feeling fresh throughout the week.
Stuffed Sweet Potato and Hummus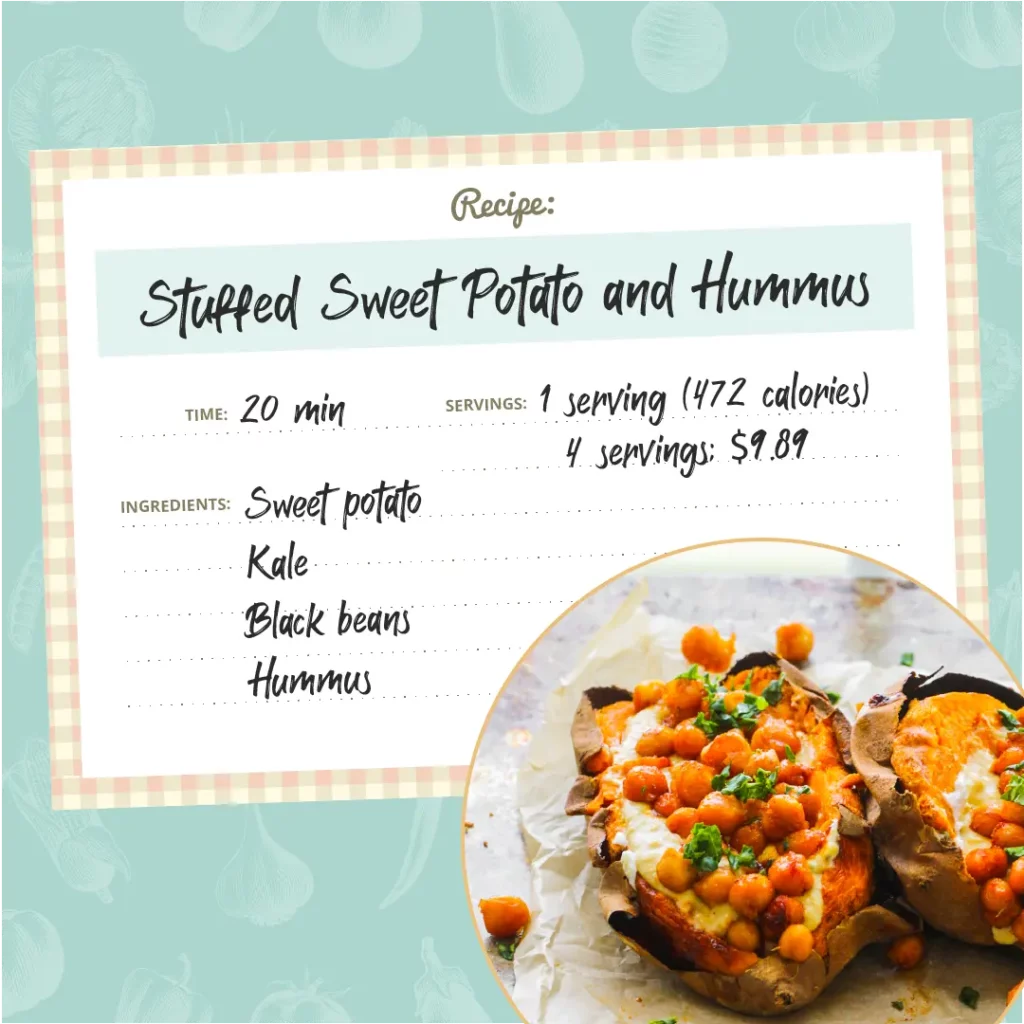 1 serving has 472 calories
Steps:
Thoroughly cook 1 sweet potato 
Sauté ¾ cup chopped kale 
Cook 1 cup canned black beans 
Mix ¼ cup hummus and 2 tbsp water together
Top sweet potato with kale, black beans, & hummus mixture
4 servings: $9.89
Chicken and Sweet Potato Tacos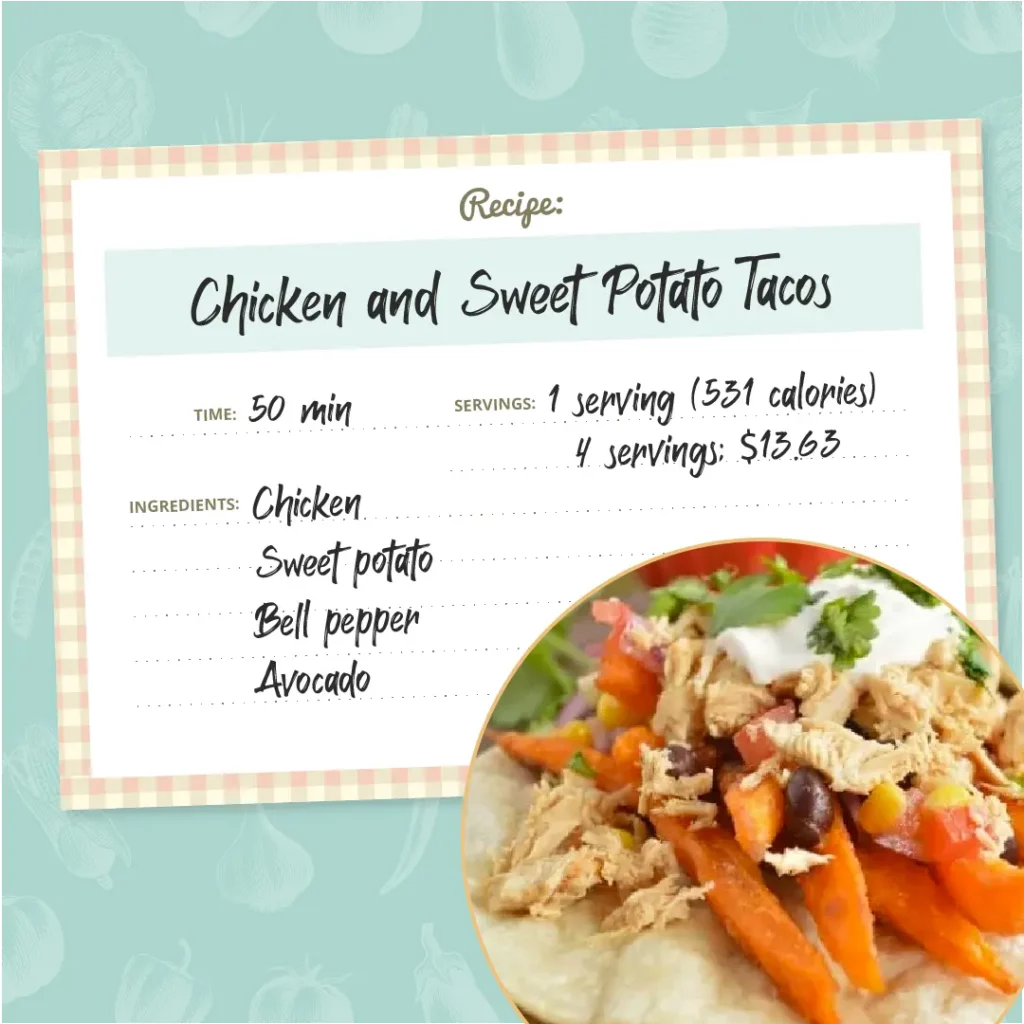 1 serving has 531 calories
Steps:
Place ¼ lbs. shredded chicken, 1 chopped sweet potato, ½ diced onion, ½ diced bell pepper, & 2 tbsp of shredded cheddar cheese into a sheet of foil  
Drizzle with olive oil, salt, and pepper, and seal the foil packet  
Bake at 400 degrees for 40 minutes  
Split the contents of the foil on top of 2 corn tortillas
Top with ¼ avocado and 2 tbsp salsa
4 servings: $13.63
Black Bean Tostadas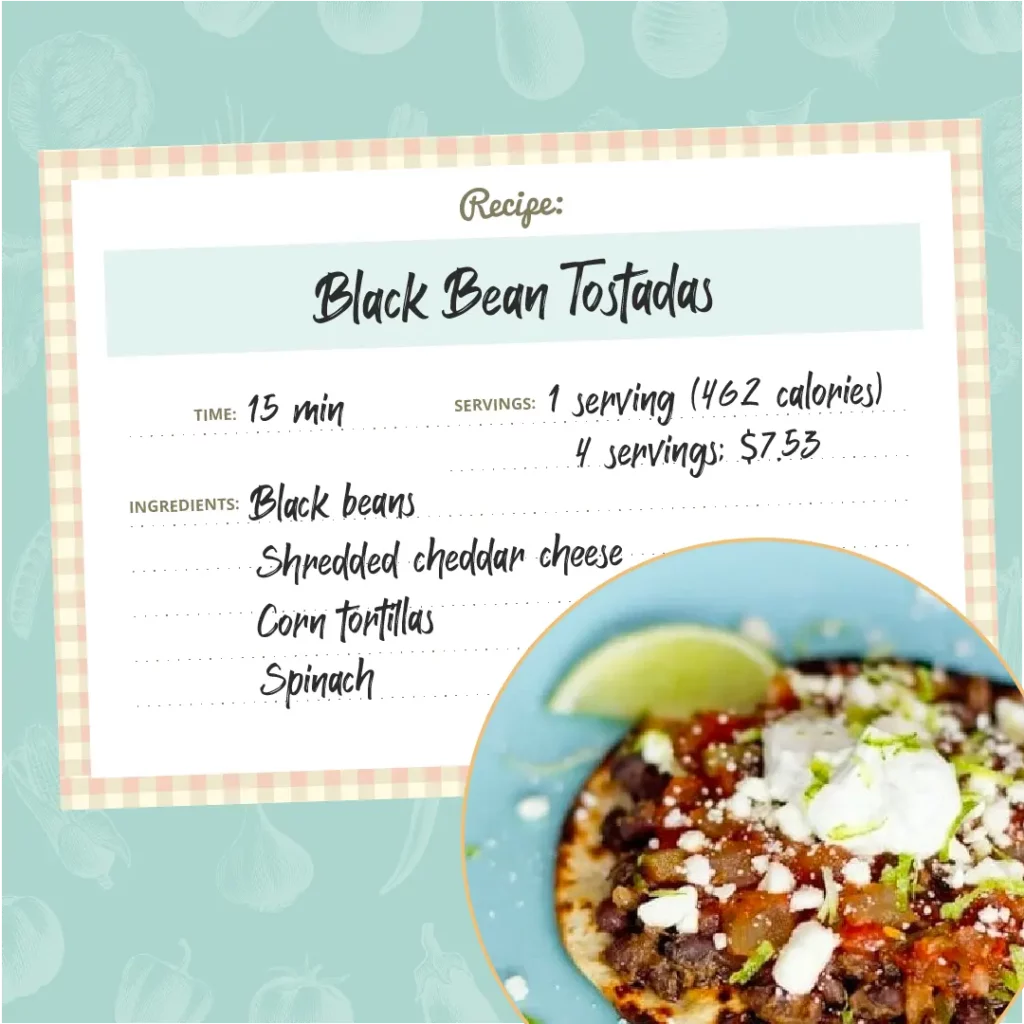 1 serving has 462 calories
Steps:
Prep a pan for a toaster-oven
Split a ½ cup canned black beans and 2 tbsp shredded cheddar cheese on top of 2 corn tortillas
Toast the tortillas, beans, and cheese until cheese is melted – about 7.5 Minutes
Make salad that consists of 2 cups spinach, 2 tsp of lime juice and 1 tbsp of extra-virgin olive oil
Top with ¼ avocado and 2 tbsp salsa
4 servings: $7.53
Recipe modified from one on Eating Well
Chicken and Steamed Veggies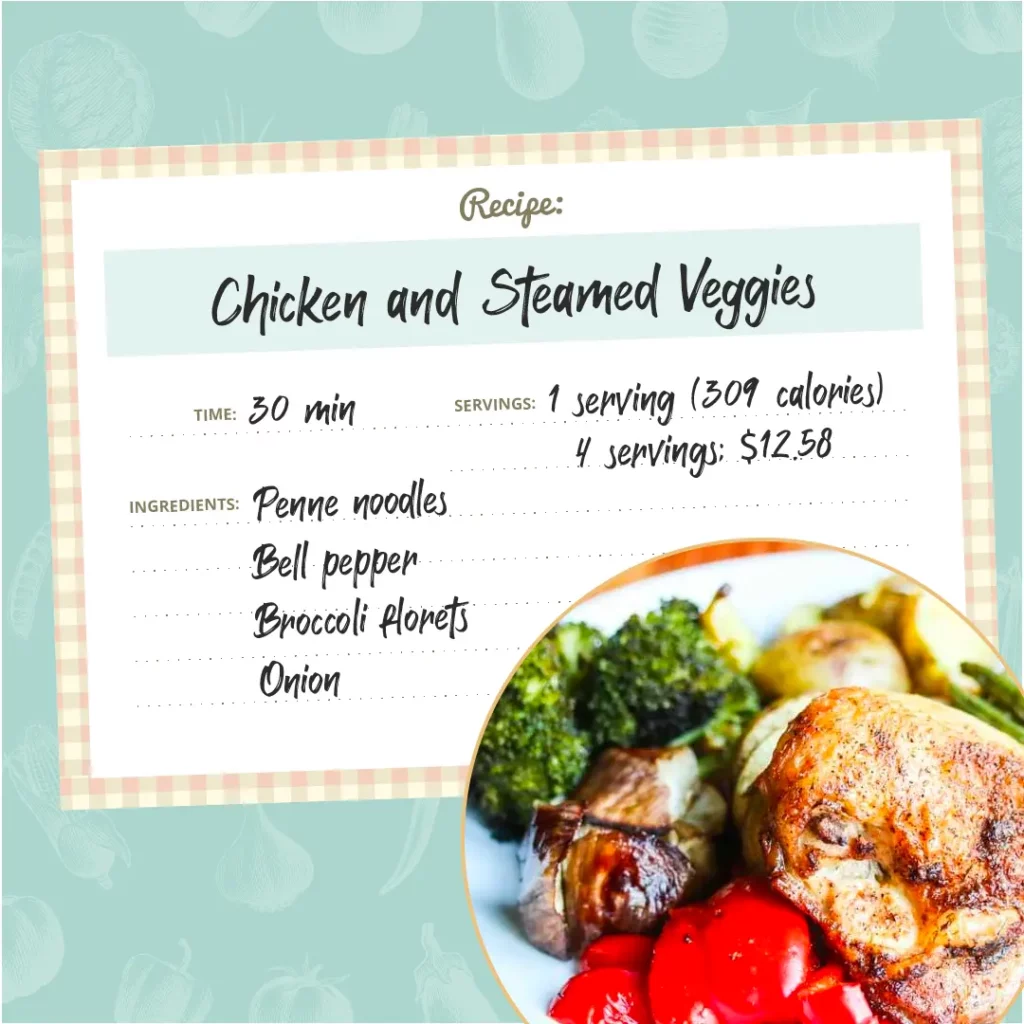 1 serving has 309 calories
Steps:
Boil 1/8 box of whole wheat penne noodles until tender
Sauté 1/4 lbs. of cubed chicken, ½ diced onion, ½ diced bell pepper, & 1 tbsp chopped garlic in a skillet with 1 tablespoon olive oil for about 10 minutes  
Steam 1 cup of broccoli florets 
Combine warm ingredients together and top with 1 chopped green onion & 1 tbsp chili garlic paste
4 servings: $12.58
Not So Instant Ramen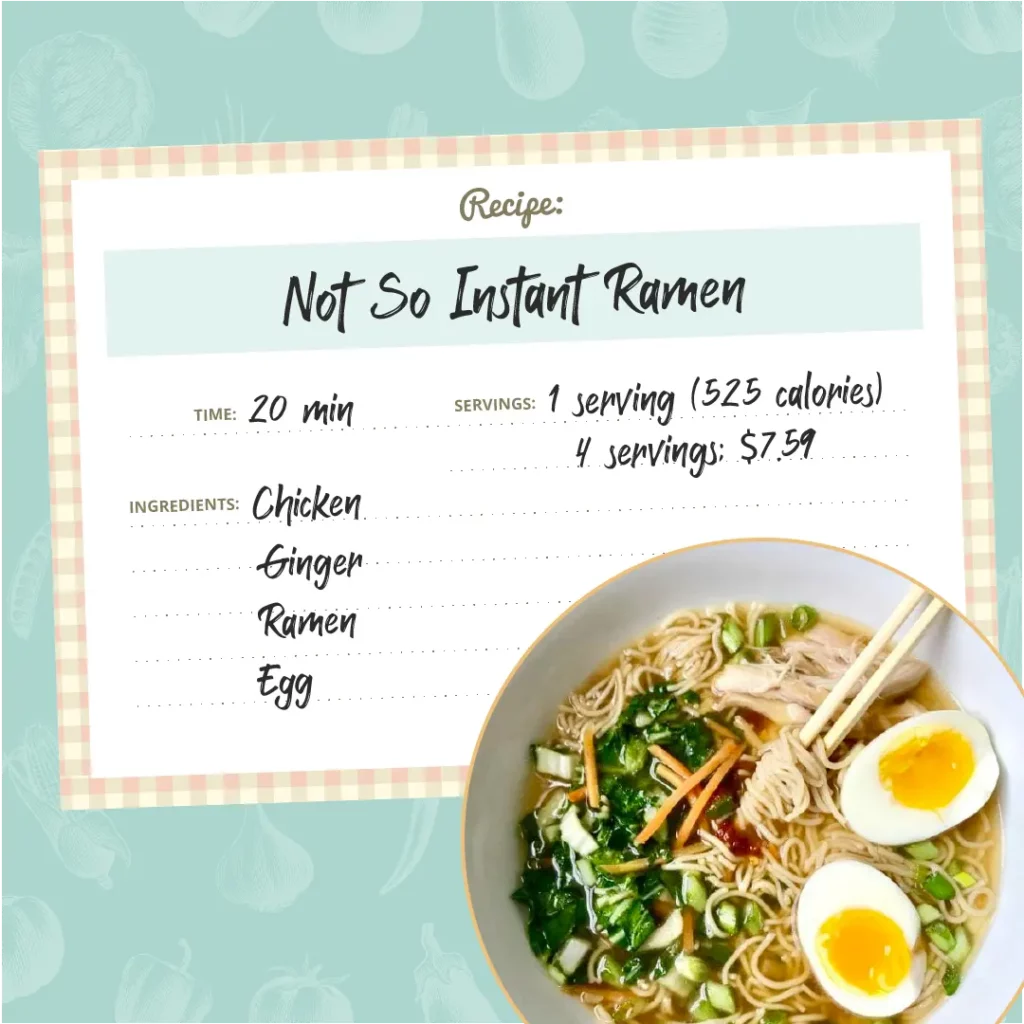 1 serving has 525 calories
Steps:
Add ¼ lbs. cubed chicken, 1 tbsp chopped garlic, ¼ diced bell pepper, 1 tbsp ground ginger & 1 tbsp olive oil to a skillet and sauté for about 10 minutes  
Prep a single-serving bag of ramen noodles
Add ¼ the seasoning packet and throw away the rest
Add ½ cup spinach
Soft boil 1 egg
Combine ingredients together and top with 1 chopped green onion & 1 tbsp chili garlic paste
4 servings: $7.59
This is Renee's favorite weight loss meal prep recipe.
Penne Pasta with Chicken and Spinach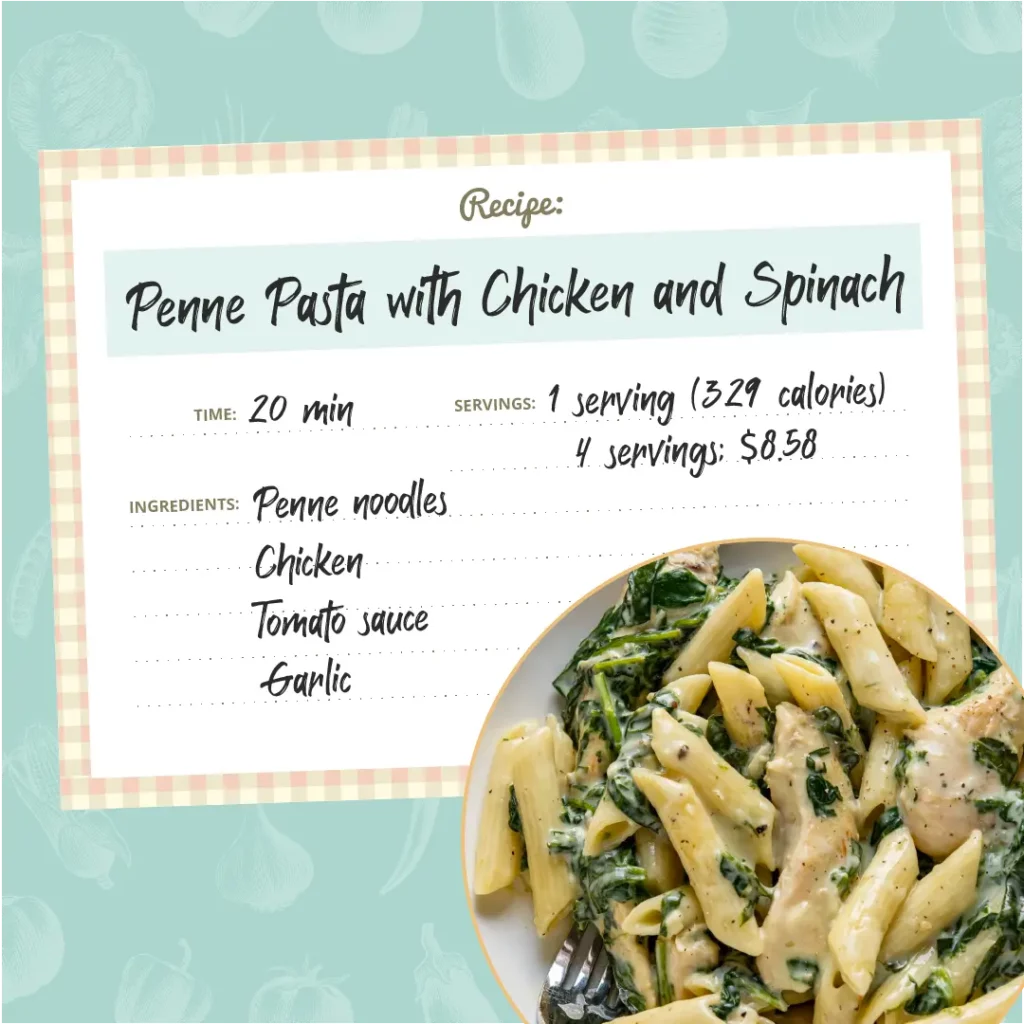 1 serving has 329 calories
Steps:
Boil 1/8 box of whole wheat penne noodles until tender
Add  ¼ diced onion. ¼ lbs. cubed chicken, ½ cup cubed tomatoes, 1 tbsp garlic to a pan with 1 tbsp olive oil for about 10  minutes 
Lower heat and add ½ cup spinach and 1/8 jar pasta sauce   
Combine with the pasta
4 servings: $8.58
Modified from recipe in this video
For more grocery, weight loss, and meal prep tips check out these articles: