Need info on how to start a savings account? We've got the scoop!
Considering a savings account but unsure where to start? Follow our steps on how to open a savings account and start your journey towards your savings goals.
Everyone including you wants their money to be safe. No wonder pirates bury their treasures. In the modern world, your "treasure" might not be precious stones and metals. And you use cold hard cash or credit cards to get by. Money is what moves your world and everything in it. You pay in cash or credit to avail necessities, utilities, and services. This makes money vital to your survival. Burying it like treasure isn't the best way to keep it safe. There are plenty of natural and man-made factors that could find your treasure. Currency depreciates over time due to increase in costs of living!
One way to keep your money safe and make it grow is by starting a savings account. You earn interest on your savings which adds to your total amount. Whether you're trying to set money aside for unforeseen expenses or to pay for that beach vacation you've always wanted, savings accounts are here to make finances easy and simple.
Almost all banks and credit unions offer savings account options. Now the question is: Do you have a good bank? We can help you find out if you're looking for a new bank or contemplating switching from your current one.
If you're wondering how to start a savings account, we invite you to explore our list of tasks below: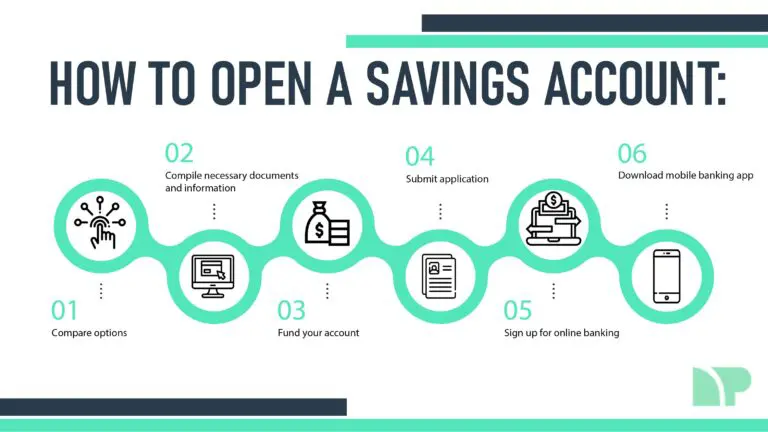 1. Compare options
Sometimes, it is easier to open a savings account at a bank where you already have a checking account. It could also help avoid overdraft fees when you stay with your current bank. But we would still recommend doing some research on whether your bank is offering you a competitive rate. You need to analyze factors like interest rate, minimum balance, monthly fees etc. It is important to compare savings account options so that you can get the best deals for your dollar. These factors will help you narrow down your list of choices and pick one bank.
2. Get necessary documents and information
Make sure to have all important documents when setting up a savings account. This is because banks require information about you to process an application. Documents such as driver's license, government-issued ID, passport etc. help confirm your identity. Other details like social security number, proof of address, date of birth etc. help ascertain eligibility. Some banks accept Individual Taxpayer Identification Number (ITIN) if one doesn't have a social security number. So, gather all your documents and keep your information handy.
3. Fund your account
Savings accounts require an initial deposit when they're set up. Some banks have a minimum deposit requirement. You can use cash or check if applying in-person. If applying online, you can transfer funds using routing from an existing bank account. There are banks that let you mail them a check. Wire transfer is another way to send funds. Many of us find it challenging to set aside money when the world is full of spending avenues. A remedy to curb this issue is to set up automatic transfers from your checking account. It automatically transfers a certain amount from your checking to your savings every set period. This invariably helps you save better and get closer to your savings goals.
4. Submit application
Once you have filled out the application, added supporting documents, and agreed to the terms and conditions, the final step is to submit your application. It usually doesn't take too long to set up your account. It could take a few days for the bank to verify your information. You gain access and can carry out transactions once you're approved.
5. Sign up for online banking
We know that there are people who prefer the traditional way of things and that's okay. But the world today is more digital than ever. The global pandemic made us appreciate technology more than usual. We were able to conduct online transactions from home among other things. Most banks and credit unions offer online banking. You can check your balance, transfer funds, and manage your account even from your couch.
6. Download mobile banking app
A quick and easy way to keep track of your accounts on the go is to download the mobile banking app. It lets you view your account and deposit checks from the convenience of your smartphone. You can manage your settings to activate updates and reminders. Apps are the new way to avoid hassle and stay on top of things. Some even have features that help you budget and offer feedback on how to save better.
Savings accounts are beneficial
Savings accounts are terrific for those that want to set aside extra cash for emergency or other reasons. We recommend doing a little bit of digging and to consider national as well as local banks. If you have a hard time saving, we suggest expense tracking tools to estimate how much you could potentially save after expenses. Several users have benefited from using tools and have been able to be more financially responsible.
We hope our list of actionable takeaways prove to be useful. Saving is a smart move for everyone. It allows you to have a little bit of wiggle-room when life gets in the way. And it is a major help when you're saving towards the down payment for a house. Opening a savings account is an easy way to manage your savings. Make sure to read the fine print before committing to a bank. A pro tip is to confirm how the interest is compounded. The best option is one that does it daily.
There are times when things don't go as planned. As discouraging as it sounds, it is always wise to have a plan B. There is always the possibility that a bank may not approve an application. This certainly isn't the end of the world. If you find yourself without a savings account for whatever reason, consider alternatives that are available to you.
Opening a savings account FAQ
What do you need to open a savings account?
You'll need a government-issued ID (like your driver's license), social security number, proof of address, date of birth, and an email address to open a savings account.
How to open a savings account online?
Start by filing out the online application. You'll still need the same documents from above. Once you've added in your personal information, you'll need to transfer money over to fund the account. From there, you can set up your login credentials and account profile.
What is the first step of opening a savings account?
Before you start anything else, you'll want to compare your options. Banks have many different features and benefits to take advantage of. They may also have price differences on things like minimum requirements, monthly fees, transfer fees, and more. Identify the features and benefits that are important to you, can compare them with the ones banks offer you. That will help you narrow down your list of choices and pick one bank.
Can I open just a savings account?
Yes. You don't have to have a checking account just to open a savings account. It can make the transfer process easier, but it's not necessary. Sometimes having a savings account that isn't tied to a checking account can actually be better. It can help decrease temptation of spending your saved finances.