Why does my payday loan application need verification?
So, you applied for a payday loan with Net Pay Advance, and you were informed that your application needs verification. Let's talk about what payday loan application verification is, why it happens, and what to expect.
If you've used Net Pay Advance services, you know how the process works. 1) Submit an application online. 2) Get an instant payday loan decision. 3) If approved, get fast funds direct deposited to your bank account.
We try to keep our application process transparent. We provide information to answer questions our customers might face:
Normally, once a customer submits their application, they get an instant decision. Typically, it can be one of two responses: "approved" or "denied." On rare – and we can't express this enough – rare occasions, an applicant might get a third response. They might be informed their application needs verification.
It's not a no. It's not a yes. The application is sitting in limbo.
We believe in transparency. So, we're going to talk about verifying an application and:
What is payday loan application verification?
Speed in a loan is important. We know that when customers are in a bind, they need a quick decision. That allows them to either get the funds they need or move on to another lender. Because of that, we use a computer system. Our computer system reviews applications and returns an application decision within seconds. Our customers love the speed of our payday loan application decisions.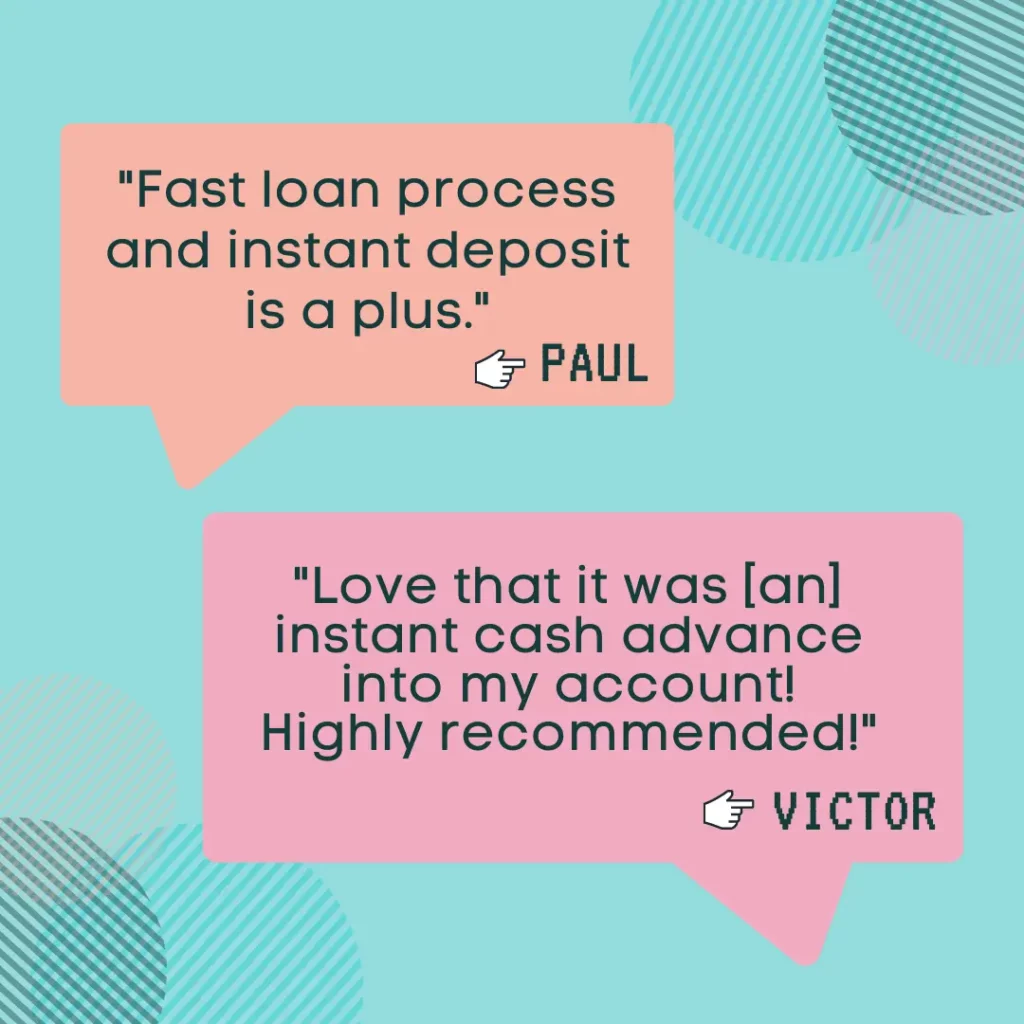 Every now and then, something funny happens. On occasion, our computer system reviews an application and can't determine if it should be approved or denied.
The system needs help sometimes. It needs one of our human teammates to manually review the application.
Change Control Manager, Jamie, works closely with our customer service team. She explains it best: "Sometimes an application is close to the line between approved and denied. It's so close that the computer system can't make up its mind. When that happens, one of our teammates will review the application."
We asked her why that happens.
She clarified that our team tries to help as many people as we can. Ultimately, this is better than "just denying [the application] and losing a good customer." A human verification is another chance for approval.
At Net Pay Advance, we're all about second chances. We know sometimes life happens, and people just need one lender to trust them. We see it every day. Some of us have even experienced it firsthand. We really do understand.
Our verification process allows us to approve more people that would have been denied otherwise. It allows us to give more second chances.
What to expect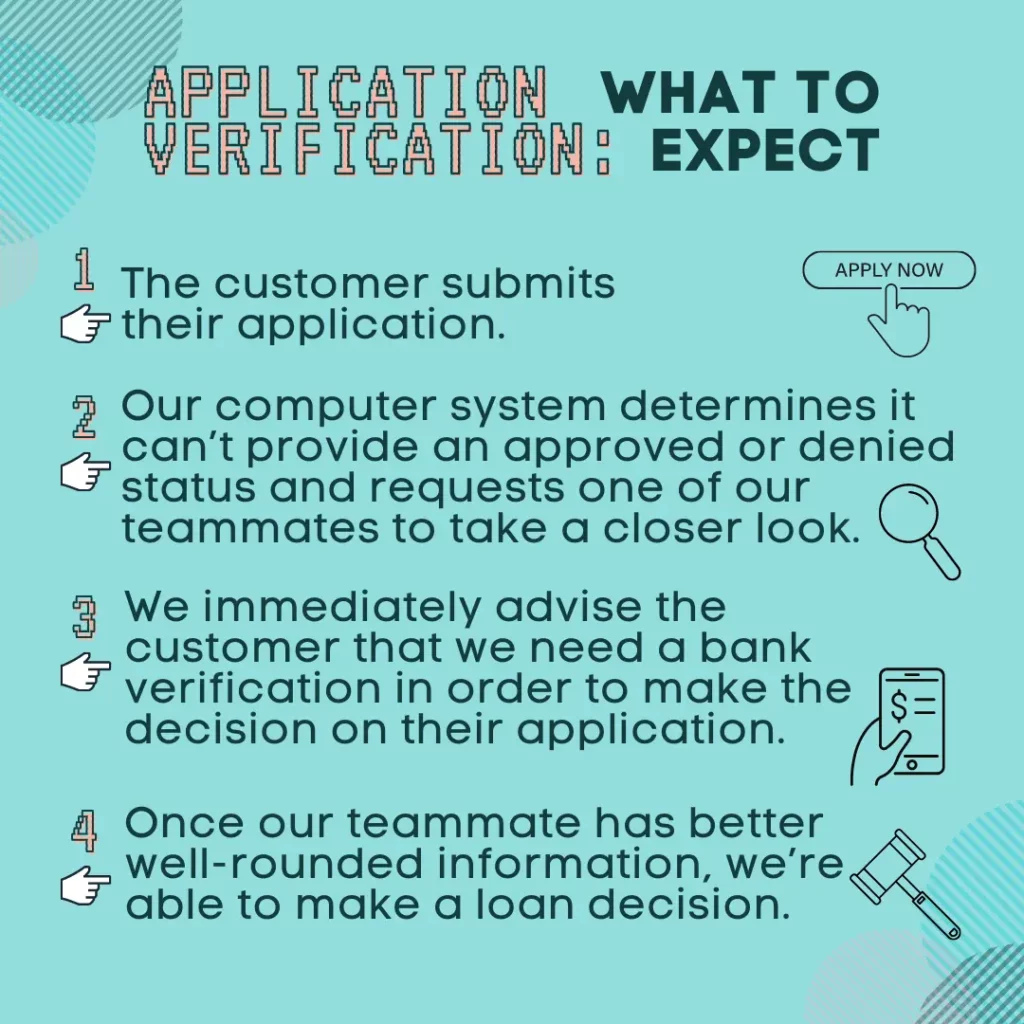 After submitting your application, you'll be informed that your application needs verification.
We inform you that we need an Instant Bank Verification (IBV) in order to make the decision. You can learn more about IBVs here.
"We'll usually get back to you within 24 hours," specifies Kelsey, Customer Service Supervisor, "and we'll have an update and decision on your payday loan application." The only exception is the weekend. We can only verify your application during business hours. Kelsey states, "They may not hear back from us within 24 hours if their application is submitted after work hours Friday-Sunday."
When we reach out, you can expect an update on your decision.
Approved customers can get their funds quickly.
Denied customers are encouraged to reapply after 60 days if they'd like.
Hint: Life changes. There are customers that we deny one day. Then come back a couple of months later and reapply. If they had a couple small life changes, they may suddenly be approved the second time around.
The good news is that this verification process helps approve more people. It approves people that our underwriting system would have otherwise denied.
If you're notified that your application needs verification, and then is denied, that means your application may have been close.
Legally, we can't go back on that decision. But after 60 days, if you need fast funds, we do encourage you to apply again. There's no guarantee that you'll be approved. But there's also no risk to your credit score if you're denied since we don't have a hard credit check.
How often is payday loan application verification needed?
One of the major reasons our customers choose us is because we're fast. Customers can expect to get an instant decision. If they have a valid debit card on file, they may be paid instantly as well.
Needing a manual review on an application is rare. If you're reading this, we're sorry if you're one of the few people that are facing this. We promise to get it resolved quickly! You deserve to get back to life.
Jamie sheds a little more light on the topic. She explains the difference between new and returning customer applications, and the likelihood their application will need to be verified. New customers might have an application that requires more information since we only have certain information. Return customers increase their likelihood of requiring an IBV the longer it has been since their last loan. This is simply because financial situations can change over time, and we try to account for that through additional verification
Why do some payday loan applications need a manual review?
Clayton, our Director of Analytics, shares the history of Net Pay Advance: "In the past, the process for manual verification was different. It was [an essential] part of the process. A Net Pay Advance teammate would have to verify each and every application."
All of our applications were reviewed by hand. It was so time-consuming.
We got a lot of feedback from our customers. They consistently wanted a faster decision. In addition, we were in the 21st century and the necessary technology existed. So, we adopted a computer system to process applications in much less time.
"Our computer system reduced the time significantly," Clayton explains, "so our customers can get their decision faster than ever. That being said, technology has its limits." We've continued to improve our service and our technology. Every now and then, an application cannot be approved or denied by the computer system. One of our teammates must take a second look.
What causes it?
Kelsey clarifies that there are two common reasons our computer system can't decide: fraud concerns and account similarities.
Here are two examples:
Our team receives a payday loan application. The person lists their address, and it happens to match the address of another customer. Our computer system flags that application for fraud. After a manual review of the application, our teammate finds that the new customer recently moved. The customer moved into a home that was previously owned by another customer.
Two applicants, both named John Smith apply. They have the same birthday, live in the same town, and their phone numbers are one digit different. Is it a case of fraud? Or is it just a coincidence?
Final Thoughts
Waiting for a manual review of an application is frustrating. No one likes to wait around. We know that. We're working to determine an application decision quickly.
The good news is that applications rarely need a manual review.
In addition, an application is an incredibly brief snapshot of a person's life. It's not a judge of character, a reflection of finances, or anything else. If you've ever taken a fuzzy selfie, then you know just how badly a single snapshot can represent you. It's the same with our application. It's just a snapshot. A "bad" application might come from a great person. We'd hate to miss out on that. That's why we have manual reviews in place.
Fortunately, our manual reviews have helped us lend to more people.
For more questions regarding our payday loans, be sure to check out our Net Pay Advance FAQ.