Ace job interviews and get hired!
Are you excited about being shortlisted for a job interview? Take a look at our interview tips before you put your interview skills to the test.
Job seeking could be a stressful time for anyone. If you're just starting your professional career, you'll need to craft a winning resume before applying for jobs. Seasoned professionals looking for a job change usually have their resumes updated. Once your resume is selected for an interview, the next step is to kick-start your job interview prep.
It is an extremely competitive world out there. Young professionals emerge every year and join the workforce. There are also those that consider a career change in later life. You'll be competing with several other aspirants for the same job. The competition could be tough, and you need to bring your A-game. Apart from being a promising candidate with a stellar resume, you must focus on making a good first impression. Research suggests that you get only 7 seconds to make a first impression. This means that you only have a small window of time to make a positive impact.
We have compiled a list of job interview tips that can aid you in securing the job you want. Let's take a look.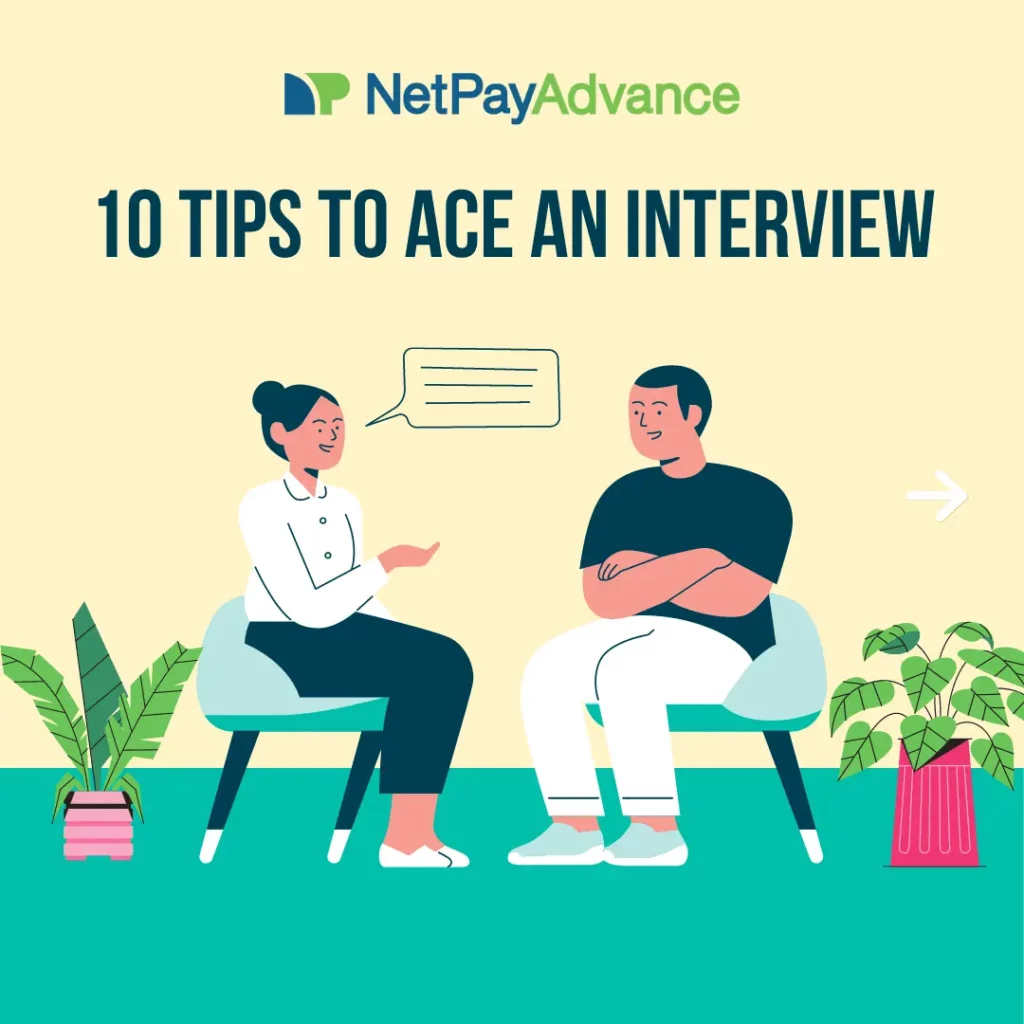 1. Do your research:
There is no excuse for not doing your homework. When you are selected for an interview, your first task is to research the company and the industry. Interviewers are looking for candidates that show up prepared. They don't want to waste their time on candidates that didn't bother to put in the work. If a candidate is clueless regarding the company they're interviewing with, it speaks volumes about their competency as an employee. You want to be seen as a potential asset. Lay the groundwork for a successful interview by being prepared.
The internet is a powerful resource. Use it to learn about what the company does and who are the key players. Empower yourself with all relevant information before you walk into your interview.
Consult reviews to assess how your potential employer treats their employees. There are bound to be a few disgruntled individuals, but the overall rating might suggest what it's like working for them. Try to have an unbiased opinion when it comes to reviews and come prepared with questions to address negative reviews if they could be a deal breaker for you. This will give the company the opportunity to address any concerns.
2. Arrive on time:
Punctuality is expected in most professional settings. Aim to arrive early for an interview. Look up their address in advance and make travel arrangements accordingly. Leave earlier than you think is necessary and generously budget for commute time. If something unavoidable happens, make sure to inform them at the earliest and attempt to reschedule. It is entirely up to your interviewer if they give you an opportunity to interview later. Being on time helps make a good first impression. Some people dread showing up too early. We believe it is better to be early than late. Take that time to calm yourself, practice breathing exercises, and review a few common questions.
3. Maintain a professional appearance:
Some jobs require employees to maintain a certain decorum when it comes to their appearance. It is always a safe bet to dress business casual. Avoid T-shirts with political slogans, ripped jeans, flip-flops, clubwear etc.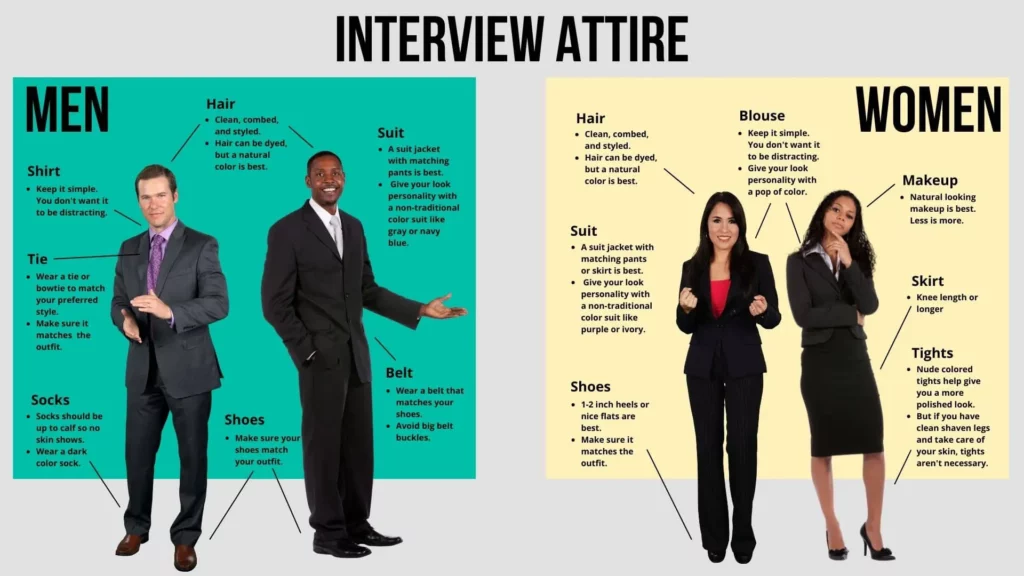 It is important to appear neat and clean. Always remember, how you present yourself can make or break their first impression of you.
4. Be prepared for the tough questions:
There might be a few questions that aren't easy to answer. Questions pertaining to why you left your last job or why you're looking to change jobs. You need to be tactful when talking about your current or previous employer. Sharing too much might make you come off as someone that likes to complain. Your job interview prep is never complete without preparing for these tough questions.
Having trouble explaining why you're looking for a new job? Here are a list of common reasons people want to make the switch:
The issue you're facing. ➜ A better way to way to word it.
Wanting a higher salary. ➜ I'm looking for more career growth opportunities.
Bored at work. ➜ I'm seeking a role with responsibilities that are more in-line with my interests and passions.
Not feeling appreciated. ➜ I'm looking for a workplace environment that takes pride in the work created.
Looking for a promotion or career advancement. ➜ I'm looking for more career growth opportunities.
Not getting along with your boss or coworkers. ➜ I'm seeking a role with more feedback/structure.
Tired of personal habits or behavior of other employees. ➜ I'm looking for better work/life balance. I know that sometimes personal matters can affect how we act at work, but there's a limit. I'm looking for a workplace environment with values that align with my own.
Moving to a new city or town. ➜ I'm relocating to the area. It took me a while to make the decision, but ultimately, it's a good choice.
Change in responsibilities that don't interest you. ➜ I'd like a role with responsibilities that are more in-line with my experience/education and interests.
Being overworked and feeling overwhelmed. ➜ I'm looking for better work/life balance.
5. Practice commonly asked questions:
If you've attended your fair share of interviews, you know there are few frequently asked questions that you should expect at any interview. Examples: Where do you see yourself in 5 years? What are your strengths and weaknesses? Tell me about yourself etc.
Take time to prepare for these questions and create compelling answers that express your story. Do not attempt to boast about yourself and keep an overall humble tone.
Take a look at the most commonly asked interview questions as part of your interview preparation. Practice answering them out loud. It helps ensure you're prepared for any questions.
How to answer interview questions: STAR method
Have you heard of the STAR method? It is a technique that helps you prepare for behavioral interview questions.
Most interview questions are situation based. With these questions, it's best to give an example.
First, you need to select an example. This could be something you experienced in a professional setting. Then you'll practice the STAR Method.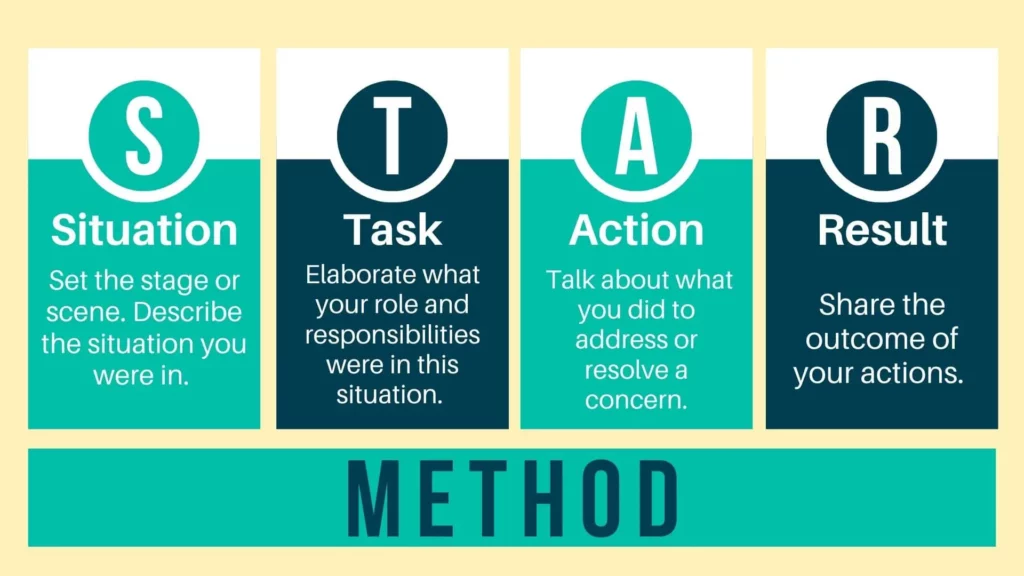 Here's an example.
Situation: "I was a manager at a shoe store previously. We had a customer unhappy with their online purchase. They wanted to return it, but didn't have the receipt. My teammate at the register had been advised not to allow returns without a receipt. "
Task: "As a manager, my responsibility was to lead my team and ensure day-to-day tasks ran smoothly. I also assisted customers that required additional support or follow up."
Action: "I looked at the shoes. They were our brand, and looked new. But the stitching was off in a section. It was nothing the customer could have done. We exchanged her shoes for the exact same style and size. I called the distributor afterwards and confirmed that they had issues with a batch of shoes that went out.
Result: "The customer left happy with her new shoes. She left a kind review on our Google listing. She then returned to the store the following month and purchased three more pairs of shoes!"
6. Bring multiple copies of your resume:
Although the interviewer might have your resume from when you applied, it is advised to carry a few back-up copies. You will be glad you did if your interview is conducted by a panel of interviewers. You will be seen as a prepared candidate when you can provide copies of your resume if needed. We would advise heading to the nearest printing services to enhance the impression and get high quality printing. There are resume papers available that are specifically designed to print resumes on. Pick the best kind for your resume as it helps in standing out in the most subtle way.
7. Mention what you bring to the table:
Highlight your skills, education, and experience that are relevant to the role. If you do not have every last skill on their list of requirements, let them know that you're a quick learner and will make every effort to develop those skills. Show your enthusiasm during and after the interview. A few skills that you could list out during an interview are:
Proficiency with a software or application
Being bilingual
Quickly learning new things
Ability to multitask
Being open to feedback and criticism
8. Ask questions:
Something to expect at most job interviews is being asked if you have any questions for the interviewer. Come prepared with a few questions which present you as a candidate that's interested and keen. You could ask about any training programs they offer, additional skills you might have to learn, or new software that you might need to use. Remote work policy is another relevant topic. Check out these sample questions and pick what makes most sense for the job your upcoming interviewing.
9. End the interview on a positive note:
Let the interviewer know that you appreciate their time and then thank them for the interview. Inform them that you would love the opportunity to work with them and be part of their team. Mention that it was a productive session as you got to know a lot about the role and the company itself. Keep an overall cheerful and positive vibe as you exit an interview.
10. Send a Thank You note or email:
For a lot of interviewers, this is the ultimate test of common courtesy and character. As biased as it sounds, sending a Thank You note or email after an interview puts you ahead of those that didn't. If you have impeccable penmanship, consider writing one out as most people love handwritten notes. Or you can just send them an email expressing your gratitude. We have a template of a Thank You email for you: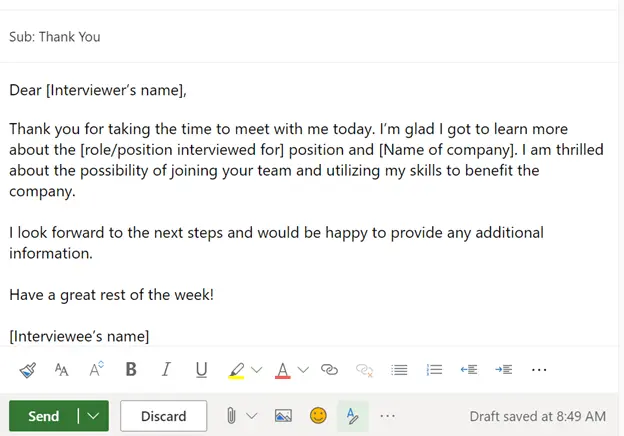 Land your next job with our interview tips
This list of interview tips could prove to be beneficial to jobseekers. Our goal is to help you streamline your job interview prep. Looking for a job can be challenging, but luckily you have resources to help you in your search.
For instance, there are jobs that don't require a degree. So even if you don't have a formal education in that area, you can still apply for such jobs. In fact, some of those are jobs that pay quite well.
If you're looking to join the Net Pay Advance team, you can do that here.
Take advantage of the tools available to you and try to consistently do better at interviews. We understand that not everyone shines at job interviews. Interview skills can be acquired through practice and perseverance. Our interview tips can point you in the right direction and offer some guidance. We hope you find our list to be helpful and are able to implement some of our pointers in your upcoming interviews. Happy job hunting!