Transform your kitchen using effective kitchen cabinet organization techniques
Overwhelmed with pots, pans, plates, silverware and more? Not anymore! I am here to share my experiences of organizing my kitchen cabinets along with pearls of wisdom from a real kitchen pro. Let's master your kitchen cabinet organization, together!
Life in general is messy! From doing laundry to shopping for groceries, often our chores are never-ending! Day-to-day tasks are always going to be there, but what if I told you that I have the secret to making kitchen-time enjoyable? Yes, that's what I said. I can help you achieve a level of organization that will bring tranquility in your life even when engulfed with tasks. With a few simple tricks, you can declutter and organize your kitchen cabinets for maximum efficiency.
Years ago, I found myself wondering what is the best way to organize my kitchen cabinets? Professional organizers charge around $55 an hour. The number could be higher in some cases. In my personal experience, you don't need to hire a professional to organize your kitchen cabinets. I didn't have a clear-cut answer to that question at first. Now, after years of trial and error, I now have the best tips for you.
There's no need to hire a professional organizer. In my experience, the only reason to shell out money like that on your kitchen is if you're redoing it completely. In that case, it's best to hire an expert to handle the power tools! You don't want to hurt your home or yourself.
Speaking of experts, I reached out to an expert in the field of all-things-kitchen – Max Hinman from Kitchen Tune-Up. He's a kitchen remodeling expert and has worked with homeowners to put together the kitchen of their dreams.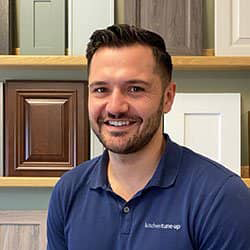 When remodeling, he helps families bring their kitchen dreams to life, and provides a customized kitchen experience. He's familiar with kitchen setups and best practices and was kind enough to share his expert intel throughout this piece. You don't want to miss any!
Benefits of kitchen cabinet organization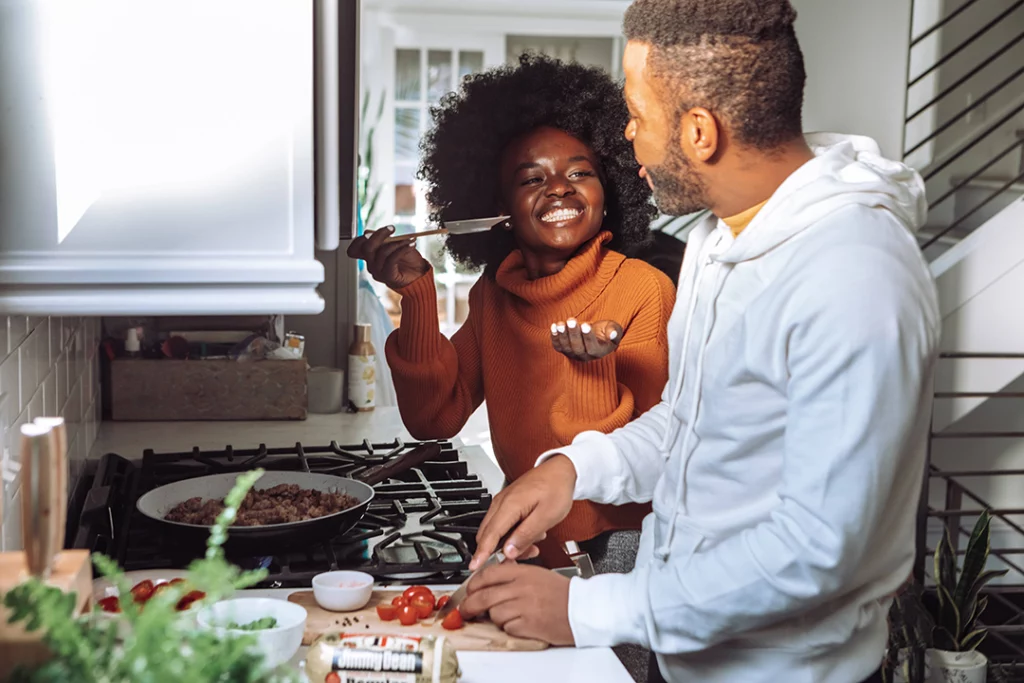 Did you know that on average, Americans spend over 400 hours in the kitchen every year? Plus, many Americans choose to cook dinner at home instead of going out to eat. Groceries often cost a fraction of going out. There are big savings once you consider it's possible to buy a month's worth of groceries for $350!
If you're going to spend that much time and energy in your kitchen, why not make the experience better? Functional organization of your kitchen is an investment in yourself. It allows you to save time and energy while saving money.
If you think that the only benefit of an organized kitchen is pleasing aesthetics, think again. There's more to organization than achieving a certain 'look'. Keeping your kitchen organized can have several advantages such as:
Higher efficiency
Enhanced safety
Less waste
When you have your kitchen laid out to assist you with your culinary activities, you will move at a faster pace and perform tasks better. This is because you won't be spending extra time trying to retrieve items you need.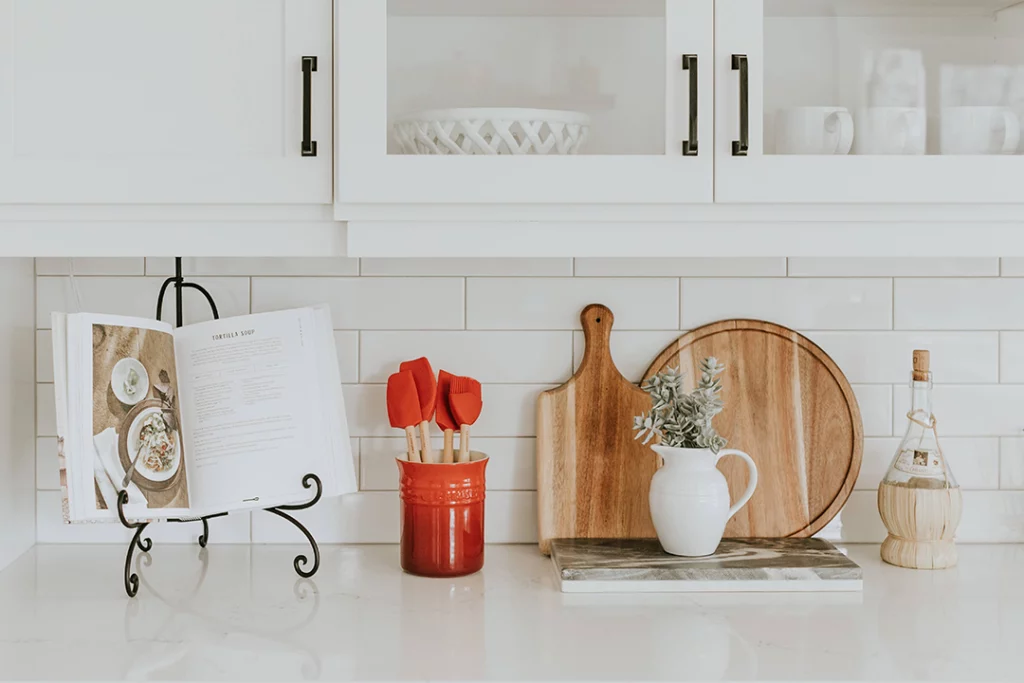 If you're cooking and have all the necessary tools within reach, there is less chance of bumping into clutter and sustaining injuries. My aunt, love her to death, happens to be a very disorganized cook. One time, she had her apron catch fire while leaning over to reach the spices. That was one interesting Thanksgiving dinner!
Organized kitchen cabinets will have all ingredients displayed in such a way that you'll never end up buying the same thing unnecessarily, which reduces wastage. These may seem like small and insignificant elements, but they do contribute to your household.
Kitchen cabinet organization tips
I have moved several times in my life. With every move comes the challenge of adapting to your new surroundings. You have to fit all your possessions utilizing the available space in the best possible way. From a tiny downtown apartment to a ranch-style house in the middle of nowhere, I've seen it all. One thing is universal: You want your kitchen to be functional. My tips are based on enhancing functionality and improving your overall experience in the kitchen.
I'll walk you through my most recent kitchen cabinet organization journey this year. Organizing your kitchen cabinets can feel overwhelming. Here's the list of steps I followed:
A blank canvas is the perfect way to start
Every item has a home
Group similar items together
Get the kitchen organizational tools you need
Keep your countertops clutter-free
Decorate for a personal touch
Clean out and organize your pantry, fridge, and freezer
It will help you stay organized and keep tabs in the process. Let's walk together through it slowly.
A blank canvas is the perfect way to start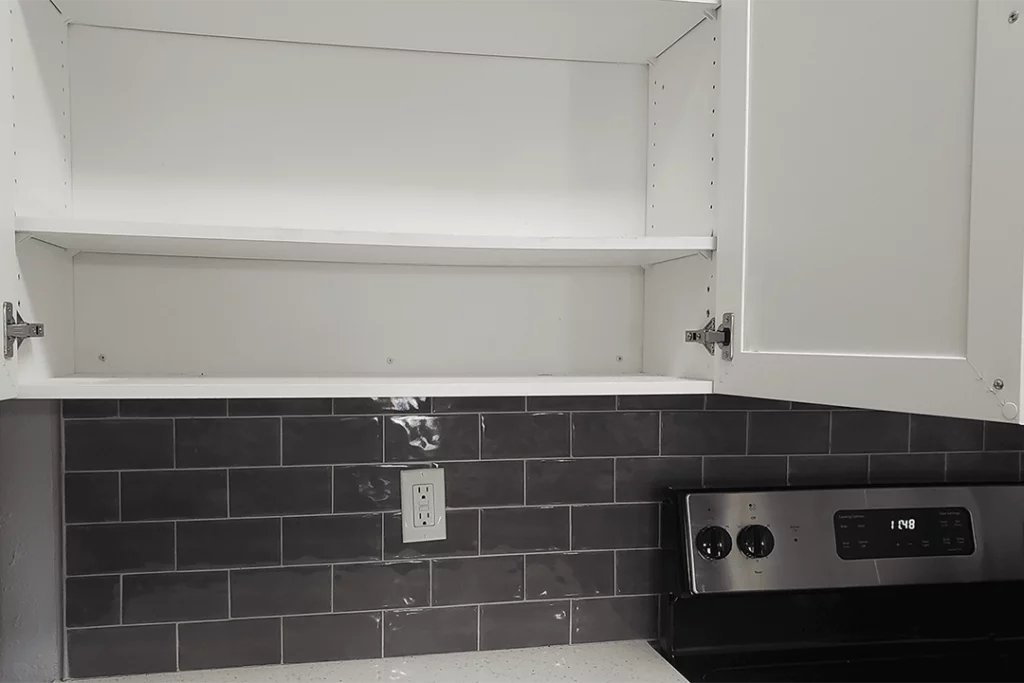 People often ask what is the first thing to do in organizing kitchen cabinets and I advise them to start with a clean slate. Remove everything from the shelves and cabinets and take a moment to examine your bare kitchen.
Kitchen experts like Max use 3D designs to give their clients an amazing experience. "We try to design via the user experience… [A 3D model] helps to visualize the end product and how it will function. At this point, we can really discuss how the space is used and what kind of organization is needed," Max explains. The ability to visualize a space is top-tier and can help tie up loose ends. When I organized my kitchen cabinets, I cleared off the space, then took photos of everything. I was able to draw the layout on top, which really helped me solidify where items would be kept.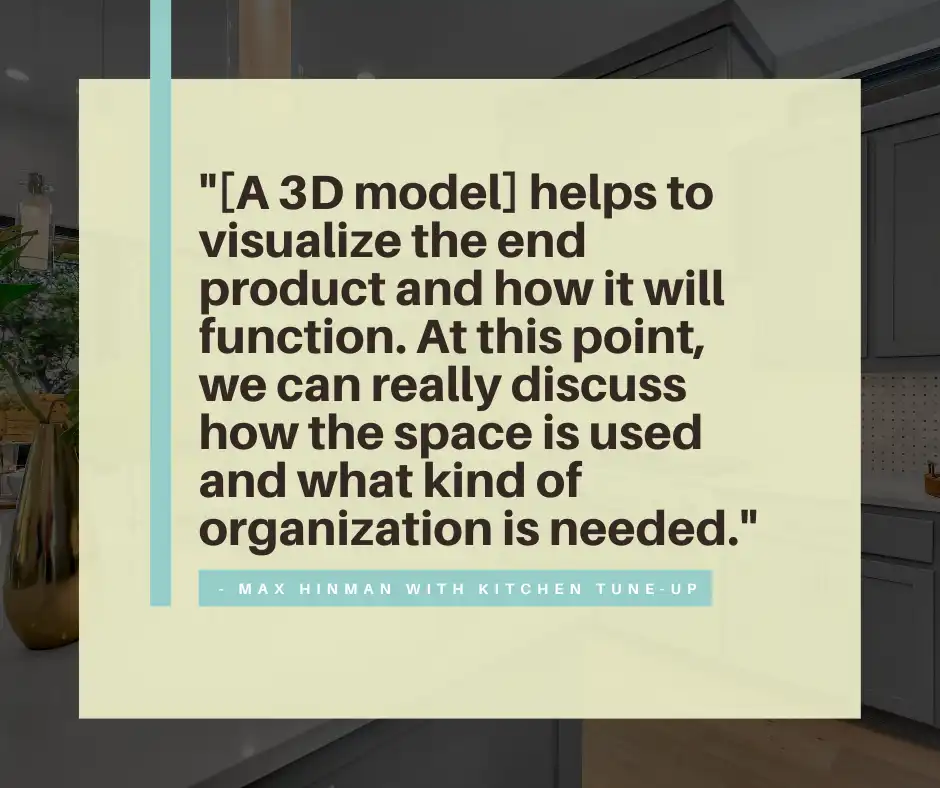 Kitchen cabinets diagram
Here's the kitchen cabinet diagram I made. You're welcome to use it too.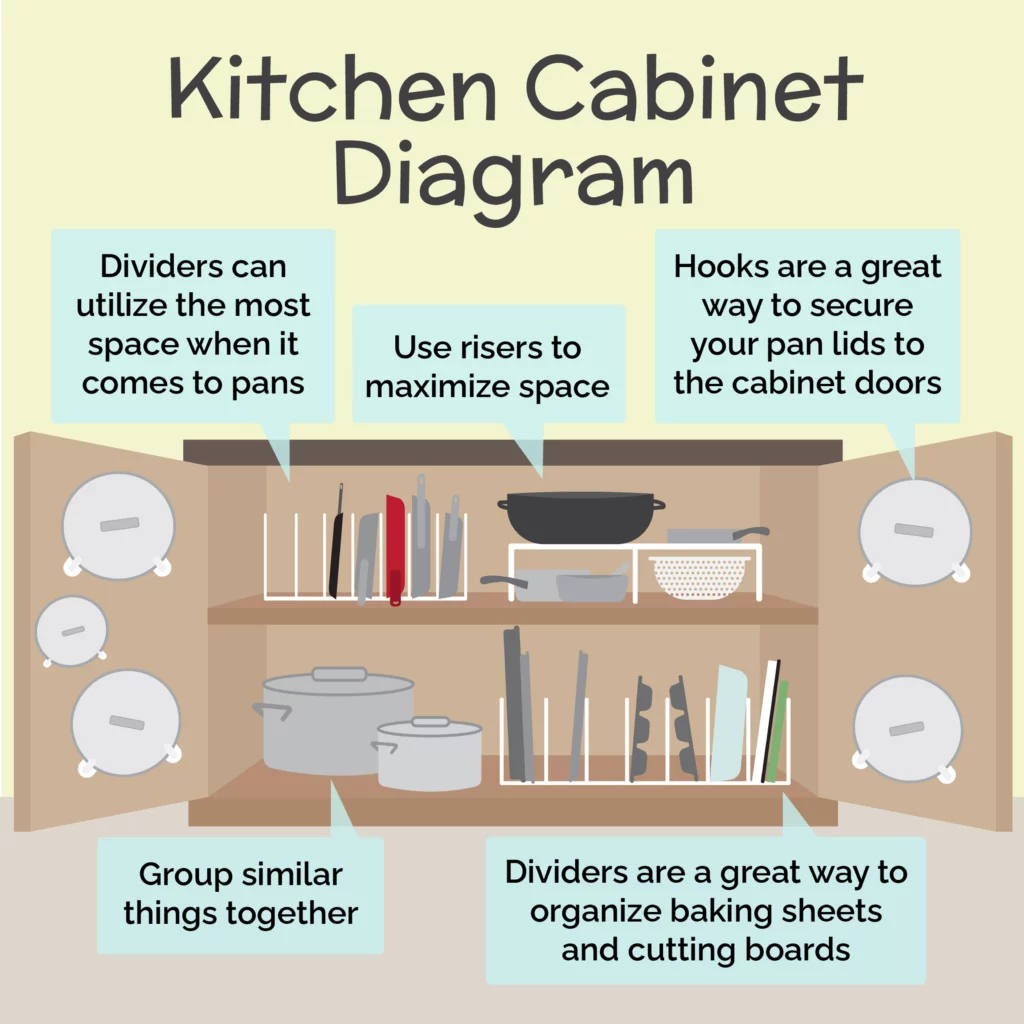 Clean the cabinets
The next phase of this step is to clean out all your drawers and kitchen cabinets before you do anything else. Wipe down countertops, surfaces, and appliances.
Declutter your drawers and donate things you don't use or need. Nobody needs three burger presses. You can do with one good quality potato masher and so give away the others to your cousin. Did you know that minimalism can actually help you reduce debt?
Every item has a home
Decide which items go where.
I like the dishes and glassware to go in the cabinet right above the dishwasher. This reduces time and effort when unloading the dishwasher. Silverware goes in a drawer close to the dishwasher for the same reason.
Put seasonal items such as punch bowls, ice-cream makers, citrus juicers etc. on the top shelves and bring them down when needed.
Baking pans can go in the drawer under the oven or in a bottom cabinet close to the oven.
Your pots and pans should be stored close to the stove same as spices, oil, seasoning, flour etc.
Don't forget your sink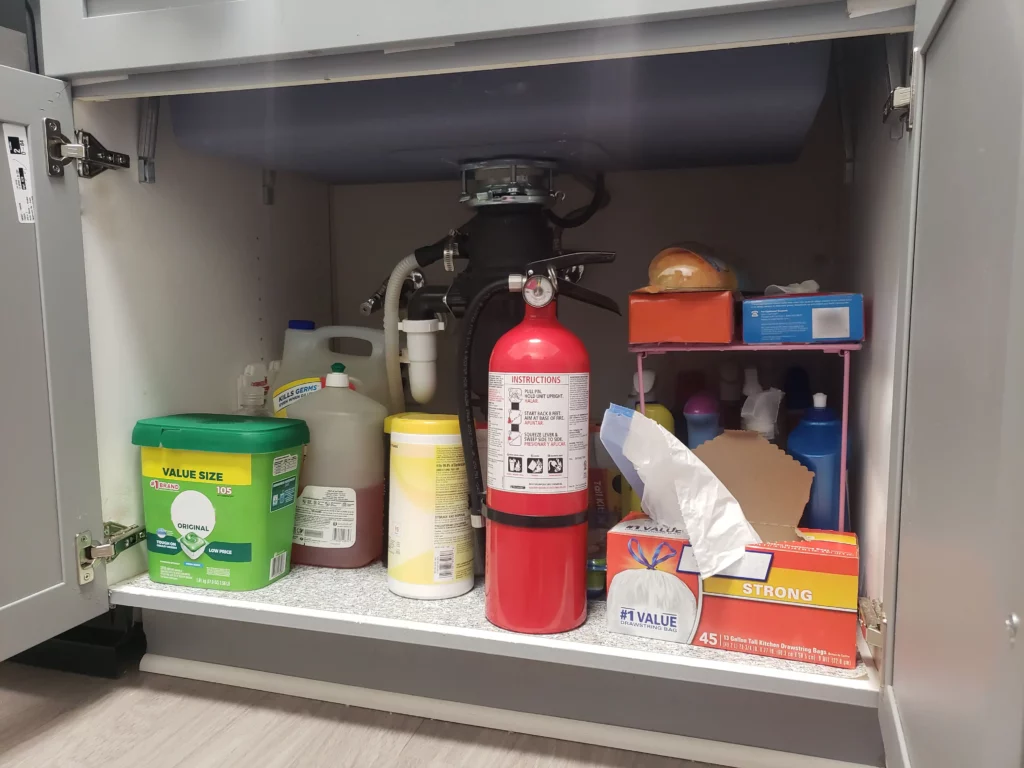 Remember to utilize the space under your sink. You can either put your trash bin in that space depending upon the style of cabinets you have, or you can store your cleaning or gardening supplies. There are tools to help you organize this space so that you don't have to knock over three bottles of cleaning solution to reach your dishwasher pods!
Most people choose to buy a small organizer or riser. This provides you with levels so your supplies stacks and takes up less room. My secret to save money: Remember those middle school locker organizers you used? I held onto mine and they work great as kitchen cabinet organizes as an adult!
Middle school may be (far) in the past. But if you have school-aged children, you can always take back and reuse their locker organizers when they're done!
Group similar items together
This one is a no-brainer. Your mason jars need to be near your other glasses. Your bowls should be near your plates. It's pretty simple and will save you ample time when you're looking for something.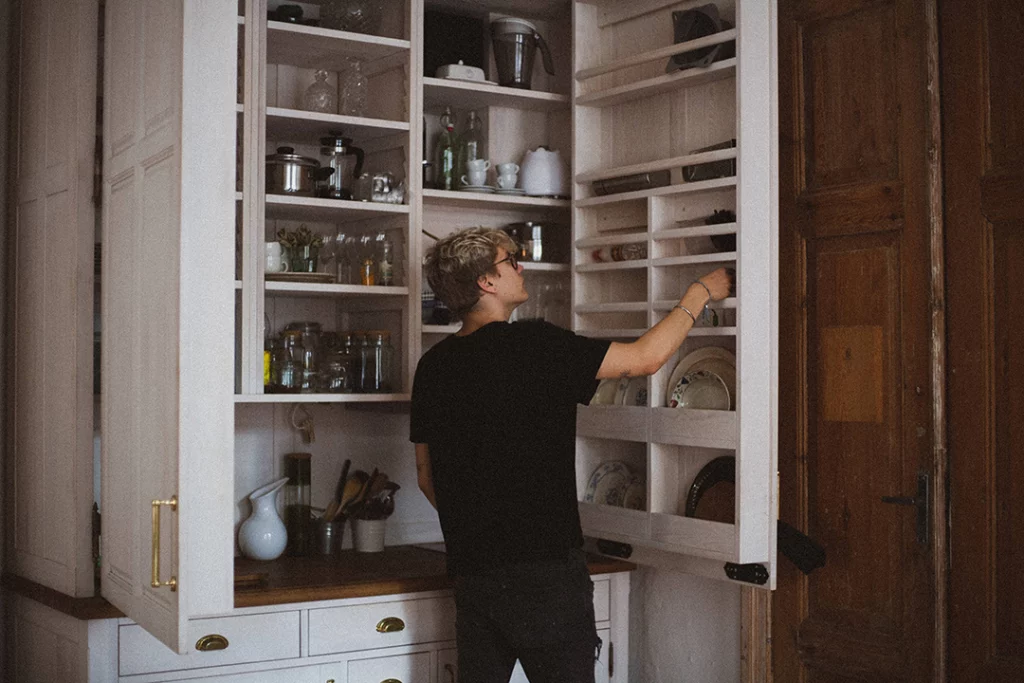 You have plenty on your mind. Forget where you put something?
You just need to look in the general area of where similar items are kept and you're likely to find it quickly.
Use stations
I recommend utilizing stations in your home.
I'm a firm believer all your snacks should be in the same spot. In our kitchen, we have a pantry door. A lot of our dry good and snacks stay in the pantry. One nifty tool I've found is over-the-door or wall-mounted shelves help display your food items, spices or snacks. In our home, I've chosen an over-the-door organizer. It reminds me of the ones used in closets for shoes or jewelry.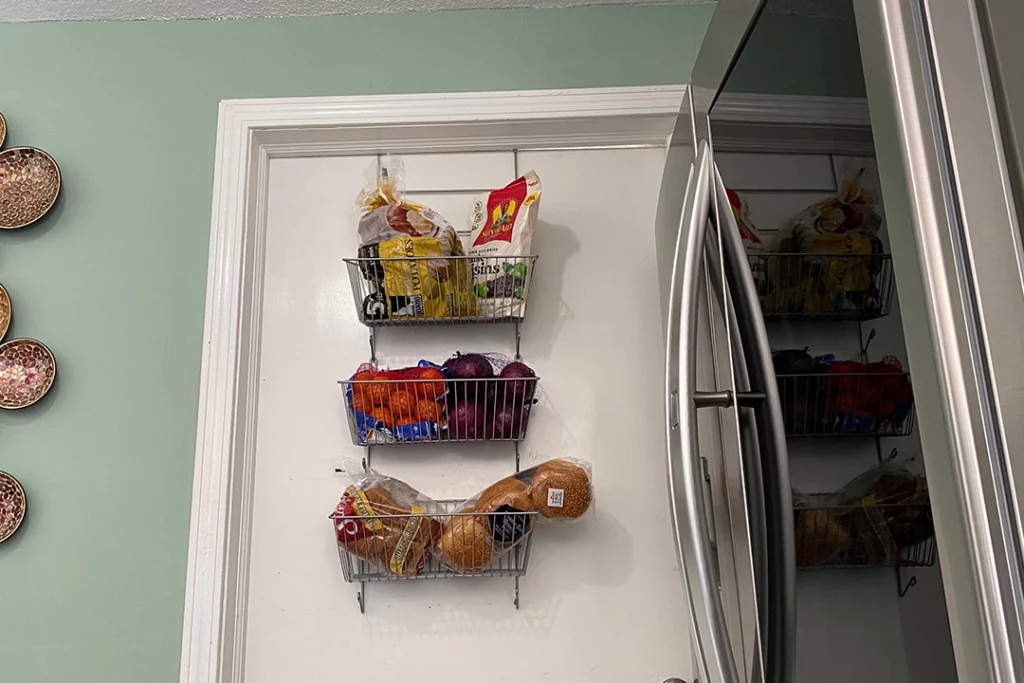 Once a week I stock it with healthy snacks. The see-through pockets mean that we can see what snacks are available – clementines, trail mix, granola bars, and apple sauce. It allows me to see the items and stay aware of when to buy more. Now there is no need for the husband or kids to rummage around in the pantry looking for chips or candy.
We also have a coffee and tea station, and we love it.
We placed our Keurig underneath the kitchen cabinet that houses the mugs. You could do the same with a coffee maker or electric kettle. Our coffee and teas are organized right next to it in an adorable display. In one motion we're able to grab our mug, dispense our drink, and add in the extras. There's no need to put things back or shuffle around the kitchen. It's a one-stop-shop.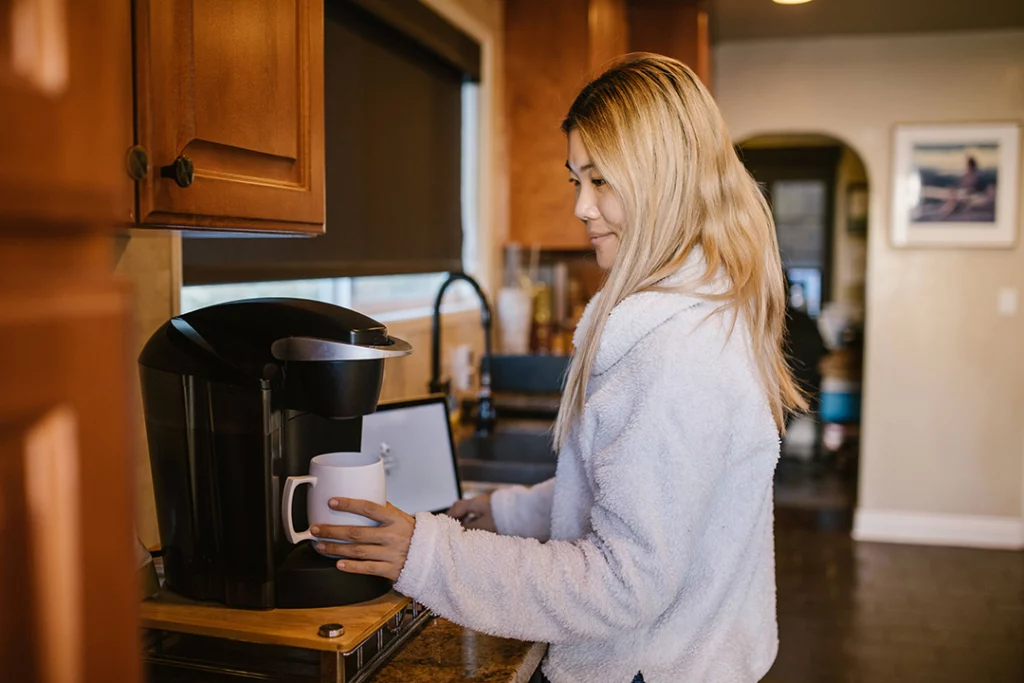 4. Get the kitchen organizational tools you need
I could do a separate piece exclusively on kitchen organization tools but off the top of my head, I will recommend a few. These have been phenomenal in helping me keep my kitchen from going rogue!
Drawer organizers can help keep your silverware from becoming one giant metal pile! We have one that allows us to section out the forks, spoons, and table knives from each other. There is an adjustable section that expands and contracts (depending on your drawer width) we use to house the steak knives.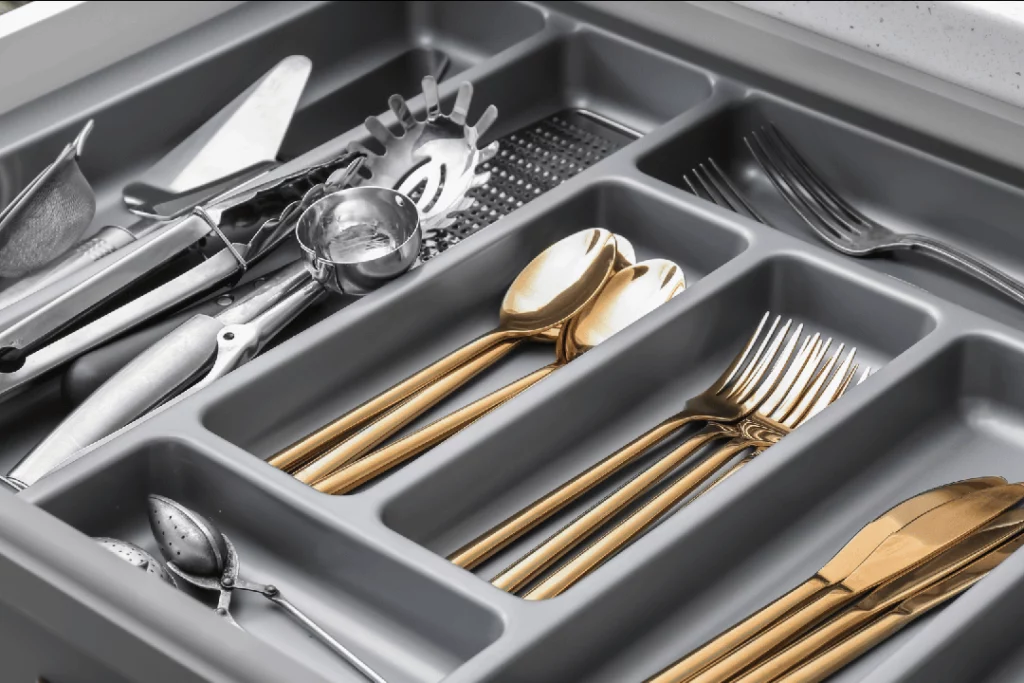 Pans, pot lids, rolls of aluminum foil or baking sheet etc. can be contained in racks that utilize space very well. It allows you to pull them out without having to play Jenga.
In the past, we didn't have the space to stack our pot lids. I installed hooks on the back of my cupboard doors to hold my pot lids. They stayed with the pots and pans, but I was able to stack the items together and keep the lids to the side.
"Some of my favorite [organization tools] are the Lazy Susan," Max shares. Max explains that in 2022, there are a variety of Lazy Susans types. "The traditional Lazy-Susan design helps but there are some really cool innovations that can take it to a whole different level and maximize the space in your lower cabinet."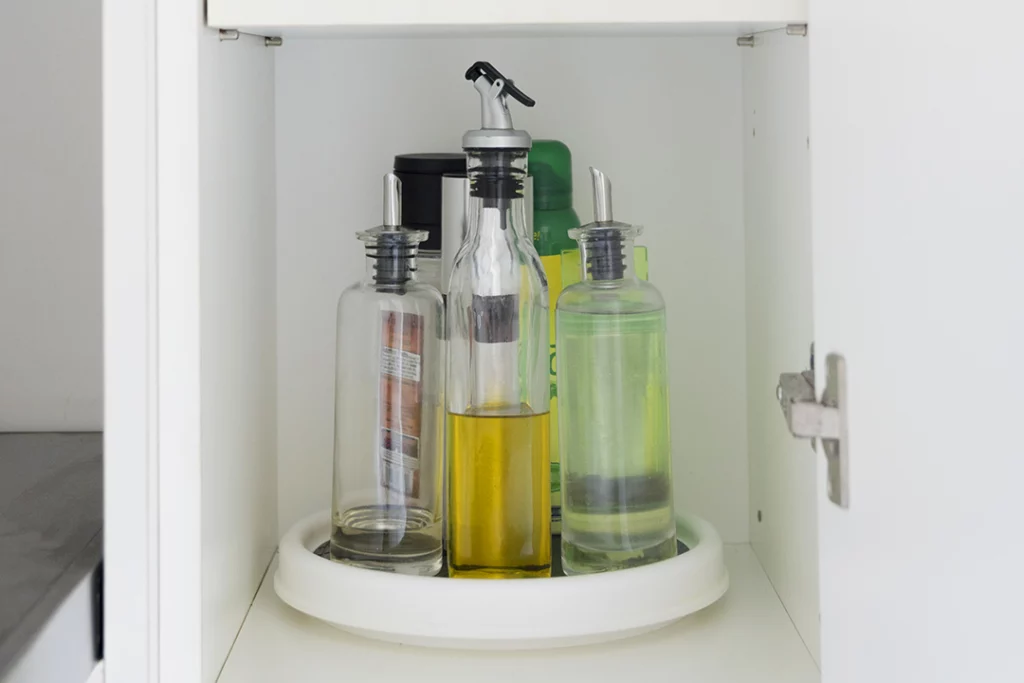 Lazy Susans can help you organize:
Spices
Condiments
Misc cups
Bar tools
Coffee k-cups
Spatulas and big spoons for the stove
Cleaning supplies
And more
It's an effective organizational tool. Just one simple turn, and you can see all of the contents!
Consider installing hooks under your cabinets to hang ladles or coffee mugs.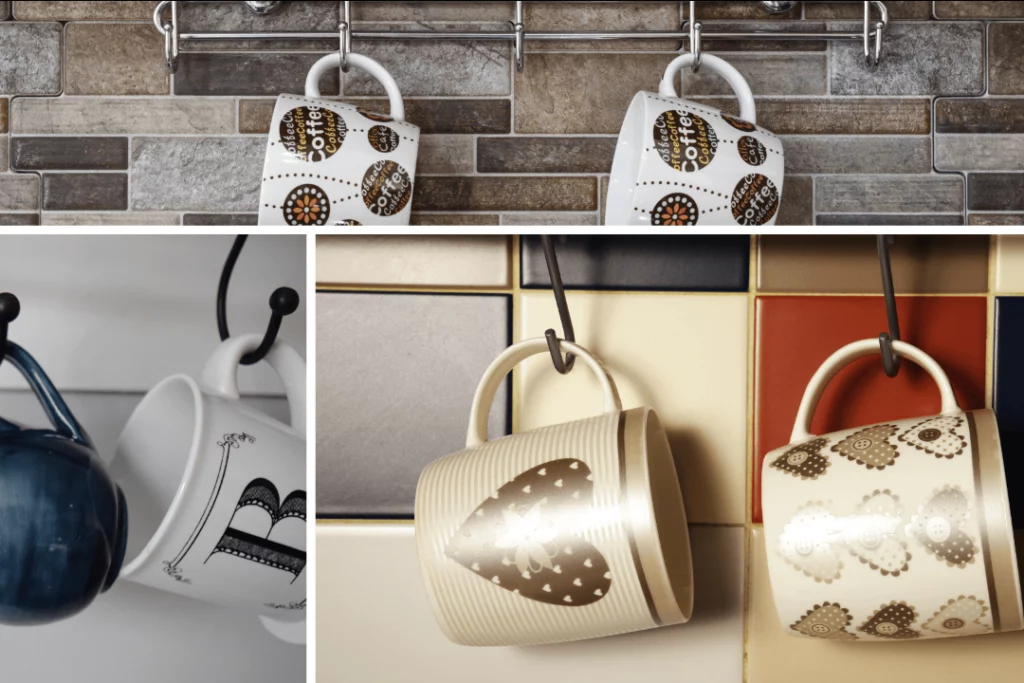 A paper towel mount ensures you have a designated place for your roll without taking up counter space.
Shelf risers and magnetic strips find their utility in kitchens just as they do in other areas of a home. We're utilizing a magnetic strip to hold onto our metal measuring cups and spoons.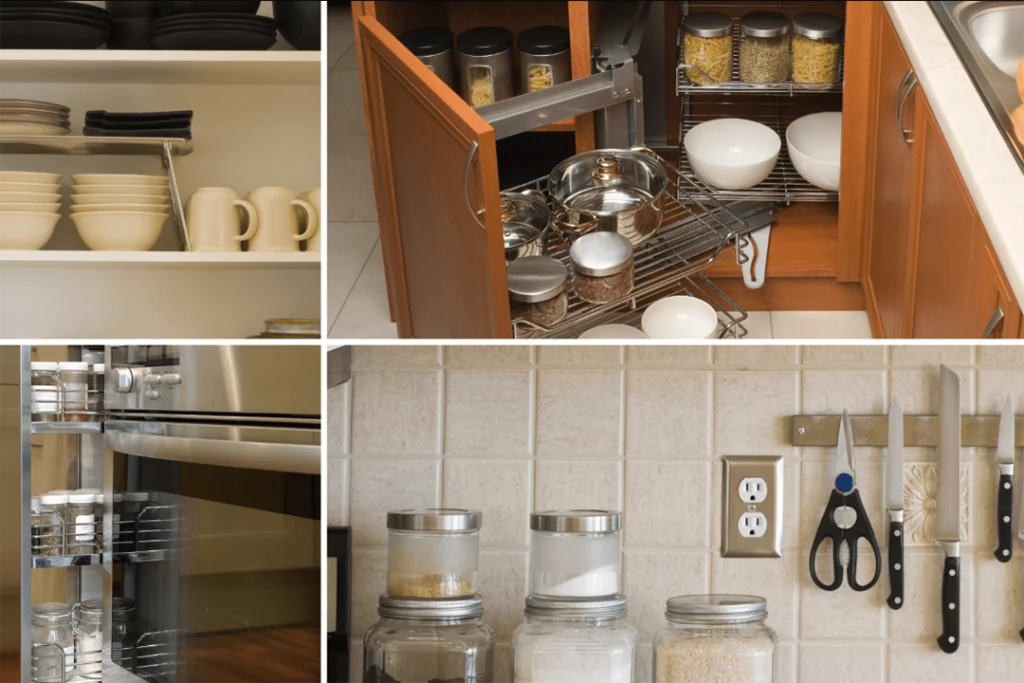 Curious what other cool inventions Max, the expert, has seen? He recommends, "go-to organizers such as trash pull-outs and roll-out trays," to use every square inch of available space to the optimum.
5. Keep your countertops clutter-free
When every item has an allotted place in a kitchen, your countertops can have as many or as few items as you choose.
Wondering what should not be stored in kitchen cabinets?
Personally, I like to keep my chopping boards, fruit bowl, salt and pepper shakers, and jar of dog treats on my kitchen island. Underneath the cabinets, I keep out a kettle, the toaster, and the knife set. It's what we use the most.
Others may have a butter dish, snack basket, bread drawer, and a flower arrangement.
You can get creative here and pick what's best for your family. Ultimately, you want the items you use the most to stay on the counter. There's no reason you should keep them hidden away. Having to drag these items out and store them up again every single day will get tiring.
6. Decorate for a personal touch
Some of us thrive in the kitchen. Others enjoy family time in the area with delicious snacks and fun conversations. Make your kitchen more 'you' by adding your style to its elements.
My mother-in-law loves farm animals, and her kitchen has tiny figurines, wall art, and oven mitts with farm animals printed on them.
I know someone that's obsessed with plaid. Not only are their washcloths and towels plaid, but even their canisters sport that print.
Don't be afraid to experiment with looks.
7. Clean out and organize your pantry, fridge, and freezer
This is the mammoth of all kitchen organization and is likely to take the most amount of time. Don't let that scare you because once you get it done, you will have a system to prevent disorganized messes.
Completely empty your freezer, fridge, or pantry and throw out all food items that have expired.
Clean out all the surfaces and start putting food items back in reverse order of expiration date. That way items that expire sooner will be at the front and likely to be consumed sooner.
For your fridge, divide items into groups: vegetables, meats, cheeses, food containers etc. Assign a place for each category. Put condiments on the fridge door while soda cans can go in a shallow drawer. You can even purchase organization bins for your fridge. They are often stackable and are designed keeping food safety in mind.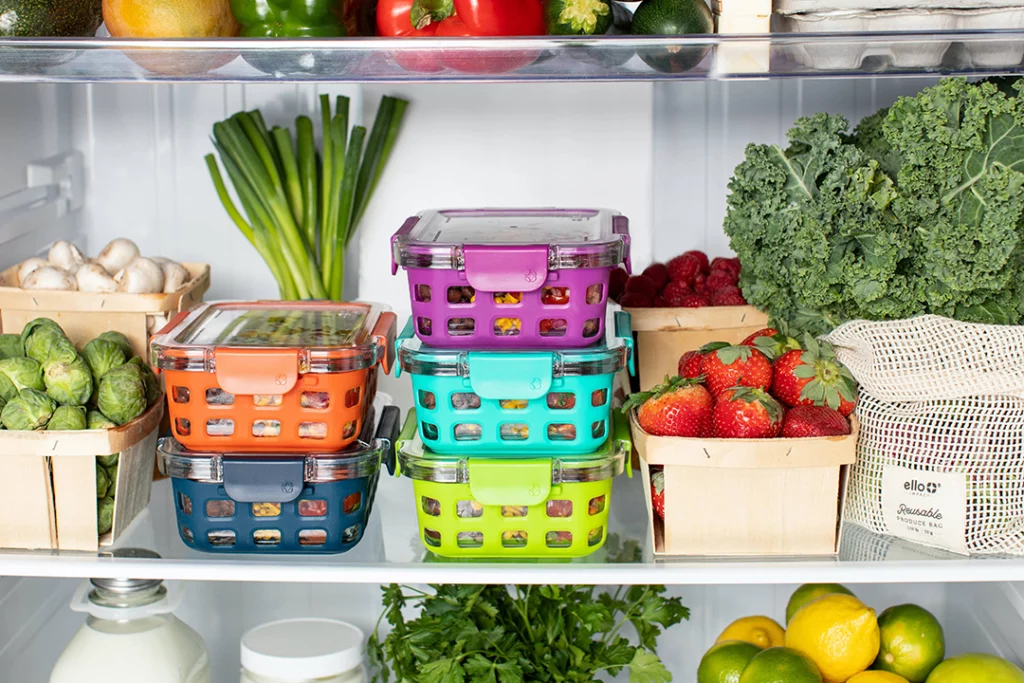 These are my 7 steps for organizing kitchen cabinets. Over the years, I've formulated this plan. Each time has been better than the last. I've had positive results and so have my friends who followed my advice after years of being skeptical.
Tips for staying organized
Your label maker is your new BFF.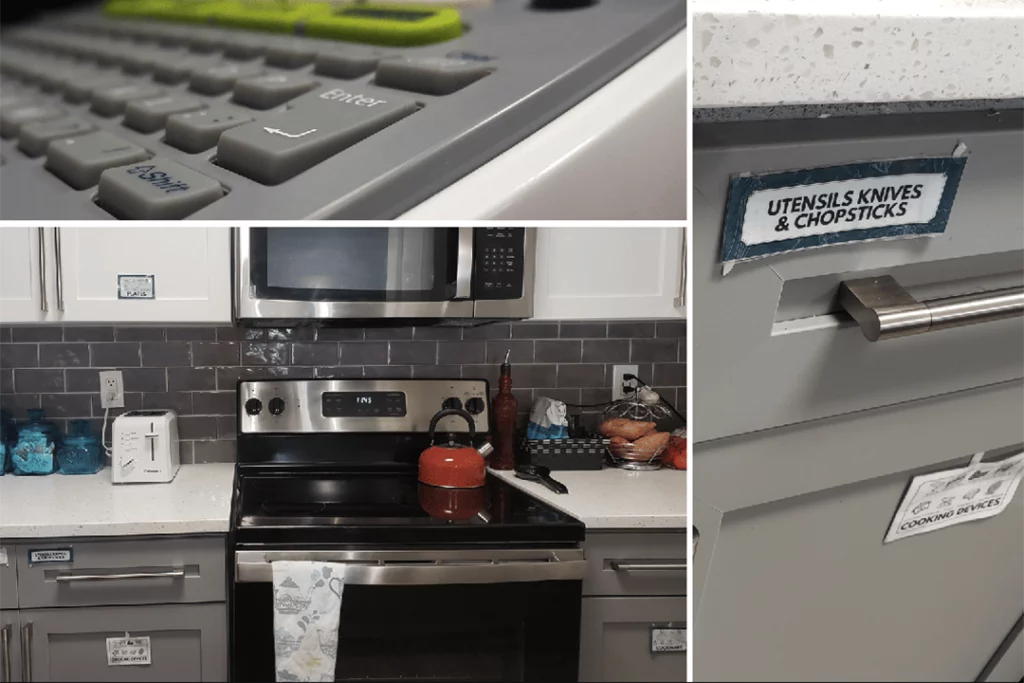 I'm not kidding! If you own a label maker, you're probably one of those people that take organization very seriously. If not, consider investing in one or you can just buy labels as an alternative. Use labels on containers to mark the contents and their expiration dates wherever applicable.
You can also use labels to mark cabinet shelves so that you can have a blueprint in case you decide to make major changes like home renovations or anything that might require you to remove everything from the cabinets.
It's great if you have guests over, or if you divide up the kitchen work with others (like a spouse or roommate). Since adding labels, we've never had confusion on where to put the items.
In addition, fancy labels add to the aesthetics of any space. Check out different fonts and styles before picking out one. Or you can just do it the old-fashioned way and write on the labels by hand.
I have to give credit for this idea to some of the AirBnbs I've stayed at. There have been a few hosts that took the time to match the labels to the style of their kitchen. Those little touches made my stay so much better. I've brought that same idea to my own house, and I recommend it for others.
The Junk Drawer – the bane of my existence!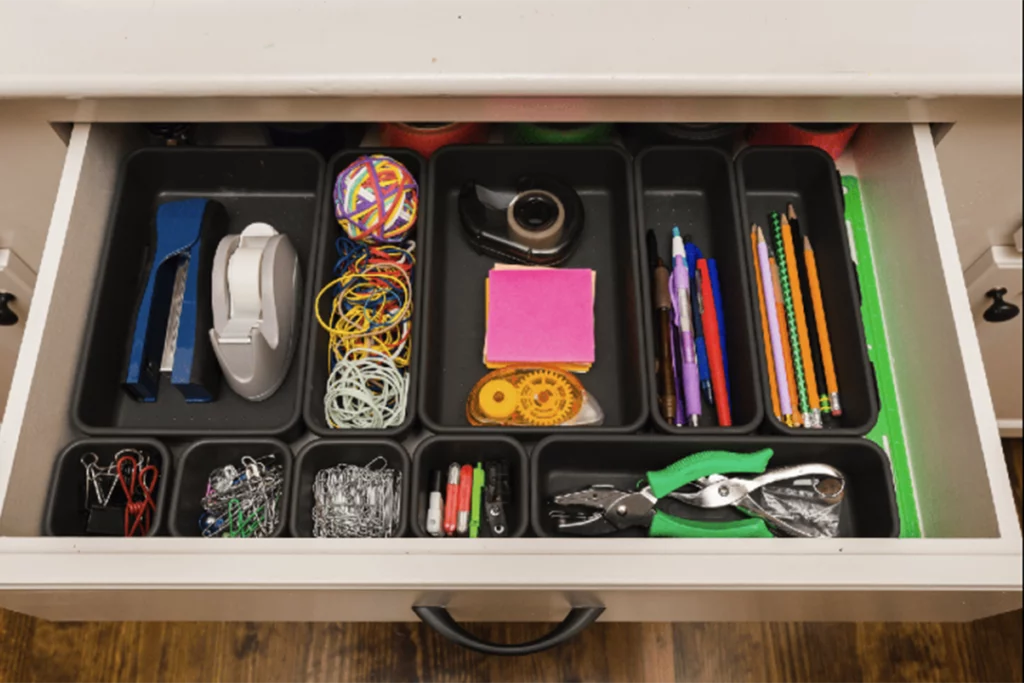 How can I talk about kitchen cabinet organization without addressing my nemesis – the junk drawer. Somehow there's always that one drawer that becomes home to all the misfits in a room. A light bulb, a few batteries, a first aid kit, nuts and bolts, cables, some loose change – I could go on and on describing the contents of my junk drawer.
When I asked our expert to share his thoughts regarding the junk drawer, he said, "We offer some nice drop-in-drawer organizers to get the junk drawer situation under control." I couldn't agree more!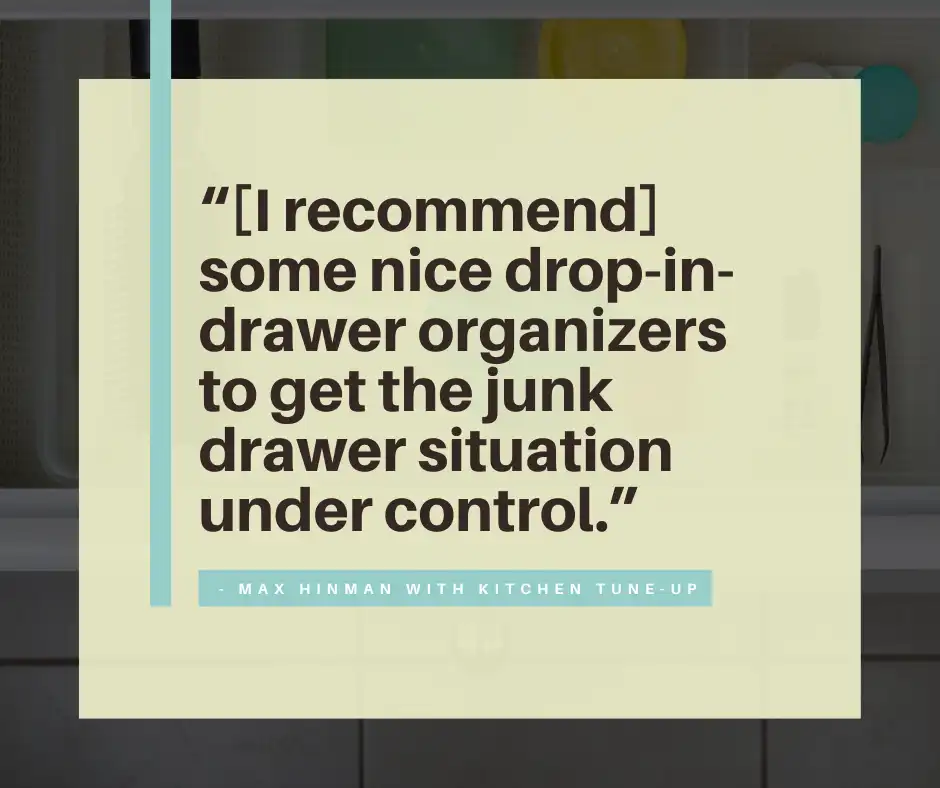 Be considerate of others
If you live alone, this doesn't apply to you – lucky you.
However, if you share a home with people, it's always a good idea to organize your kitchen, keeping them in mind as well.
For instance, Max really shows his client's family and kitchen care. Kitchen Tune-Up stands on 5 trust points. Max shares the first three, which are, "1) Listen carefully, 2) Communicate effectively, and 3) Respect the home." You could attempt to do the same in your own home.
Pay attention to what your roommates or family members hope to gain with the new kitchen organization.
That's where we got the idea for our coffee bar. My husband really wanted a coffee bar. He gets up early and wanted a one-stop shop for his coffee. When we planned our organization, we made sure to include space for a coffee bar. I decided to put the Keurig below the cabinet with mugs. I even made space for coffee, creamer, and sugar!
On a serious note, respect your home. It may sound silly, but when I was planning my kitchen, I planned it like I would for my mother. I took extra care of everything, considering the little features that she might enjoy. It's easier for me to think about how I could make a pleasant experience for others, rather than for myself.
Planning of time and doing the mental work before diving in can also help decrease stress along the way and make the process faster.
What are you waiting for?
I know that organizing your kitchen cabinets can seem daunting at first but believe me, once you get started, it will all come together. This is coming from a master procrastinator like me! Yes, it can be a challenging task if this is your first time, but with the right mindset and a few tools, your kitchen can become what you want it to be – organized, efficient, and stylish!
As you organize your kitchen cabinets and you realize you forgot to budget for something, you can count on our instant payday loans to gain quick access to cash.
Try out your freshly organized kitchen for a few days and you might discover areas that need improvement. It's not a bad thing. As human beings, we're constantly growing and evolving and perhaps so should our kitchens! If something doesn't work, find ways to switch it up into a more sustainable and useful format.
It's just a matter of setting aside a little time to plan and execute your moves to accomplish kitchen cabinet organization. If you have friends, family, or a significant other who would be down to help, get them involved. Or you can take over this project being the fierce one-person army you are!