January is a great time to review your credit report!
Your credit has a major influence on your finances. We strongly recommend reviewing your credit report. Did you know you could obtain a free annual credit report?
Discover:
As we step into the new year, we're bombarded with so many different things – big and small. Some people need to get serious with their health, career, relationships etc. while others need to take control of their finances.
If you're interested in purchasing a car or home, etc., at some point you'll want to evaluate your credit standing. There's no better time than the present. Looking to build credit? We've got you covered with tips to understand, build, and improve your credit score.
Credit is a vital component that contributes to your financial health. Your financials goals may include having an emergency fund, paying off debt, and spending within means. Having a good credit score can offer you benefits like lower interest rates on loans, better loan products, insurance discounts, better housing options, etc. However as beneficial as a good credit score is, it's equally important to maintain and monitor all your individual credit accounts. One of the best ways to monitor your credit health is to look at your full credit report.
Checking credit score vs checking credit report
There's a common misconception that checking your credit score and checking your credit report are the same thing. It isn't true. Credit scores and credit reports are not one and the same. The simple difference between the two is that a credit score is a numerical value or grade while a credit report is a collection of detailed financial information.
Your credit report holds details of your finances in one place. It contains financial history like credit accounts and enquiries, public records, etc. You can review this information to evaluate your financial health and identify inaccuracies and suspicious activity to report them.
A credit score is essentially a number that rates your credit report. This number is an important factor that lenders look at before deciding whether they should lend to you.
Checking your credit report means reviewing your entire financial record over a period of time. Checking your credit score means getting the numerical value of your current credit standing.
You might be wondering where your credit report information is sourced. Your lenders and creditors report your account standing and activity to three main credit bureaus. From there, each credit bureau creates a report about you. They may format and report information differently. But their information should all ideally be similar.
What are the three main credit bureaus?
There are three major credit bureaus. They are:
How often should you check your credit report?
According to the Consumer Financial Protection Bureau, you should check your credit report once a year.
Fortunately, you get one free annual credit report from each bureau! It's not required that you pull all three reports at the same time. Since you get one report annually from each bureau, you could review your credit report from each individual bureau throughout the year. This is helpful if you're making goals to improve your score so you can see those actualize throughout the year.
Why is it important to review your credit reports annually?
We recommend reviewing your credit report every year. There are reasons why it is essential to review your credit reports annually. Your credit report allows you to:
Check your score
Review past inquiries
Evaluate open credit balances
Search for any errors that could harm your credit
And more
Checking your report annually allows you to not only keep an eye on your finances, but also provides protective measures as well. Along with acting as a record for your own information, many companies refer to your credit report too. Mortgage companies, car loan providers, employers, and other companies may look at your report. They may check how you've handled money before, or they may check that your financial history matches your background check.
Many individuals check their credit report yearly for several reasons. Your credit report may
Give you a heads up on what another company may see if they check your credit report too
Indicate if you've been a victim of identity theft or fraud
Help you identify any inaccurate information so that you can submit disputes
Above all, you can get your annual credit report for free! You don't want to miss out on freebies like this.
Where can I get my free annual credit report?
As mentioned earlier, you can access your credit report once every year without having to pay anything. You can get one free credit report from each of the three major credit bureaus – Equifax, TransUnion and Experian. There are three ways to go about obtaining your free annual credit report. They are:
Go online:
You can access your credit reports online for free by visiting AnnualCreditReport.com.
Phone call:
You can call (877) 322-8228 and request your free annual credit report. You will be directed through a verification process and your credit report will be mailed to you in 15 days.
Mail:
To request copies of your free annual credit reports, you need to download the request form. Then you can print it out and fill it in before mailing it to this address:
Annual Credit Report Request Service
P.O. Box 105281
Atlanta, GA 30348-5281
What to do when checking your credit report?
There are a number of reasons to check your credit report.
When you are reviewing your credit report, there are a few things you need to look out for, and they are:
Delinquencies or past due accounts
Look for accounts that are past due. There may be an old account you've forgotten. There may be an account with a low past due balance that is still hanging around because of human oversight. Your credit report may even show an inaccurate account that you didn't open.
Accounts that are in a delinquent status are a red flag to many companies, including lenders that check your credit score. You'll want to get those delinquent accounts in good standing quickly.
Credit inquiries
See who is checking your credit. For starters, you deserve to know who's looking at your personal information. You should already have an idea of which companies have looked at your credit report. Either you've applied for some type of credit-based product, and you've given verbal, written, or electronic approval for a credit check. Sometimes companies include this information in their fine print, so you may not exactly be cognizant that they performed a credit inquiry on you. At the very least, you should recognize companies whose names are within this list. If you don't recognize certain companies, these may be red flags.
In addition, this credit inquiries section will show you who's performed hard credit checks and who's performed soft credit checks. You can learn more about the difference between hard and soft credit inquiries here. The more hard inquiries you have on your record, the more your credit score number will hurt. To the big three bureaus, the more you apply for credit that requires a hard check, the more risk you may bring to future lenders.
Credit utilization ratio
It is the ratio of your total credit to your total debt, expressed as a percentage. Having a low credit utilization ratio shows that you're managing your credit well and are not overspending. If you have a higher ratio, it could be seen as a red flag to lenders. You can monitor your credit utilization ratio on your credit report to gauge if you've been spending too much. Reducing your credit utilization ratio is a smart way to boost your credit score. A good credit utilization ratio is usually below 30%.
Inaccuracies or errors to identify fraud
We've mentioned a few times that if you see something inaccurate on your free annual credit report, it's important to note. An inaccuracy can come from two causes. It could be human error, or it could be a sign of identity theft. Either way, you'll want to resolve any errors, because it will be impacting your credit report and your credit score.
Here are common credit report errors to look for within your free annual credit report.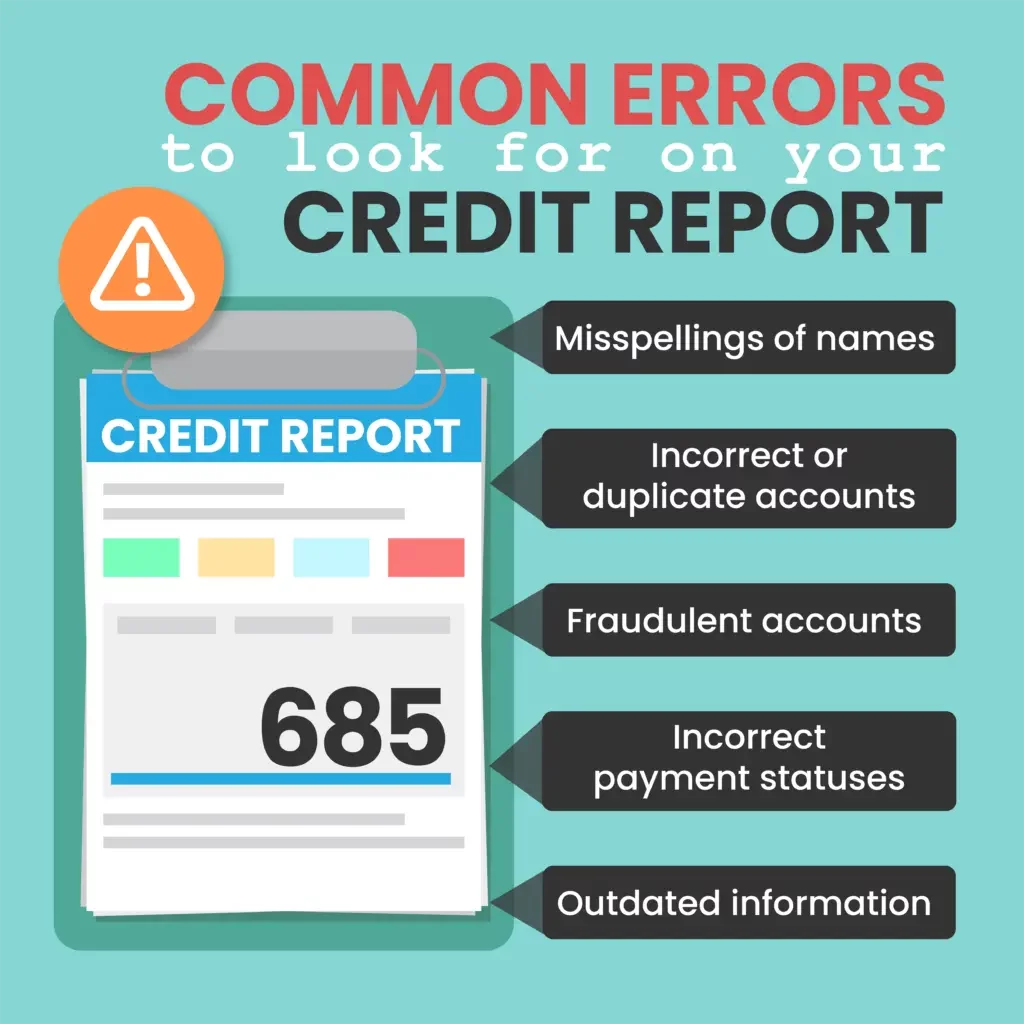 How to correct credit report errors
There are two major steps when it comes to correcting credit report errors. They are:
File a dispute
If you identify errors in your credit report, check which credit bureau your report is from and then mail a certified letter to them. Your letter needs to ask the bureau to rectify the error. If you notice the error on all three credit reports, you need to send a dispute to all of them.
Wait for results
The credit bureau(s) will take some time to process your request. They will carry out an investigation to assess your dispute. Once their investigation is complete, you will be informed of the results. You will receive a free copy of your credit report if your dispute is successful, and your credit report gets updated.
We recommend saving your credit reports digitally or printing them out for your records. For more information on what to look for when reviewing your credit report, we recommend consulting this resource.
Closing thoughts
Keeping a close eye on your finances can save you some serious trouble in future. Checking your credit reports every year is a proactive step towards taking care of your financial health. Credit discrepancies can often have a significant impact on your finances. We encourage you to take advantage of the free annual credit report.
Reviewing your reports grants you peace of mind and enables you to take action in case some are amiss. We hope this piece has the pointers and resources you need when it comes to your finances and financial health. A credit app could be a smart way to stay on top of your finances. Take a look at our list of the best credit apps.