Start the new year armed with some of the best credit apps
Most people start or renew our financial goals at the beginning of the year. If you're one of them, now is a great time to explore the best credit apps before you pick one.
2021 is approaching its end and 2022 is just around the corner! Are you excited about the new year? It's a new start and time to take a fresh look at things that matter. Family, friends, and of course, finances. Regardless of where you are in your credit journey, a great credit app can make things so much simpler and better.
We're all aware of how important one's credit score is. It helps you get a loan, buy assets, rent an apartment, start a business, get a better insurance rate, and more. That's why it is in your best interest to consistently work towards building or improving your credit score. Here are a few resources to help you get started:
To streamline your efforts and to offer higher convenience, we recommend downloading a credit monitoring app. This will help you keep up-to-date on where your credit score is at.
There's an app for that
An attribute of today's world is the availability of apps. We use them to tackle almost anything and everything. From your favorite retailers to something as simple as the weather forecast can be availed in the form of apps. Do you feel like you need to start saving? There are apps that can help you:
Most financial institutions and banks have apps too. It only makes sense that credit monitoring companies are resorting to apps. Apps offer ease, flexibility, and the ability to carry your entire world around in your smartphone.
We have selected a few of the best credit apps that can help guide you towards your financial goals. And yes, all the contenders on today's list are free credit score apps. Let's take a look at the list below before you can pick one that's suited to your needs.
1. Credit Karma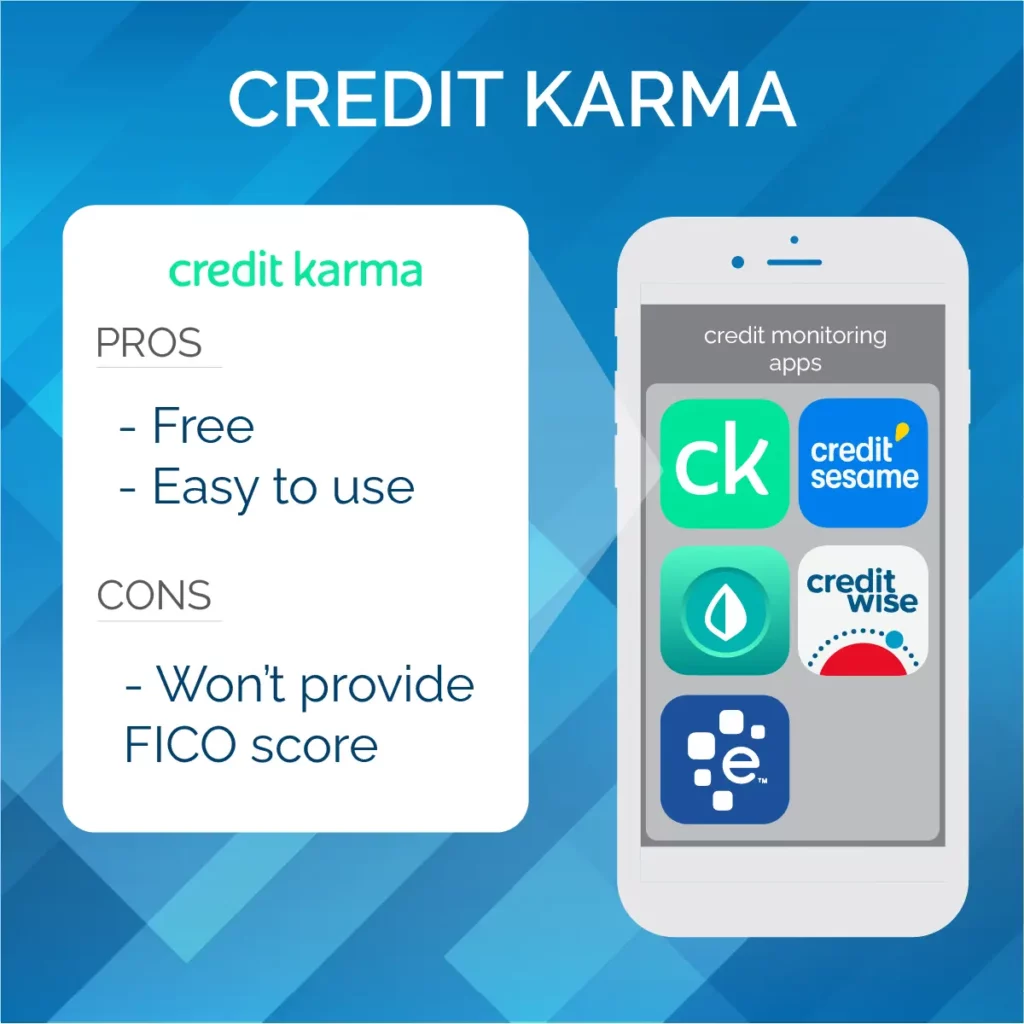 Free and user-friendly sound like music to our ears! Users are allowed to set up a new account in a matter of minutes. Credit Karma helps track your credit score and credit reports. It also breaks down all the elements that contributed towards your credit score. This app can help you analyze your buying behaviors and patterns.
Credit scores are tracked from two credit reporting bureaus – Equifax and TransUnion. This makes Credit Karma probably the most accurate credit score app on this list. The credit scores provided by Credit Karma are represented in the Vantage 3.0 credit scoring system. It does not follow the FICO (Fair Isaac Corp) credit score system. In fact, most Credit Karma users say that the credit scores provided are close to FICO scores.
An interesting feature of Credit Karma is that you can link your credit card accounts to it and be able to track all your spending.
2. Credit Sesame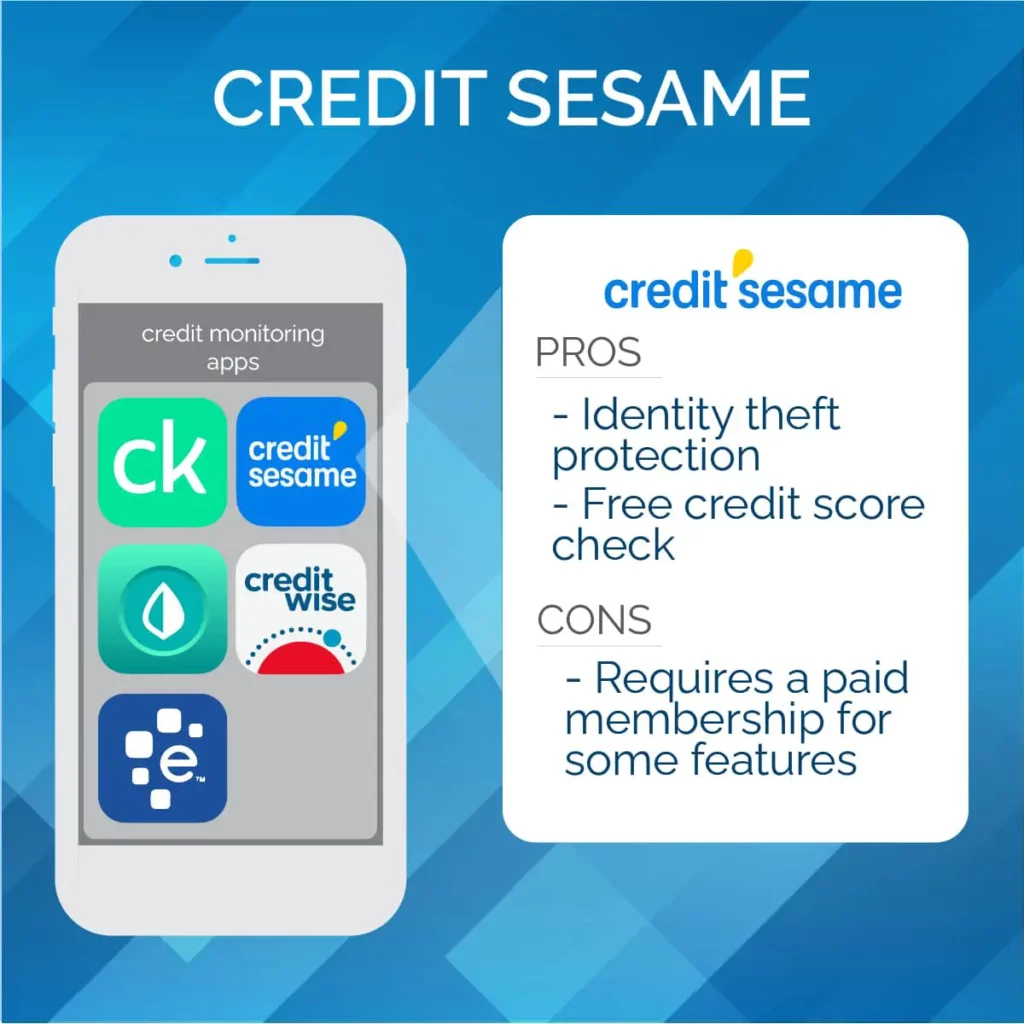 You can sign up for free! A no-cost basic Credit Sesame account offers credit monitoring and monthly credit score updates. Advanced credit monitoring costs $9.95 a month while a Platinum Protection Plan costs $14.95 a month.
This app helps keep track of credit scores and credit records. Credit Sesame utilizes Experian scoring which is different from FICO scores. Users can see their credit history and figure out how much they owe, interest rates, credit scores etc.
An added feature of this app is refinancing solutions with Lending Club. This allows users to start paying off high-interest debts. But that isn't even the best part. Credit Sesame offers $50,000 in identity theft insurance to its users. No wonder this app has firmly secured its spot on our list of best credit monitoring apps.
3. Mint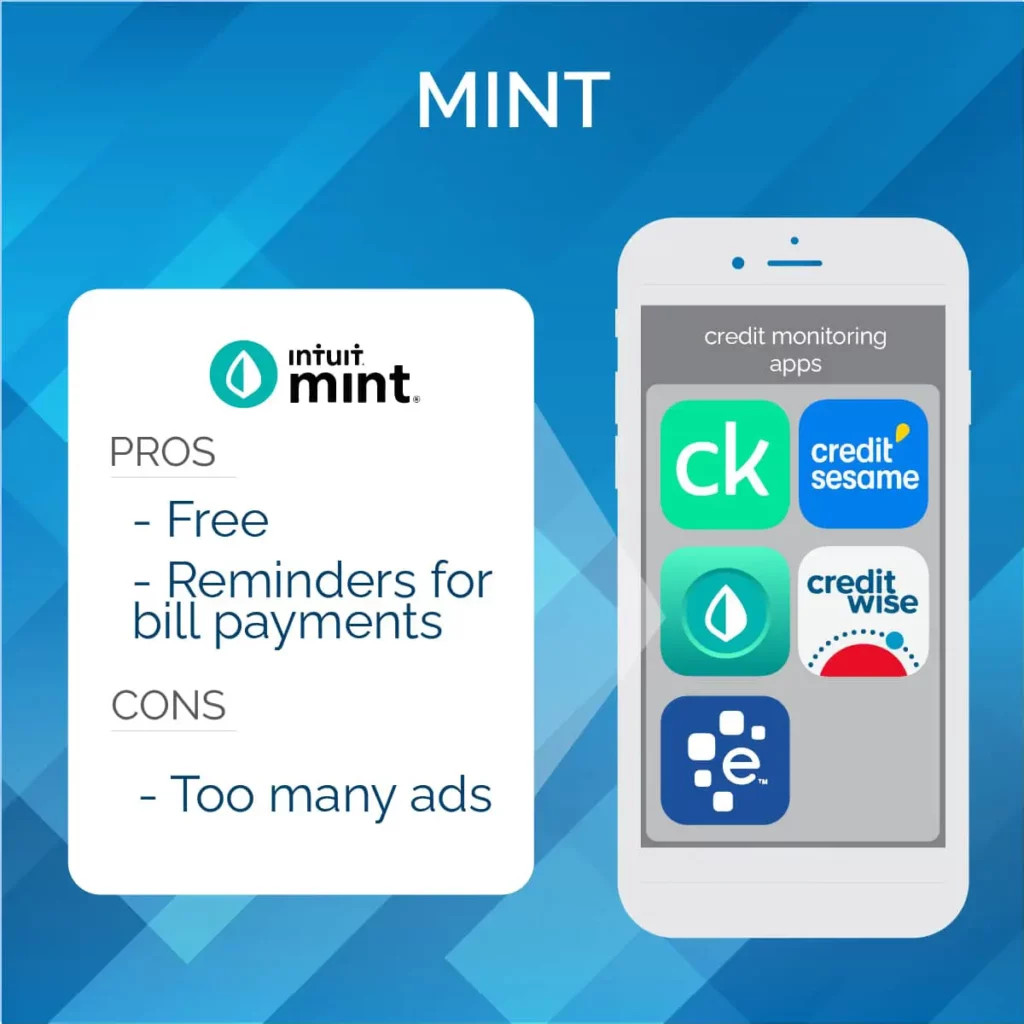 Another popular credit monitoring app that you can obtain for free is Mint. It allows you to monitor your credit score and stay proactive regarding your finances. Mint doesn't not ask for your credit card, but users are required to verify their identity. You can access your credit score and credit reports instantly.
Mint offers a breakdown of your credit score along with recommendations on how to improve it. It sheds light on what is impacting your credit score.
This app has the ability to connect your bank accounts and credit cards. It organizes all your financial data in one place for you. It keeps things simple with an overview of your finances.
4. Creditwise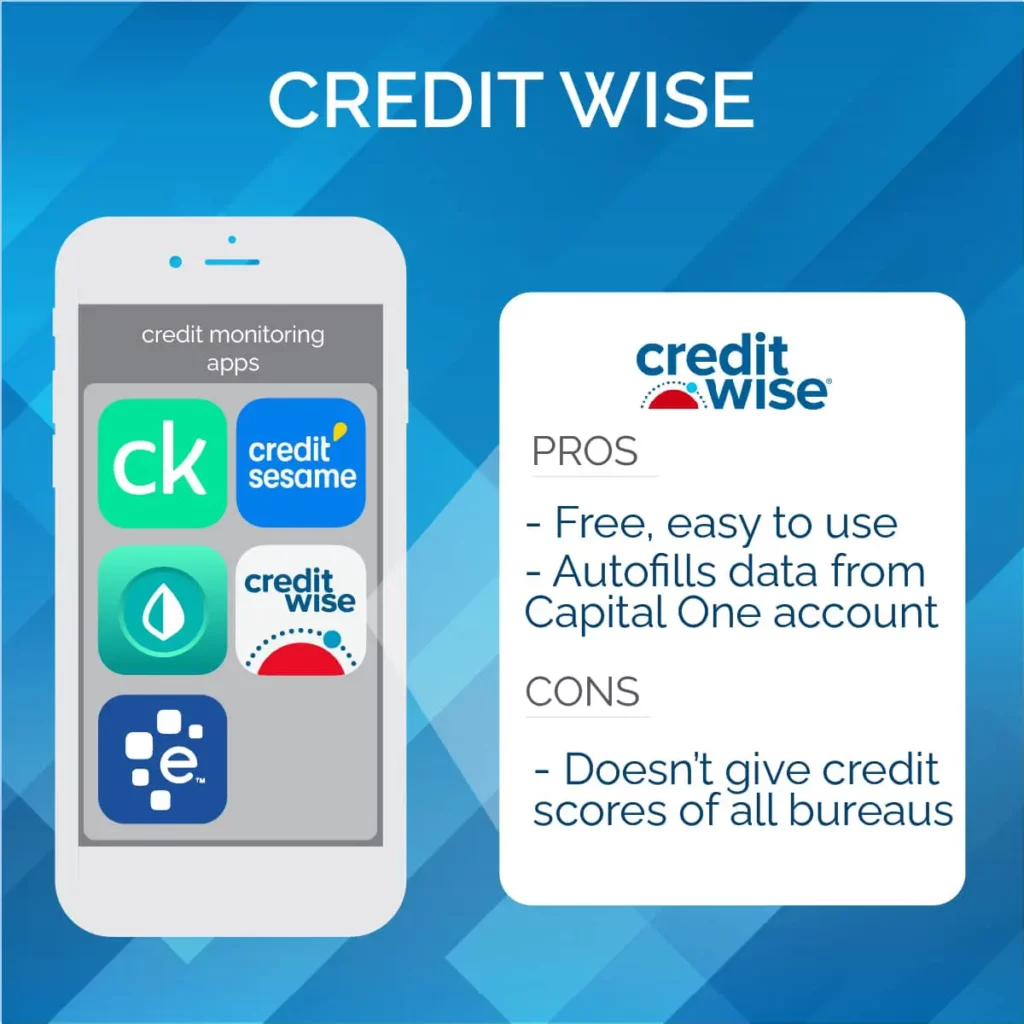 Although it is a Capital One credit monitoring tool, Creditwise isn't for Capital One users only. You do not need a Capital One account to sign up. It allows users to track their credit score for free.
Creditwise users are provided with their TransUnion credit score. It is updated every week. An interesting feature of this app is the credit simulator. This feature lets users simulate options to improve credit scores. You can play around to see how factors like making timely payments, paying off credit card debt, increasing credit limits etc. can impact credit scores. The simulation feature quickly put Creditwise as our pick for the best free credit check app.
5. Experian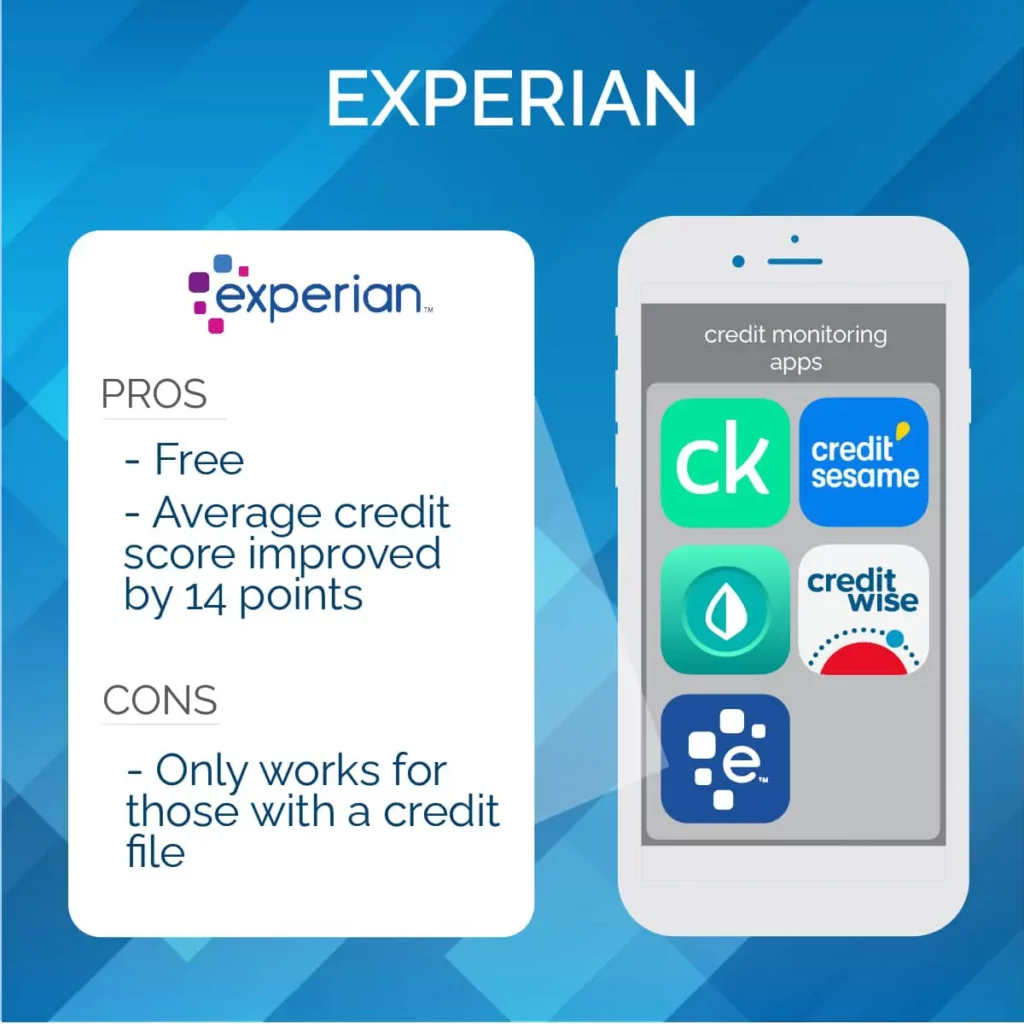 You're probably aware that Experian is one of the three main credit bureaus. They happen to have their own app. One of the perks is that the app is free. Plenty of other credit monitoring apps use the Experian credit rating model. The Experian app monitors your credit and offers insight on improving your credit health. It updates your credit score every 30 days.
Late payments can't impact your credit score because Experian does not include them in your credit report. However, this app works only for people who already have a credit file. If you're trying to build credit, this app isn't for you.
You, yes you, can improve your credit score
Credit scores are vital for your financial health. Keeping track of your credit helps you get closer to your financial goals. There are several different credit monitoring apps you can choose from for this purpose. Our list includes the best credit apps available. We hope narrowing down the choices to five will help you pick one.
Credit in general isn't the most captivating topic. Very few people take an active interest in deciphering credit scores. However, one thing we can all agree on is that having good credit is essential. Poor credit can cause problems and roadblocks. It is important to be up to date on your credit. We advise you to develop an understanding of your credit report and credit score. Analyze the pros and cons of each app on our list of the best credit apps before deciding. Choose wisely!
While you're searching for a credit app, zip over to the Net Pay Advance mobile app and download to your smartphone!