Patience may be a virtue, but when it comes to building your credit, it is a necessity. Building credit takes time. Make sure to start before you really need it. Having a good credit score rating is important if you are going to apply for a credit card or loan.
Have you paid your bills on time? Have you paid back your bills in full? How many other debts do you have active? Not sure how your credit score ranks?
Your credit can be based on all those things and more. New to building credit? In this article we'll how you how to start building up your credit.
Or check out some of our other articles on credit:
Having a higher score allows you to access better credit cards and loans. These tend to have a lower APR (Annual Percentage Rate), lower interest rates, and even better perks. Alternatively, people with a lower score may find that they are often denied loans, credit cards, and apartments. If they are approved, it is usually for less favorable rates, costing them more in the long run.
If you want to have access to better auto loans, mortgages, and credit cards in the future, then you need to start building credit today. Thankfully, there are a number of different ways to build (or improve) your credit!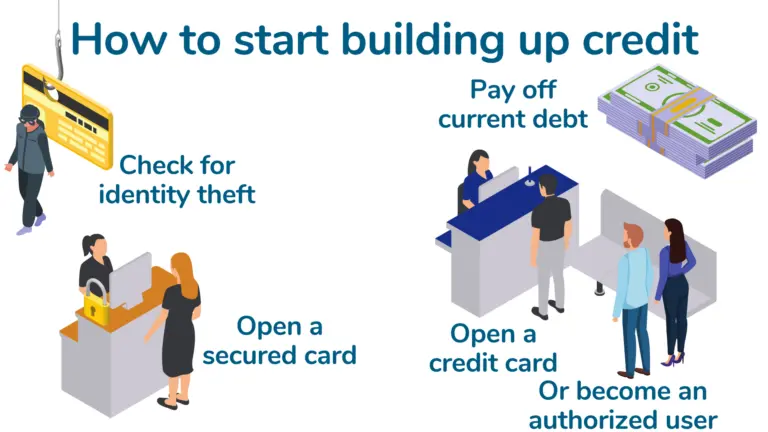 Open a secured credit card
When managed properly, credit cards can be a great tool to build your credit. It can help show that you are responsible and can be relied on to pay back your debts. If you have little or low credit history, look for a card with a lower spending limit. It is usually easier to qualify for these cards.
Be aware that if you mismanage your credit card, you could easily fall into debt and hurt your score. When you are late to pay off your credit card, you will owe even more money, and your score will lower. The additional money that you owe will be based on your card's APR. You can avoid this. Once you are approved for a card, use it to make some of your regular purchases like gas or groceries.
Credit card purchases should be treated as a bill, not as additional money. Always make sure that the purchases are small, and that you can easily pay them off right away. Make sure to pay it off in full every month. Be responsible with your credit card and keep a close eye on expenses. Pay attention to receipts, credit card statements, and bank accounts to make sure that you:
What Is a secured credit card?
A secured credit card is a type of credit card that is great for people with little history or negative history. You're still able to make purchases with secured credit cards. The biggest differences are that secured cards are tied to your bank account and tend to have a lower limit than traditional credit cards. In addition, to be approved for a secured credit card, you need a one-time refundable deposit.
Secured credit cards still require responsible spending habits. You'll want to make sure you are using the card responsibly. You'll want to pay off the bill on time each month.
Before opening a secured credit card, be sure to check with the company to find out if they report your credit. Not all secured credit card companies will impact your credit history. If you are trying to build credit, you want a card lender that will report your responsible behavior. Visit credit card company websites and call customer service if you need more information to make an informed decision.
Fortunate enough to have a family member that is comfortable with you joining their account? That is a great way to build your score fast. You could become an authorized user on an account, or you could open a joint account, with someone with a better credit score.
Not everyone will be comfortable having you join their account. With having a shared account, both users are responsible for repaying the charges. The other user may become liable for your purchases. You could become liable for their purchases. If no one pays the credit card bill, you may both take a critical hit to your score. The Simple Dollar has more information on the differences between adding authorized users and opening a joint account. It also goes over the pros and cons of using both.
Consider becoming a user on a card that you cannot physically access. Cut it up, or keep it with the other person. This helps you avoid temptation entirely from spending the card. You just have to be sure that the other person will be responsible about their purchases.
Get a credit-builder loan
If you have little or no credit history, a credit-builder loan helps you build credit. You do not need good credit to get approved for a credit-builder loan. These loans may also be referred to as "Fresh Start Loans". They are offered by community banks, credit unions, and other smaller financial institutions.
Once approved, the loan amount is kept in a bank account while the borrower makes payments. In most cases, they're not given access to the money until the loan is paid off. Loan payments are reported to a credit bureau to show up in credit reports.
Check your credit score
Ever made a mistake before? That's okay. Most people have. That includes people that work in finance as well.
Doublechecking your credit report is good practice. For starters, it allows you to keep a tabs on how your credit score is doing. More importantly, it allows you to double check that all the accounts listed under your name are actually our accounts.
If you ever look at your credit report and see an account you did not set up, it's a good idea to look into. It could have been added in human error. Or, it could be that someone has stolen your identity.
Either way, you'll want to get that account off your report – it's inaccurate information that is impacting your credit score.
Check out our article on how to report identity theft to learn more.
Checking your credit report along with your credit score can save you from a real headache down the road. Removing incorrect or fraudulent accounts from your report can help improve your score quickly.
Make a habit of making on-time payments
If you have an auto loan, mortgage, or school loan, you will want to be sure you are making regular on-time payments. These loans are all monitor and report your credit with them. School loans are common. Almost everyone who went to college has at least some form of student loan debt.
If you have trouble paying off your loans, consider enrolling in autopay. A lot of companies have an automated system that will schedule a monthly withdrawal from your bank account. You can set it up to withdraw the same amount of funds on a specific day of each month. If you are going this route, make sure that you are confident you will have the funds necessary. The last thing you want is to miss a payment and have an overdraft fee. Pay off your current loans and other payments on time to show credit bureaus that you are responsible with debt.
Pay your other bills on-time to show credit bureaus that you are responsible
Do you have a history of paying your utility and cell phone bills on time? Some credit bureaus will allow you to connect your bank accounts to identify your payment history.
Previously the only way that utilities could affect your score was in a negative way. Unpaid utility bills that you default on could also lower your score.
Today, there are more options to help showcase solid payment history. There are rent reporting services that can contribute positively to your credit if you have good payment history as a renter.
Experian offers Experian Boost to help you include monthly bills in your score. And this makes it important to pay your bills on time to help build credit. Just be aware that this tool will only affect your Experian report. It will not affect your Equifax and TransUnion credit reports. However, your Experian score does affect your FICO score.
How your utility bills can help build a credit history
As you might already know, not all bills contribute to your credit. This is an area that needs some looking into. If you're making routine payments, it makes sense to have that reflected in your credit report. You need to identify the bills that aren't getting reported and take steps to change that. Lenders and creditors usually report to a credit reporting agency. However, some don't and that's why some recurring expenses like rent, utilities, and loan payments may not show up on your credit report. Once you've pin-pointed them, the next step would be to request your lenders report your payments.
Use a co-signer
If you know someone with stellar credit, have them become a co-signer on your credit card or loan, it can potentially open many doors for you. It all boils down to your financial situation. Usually, co-signers are people you trust and have impeccable credit history. It could be the make-or-break factor when applying for loans. You can then make payments to steadily build credit. Paying off a loan that had a co-signer can improve your credit score.
Avoid applying for multiple credit card accounts close together
When you apply for a credit card, it can cause a few points to be knocked off your credit score. This is a temporary dip. When you apply for a credit card, the company will automatically check your credit report so that they can approve or deny your application. This is called a hard inquiry, and it appears on your credit report.
Applying for multiple credit cards can have a bigger impact on your credit score. To avoid this situation, we recommend spacing out your applications as much as possible.
Frequently Asked Questions
1. Do payday lenders look at my credit score?
There are some exceptions, but most payday loan lenders, including Net Pay Advance, do not do a traditional credit check to determine a loan decision. They might do a harmless soft credit check just to confirm your identity. But they're not deciding based on credit scores. Plus, a soft credit check won't impact your score.
Most lenders prefer to look at other things, such as your bank activity, and income verifications. This is because if you have a source of income to pay off the loan, most lenders don't believe your credit score is an accurate representation of your ability to pay back a loan.
As we mentioned earlier, there are some exceptions. If you're in need of a payday loan, you might consider looking for no-credit-check loans specifically.
2. What happens to my credit score if I go to collections?
If you fail to pay back your loan on time, your account will automatically be sent to collections. This has no immediate effect on your credit score, but if you continue not to take care of your debt, chances are your credit score will be affected. This is because if a payday lender is unable to retrieve payment from you for your overdue balance after a certain period of time, they could release your debt to a third-party collections agency. This will negatively impact your credit score.
A loan through a payday lender will not be included on your credit report. However, a loan being transferred to a third-party collections agency may be reported. We highly recommend taking care of your payment while it is in the hands of your lender. Learn more about our collections process.
3. Where can I see my credit score?
The quickest and easiest way to see your credit score is to use one of several credit reporting sites. We recommend CreditKarma.com, CreditSesame.com, or Credit.com. These sites are completely free and will give you your credit score at no cost. You will have three different scores based on each of the three credit bureaus: TransUnion, Experian, and Equifax. You may see differences in each report due to the following reasons:
Not all your credit information was reported to each bureau
You may have applied for credit under different names (such as a maiden name)
Credit bureaus may display information differently
4. What does a write-off mean on my credit report?
A write-off on your credit report is one of the most detrimental things to your credit score. As a consumer, a write-off should be avoided at all costs. A write-off occurs when a lender cannot collect a debt owed to them after a reasonable amount of time has passed and thus determine collecting the payment as unrealistic. They "write-off" the debt as a loss, saying that they will not be receiving payment on the debt and therefore are no longer responsible for it. A write-off on your credit report says that you are either unable or simply unwilling to pay off your debts to anyone that sees it.
5. What if I see something on my credit report that is inaccurate?
Credit reports reflect information such as how you pay your bills, if you've filed for bankruptcy, if you've been sued, and other relevant information. When checking your credit report, you must make sure all the information shown is up to date and correct. If you do find any discrepancies, such as a paid debt that is marked unpaid, file a dispute via the credit reporting company. Get in contact with the agency related to the error and ensure that you have taken care of the responsibilities on your end.
How long does it take to build credit?
Rome wasn't built in a day and your credit too will take time. Just know that all great things take time and patience. By performing all the right actions, you will be able to steadily build your credit. The dos and don'ts are simple and easy to comprehend. Applying them might take some resolution and smart decisions. The key is to adhere to the guidelines and sit back as your credit builds up.
Hopefully, this guide did a great job of answering any and all of your credit-based questions. However, we realize that nothing can be completely all-inclusive. Do you still have a question about credit? Feel free to leave a public comment below, and we will be sure to answer.
This blog was originally posted December 18, 2018 and has since been updated.