Need to cash a check but don't have a bank account? Don't worry, we got you!
Traditionally speaking, you'll need a check, a bank account, and an ID to cash a check. The good news though is that it's possible to cash a check without those items. Here's how to cash a check without a bank account or ID.
Cash may be king, but no one is turning away a check written out them.
Unfortunately, not all of us are check cashing experts. High school doesn't teach us how to handle checks, or at least not when we were in high school and it's been a hot minute. Within 2022, only 55% of Americans even wrote a check. It is okay to have questions about checks. Not everyone can be a check know-it-all.
To help you cash a check the usual way, we recommend checking out our How to Cash a Check article. In this piece however, we're tackling the aspect of cashing checks in unconventional ways.
You deserve to be able to handle your checks with confidence. In this article, we'll show you:
How to cash a check without a bank account
How to cash a check without an ID
Unique places to cash a check
Answers to your check FAQs
and more!
How to cash a check without a bank account
If you do not have a bank account, you can still cash a check. However, there might be fees involved. You can cash your check at the issuing bank, or the bank whose name is on the check.

You could cash it at a retailer or grocery store.
Another way would be to deposit the check at an ATM and into a pre-paid card account.
Please note that that all of the above options will involve some amount of fees. It is advisable to open a bank account to save you some time and money.
If you don't have a bank account and choose to cash checks at a bank, we have a list of top banks in the country along with the fees they charge. Remember that banks usually ask for two forms of government-issued identification for non-customers.
See common bank fees for cashing checks further down on the page.
How to cash a check without an ID
Although an ID is necessary in several places for cashing checks, there are ways to circumvent it in case you don't have an ID. You could deposit your check at an ATM and into your account. Alternatively, you could use ATM check cashing. You also have the option to sign the check over to someone you trust and request them to cash it for you.
How to endorse your check to a friend or family member
When you receive a check, you have to sign at the back of it in order to cash the check. The act of signing at the back of a check is called endorsing the check.
The easiest and most secure way of endorsing a check is to write down the words "for deposit only," followed by the account number. The next step is to sign your name below and you're good to go. This method tells the bank to deposit the money to the account you endorsed. If you're uncomfortable with writing down your account number, you can simply put "for deposit only." However, most banks print the account number when they process checks.
If you receive a check and you wish to hand it over to a third-party for payment, your endorsement will be slightly different than usual. On the back of the check, you need to write "Pay to the order of [person's name]." The next step would be to put down your signature.
Bear in mind that some banks and check-cashing places refuse to accept third-party checks due to risk of fraud. Confirm with the bank before endorsing a third-party check.
For more information, read our article on endorsing checks.
Where to cash a check
What do you do when you receive a paper check? You go cash it so that you can access the money. But where do you go to cash checks? There are several places that offer check-cashing services. These places don't require having a bank account.
1. Retailers and grocery stores
Local retail and grocery stores may offer check cashing services. They're spread all over the country and you can simply walk into a Walmart, Kmart, or most local grocery store chains to cash your checks. Usually there are fees associated with check cashing services at retailers and grocery stores.
2. Banks and credit unions
If you're an account holder, you won't be charged any fees for cashing a check. This is why it is highly recommended to cash checks at your local bank. In case there is a branch of the check writer's bank in your vicinity, you could cash your check there too. In fact, if you visit the issuing bank, they will be able to cash your check as long as funds are available in the check writer's account.
Most credit unions usually have lower fees than banks. Some credit unions will cash your check with minimal fees even if you're not an account holder.
Check cashing fees of popular banks for non-members
| | |
| --- | --- |
| Bank | Fee for cashing check (non-members) |
| Bank of America | $8 (for all checks higher than $50) |
| Capital One | Free |
| Wells Fargo | $7.50 |
| US Bank | $7 (for all checks higher than $50) |
| Citibank | Free (for checks under $5,000) |
| Chase | $8 |
3. Check-cashing stores, money services, and travel centers:
Spread all over several states in the United States, check-cashing stores will let you cash government checks along with payroll checks. Be prepared to pay some type of fee for the service. Popular check-cashing stores are ACE Cash Express, Cash America International, and EZCorp.
Money services offer instant cash if you don't want to wait for your money. They are easy to locate and charge low fees. Payroll checks, government checks, income tax refund checks etc. can all be cashed at money services.
Travel centers like Pilot Flying J and TravelCenters of America allow people to cash checks. They're not located everywhere but if you do happen to be near one, you can definitely use their services.
4. Online apps:
Probably the most convenient as it saves you a trip to any of the aforementioned places, apps let you cash checks from the comfort of your home. They're easy to download and easy to use! Stay tuned to learn more about cash apps (like PayPal, Ingo Money, and Chime) and how to use them.
Where to cash a check online
The following avenues are some of the best options when trying to cash a check online. They're simple and convenient to use year-round. Best of all, if you already have an account with some of these sites, you won't be required to provide ID when you cash your check.
1. PayPal
The PayPal app is arguably one of the most popular cash apps today. It offers a "Cash a Check" service that lets you cash checks and credit them to your PayPal Cash Plus account. You'll need to snap a photo of both sides of your check. There are no fees but there is a 10-day waiting period to get your money unless you want to pay a fee.
2. Ingo Money
Akin to PayPal, there are no fees with Ingo Money. However, there is still a 10-day waiting period applied, unless you agree to pay a fee. Ingo Money allows you to cash personal checks, paychecks, business checks etc. The app can be downloaded on Apple as well as on Android devices. You'll have to take a photo of the front and back of your check.
3. Chime
Chime allows you to deposit checks 24/7 and with no fees! Deposits after 9pm CT usually show in your account the next business day.
4. Brink's Money Prepaid
If you want your money fast and are okay with paying a fee, Brink's Money Prepaid is a great choice. It is a prepaid card account that offers a cash-checking option.
5. ACE Elite
The ACE Eline Prepaid app allows users to load their checks directly to their accounts. Access your funds within an hour for a fee, or for free if you agree to their 10-day waiting period.
6. Your bank's mobile app
Most banks have mobile banking options and a free app to facilitate that. Check with your bank to confirm they allow cashing checks using their mobile app.
How to cash a check online with a bank app
With apps taking over the world, one industry at a time, we aren't being too forward in assuming that some of you are avid app users. As such, you want to know how to cash a check online using an app. Can it be done? Absolutely! We're here to help you to do the same.
If you have a bank account, but don't have an ID on you, the easiest way to deposit a check is through your bank app. The following graphic depicts the steps necessary to cash a check online with an app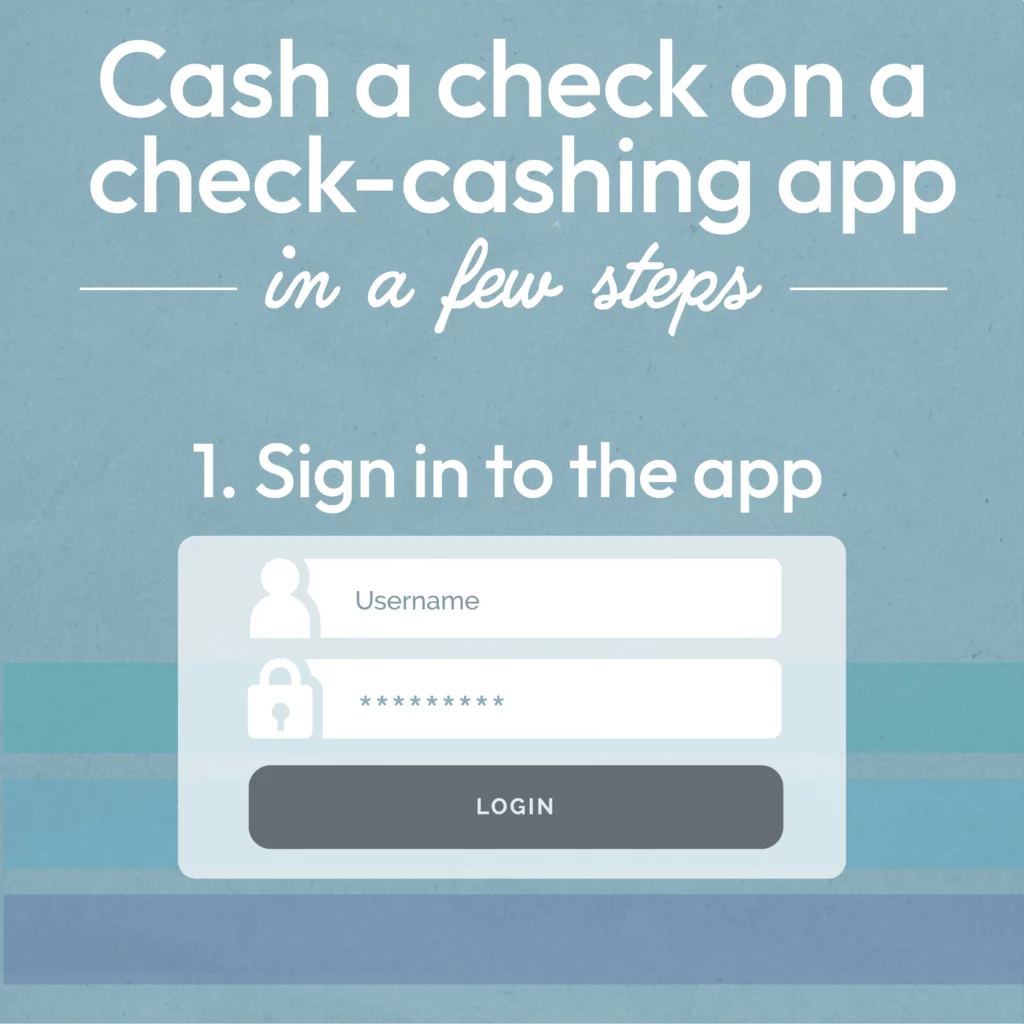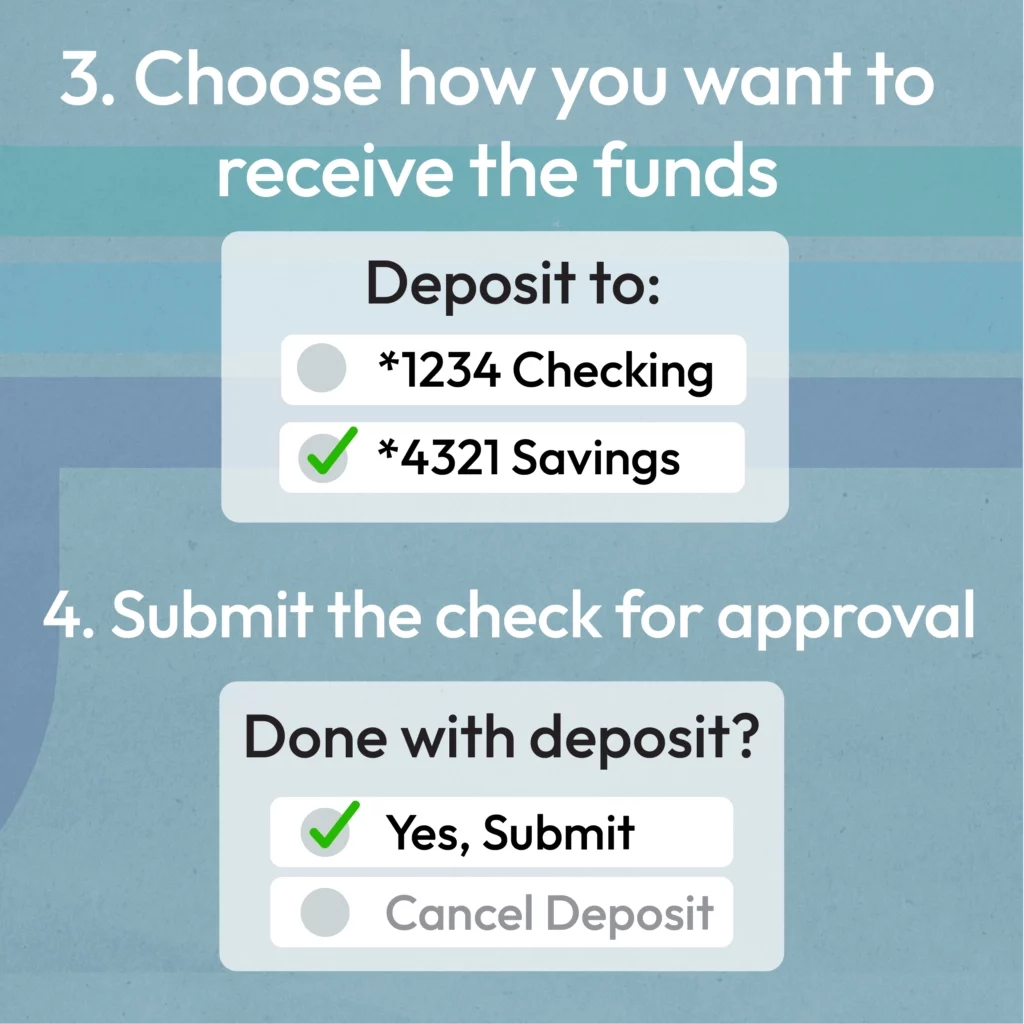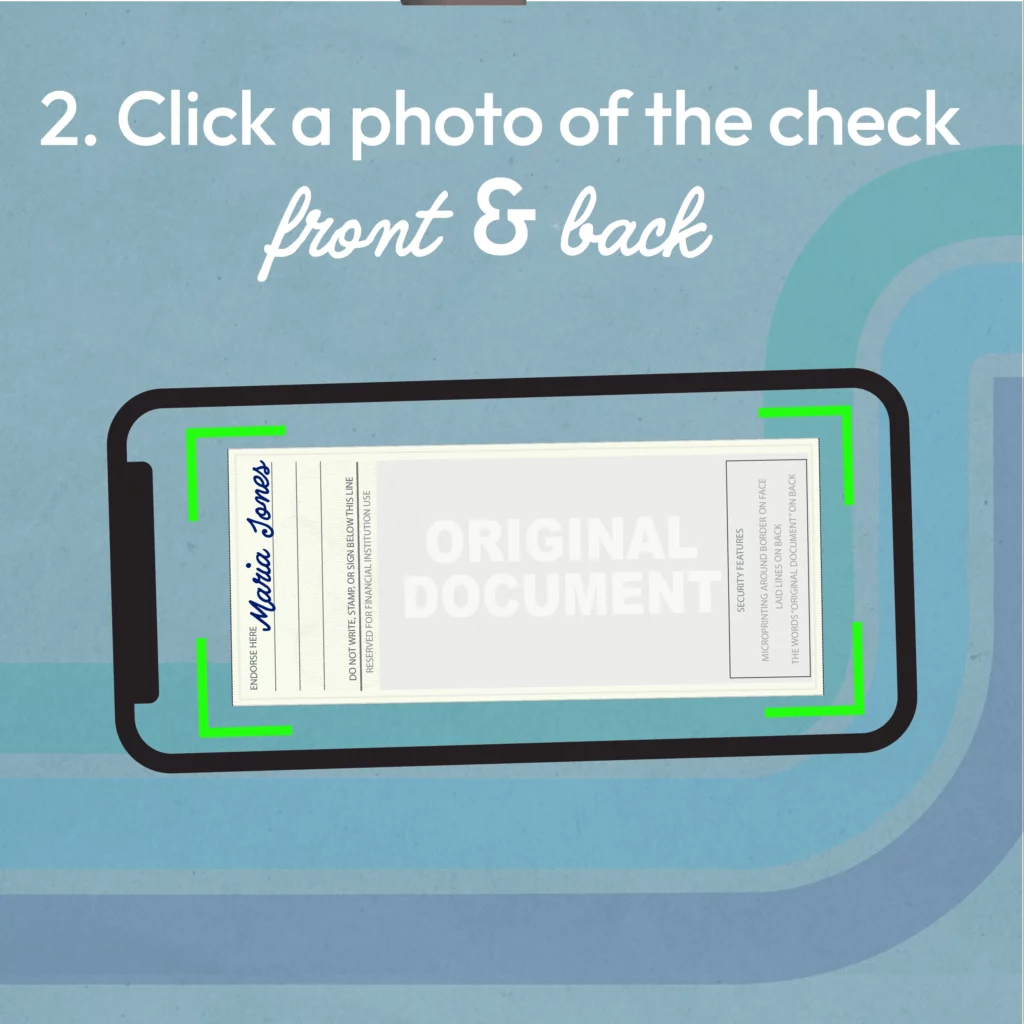 A lot of these apps do not charge users for depositing checks but there could be wireless carrier fees that are charged by your service provider. Confirm with your service provider to avoid unexpected fees.
Additional check FAQs
Got questions? No worries, we have answered a few of the most frequently asked questions when it comes to checks. Hopefully, you'll find the answers you're seeking. Come take a look.
How long do you have to cash a check?
Although most checks can be cashed within a maximum of 6 months, we strongly urge you to cash your check as soon as possible to avoid issues.
If you have a personal, business, or payroll check that needs to be cashed, remember that at best you have a 180-day window. However, some checks might have the words "void after 90 days" printed on them. This means that you need to cash the check withing the allotted time frame.
If you choose to hold on to a check for a long time, there are a few risks involved. You might run out of time to cash it or whoever wrote the check might have forgotten all about it and didn't ensure to have that minimum amount in their account. As a result, you might have to pay returned check fees.
What is the easiest way to cash a check?
The easiest way is to have a bank account and use your bank's mobile app. There's no need to leave the house or even change our of your pajamas! Bank apps make depositing a check convenient and quick.
What do you need to cash a check?
Traditionally, you need a bank account, ID, and check. Although, it is possible to cash a check without a bank account. It is possible to cash a check without an ID. In these instances, you'll need a check, a way to pay a small fee, and a provider that will cash your check without a bank account or ID.
I need fast funds now. Is there a way to get around the 10-day waiting period with these online apps?
Cash apps like PayPal and Ingo Money may require a 10-day waiting period to process your check for free. The alternative solution would be to pay their fee to waive the 10-day waiting period and speed up the process. If you don't have the funds for the fee, or need same-day funds for an emergency, Net Pay Advance offers fast funds.
Bottom line: No bank account, no problem!
As imperative as it is for an individual to have a bank account, cashing checks doesn't necessarily require one. We recommend everyone to create a bank account for themselves as soon as they can. In the event that you need to cash a check and you don't have a bank account, you still know what to do.
At Net Pay Advance, we work to create resources for everyone. Want to know how to endorse a check? Or need to void a check? We can help you with that.
Regardless of what your wants and needs are, we all love getting paid. Turning a paper check into cash in your hands or funds in your account is a task we all need to perform at some point. It is smart to be armed with the necessary knowledge and information. We hope to have enriched you with some useful insights on how to cash a check the next time you need to process one.
Cheers to getting paid!