Wondering what is a voided check? Let's figure it out!
There are times when you need a void check. This article answers questions such as what is a voided check, how to void a check, and the best practices when doing so.
Being an adult comes with a myriad of pros and cons. You have all the independence you want, and it comes with a whole new world of responsibilities. Handling finances is an integral part of adult life but there are so many nuances to it that it's only natural to feel lost or confused. There is a learning curve to most things and finances are no exception. There's absolutely no shame in not knowing certain things.
In this article we'll cover:
What a voided check is
What they're used for
Several ways to void a check
Plus video!
At Net Pay Advance—your go-to place for payday loans online same day—we feel very strongly about promoting financial literacy. That's why we devised a resource to help our customers and readers. Want to learn more about financial terms and verbiage? Take a look at our glossary! Know how to cash a check? If not, we're here to help! Let us be your one-stop guide to all things money, finance, and more.
Wondering what is a voided check and drawing a blank? Don't worry, you're not alone.
What is a void check?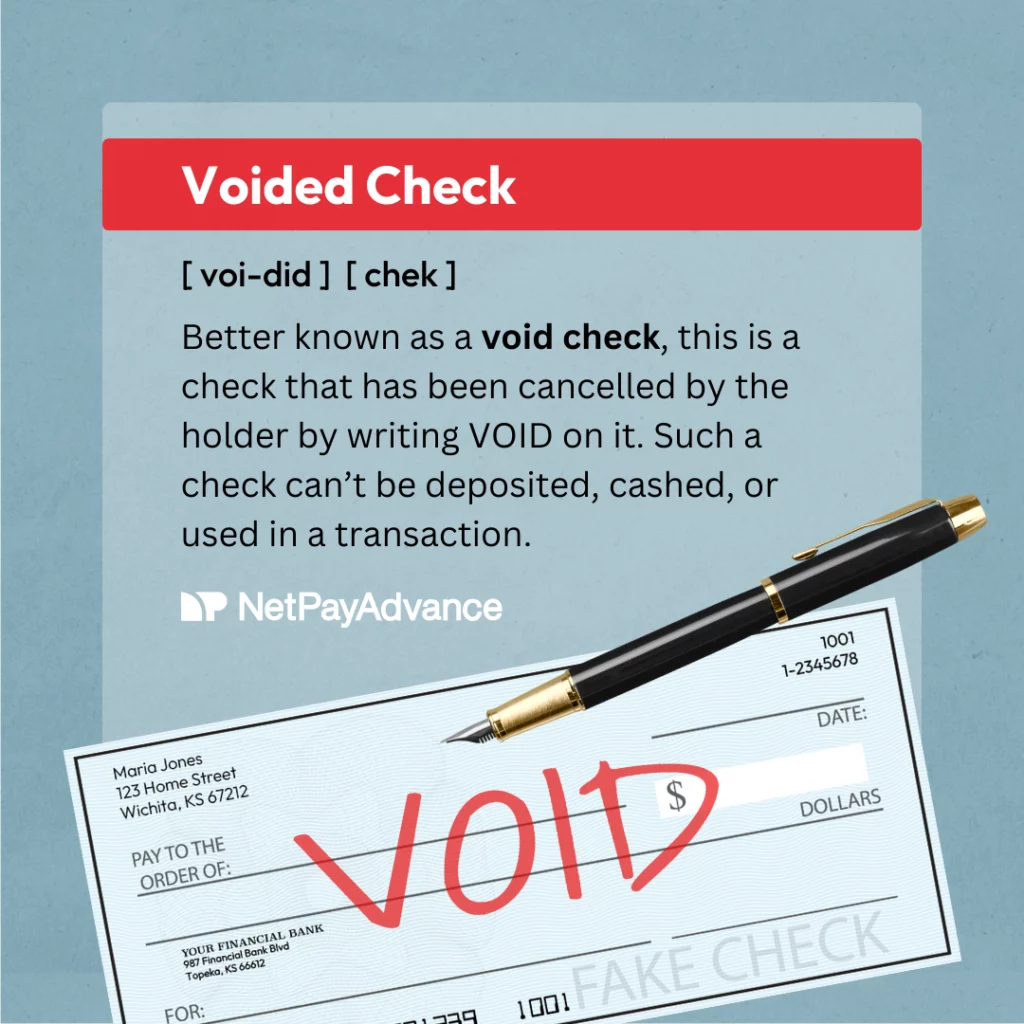 A voided check is one that cannot be used to make a payment or withdraw money from an account. It can't be used to make any transactions. In the case of paper checks, it will have the word "void" written across the front. A voided check can be used to protect checks that have errors, cancel a check, set up automatic bill payments, or receive direct deposit.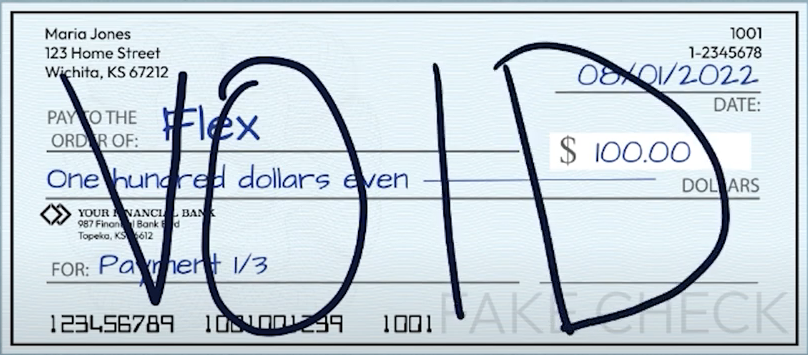 Reasons to void a check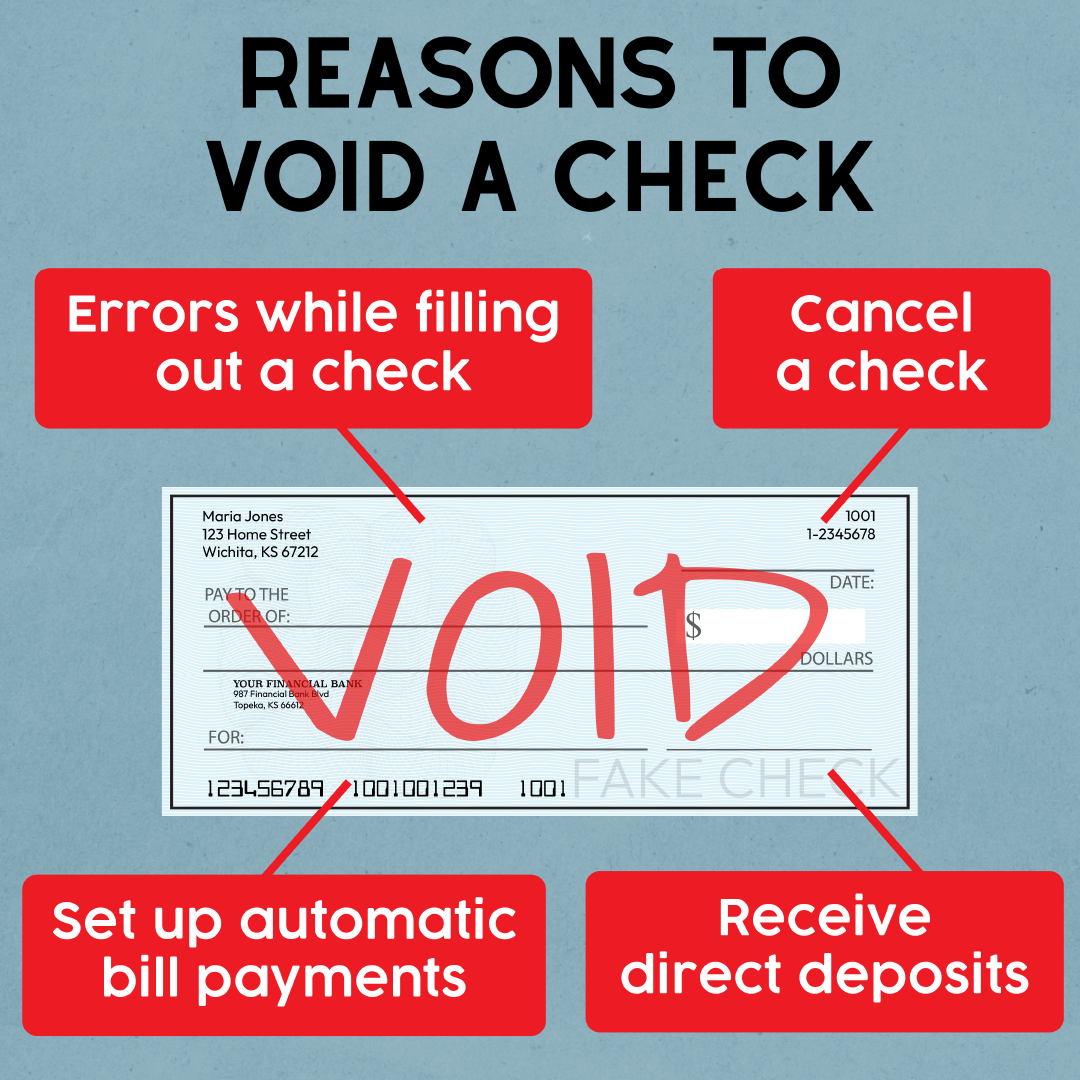 A void check can't do a whole lot. It can't be cashed or deposited, nor can it be used in a transaction. This makes a void check sound practically useless. However, it does serve a few specific needs! For starters, it enables you to share your banking information with your employer in an easy way.
There are many instances where a voided check may come in handy. Let's take a closer look at a few of these reasons to void a check. They are:
1. Errors while filling out a check
We all make mistakes! This is just as true for most areas of life as it is when it comes to filling out any sort of paperwork. Misspellings are common and so are discrepancies in dates or numbers. When you make an error on a check, it is advised to void it prior to shredding it. Better be safe than sorry! You never know where your trash ends up and a discarded check in the wrong hands could create a whole new set of problems for you.
Don't let someone take advantage of you. Void incorrect checks and start over.
2. Set up automatic bill payments
Mortgage or loan payments are due periodically. So are utility bills like electricity. It is fairly common for companies to ask for a voided check to set up automatic payments. This helps them acquire your information in a convenient way.
3. Cancel a check
One might wish to cancel a check for various reasons. There might be insufficient funds in an account. Or it could be because they decided on a different mode of payment. Regardless of reason, voiding a check allows one to cancel a check they don't want to be cashed.
4. Receive direct deposits
Often times your employer will ask for a blank voided check if you want to receive your paychecks in your bank account. This is called direct deposit since your employer directly transfers money into your account. It is a quick and simple way to get paid! Using a void check allows them to ensure they've been provided with the current banking information.
Are there any alternatives to using a voided check?
Yes, there are alternatives when it comes to voiding checks. Although, a voided check is probably the easiest way to accomplish several things, you might want other options.
What are the alternatives to using a voided check?
Some alternatives to using a voided check are direct deposit authorization forms, a voided counter check, a deposit slip that is printed with your banking information, and a photocopy of a check or deposit slip.
Pro tip: Need a check but don't have any on hand? Most people can get 10-20 free checks one time from their bank. So, if you need to void a check, you should be able to write another one.
How do I void a check?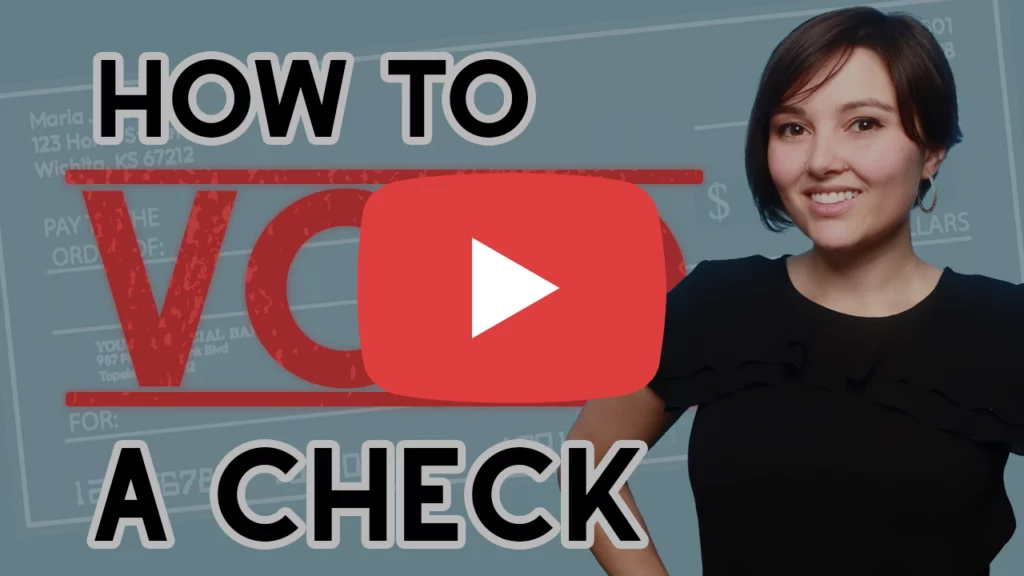 As discussed earlier, there will be times when you wonder "how do you write a void check?" There are three steps to voiding a check and they are: 
Get a paper check.
Write the word "void" across it.
Make a copy of the check for your records.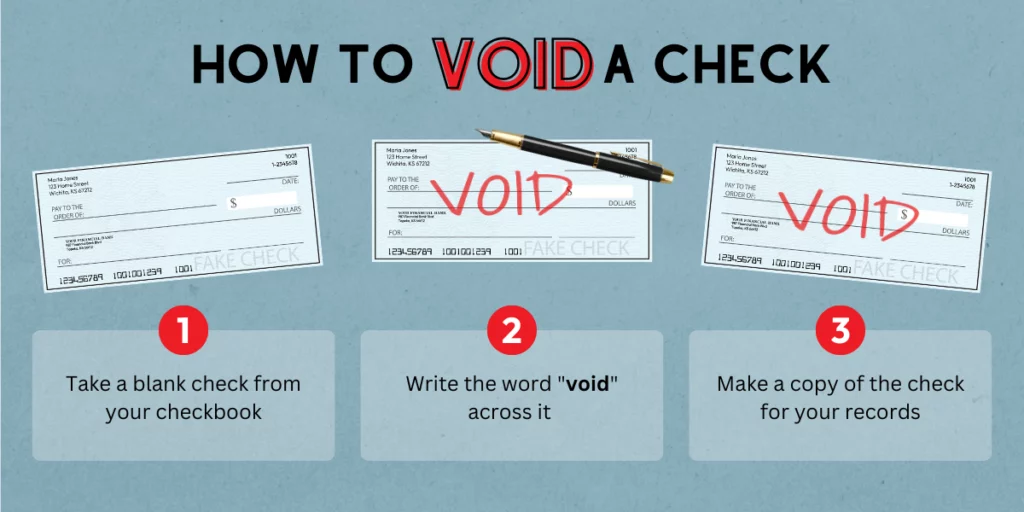 1. How to void a check for direct deposit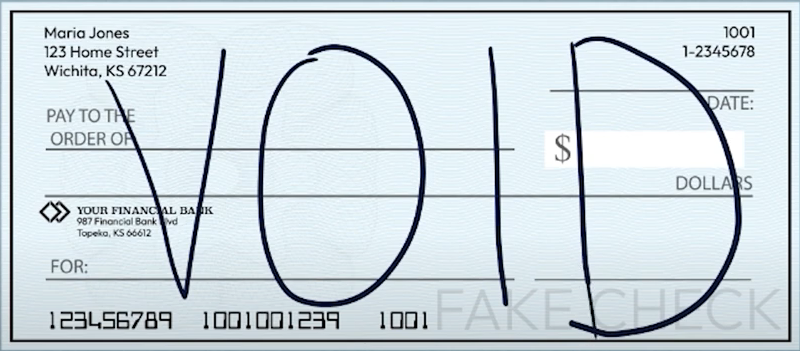 If you need to void a check for direct deposit, you can do so by following the above steps to void a check. Be sure to use a dark pen. Or you can simply go to your bank and request the teller to print you a void check. You can also contact your bank and enquire about ways to set up direct deposits.
2. How do you void a blank check?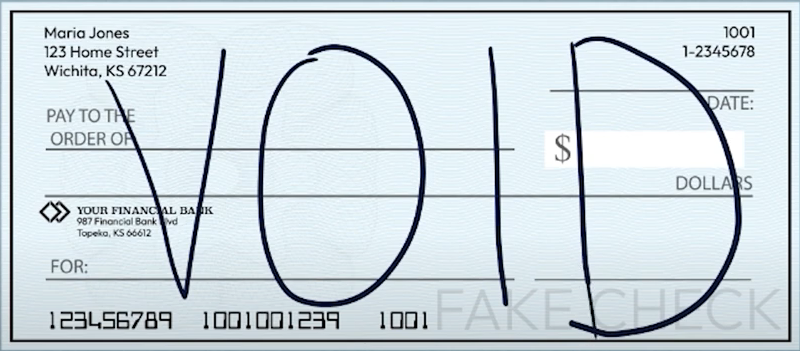 You can void a blank check in the same way that you void a filled-out check. Just write the word "void" across it and don't forget to make copies for others or for your own records.
3. How to void a check already in the mail 
It is quite simple to cancel or void a check when you have it with you in paper form. But what if you want to void a check that you don't have with you? What if your check got lost or you suspect it to be stolen? Or what if you sent it out and then decided to cancel it for some reason? Don't let these scenarios get on your nerves.
The good news is you can void a check no longer in your possession. You can void a check online.
There are ways to go about voiding a check even if you don't physical access to the same.
How to void a check online using the following steps:
Gather information including your account number and the check number.
Log into your bank account and see if you have the option to stop payment or void a check.
Contact your bank if you're unable to void the check electronically.
In the unfortunate event that the check in question was stolen and is cleared before you can stop it, report it to your bank immediately.
Final thoughts
It is okay to fumble when writing a check. The important part is remembering how to void a check to prevent someone from misusing it. You want to be safe and keep your funds secure. A voided check can help prevent any attempts at unauthorized withdrawals from your bank account. We hope we were able to shed some light on what a voided check is and how to write one. The next time you need to void a check, you'll know what to do. For any and all information on finances and more, check out our blog.
Want more tips on checks? Check out these articles: