Wondering what a flex loan means? Let's find out together!
The concept of borrowing money is probably as old as money itself. It is common to require extra cash to support our wants and needs. Depending on our unique circumstances and necessities, there is a plethora of loans available to choose from. For this article, we will focus on explaining what a flex loan is and how it works.
We all need financial help here and there. From necessities to indulgences, people across the world participate in lending and borrowing. 77% of American households have some type of debt. Car loans, mortgage payments, student debt, personal loans – you name it, they have it! There's nothing wrong with needing financial help and seeking the same. Besides, unexpected and unforeseen situations can arise at any time, and you might need an emergency loan to take care of yourself and your loved ones.
When you find yourself needing fast cash, you have options. You could choose from a personal loan, bank loan, credit card, pay advance, payday loan, flex loan, or one of many other options. It can be overwhelming. In this article, we shall explore:
What is a flex loan?
A flex loan, sometimes called a line of credit, allows you to withdraw money whenever you want, up to your approved credit limit. You can think of a flex loan like a credit card. It comes with a credit limit, and you must pay interest on borrowed amounts. As you repay, you're able to access those same funds again.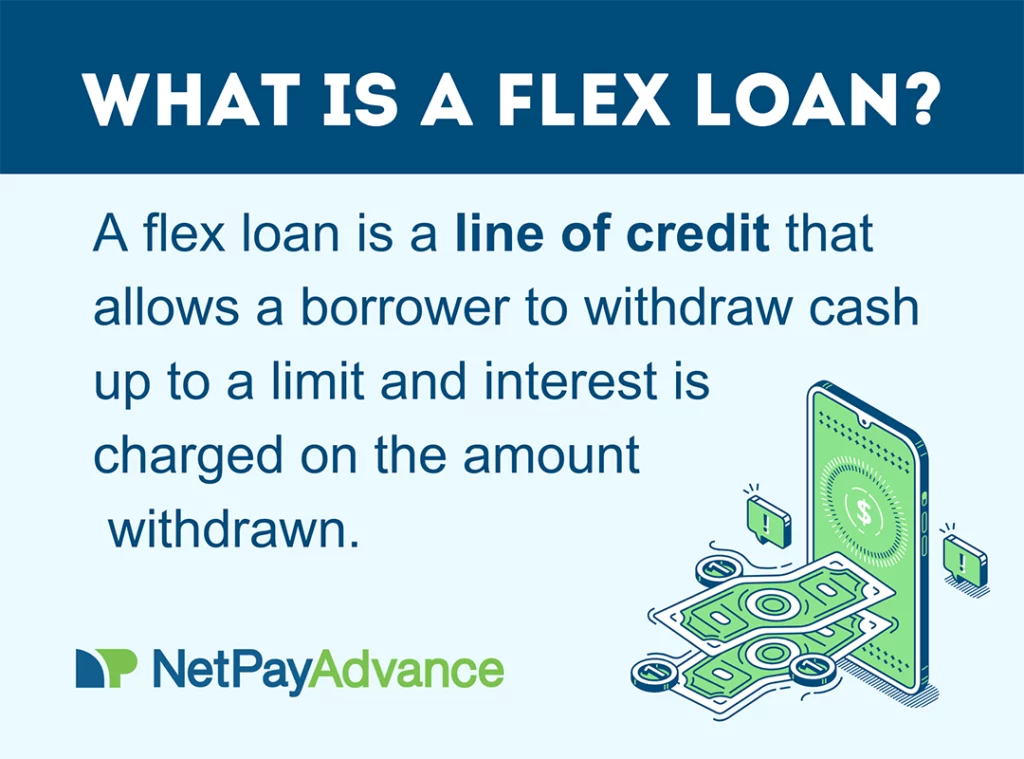 Your credit limit may depend on local regulations and your lender. Most lenders look at your income to determine how much you can borrow and repay. A flex loan can range from a few hundred to a few thousand dollars.
When it comes to repayment, flex loans have a lot of flexibility, hence the name. Borrowers get a monthly statement. They are required to make a monthly minimum payment, scheduled according to their payday. There's usually a service fee involved whenever you use a flex loan.
Think of a flex loan as your own private account you can borrow from overtime. So long as you continue to repay your borrowed funds, you can keep using it.
A flex loan can be an excellent choice for borrowers who have low or no credit. When you apply with Net Pay Advance, your credit history isn't considered. We don't believe in hard credit checks. We only perform soft checks that won't harm your credit and won't be visible to others.
Net Pay Advance is currently licensed to serve customers based in Kansas, Texas, California, Missouri, and Utah. However, flex loans are not available in California and Texas.
Flex loans – pros and cons
Most things in life have positives as well as negatives. When considering a flex loan, it is essential to know the pros and cons it involves. Let's take a look: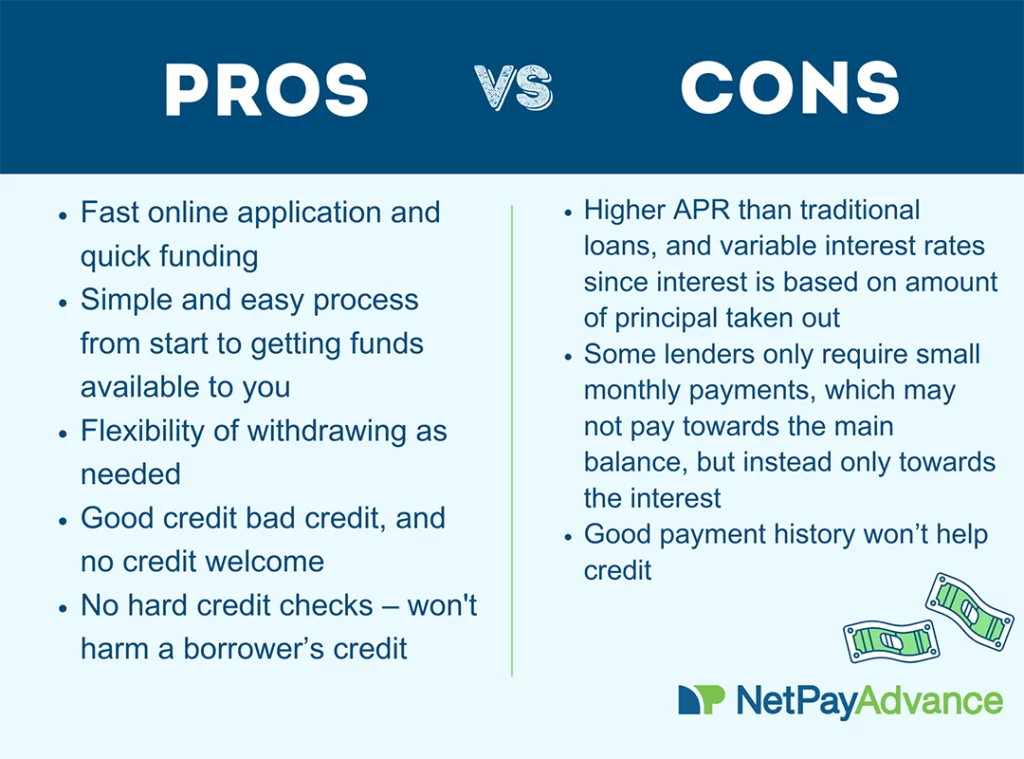 When choosing a flex loan provider, be sure to read customer reviews. Not all flex loan providers are transparent about their fees, which can lead to additional risks.
Work with a trusted and legitimate lender like Net Pay Advance. We believe in transparency take at a look at our:
For millions of Americans, the pros often outweigh the cons. This explains why so many people take out a flex loan every year. However, if a flex loan isn't what you want, explore our list of flex loan alternatives.
How much can you borrow with a flex loan?
When taking out a flex loan, you can borrow as much or as little as you want, up to our approved credit limit. Lenders often look at your income to determine how much you can repay, and thus set your credit limit. At Net Pay Advance, our approved flex loans have a maximum credit limit between $500 – $3,000.
How to get a flex loan?
You can get a flex loan in three simple steps:
Get an instant decision
Receive funds in your account the next day or sooner
When you find yourself needing some cash and are looking for a short-term loan, the most important thing is to work with a lender you can trust. You deserve a lender that keeps things simple and transparent. This is where Net Pay Advance comes in. We are reputed, licensed, and legit – it can't get any better!
How to qualify for a flex loan?
Usually, it doesn't take much to qualify for a flex loan. Since there are no credit requirements with Net Pay Advance, your main requirements to apply for a flex loan are:
Be at least 18 years of age
Maintain residency in a state where we're licensed
Have an active bank account in your name for at least the last 30 days
If you're a gig-worker, you have options too. Net Pay Advance offers flex loans for gig-workers just as anyone else that qualifies.
Can you get a flex loan with bad credit?
Yes, you can get a flex loan with bad credit. At Net Pay Advance, we don't hold your credit, or lack of it, against you. We don't consider credit, and we don't do hard credit checks. As long as you meet the other criteria to get a flex loan, you can get one regardless of your credit score and history.
How does a flex loan compare to personal loans or credit cards?
A flex loan can be compared to credit cards, payday loans, installment loans, and traditional bank loans as follows:
1. Flex loans vs credit cards
Flex loans and credit cards are both types of revolving credit. You get private access to a set of funds you can use on an ongoing basis. Although there are monthly statements and minimums, there is no set fixed payoff date.
Unlike credit cards, flex loans often have a lower average credit limit. Depending on the lender, a flex loan can be as high as $5,000 but for credit cards, the average limit is $30,233 but the number can be way higher depending on your credit.
The APR is lower too for credit cards. The average APR for credit cards is in the 15.56 to 22.87% range. Although they have lower APR, they often cater to people with higher credit scores. Credit cards require a hard credit check which can impact your credit score and they report credit to the credit bureaus. Traditionally, flex loan providers do not.
2. Flex loans vs single-pay payday loans
They may both be examples of loans offered by payday lenders, but their rates and terms are different. First, single-pay payday loans have set repayment dates, but flex loans don't. With a traditional payday loan, there's a set dollar amount being borrowed. The borrower is expected to pay back that amount in full, plus a service fee on their next payday. Flex loans on the other hand are more flexible. There may be monthly statements, but there's no due date to pay off the loan in full.
Single-pay payday loans may be a few hundred dollars whereas flex loans may be a few thousand dollars. Borrowers can choose one over the other depending on their needs.
They're also different when it comes to credit limit and APR. Since flex loans and single-pay payday loans may both be provided by payday loan lenders, credit usually isn't a factor. When working with a lender like Net Pay Advance, your credit score remains unaffected for either type of loan. In Kansas, a flex loan from Net Pay Advance has a 360% APR while single-pay payday loans in California have an APR range of 391.07% – 664.29%.
3. Flex loans vs installment loans
Flex loans have flexible repayment dates while installment loans have set end dates and have to be repaid in timely installments. Both of these are offered by payday lenders and with Net Pay Advance, we waive off hard credit checks.
Installment loans allow you to borrow an amount once and make payments on it over time. You can borrow again as soon as the loan is paid off in full. Whereas a flex loan's revolving credit allows you to borrow and repay several times over as needed. As long as the borrower doesn't hit their credit limit with a flex loan, the loan doesn't need to be repaid in full before drawing more money out.
4. Flex loans vs traditional bank loans
Flex loans are unsecured loans which means you don't need collateral. Traditional bank loans, like a mortgage or car loan, might require some type of collateral and hence, are secured loans.
Traditional bank loans and flex loans have longer repayment timelines than an installment loan or single-pay payday loan. But unlike flex loans, traditional bank loans come with a set repayment date. In addition, they don't have the same revolving credit feature. With a bank loan, you borrow once and repay the loan over time until you've paid back everything.
Repayments for bank loans happen monthly in most cases and payments are a fixed amount plus interest.
The maximum for these loans differs too. The average car loan for a new car is $40,657 and that for a used car is $26,863; the average home loan is $350,262. Compare that to a flex loan credit limit of a couple thousand dollars.
Bank loans also need borrowers to meet credit requirements to apply. On the bright side, bank loans usually have lower interest rates than flex loans.
Final thoughts
Loans are available in many different forms and formats to work for different borrowers. A flex loan can be a great solution for many people across the country. It is good to have options when you're in a financial bind. We know how hard inflation has been for many of us.
Net Pay Advance deeply cares about financial literacy and awareness and that's why we have free resources for you to check out. Don't forget to explore our personal finance blog to stay updated on a wide range of topics from finances to budget-friendly life hacks. We even throw in some light-hearted pieces for entertainment.