Need money? You need to check out these payday loan alternatives
From credit card debt to daily expenses, most of us have money troubles from time to time. People often fall short on cash after paying their bills and unforeseen expenses can strike anyone. In this article we will discuss the best payday loan alternatives when you're in a pickle.
Let's just say it like it is – we all need money for an emergency at some point. Some of us more than others, but the bottom line is that we could all use a little more money to get caught up with expenses. No thanks to inflation, mundane tasks like grocery shopping can become stressful. An unexpected medical bill or car repair can put life on pause. Sometimes you need cash, and you needed it yesterday. That's probably why you're here.
If you're in a bind for fast cash, you have options. Some are better than others. It really just depends on your needs and what you can access. When there isn't much wiggle room, a payday loan can be the best solution for you.
Before we get started on payday loan alternatives, let's explain what payday loans really are.
What are payday loans?
Payday loans are short-term loans that enable borrowers to pay for unexpected expenses before their next payday. These loans tend to have no hard credit check and cater to people regardless of their credit score. The tradeoff is they have higher APR than more traditional loans.
Payday loans go by several names. Payday loans are also called cash advance loans, deferred deposit loans, personal loans, short-term loans, and emergency loans. Some types of personal installment loans and line of credit can also be considered payday loans as they serve a similar purpose.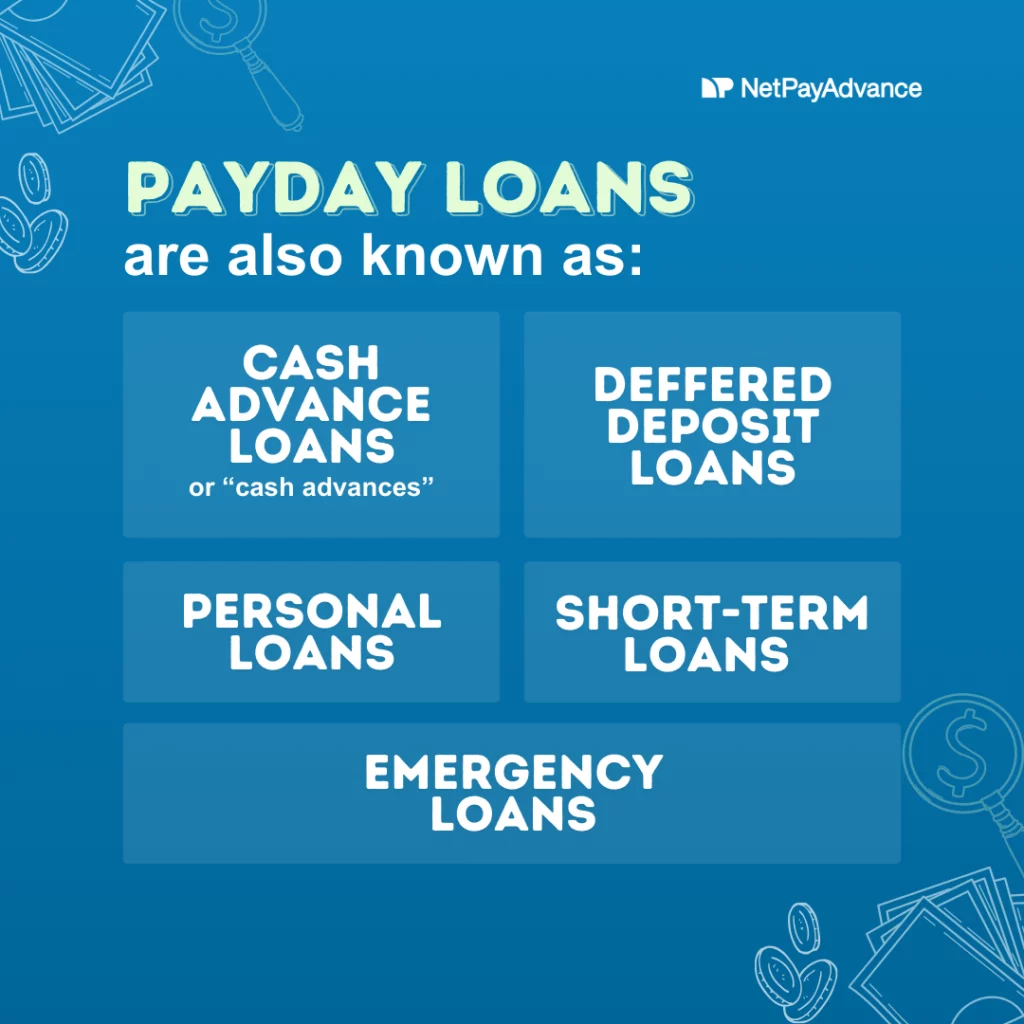 Payday lenders offer these loans to provide financial relief in between paychecks. Net Pay Advance is among payday lenders that offer loans with no hard credit check, which means your credit score is unaffected.
We want our customers to fully understand our services. Get more information on payday loans!
Payday loans are just one option people have for emergency funds. There are several payday loan alternatives depending on a person's needs and abilities.
Why do people choose payday loans?
People choose to borrow from payday lenders as a solution to financial struggles due to a few reasons.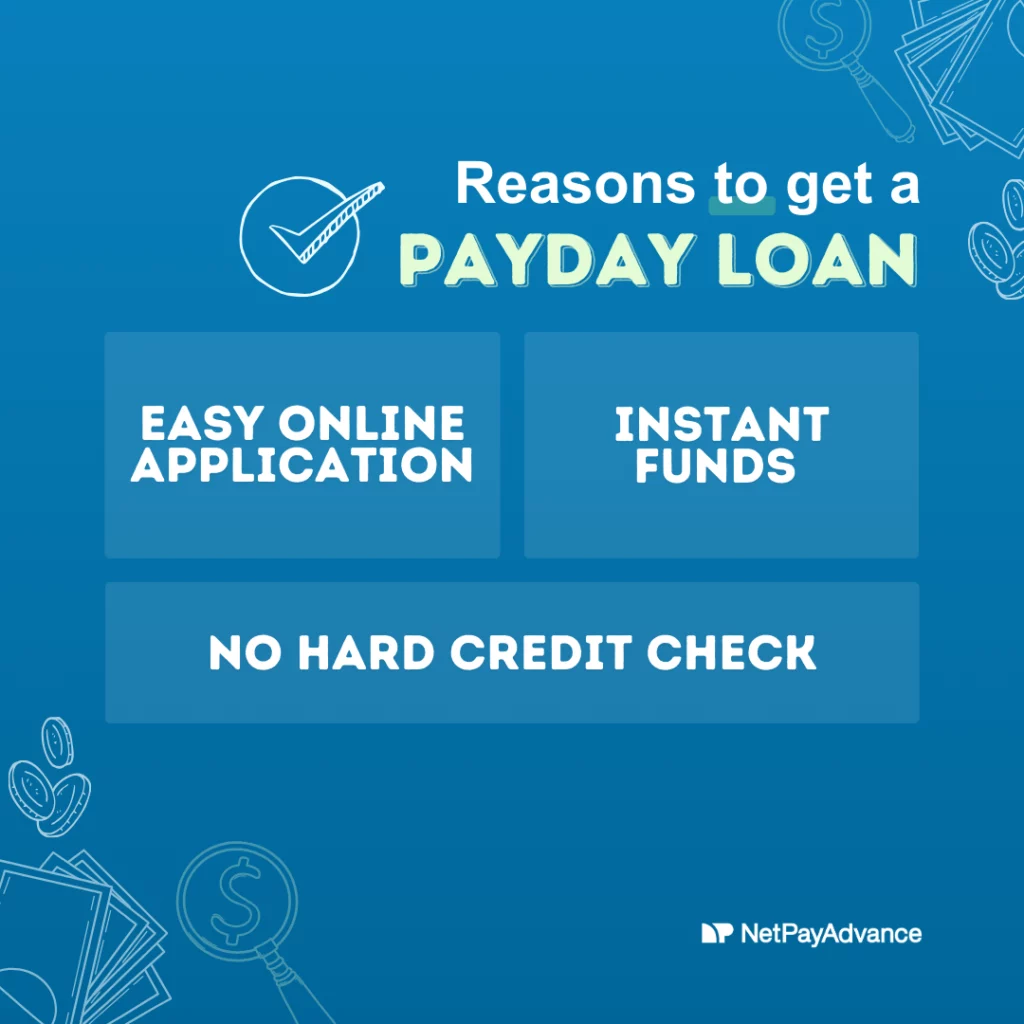 One can usually apply online and get funds quickly with a payday loan. There are payday loans for bad credit, good credit, or no credit. Borrowers only have a soft credit check which does not impact their credit score. Payday loans can be fast – sometimes decisions are instant, and the funds can even be deposited on the same day. Payday loans are often seen as a quick and easy fix to a major financial crisis.
For those set on getting a payday loan, you want to work with legit and trusted payday lenders, and you also need to know what happens if you can't repay a payday loan. Borrow from a lender where paying back your payday loan is made simple. It is important to borrow only from licensed and reputable payday lenders that don't judge you based on your credit score. If this sounds right to you, consider the 7 best payday loans for fast funds and pick a state-licensed and legitimate payday lender.
Why do people choose payday loan alternatives?
There are several reasons why someone might choose a payday loan alternative over a payday loan. Some might choose an alternative simply because they can, while others do so to avoid using payday loans due to certain reasons as shown here: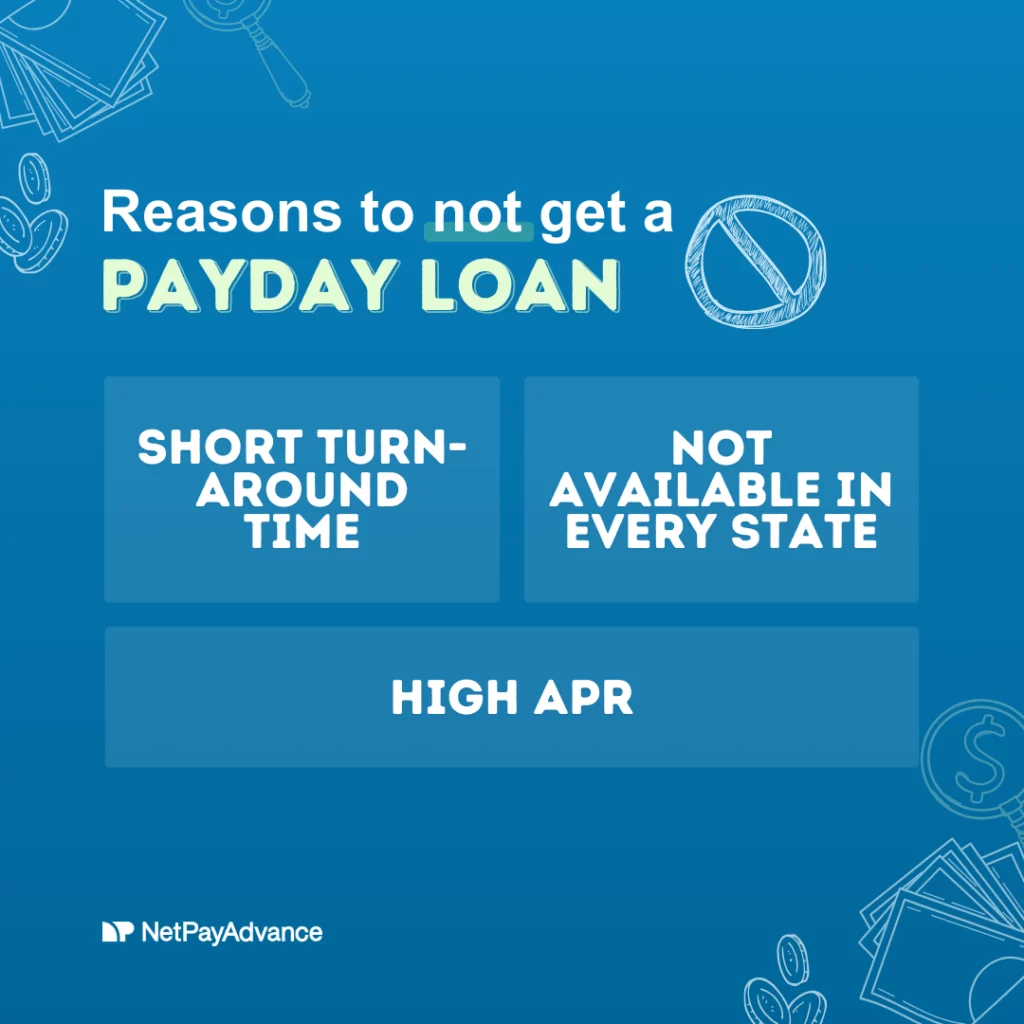 Some people are wary of high APRs and short turn-around times before repayment. Others are unable to access payday loans in their area. A person could have good credit and access to a credit card, or even an emergency savings.
On the other end, some people might wrongly believe that payday loans will affect their credit score.
Explore this list of tried and tested ways to get cash.
Are payday loans available in my state?
It's hard to determine which states permit payday loans for several reasons. The definition of a "pay day loan" or "payday loan" is changing – what was once thought of as the traditional single-pay loan, now encompasses several types of personal loans, including installment loans and line of credit. Some states on paper allow personal loans that would be considered payday loans but have restrictions in place that effectively eliminate the option. In addition, laws are a living thing, and legislation changes over time. This map shows which states make payday loans more accessible than others.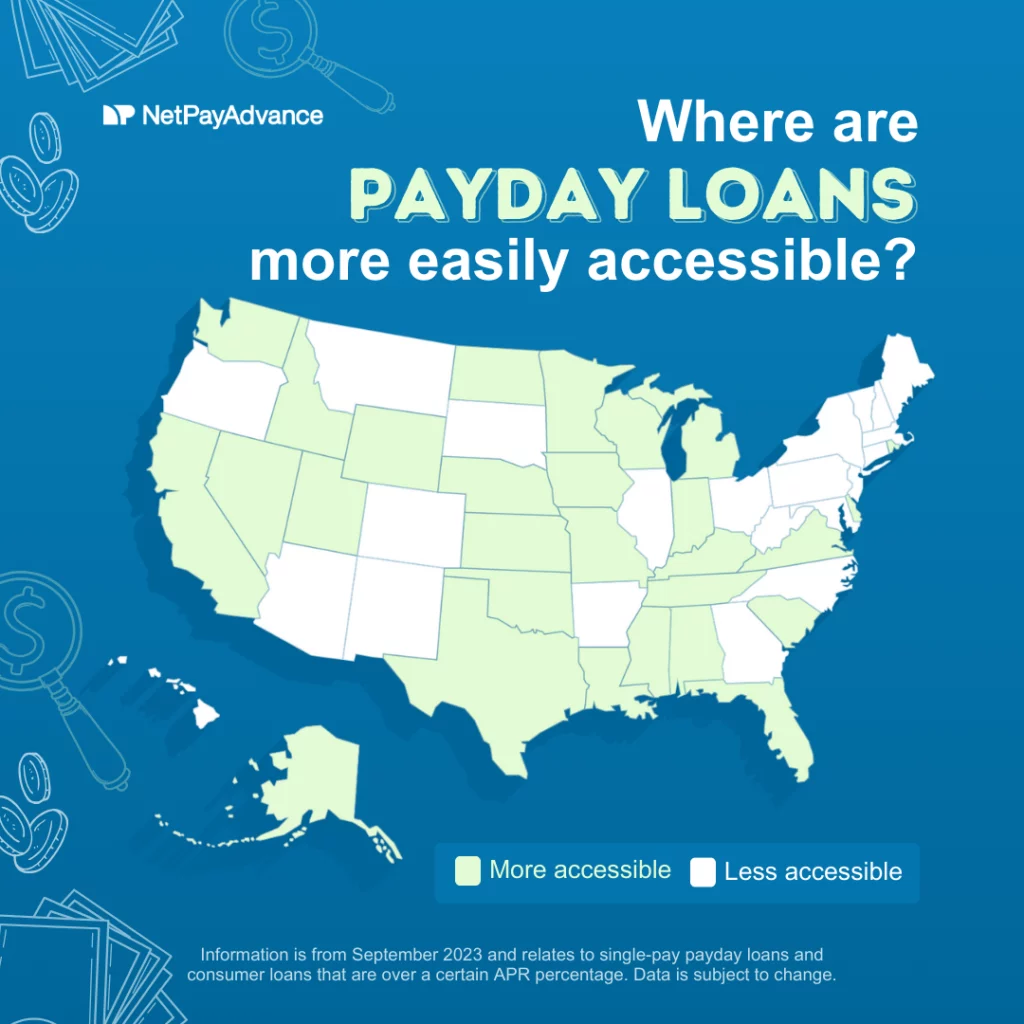 When in doubt, stick with state-licensed payday lenders in your area to know you're working with a lender that follows federal and local laws.
10 best payday loan alternatives
When seeking financial relief, we want you to have the best choices available. That's why we have put together this list of payday loan alternatives. Let's take a look:
1. Ask friends and family
We understand that for some people, this is the last option they would consider. Hear us out! Some of us do have great friends and family who would be happy to help us with a loan. You'll never know until you ask. The best part is that there are no hassles of credit score requirements!
Not everyone has family or friends that are willing, or even able, to help. Others may feel shame for having to admit to their family they need financial support. Some family members or friends may charge interest or a fee. Not to mention, if the loan isn't paid back there is the risk of permanently hurting the relationship.
2. Get an advance on your paycheck
Yes, this might sound unconventional but it's worth a shot. Some employers might offer salary advances or paycheck advances. There is typically an amount set as the limit for this type of advance, and the money is deducted from your next paycheck.
This is essentially a loan and there might be a small service fee involved. Not everyone is comfortable with admitting to their boss they need financial support. For a one-time emergency fee, this option makes a lot of sense. But employers may only be willing to do a paycheck cash advance a few times.
3. Earned Wage Access (EWA)
This grants employees access to a portion of wages they have already earned. They don't have to wait till payday and can withdraw money at any time. It's different from a paycheck advance as it's only money you've already worked to earn. It is as fast as same-day loans, and you don't have to make monthly payments because this isn't a loan as you're accessing wages for hours you've already worked. Companies usually set up EWA through an earned wage access app with their payroll provider. Employers can make payroll deductions before releasing net wages via this app.
There could be fees involved as the app provider will charge for transactions along with membership costs to the company. EWA apps often apply restrictions on how much money an employee can withdraw. Not every business offers EWA. Ask your employer if this is an option.
4. Payday Alternative Loans (PAL)
Some credit unions offer a type of loan known as Payday Alternative Loan (PAL). They usually cost less than payday loans and you get the same speedy funds. Loan amounts are from $200 to $1000, time range is from 1 to 6 months, and there is a processing fee of up to $20. Interest rates are akin to typical credit card rates.
To get a payday alternative loan, you'll need to be a member of a credit union that offers them. Credit unions usually require you to live or work in a particular location to be eligible for membership. Not to mention, you'll need to present pay stubs showing enough recurring income to apply for these loans. In addition, for those seeking more emergency funds, depending on your state, you may find that some payday loan providers offer more than $1,000.
5. Savings or emergency fund
It is always wise to have a little nest egg tucked away for hard times. If you have any money saved up, it could come in handy when you're at a financial crossroads.
We understand that not everyone has savings. Saving up an emergency fund takes time and effort. So, this might not be a feasible option for everyone.
6. Use a credit card
Plenty of us put some of our unexpected or emergency expenses on a credit card because it is easy to do so. If you have a credit card with a balance on it, this could be a good option.
Be mindful that using a credit card for expenses can become a habit and eventually lead to racking up massive credit card debt. Did you know that about 14 million Americans have over $1000 in credit card debt? Use a credit card as an option when you absolutely need to. In addition, credit cards with low APR often require having a good credit score. Individuals with bad credit may not qualify. In addition, the hard credit check they run to check credit in the first place, could hurt a person's credit score.
If you're struggling to pay rent or for your essentials like food or utilities, always consider reaching out to local organizations in your area. Food banks and pantries are a boon for the community. There are "buy nothing" groups on Facebook where one can anonymously request help. If you're struggling with utility bills, check this out.
The drawback here is that you're not always guaranteed to receive help in a timely manner. If you qualify for public assistance, it might take a few days for the paperwork to be done. Although food banks and soup kitchens provide food when you need it, getting instant cash for an emergency isn't always possible through nonprofits and other organizations.
8. Lending circles
Lending circles involve a group of individuals who pool their money into a common fund. One person in the group receives this whole amount. This process is repeated every month so that each member of the lending circle receives a payout. These circles are usually made up of people you know and so, there's a social incentive to repay.
The biggest drawback is that for a lending circle to function, all members must agree to contribute the same amount of money. If someone wants to make a smaller contribution, it will lower the payout amount and it's not quite fair if everyone doesn't contribute equally. Another potential issue is that lending circles are risky since they're not protected by federal or state consumer or financial protection agencies. Trust is a crucial element here as you expect everyone to make their contributions as agreed upon.
9. Drive for Uber or Lyft
Have you ever considered driving for Uber or Lyft? It is an easy way to make money if you don't mind driving around town making sure people reach their destinations. Did you know that Uber drivers make over $20 an hour in some places? Also, some rideshare apps let you get paid daily.
There are a few downsides to driving for rideshare companies. Your wages will vary depending on your location. There is fierce competition as more and more people sign up to drive for these companies. You will owe taxes on your earnings. Filing taxes can be a hassle during tax season.
10. Sell items online
List any furniture, clothing, or décor items you might have on Facebook Marketplace or eBay. This is a quick way to make money and get closer to your goal amount. There are buyers constantly looking for items online. Cross-post in Facebook groups in your area to drum up interest.
Listing items online for sale is easy but you're never guaranteed a sale. Also, not all of us have items of value lying around to sell that will fetch a lot of money. Let's say you need $400 for an emergency bill but you don't have items that will sell for that amount of money.
We hope the above list of payday alternatives serves you well as you look for ways to manage your finances.
Should I get a payday loan or choose an alternative option instead?
At Net Pay Advance, we aim to empower our readers and customers with all the information they need before making a decision. Nobody understands your financial situation better than you. We strongly suggest reading up on payday loans and payday loan alternatives to get all the details.
Different people have different reasons behind choosing a payday loan or a payday loan alternative. As long as they understand what they're doing, we're on board with their choices! We want our customers to fully understand our services. We welcome everyone regardless of their credit score.
We have an easy application process and offer fast funding to our approved customers. However, we can't guarantee approvals, and neither can any other legit payday lender. Guaranteed approvals are a myth. There is a slight chance that an applicant may not be approved. We want to be honest and upfront about it. There are reasons why someone might be denied a payday loan. At the very least, they can rest assured it will not impact their credit.
So, the bottom line is: Make an informed decision. Always!
Final thoughts
Payday loans exist to help people when they might not have another option. With 3 out of 4 Americans living paycheck to paycheck, we know that financial awareness is necessity. From money matters to credit score information, we address various important topics in our blog.
We strongly support individuals to make their own choices and we're here to offer guidance and insights as needed. If you need immediate financial help, apply today!