Everything you need to know about cash advances and how they work
An integral part of life is managing your money. Bills and expenses take away a huge chunk of an average person's paycheck, leaving them with very little wiggle room. In this article, we shall discuss a financial solution to life's unexpected expenses – cash advances.
Paid your bills and just hoping to make it till next payday? You're not alone. In fact, 3 in 4 Americans live paycheck to paycheck. That means, if an unexpected expense were to arise, it would mess up their budget and leave them in dire need of funds before their next payday. For times like this, there are loan options for financial relief.
Key takeaways:
What is a cash advance? – A type of loan taken out against your credit to help with expenses.
Where can I get a cash advance? – From a trusted and reputed lender like your bank, credit card provider, or Net Pay Advance.
Will a cash advance affect my credit score? – Depends on the lender – only if you pick a lender that requires a hard credit check. There are some lenders that don't do a hard credit check. Net Pay Advance does not require a hard credit check.
What is a cash advance?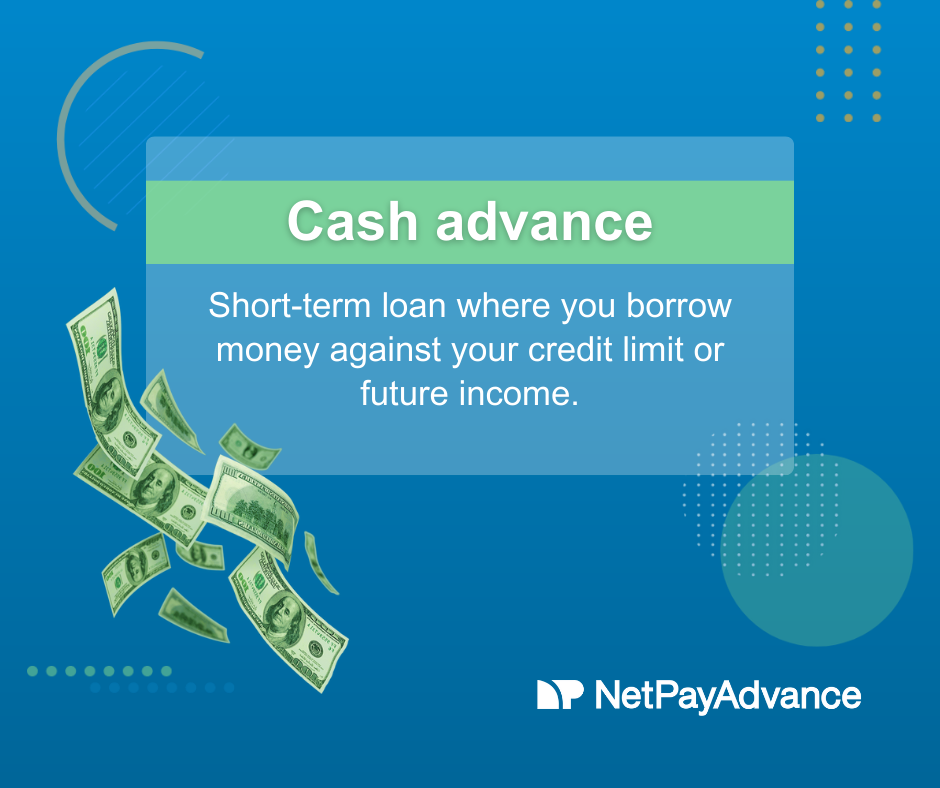 A cash advance can be explained as a short-term loan that allows you to access funds fast. The money can be borrowed against a credit limit, like with a credit card or line of credit. Or, the money can be borrowed against future income like with a work pay advance, payday loan, or other personal loan. It should be noted that there are fees involved when taking out and repaying this loan.
Types of cash advances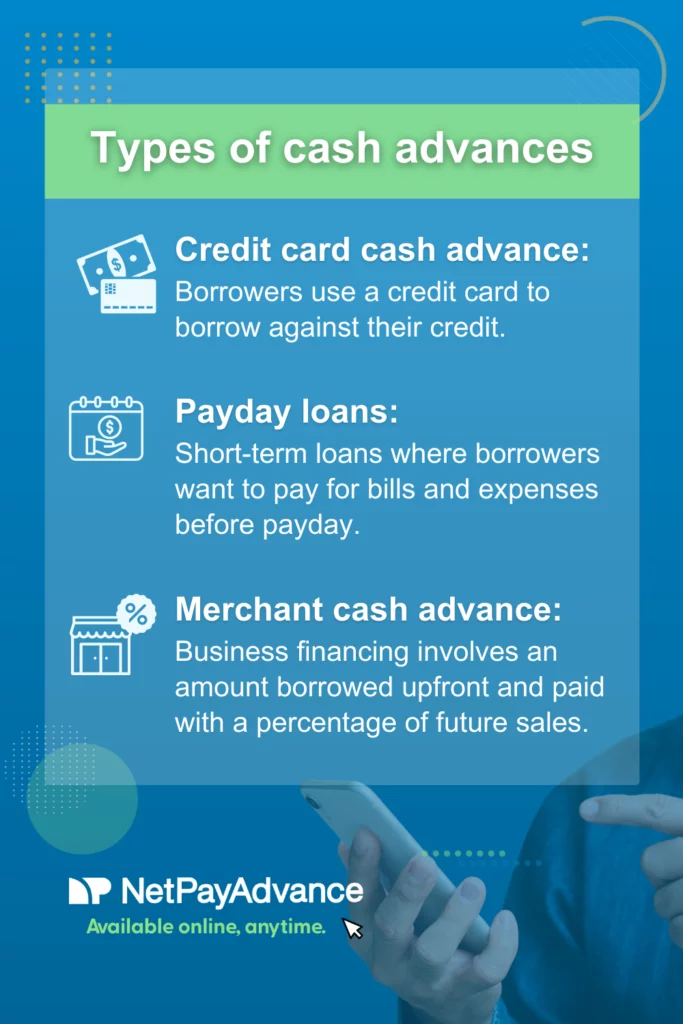 Now that we've answered the question, "what is a cash advance?" The next thing to look at is the different types of cash advances. There are three main types, and they are:
1. Credit card cash advance: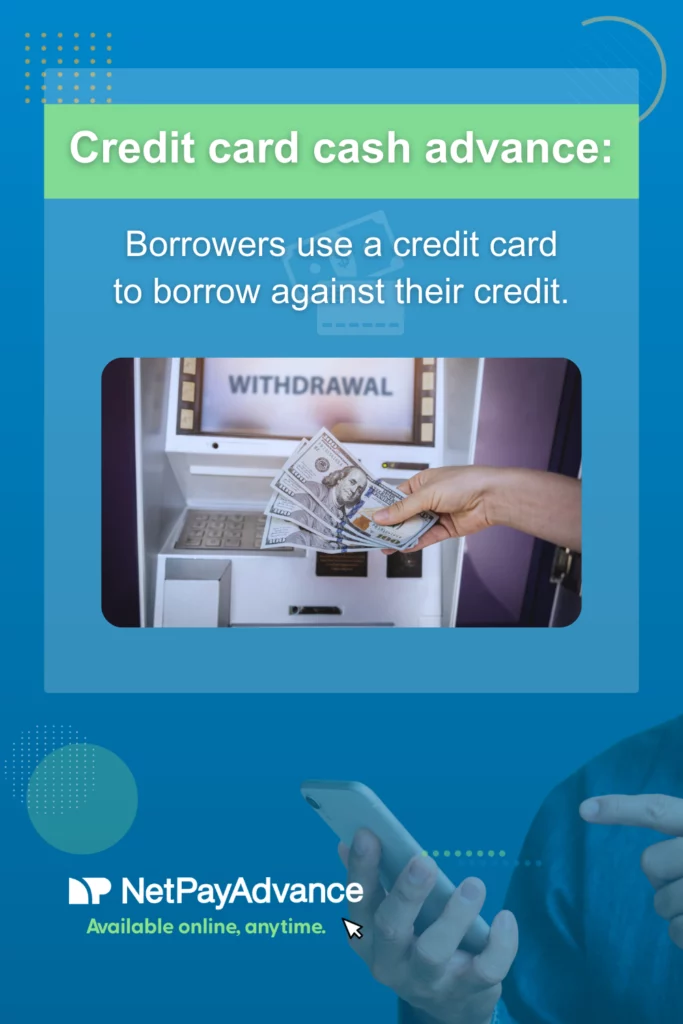 Borrowers use a credit card to borrow on a line of credit. The money can be taken out from an ATM or using a check one can cash at a bank. This type of cash advance may have a higher interest rate which begins to accrue as soon as the money is borrowed. Also, there is no grace period for credit card cash advance repayments. You'll need a credit card that allows cash advances, some of these cards may require a hard credit check.
2. Payday loans:
Payday loans are short-term loans to help borrowers pay their bills and expenses before their next payday. Lenders like Net Pay Advance don't discriminate based on your credit score when lending money. However, this type of cash advance is not available in every state.
3. Merchant cash advances: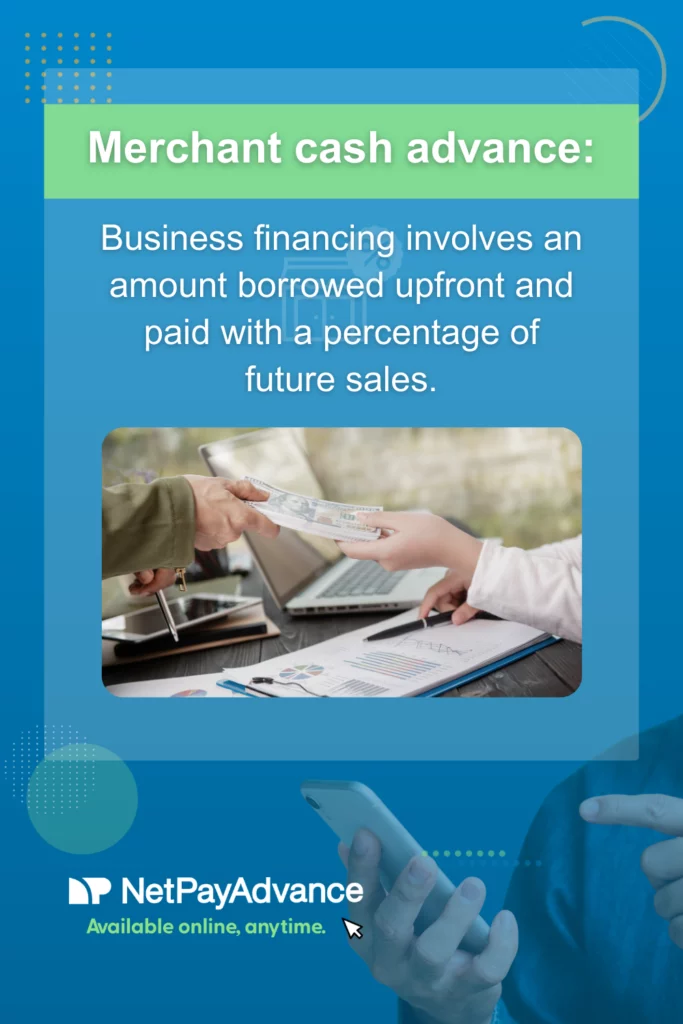 This is a type of business financing which involves borrowing a sum upfront and then repaying with a percentage of future card sales. When a business has a less-than-stellar credit score, a merchant cash advance might be the best option for them. Such cash advances don't require a good credit score but use other factors like total monthly revenue, how long the business has been operating, etc., to determine eligibility. Also, this type of cash advance is offered only to businesses that take credit and debit card transactions.
All of the above types of cash advance may involve fees to be paid by the borrower.
How does a cash advance work?
Cash advances work like a credit card. Borrowers are spending money they don't currently have. They borrow a sum of money and must repay the amount along with fees.
What is a cash advance fee?
Cash advance fees may be described as service fees charged by your lender. It could be a flat amount, or a percentage of the cash advance amount borrowed. When you take out a cash advance, fees are applied to the total amount you'll need to repay.
How much can you get?
The maximum amount a borrower can get through a cash advance depends on many factors like type of cash advance, lender, and location.
Pros and cons of a cash advance
We want our readers to be aware of the positives as well as potential downsides when it comes to anything money related. Below is a pro and cons comparison for cash advances:
Pros
Cons
1. Access to cash quickly
2. Easy to apply
3. Some lenders don't require a hard credit check
4. Doesn't directly impact credit score
5. Repayments are simple
1. Fees involved
2.Not available in all states
3. Approvals are not guaranteed


What to consider before getting a cash advance
Before you apply for a cash advance loan, we want you to keep in mind a few things. First, you need to be aware of the pros and cons discussed above. Second, it is a good idea to consider alternatives to a cash advance before you go ahead and apply. We have touched on alternatives later in this article. Lastly, we want you to be aware of any fees and consequences (if any) for not repaying a cash advance.
Is a cash advance bad for your credit?
A cash advance does not impact your credit score if you borrow from a lender like Net Pay Advance. We have a judgment-free approach when it comes to credit.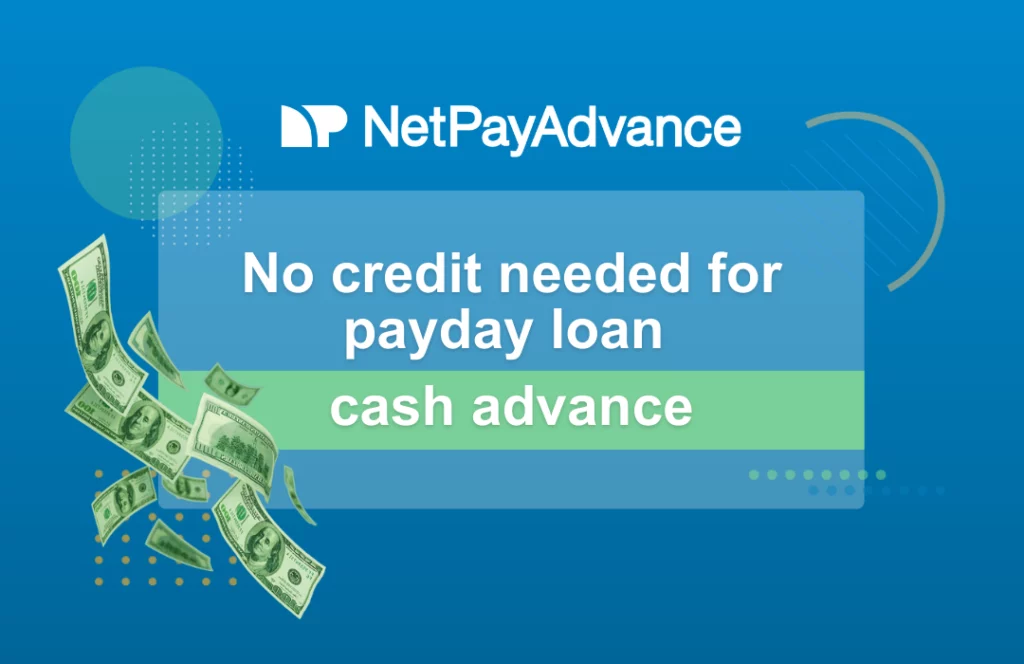 Do you pay back a cash advance?
Yes, you must pay back a cash advance just like any other loan. You're required to repay the loan amount plus any fees charged.
Is it a good idea to get a cash advance?
When you're in need and there are no alternative ways to do obtain cash, it could be a good idea to get a cash advance.
What is a disadvantage of cash advance?
A disadvantage of a cash advance loan is that there are no guaranteed approvals when you apply.
Alternatives to a cash advance
Every person and their circumstances are different. While some people might have the ability to explore a few other options, others might not. I suggest you do what works best for you and your situation. Let's take a look at a few cash advance alternatives:
Sell belongings online on Facebook Marketplace or eBay
Ask friends or family for help or a personal loan
Charge for services you're capable of providing like babysitting, dog walking, or tutoring
Drive for rideshare or food delivery – some of these offer same-day payment
Dip into your savings or emergency funds
Use your credit card
The above solutions are not for everybody. Not all of us have savings, or friends and family they can borrow from in times of need. Similarly, one might not have the time to offer services or any possessions that have the potential of fetching enough cash. If none of the above work for you, a cash advance could be the answer.
Final thoughts
What is a cash advance? Well, a cash advance loan can be a life saver in some situations. Nobody likes to be stranded with no means to pay for their essentials. When all else fails, a cash advance might be the only way to make it till payday for many of us. If you are searching for a cash advance nearby, check out Net Pay Advance today. Our payday loans online are designed to help.