Are guaranteed payday loans for real? Or just another gimmick?
Who doesn't like a guarantee on something they care about, like their finances. We all love the sense of security a guarantee brings. A guaranteed payday loan does sound like it would help when you're in need of some money. The question is, can you really be guaranteed an online payday loan approval? Let's find out!
You're living your life, going about your day, and suddenly your car breaks down out of the blue. Now you're stuck with a hefty estimate from the mechanic. You need to pay for at least some of it so that you can get your car fixed. You need your car to get to and from work, do school pick-ups, run errands etc. Not a great scenario when you're working with a budget and payday seems eons away.
For life's unexpected situations, payday loans exist to provide financial relief. Once you've established that you're going the payday loans route, the next step is to pick a lender and apply for a loan. This brings us to the question: do guaranteed payday loans exist? Do payday loans applications come with a guarantee of approval? Before you go down a rabbit hole chasing a guaranteed payday loan, read this article in its entirety for a clearer picture.
Choosing the right payday lender is an important financial decision. We suggest working with a legit payday lender like Net Pay Advance.
 Where can I get instant payday loans online guaranteed approval?
Very few things in life are guaranteed and payday loans are no exception. In short, guaranteed payday loans don't exist. No payday lender can guarantee an approval without additional information from the applicant. If a lender claims to offer a guaranteed payday loan, we'd recommend you be wary of working with them.
Every lender has certain requirements, and some might have more lenient terms than others. The rule of thumb is to get a lender that doesn't do hard credit checks and offers same-day funding.
There isn't a legit lender out there that can waive all requirements and just offer a loan. Not every applicant can be approved. As terrible as it sounds, there are reasons for loan denial. For instance, a person should be denied if they're under 18, or if they were trying to commit identity theft. A guaranteed approval in these cases would cause issues. Here's more insight into reasons a person might be denied.
What kind of loan am I really looking for?
Work with a lender that offers same-day funding and doesn't consider your credit score. There are several lenders out there that offer payday loans like these. It's important to read reviews to ensure you're working with a legitimate lender. You may consider choosing a state-licensed direct lender.
Luckily, Net Pay Advance meets all those requirements. We don't run a hard credit check, we offer instant same-day funding to those with a valid debit card on file, and we have over 8,000+ 5-star reviews.
Choose Net Pay Advance for an instant payday loan online with no hard credit check!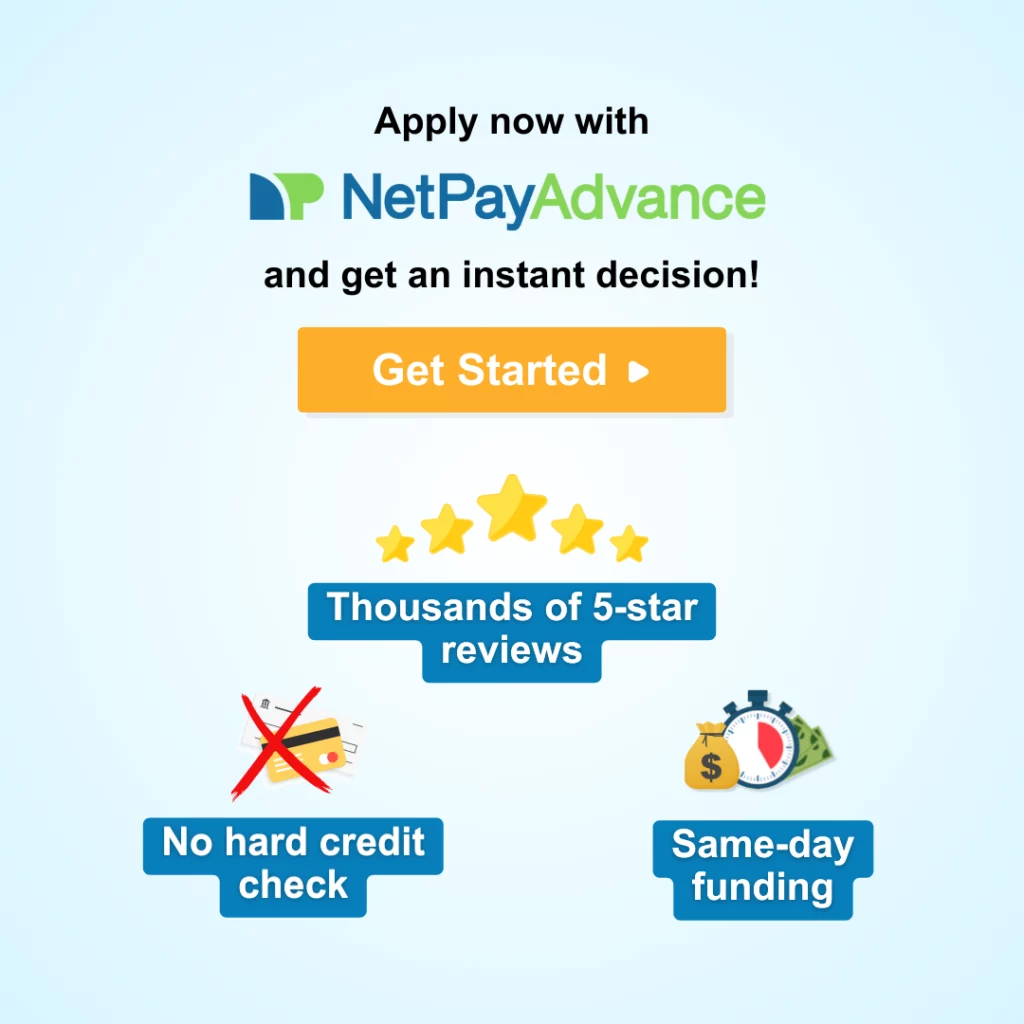 What are instant payday loans online loans?
Payday loans are designed to help borrowers deal with unexpected expenses before their next payday. About 12 million Americans resort to payday loans each year. There clearly is a need for payday loans and we suggest working with a lender that is trusted by many.
There are several types of loans that you can get based on your location, needs, and eligibility. We recommend taking a look at these 7 best payday loans for fast funds to pick what's best for you.
What do you need to qualify?
Most payday lenders have a few requirements that borrowers need for them to qualify for a loan. In order to apply at Net Pay Advance, and most other lenders, you'll need the following qualifications:
At least 18 years old
A bank account in your name that's been active for at least 30 days
A resident address in a state where we're licensed to operate
Getting an instant payday loan online with no credit needed
Credit scores are important, but they are never a make-or-break factor when it comes to your application with Net Pay Advance. Having low credit doesn't define your ability to get approved. In fact, more than a third of Americans have less than stellar credit. The credit range between 580 and 669 has been described as "subprime" which means less than prime. Around 30% of Americans have subprime credit. One may have subprime credit due reasons such as missing payments, making late payments, having delinquent accounts, several credit inquiries etc.
It is extremely important to understand your credit score. If you don't have credit, you need to start working towards building credit. Having subpar credit isn't the end of the world but you might want to explore these 7 tips for improving your credit score.
How do they work?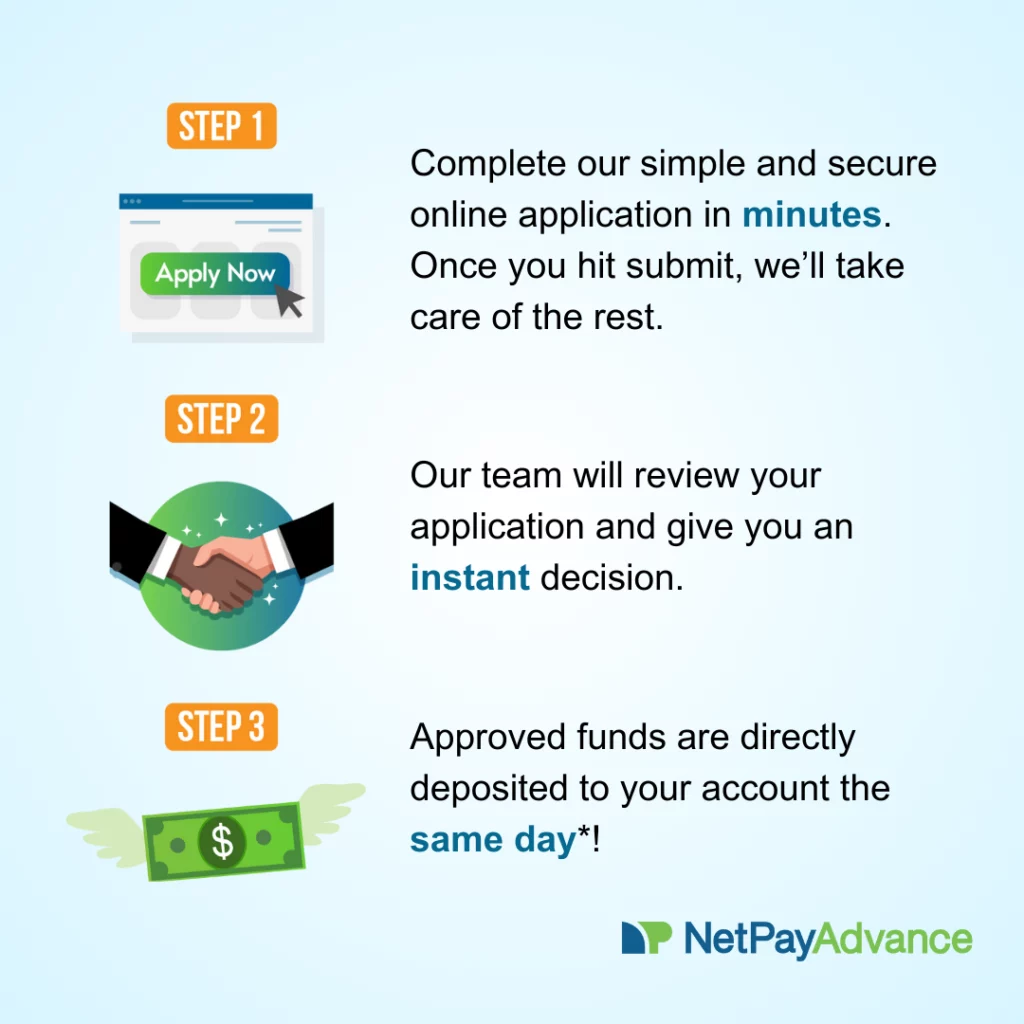 The principle is fairly simple. You apply for a loan, get approved, receive funds in your account, use the money for your needs, and repay the amount along with service fees on your due date. Take a look at this step-by-step breakdown of how payday loans work.
How do payday loan repayments work?
Repaying a payday loan should be just like applying for one – easy and convenient. Keeping this in mind, Net Pay Advance offers a few uncomplicated ways to repay your loan. Debit cards are a preferred option but ACH transfers, money orders, and some prepaid cards are accepted as well.
Customers are informed via text, phone call, or email, days in advance before a payment is due. If someone is unable to make a payment, they have the option to log into their account and request a free extension.
More information on loan repayments.
It's pros and cons time!
Listed below are the pros and cons of payday loans from a legit lender. In our opinion, the pros outweigh the cons. It's important though that you consider your needs in order to pick the best solution. Ultimately, you know your situation best and will pick the best option for yourself and your emergency financial needs.
See our table comparing the pros and cons of an instant payday loan online:
Pros
Cons
1. No hard credit checks
2. Same-day funding
3. Easy to apply
4. Transparency on costs
1. No guaranteed approvals
2. May not be available in your state


Instant payday loans online guaranteed approval is a myth!
There, we said it again. Payday loans don't come with guaranteed approvals. No ethical lender can claim to offer these guaranteed payday loans. If a lender says they can guarantee approval, we recommend taking your business elsewhere no matter how tempting their offer might sound. We get that it might sound like the best thing ever to get a loan without any conditions or qualifications. However, getting involved with such lenders could be the beginning of grave financial issues.
Having financial struggles is not uncommon. Many Americans live paycheck to paycheck and it's understandable that an unforeseen bill can mess up one's budget. In such situations, a cash advance loan can save the day. A short-term loan can help make it to your next paycheck, but it shouldn't come with the long-term consequences from shady lenders. Tune out the noise and contact Net Pay Advance today!