Looking for instant cash? Dive into our list of the best payday loans!
Who doesn't need money from time to time? Unless you're in the top 1% of the population, you can relate to needing fast funds. I've listed the best payday loans so that you don't have to go digging in the depths of the internet. Keep reading!
"I need money now!" – Not a statement you've never heard before. I've said it at times and so have my close friends and people that confide in me. No shame in needing money due to urgent expenses that can't wait till your next payday. Financial struggles hit a lot of us, and a vast majority of Americans do live from paycheck to paycheck. When you find yourself in need of money and are considering a short-term loan, it's best to do some research and pick an option that best fits your financial situation.
Don't you just love listicles? I know, I do. From the best coffee shops to the best time travel movies, there are lists galore for every consumer. In this article, we will take a look at the best payday loans available when you need money. This list will help you make informed financial decisions when getting a short-term loan.
What is a payday loan?
A payday loan is a short-term loan which allows borrowers to take care of unexpected financial situations before their next payday. Payday loans tend to be fast, and they don't require a hard credit check. The resources linked below discuss more about payday loans:
My list of 7 best payday loans
Here it is! The list you have been waiting for. I suggest reading through every single one of these before deciding which online payday loan works best for you. Each of these are types of payday loans. You may hear some of these common payday loan terms while researching a loan for your needs. Each of these types of payday loans are fast, they don't run a hard credit check, and they can help when you need funds before your next payday. They have slight variations. Take a look!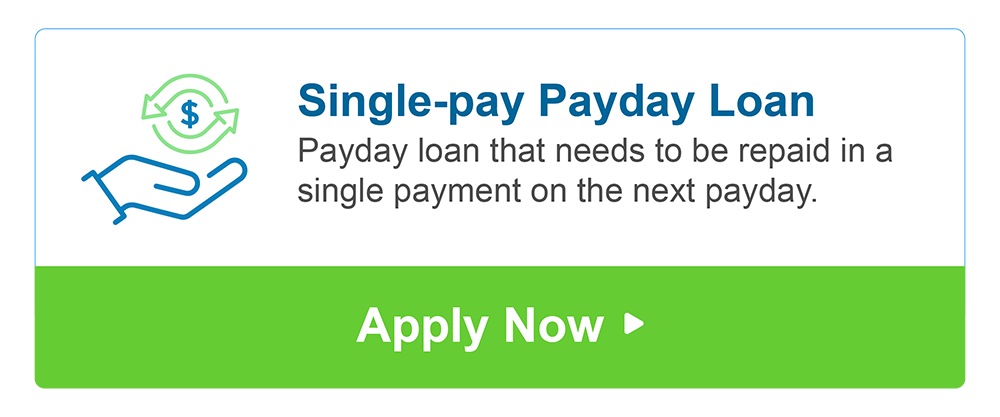 There's no hard credit check!
A single-pay payday loan is a short-term loan created with the intention of helping borrowers handle emergency expenses in between paychecks. They're typically thought of as a traditional payday loan. Single-pay payday loans are to be repaid in one single lump sum on the next payday.
Note: Single-pay payday loans may only be available in certain states.
Learn more about single-pay payday loans.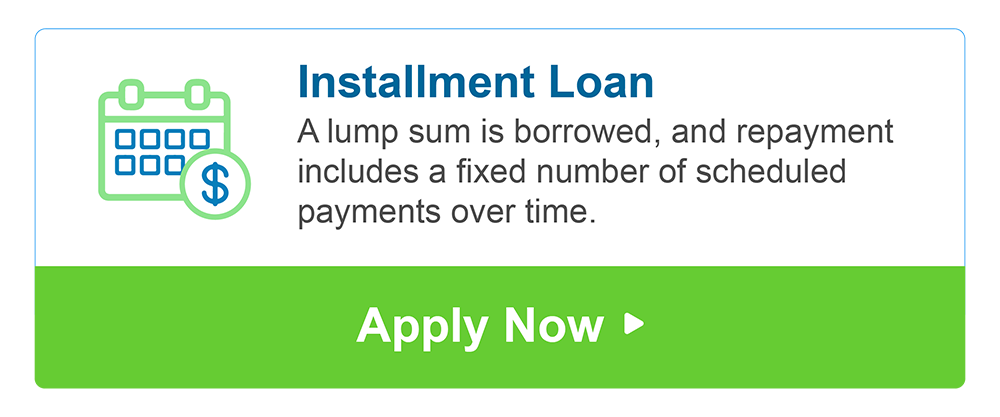 No credit needed.
An installment loan includes borrowing an amount and then repaying it over time in scheduled individual payments. These payments are also known as installments and hence the name.
Note: Installment loans may only be available in certain states.
Learn more about installment loans.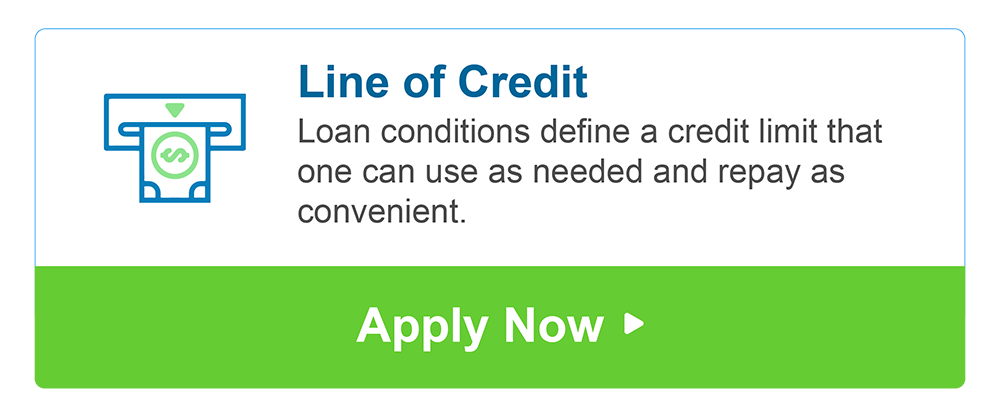 Your credit doesn't matter!
Similar to a credit card, a line of credit includes a set amount of money or borrowing limit. This is a flexible loan with no set date for repayments. Borrowers can choose to repay in full at their convenience or they can make a minimum payment on their due date. One can withdraw and repay as needed without needing to reapply. It's a great alternative to a credit card.
Note: Line of credit loans may only be available in certain states.
Learn more about line of credit.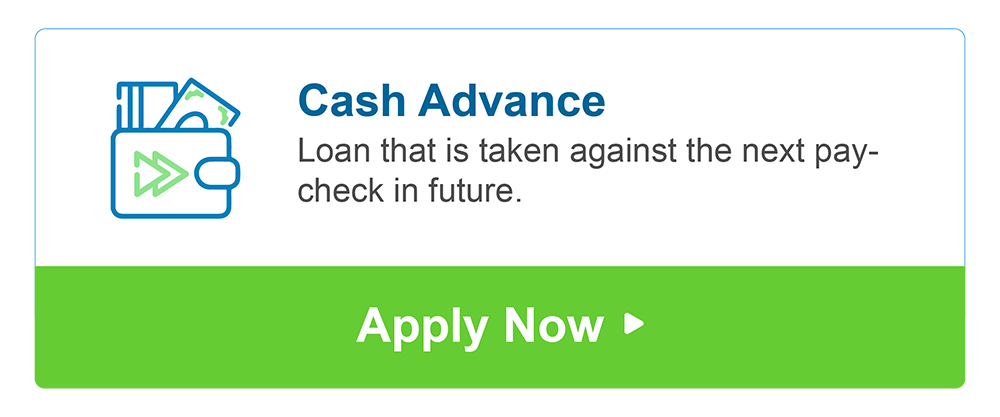 Credit scores not considered.
A cash advance is a type of short-term loan that a borrower takes out against their upcoming paycheck. An advance like this can help bridge the gap between paydays. It helps people make it till their next payday. Some payday lenders offer a cash advance. Some employers also offer a cash advance, which can be pulled directly from your upcoming paycheck.
Learn more about cash advance.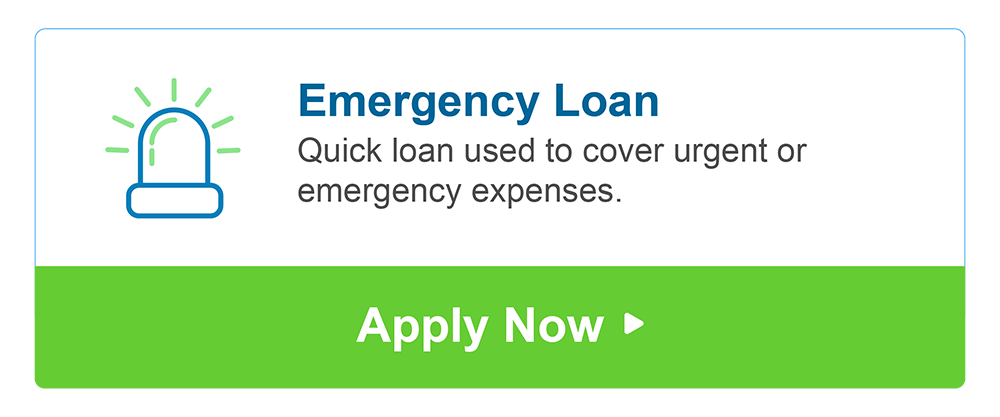 Credit score is not required.
An emergency loan is designed to help you get your finances back on track after dealing with a sudden expense you didn't see coming. It could be a medical or veterinary emergency, or it could be car repairs that chip away at your budget before your next payday. In any case, when you're faced with an emergency expense, an emergency loan can help save the day.
Discover more about emergency loans.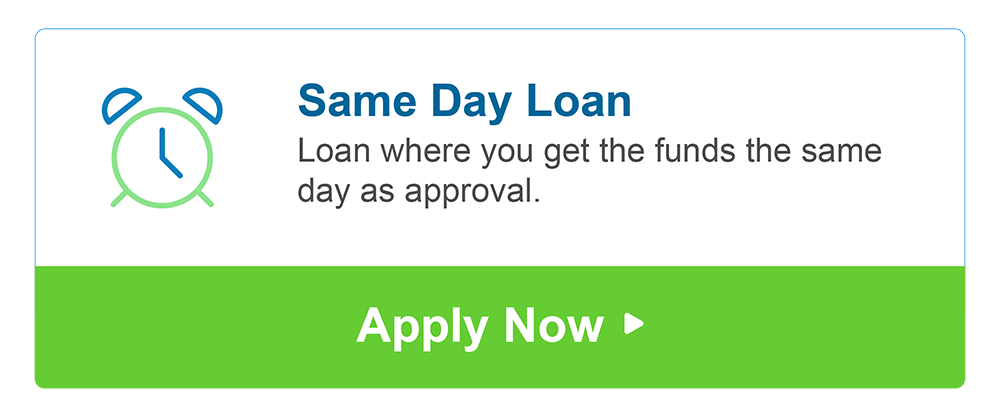 No credit needed.
Talk about money in minutes! A same-day loan can be described as a short-term loan where you can apply, get approved, and have funds deposited in your account – all in the same day! These loans are lightning fast! So, this can be a great option when you need money as soon as possible.
More information on same day loans.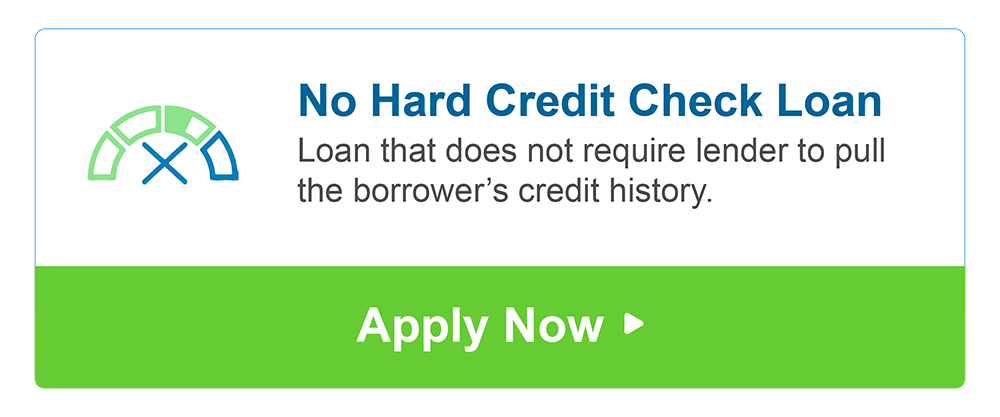 Won't risk your credit.
Credit history can have a significant impact on your life and financial future. From getting a mortgage or getting approved for a rental, it can even determine if you get certain jobs. When banks and other more traditional lenders perform a hard credit check, it can lower your credit score. Also, hard checks can influence your credit score for up to a year and will show up on your credit history for about 2 years. Instead, stick to lenders that will perform a soft credit check. No hard credit check loans are a great type of payday loan. Borrowers don't do a hard credit check, and your credit history or score isn't considered.
More on no hard credit check loans.
What constitutes the best payday loans?
Before we look at the best payday loans, let's talk about what makes some loans better than others:
The first and foremost thing to look out for is the legitimacy of the lender. You want to work with lenders that are clear and transparent. Avoid lenders that dodge questions or fail to mention what the fine print says.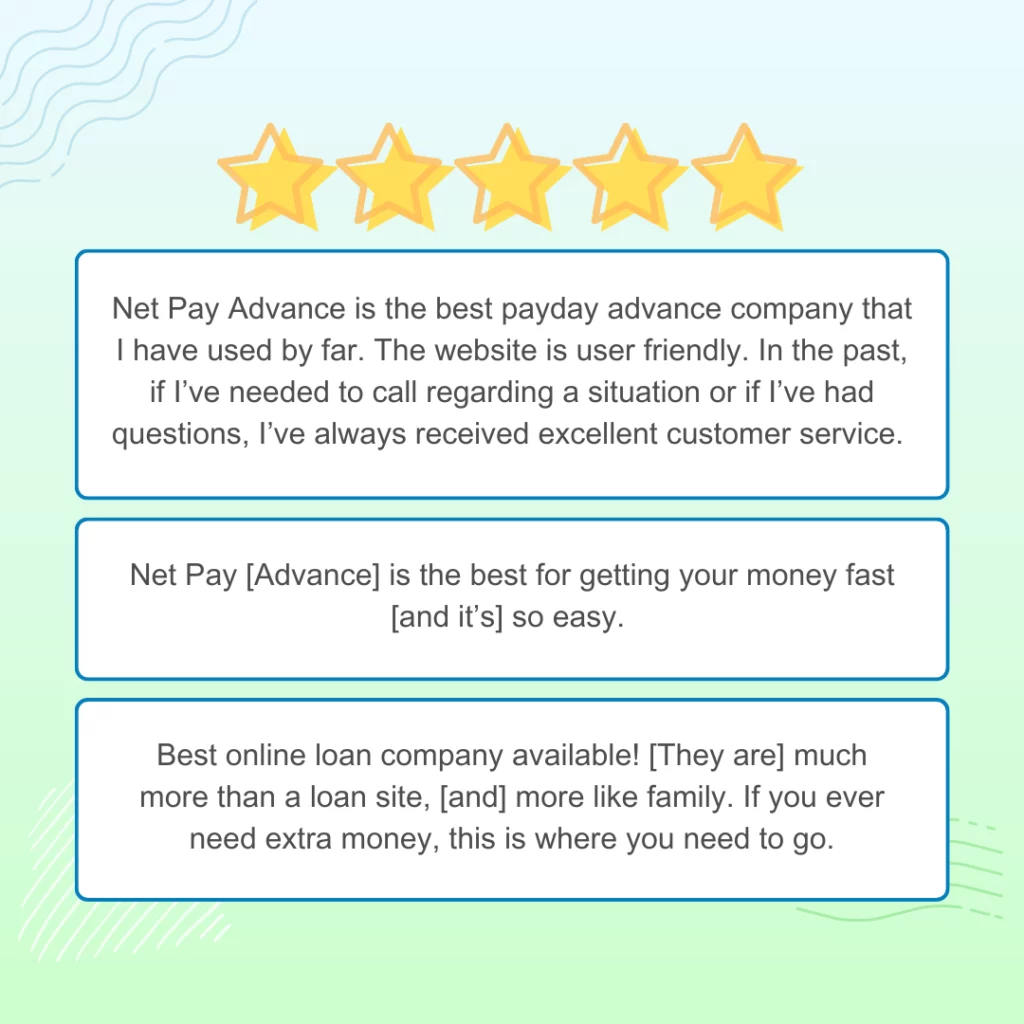 Their internet has made sleuthing so much easier! Just look up a lender and see what the online reviews say. Humble brag, but Net Pay Advance has a 4.7-star rating on Google! Over 8,000+ people have rated us 5-stars!
Life can be hard at times, but loan applications don't have to be. I like being able to apply online and without hassles. Seriously, it takes just a few minutes!


4. Quick decisions and approval
Patience is not one of my virtues and I like to get my funds fast. This is where Net Pay Advance with their speedy process is a game-changer. You're informed of an approval or denial in a short amount of time. It's relieving you don't have to wait around for a result.

5. Receiving funds fast

Once your loan application is approved, you want the funds to be deposited into your account without delay. Some lenders like Net Pay Advance understand your financial need and send the money your way promptly. You can start your application, get approved, and have the money in a total of 15 minutes!
When conducting any sort of interaction online, it is important to be mindful of security concerns. With Net Pay Advance, you have the peace of mind knowing that they prioritize online safety and keep your financial information secure.

A hard credit check can be a nightmare! Only work with lenders that will do a soft credit check that won't impact your credit score or financial future.
Did you know you can get a free annual credit reportfree annual credit report? Find more information on credit:
How to Raise Your Credit Score
8. Stellar customer service

Some lenders like Net Pay Advance train their employees to be helpful, understanding, and empathetic. Customer Service Advocates are able to relate and connect with customers and this human touch makes the process convenient for everyone.
Who doesn't like rewards and benefits? It is nice to have these 'extras' and Net Pay Advance does not disappoint! Customers can earn points by completing common and easy tasks, like paying off a loan, or referring a friend. Those points can be redeemed for rewards!
Repaying a loan needs to be just as simple and easy of a process as applying for a loan is. I like having options of repayment methods so that if one doesn't work, I can repay using another.
Get that cash. Cha-ching!
It feels good to get funds when needed, doesn't it? It's not a great feeling to need money and not get financial help in a timely manner or get it from a subpar source.
Where you get your funds from is crucial as it has the potential to impact your financial state and history. In addition to the best payday loans, I want you to be aware of all the details before you sign up for a loan. That's why I highly recommend taking a look at some these resources:
I know, it's a lot of information! If you have questions, contact Net Pay Advance today!