You: I need money now! Me: Let me teach you my ways.
This article contains real-life experiences of teammates who have chosen to stay anonymous. We all need money to pay for essentials and splurges. There are times when you need money with a sense of urgency. If your brain says, "I need money now," keep reading. Here are 15 legitimate ways to get fast cash.
It is very relatable when someone says they need money. You've been there, I've been there, and almost everyone you know has been there at some point (even if they don't admit it).
From necessities to frills and fancies, we need money to fund various aspects of our lives. Realistically, if you're not in the top 1% of the population, you've been in a situation where you needed money for something but didn't quite have the amount you needed.
There's nothing wrong with wanting or needing a little money here and there. Statistics show that 3 out of 4 Americans reportedly live from paycheck to paycheck. In the real world, there are several external factors that determine your cash flow. With inflation being as high as it is, there's more people now than ever that need money for expenses. Some people need help affording living expenses, like utility bills. Luckily, there are resources to help cover utilities.
Sometimes, they don't have a wide enough window of time to get the money and pay their bills. This is where things get intense. Let's say you have a bill that is due tomorrow and not paying on time will lead to fines. Of course, you don't want to get penalized. In some situations, being unable to pay might result in more than just fines. If your pet needs an emergency procedure, you simply can't wait till payday. If your air-conditioning goes out in summer, you can't always wait for the end of the month. These are real-life situations that can happen to anyone, and you need to have a way to get money before payday.
In this article, we share real first-hand stories of our teammates and when they found themselves in a situation where they needed money fast. These legitimate methods are tried and true.
Do I need money now?
Ask yourself, do I need money now? If a bill or purchase can wait till the next payday, by all means, do that. I think it's best to take charge of your finances and do what's in your best interests. If this expense can't wait, I suggest considering all the options available to you. Life is unpredictable and that's why emergency loans exist to help people handle an unexpected expense that needs to be taken care of before payday.
Did you know there are apps that help you get paid instantly?
When I am in the state of "I need money now," I make a list of what avenues are available to me and assess the pros and cons of each. Want a sneak-peek into my game plan for Project: I Need Money Now? Stick around and you'll find out.
What I do when I need money now
Whenever I have an expense or a purchase and I don't have the money for it, I consider my options and pick what makes the most sense. I have listed out the various ways to make money, earning potential for each, and an estimated timeline of getting paid once you land and perform a job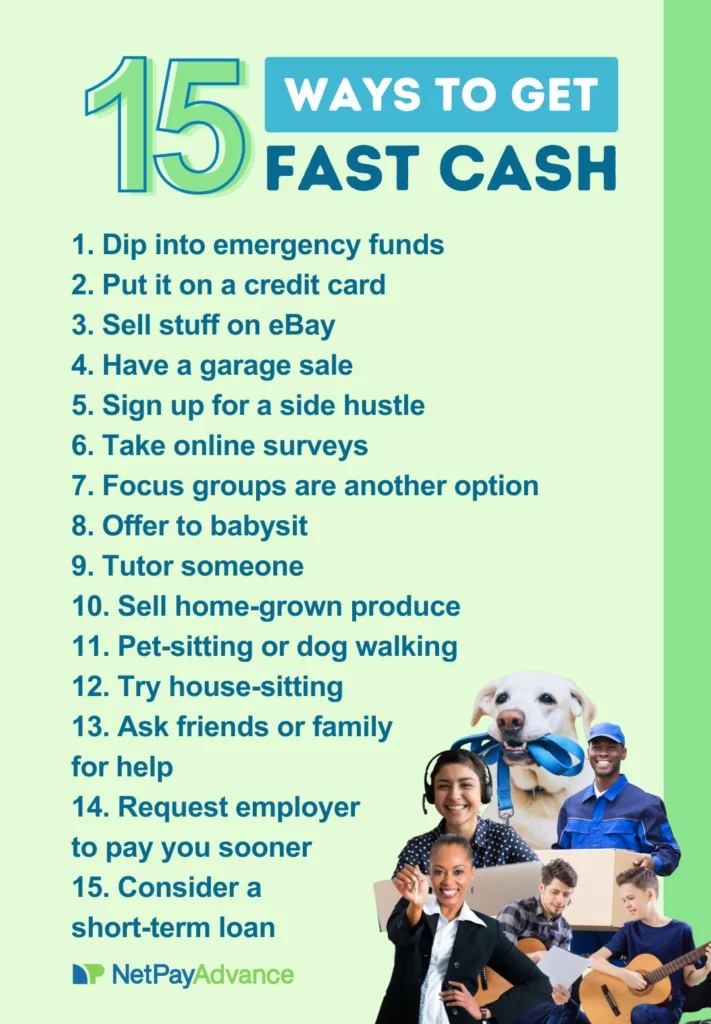 1. Dip into my emergency fund
Potential money: $100s or $1,000s, and time: Same day for an existing emergency fund or savings
I recognize this may not be a viable option for many of us, but having an emergency fund is your safety net when you need money fast. I needed money to fix a leak in the kitchen. Thankfully, I have built a decent emergency fund over the years, and you can do the same thing. Find out how you can start building an emergency fund. It requires some sacrifices on your part, but you'll thank yourself for doing it.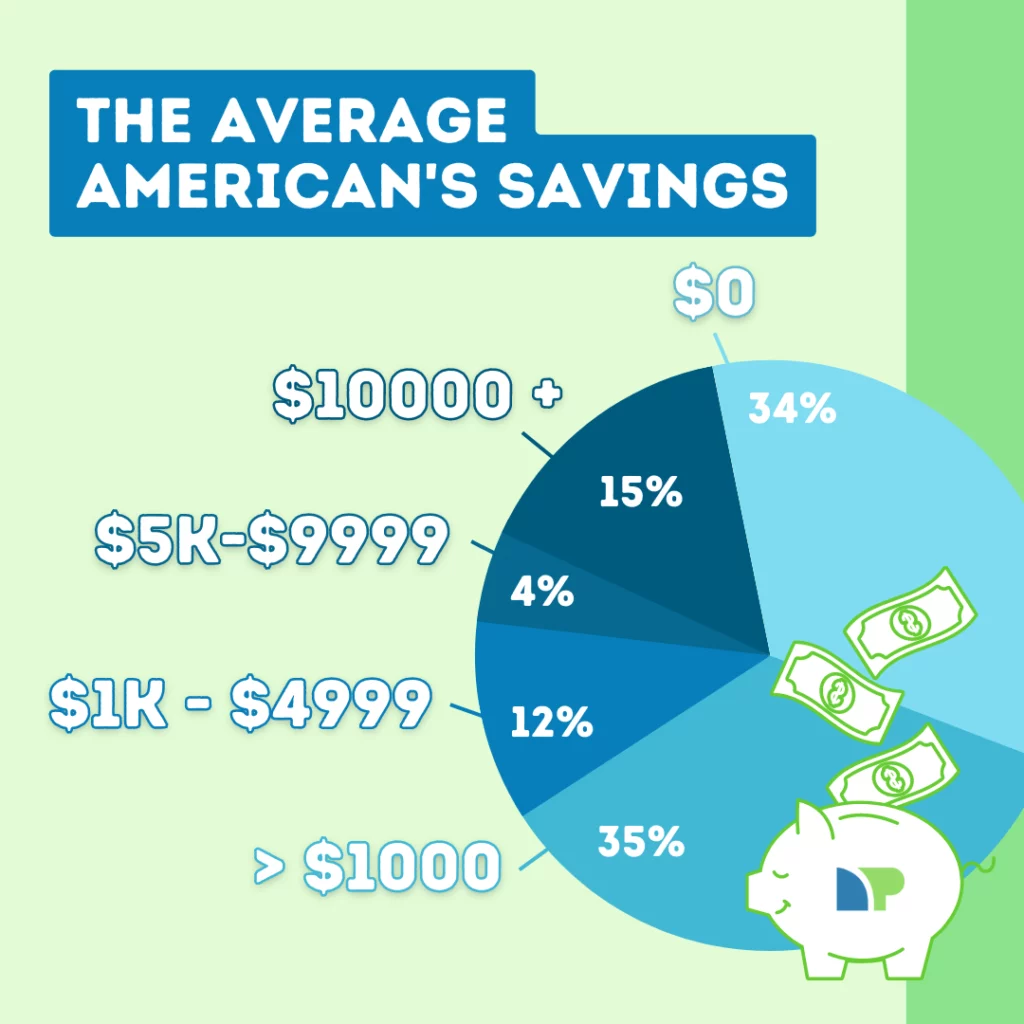 If this isn't an option for you, keep reading to see other ways I've gotten money fast.
2. Put it on my credit card
Potential money: $100s or $1,000s, and time: Same day with an existing credit card
This one is just a quick and easy fix that I've been guilty of using. I did put some of the repair expenses on my card. I didn't want to go through my entire savings. I love the convenience and as long as I pay off my credit card bills on time, I am able to use this option as needed. Luckily, my next payday comes before my credit card bill is due. You will need a credit card for this.
However, there is a slippery slope here. You don't want to make a habit of using your credit card for every little thing that can wait till next payday. You don't want to rack up credit card debt. In addition, I recognize that not everyone has the credit score to be approved for a credit card. In fact, about 30% of Americans have a credit score of 600 or less. Fortunately, the remaining items on this list don't require credit.
3. Sell stuff on eBay or Facebook marketplace
Potential money: $10 to $100, and time: Same day or longer
If you're anything like me, you're likely to have a whole lot of stuff. I am not a hoarder, I promise; but I do happen to have several items in great condition that I don't use as much as I should. For instance, when I upgraded one of my dressers, I had the old one in decent condition. So, I sold it to a wonderful person I met on Facebook marketplace. They gave this dresser some TLC and voila! It was a whole new look that tied together their guest bedroom.
Are you really going to use that coffee maker now that you have a new Keurig? That bed frame sitting in storage could use a new home. Rule-of-thumb: If you haven't used an item in over a year, you're probably not going to use it again.
4. Have a garage sale
Potential money: $10 to $100, and time: Same day
Not only is this a great way to make some extra money, but you're also decluttering your home. Sounds like killing two birds with one stone and one of the best ways solutions to I need money now! Do you really use the thirty-some coffee mugs you own? Make a lifestyle change and embrace minimalism! Explore our minimalist ideas to reduce debt.
When my household had a garage sale, we made about $130. I had the kids drive down the street to put out several signs on every corner within a 5-minute radius of the house. Our house is on the corner of the street, so I think that helped. The weather was nice, and it allowed us to spend time with our grandchildren outside. We would have liked to make more money, but it's hard to complain when we made money while just enjoying our weekend.
5. Sign up for a side hustle
Potential money: $10 –100, and time: Same day or weekly
This one is a hit among a lot of people including me. You can sign up to drive for food delivery and ridesharing companies. Uber drivers make over $20/hour in some states. You can drive for Doordash, UberEATS, Instacart, or Postmates. It's fun meeting new people and I can set my own schedule. Also, I can cash out at any time, but it is limited to once per day. Did I mention that on a good day, I can bring in over $50 in tips?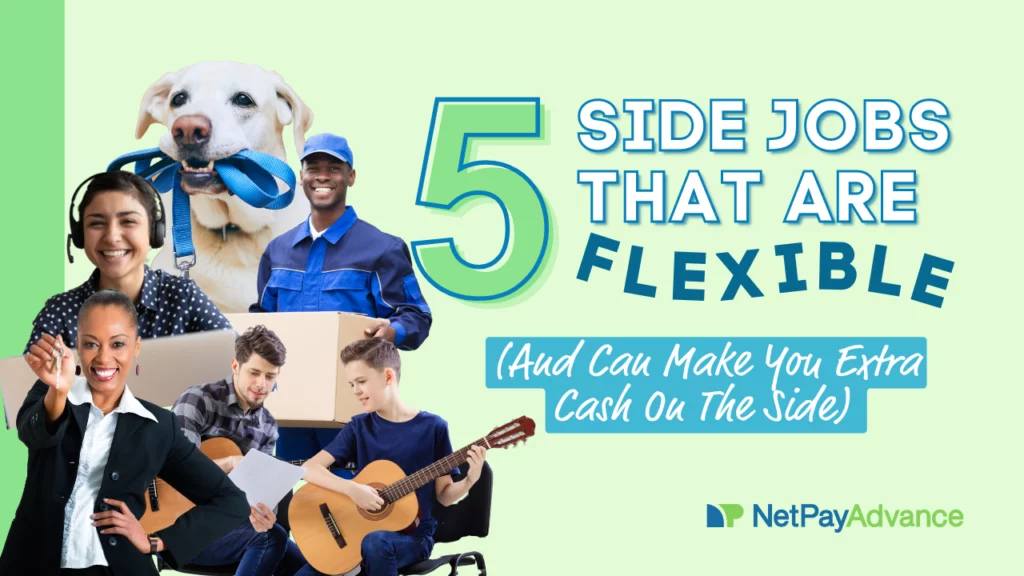 6. Take online surveys
Potential money: Up to $5, and time: Same day
A little digging online will help you locate websites that pay you to take surveys. This is an easy way to make money quickly. Websites like Survey Junkie, OneOpinion, Opinionoutpost etc. pay people to take surveys. Although it is simple and can be done from the comfort of your home, the payout isn't much. You can expect to make $1 to $5 a day according to Swagbucks.
7. Focus groups are another option
Potential money: Up to $150, and time: Same day
If you're unfamiliar with focus groups, I recommend doing a little bit of research before taking the plunge. Basically, a company will gather a diverse group of people and conduct a discussion in order to predict how a product, service, or campaign they intend to launch will likely be perceived. You can sign up to be part of such discussions and get paid for your time and participation.
I have been part of focus groups every now and then and the pay has ranged from $30 to $100 for a session.
8. Offer to babysit
Potential money: $10 –20 an hour, and time: Daily or weekly
Sometimes parents make plans for a night out and hire a sitter to watch the kids but even the best laid plans sometimes fall through. You won't believe how many plans have been saved, thanks to last–minute sitters! Post your availability on local Facebook groups and you're bound to receive some bites.
I have babysat for several friends and family members over the years. Most recently, I babysat a few school-aged kids while their parents had a date night. I made $20 an hour. Create a profile on care.com to get started!
9. Tutor someone
Potential money: $15 – $25 an hour, and time: Daily or weekly
If you have some mastery over a skill, you might want to make some money by teaching it to someone. You could tutor kids or adults depending upon your area of expertise and interests.
I tutored a kid in Algebra many years ago and it was a fun and rewarding experience. I made $15 an hour tutoring but you can charge higher depending on what you teach and at what level. College courses would bring in more money.
10. Sell home-grown produce
Potential money: Up to $50, and time: Instantly
If your garden yielded a great harvest, instead of canning everything, why not sell fresh produce? People love anything that's home-grown.
The same goes for people like my grandma that raise chicken for eggs. She charges $5 per dozen. I recommend leveraging social media to create a buzz regarding your product and make money fast! Local Facebook groups can help get the word out and you can make your first sale in a day.
11. Pet-sitting or dog walking
Potential money: Up to $100 a week, and time: Daily or weekly
If you get along well with animals, create a profile on Rover. If time is of the essence, make use of Facebook groups to get the message out and start accepting pet-sitting or dog walking requests. The Nextdoor app is a great platform to find customers near you. You can land your first gig in less than a day or it might take longer.
My cousin was going through major life changes, and I took in her yorkie for a month. The dog came with a month's supply of food, snacks, and medicines. I provided a dog bed and a few chew toys. I am great with pets and so this one is a fun job for me. If you're not a pet-lover or allergic to some animals, this may not be your answer to I need money now. My cousin paid me $80 a week but you can charge depending on where you live and what the expectations are.
12. Try house-sitting
Potential money: $40 – $120 a week, and time: Daily or weekly
There are websites dedicated to this, but I suggest asking around your circles if anyone needs a house sitter while they're away vacationing. Social media can help get leads too, especially if you're in local groups.
I have house-sat for my great aunt while she was visiting friends in a different state. It was the easiest job I've ever had. I pretty much moved into her home and did light housekeeping, watered her many houseplants, fed the fish in her aquarium etc. I was able to use her kitchen to make my own food and had access to her pantry. She paid me around $100 a week. Rates will vary by location, expectations, terms, and people you're house-sitting for.
13. Ask friends or family for help
Potential money: Up to $1000, and time: Same-day or longer
This has been a lifesaver for me! My family and friends have always come through for me and I realize that this may not be the case for everyone. Sometimes the amount of money you need might be more than what a family member or friend is comfortable lending. Also, money can change relationships and so I don't heavily recommend this option unless you have that comfort level with your loved ones.
For instance, I have borrowed a couple hundred dollars here and there from family but this one time I needed around $2500 for a mold issue in my house. My best bet was taking out a short-term loan as I could get the funds instantly and pay my contractor. I paid that family member back a couple hundred dollars every month for a year.
14. Request my employer to pay me sooner
Potential money: Up to half your paycheck, and time: 1-2 business days
Again, this may not be an option for everyone. In my early 20s, I once requested to be paid sooner than payday. I explained to my boss that "I need money now to buy holiday presents for my friends and family," which might not be an emergency, but I still wanted to celebrate my loved ones. Luckily, my boss was happy to accommodate my request and I got half my paycheck a week in advance and the other half on my actual payday.
This is most likely a one-time thing and so be careful regarding how you use it. You can't repeatedly ask your employer to do this for you.
15. Consider a short-term loan
Potential money: $100s or $1,000s, and time: Same day
Every situation is different and so is one's set of circumstances. Luckily, my family came to the rescue. I know not everyone has that option though. If I find myself in a situation in the future where I need money now, and none of the above options are viable, I'd probably go the payday loans route. The alternative is to not make this payment and face potentially damaging consequences. That's not a nice thought, is it?
You can avoid an unwanted situation by simply taking out a cash advance loan from a trusted payday lender. My advice would be to check their online reviews first! At Net Pay Advance, we have over 8,000+ 5-star customer reviews.
I need money now!
Yes, we get it. You need money and you need it ASAP. If you've made it through the list of options, I'm sure you have a few ideas on where to get that money. Always remember that financial crises are nothing to be embarrassed about. There are more people in the same spot as you are than you realize.
If I need money now, I will make it happen and so can you. So, make a plan and stick to it. Pick up one or more of the options I listed out for you. When all else fails, Net Pay Advance online payday loans are there to help. Apply today!