Uber Eats drivers making as much as $20.39 an hour in some states!
Whether you're looking for a side hustle or seeking an alternative to your 9-5, driving for Uber Eats could be fun and feasible. Of course, there are factors to consider before you jump in with both feet. Wondering how much do Uber Eats Drivers make? I'm answering that and more while providing a realistic overview of the pros and cons of the job.
In this article we'll cover:
Requirements for drivers
How drivers are paid
How much Uber Eats Drivers make
Independent contractor taxes and how they work
Becoming an Uber food delivery driver
Times are changing, inflation is on the rise and as such, it isn't uncommon to look for ways to supplement your income. It could also be that you're just not feeling your good ole 9-5 anymore and want a change.
More and more are finding themselves strapped for cash. There are apps to help you get paid instantly. Others consider how a payday advance loan might just be their answer. Some find that neither of those quick solutions are right for their needs. That's when they turn to the gig economy, and consider working with apps like Uber Eats, Lyft, Door Dash, and more.
The last few years have seen a surge in alternative jobs and side gigs. Blame it on the pandemic, but people sure have adapted to so many new things that weren't mainstream previously. For instance, online grocery sales skyrocketed to 103% in 2020. Prior to that, buying groceries online wasn't as common. Similarly, remote working or telecommuting has become more prevalent in recent times.
Uber is no different. Like online grocery shopping, food delivery has become a part of our lives. A survey shows that 45% of American consumers use food delivery services. This probably explains why there are a million Uber Eats drivers in the United States and 4-5 million worldwide! With growing demands for food delivery services, it is safe to assume that driving for Uber Eats can potentially be a rewarding gig.
But is it really as great as it seems on the surface? Let's take a deep dive!
What is Uber Eats?
Uber Eats is a platform that enables users to order food online and get it delivered. You can download the app to order from a wide variety of restaurants. Uber Eats operates in 6,000+ cities in 45 countries.
What does it mean to drive for Uber Eats?
Driving for Uber Eats means that you are tasked with picking up orders and delivering them to customers. You are an independent contractor working with Uber Eats and not technically an employee.
What are the driver requirements for Uber Eats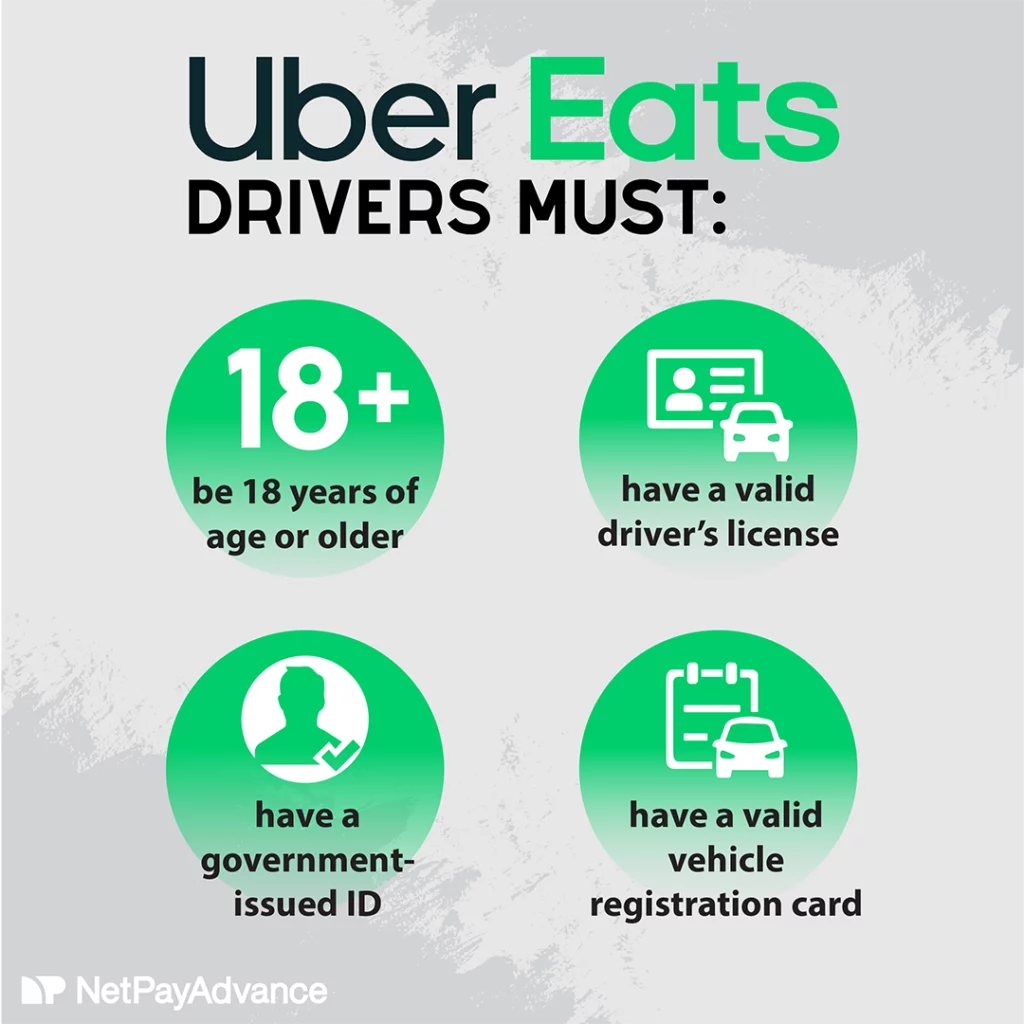 There are a few criteria that individuals must meet to become Uber Eats drivers. They must have:
Minimum 18 years of age
Valid driver's license
Government-issued ID
Valid vehicle registration card
Please note that drivers need to clear a background check to work for Uber Eats.
How much money Uber Eats drivers make explained
Let's get down to dollars and cents, shall we? It's complicated, just like your Facebook status from 2009!
Jump down to see rates in your area.
In all seriousness, it can be difficult to give an exact number. The trouble of nailing down firm numbers for Uber Eats is that earnings vary wildly between drivers.
What can I say, it's consistently inconsistent! How often a driver chooses to work, when they choose to work, and where they choose to work all add to the complexity of the equation and I don't even like math!
Gig economy exists for a reason: To outsource costs!
Uber owns no cars! So, you as an Uber Eats driver need to have your own vehicle to make deliveries and are responsible for all the expenses involved. That means you, the driver, are responsible for gas, vehicle maintenance, and insurance.
Wear and tear and vehicle depreciation? Oh yeah, that's yours, too!
How are Uber Eats drivers paid?
There are three ways to get paid from driving with Uber's food delivery service:
Base fare for completing a delivery
Customer tips
Uber Eats promotions
Trip supplements
To a gig economy app, you're an independent contractor. Because of that, you're paid for each delivery you make. Not each hour you work. Working in the gig economy means you only make money when you complete a gig.
Bands only get paid when they're hired for a show. Uber drivers only get paid when they're hired for a delivery. Uber Eats calls this engaged time.
It can be disappointing when there are no orders for hours.
When there's demand for more deliveries, a driver's potential wages rise significantly. Without a meal in the car, a driver doesn't make any money.
Base Fare
Uber Eats once shared their exact payment formula. They no longer display it, but they have confirmed the factors considered in the base fare:
Pickup fee
Dropoff fee
Distance from the restaurant to the arrival location
Time it takes from the restaurant to the arrival location
Tips
Customer tips can change a lot depending on how generous they're feeling. The good news though, is that your tips are 100% yours to keep! Uber Eats knows that you work hard for tips. You deserve to keep them. They're an addition to your earnings.
Promotions
Additional incentives in the form of Boosts and Surges are often earned by Uber Eats drivers.
Boost promotions offer an earnings multiplier for deliveries in certain areas and during specific times. So, a driver can see a map on his app which will highlight the different zones. Uber boost areas will be marked on the map and when operating in a boost area during a set time frame, the multiplier will be applied to the earnings.
A surge is an additional amount that is added to your net earnings after you've made the delivery. It is a way to increase your earnings during high demand. Please note that Surge is only available in some cities. It is different from Boost because it depends on how busy the restaurants are in real-time and as such, surge may increase with demand.
Trip Supplement
These are certain incentives that make a trip or delivery worthwhile for the driver. Factors such as distance and time are taken into consideration while adding a trip supplement. For example, if there's more than the usual amount of traffic which adds to the duration of the trip, an Uber trip supplement is offered.
All of this impacts your anticipated hourly rate
Depending on the distance of deliveries, the timing of deliveries, and the traffic, the number of deliveries you can make in an hour changes frequently. That will impact all sorts of hourly fee expectations.
Unlike a 9-5, you're not paid a steady check just to show up to the job. Even with an hourly job, you're able to calculate how much you'll make by counting how many hours you work. It's not the same when you're an Uber food delivery driver.
Due to all these factors, Uber Eats doesn't provide a steady paycheck. Delivery drivers can find themselves making different amounts depending on the time or the day. This is why so many articles have conflicting numbers on how much Uber Eats drivers make.
The good news is that it is possible to average! So, we'll set the record straight.
Show me a number: How much do Uber Eats drivers make?
Let's cut to the chase: how much can you get paid as an Uber Eats driver? According to Indeed, Uber delivery drivers make $18.12 per hour on average. According to Gridwise, Uber Eats drivers make $9.37 per trip.
The figure provided is the median earnings per hour for drivers before expenses. That number shows wages earned after Uber takes its cut (about 20%), but before personal taxes.
During the pandemic, those earnings took a hit. Early 2020 figures show earnings decreased more than 30% in March when the pandemic first took hold. In Los Angeles, for example, driver earnings dropped to $11.74 an hour—a 36% decline from a peak of $18.48 posted just weeks earlier.
How much do Uber Eats drivers make near me?
We found ourselves wondering how much do Uber Eats Drivers make near Kansas? (Since that's where we're based.) We headed to www.salary.com to help calculate the average Uber Eats driver hourly salary across the US. See how much these food delivery drivers make in your area.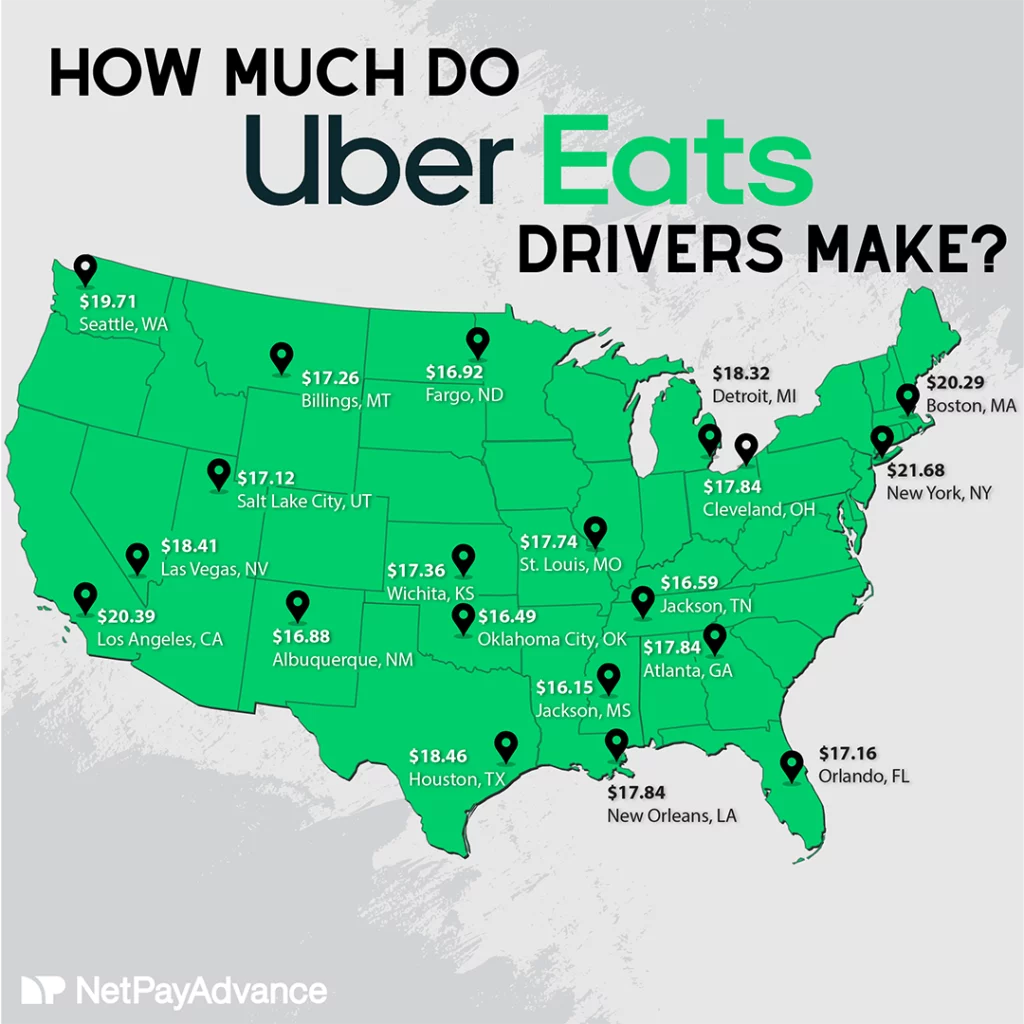 Los Angeles, CA $20.39
Orlando, FL $17.16
Atlanta, GA $17.84
Wichita, KS $17.36
New Orleans, LA $17.84
Detroit, MI $18.32
Boston, MA $20.29
St. Louis, MO $17.74
Jackson, MS $16.15
Billings, MT $17.26
Fargo, ND $16.92
Albuquerque, NM $16.88
Las Vegas, NV $18.41
New York City, NY $21.68
Oklahoma City, OK $16.49
Cleveland, OH $17.84
Jackson, TN $16.59
Houston, TX $18.46
Salt Lake City, UT $17.12
Seattle, WA $19.71
Please note that these numbers are based on average hourly pay for drivers in these areas.
All 'bout expenses—You need to subtract a few things
As a driver, you will bear expenses beyond just gas.
The cost of gas is the largest variable cost, and prices depend on your location. According to a 2018 report, rideshare drivers spend between $0.05 and $0.27 per mile on fuel. Another report says that food delivery drivers spend 20% of their earnings on gas.
Insurance is another factor.
An additional expense is maintenance and repairs, which, according to estimates, adds up to $0.13 per mile.
Add one more thing: depreciation. Vehicles lose value the more they're on the road. One estimate suggests this adds another $0.05 per mile.
Add it all up, and the calculated cost of driving for Uber is about $0.30 per mile. One of Uber's own executives backed this estimate.
Now, back to earnings for a minute.
Estimates show drivers earned as much as $1.14 per mile in some markets, and as little as $0.63 per mile in others. With expenses subtracted—of course, these will vary—a driver may earn between $0.30 to $1, more or less.
Can you make good money with Uber Eats?
Yes, it is possible to make good money from Uber Eats.
However, there are a few factors that can impact your income from Uber Eats. The number of hours you put in, the number of deliveries you make, and the city you're in are all relevant. So are the days of the week and the time of the day that you work.
One of the really nice benefits to this delivery app is that they do offer instant payments. If you're eligible to use their instant pay, you can get your earnings added right to your debit card. There's a 50¢ to use Uber Eats' instant pay. If you don't qualify for, or use, their instant pay, you'll have to wait for an ACH payment, which can take several days.
Do Uber Eats drivers pay taxes?
Yes, Uber Eats drivers are required by law to pay taxes. Uber Eats drivers are independent contractors unlike W2 employees. That's why filing taxes as an Uber Eats driver is a little different.  
Uber Eats drivers are essentially self-employed. They must file taxes every quarter. If you drive for Uber Eats, you absolutely need to know the ins and outs of paying quarterly taxes as an Uber Eats driver.
How to get started with Uber Eats?
You can get started with Uber Eats in a few simple steps:
Go to the app store on your smartphone and download the Uber Eats Drive & Deliver app.
Find it on Apple Store or Google Play.
You will be prompted to enter your phone number and verify the same.
Allow your device to access your location.
Enter information and submit to a background check.
Please be aware that background checks will show data from the last 7 years. This includes felonies, drug-related violations, and DUIs. You will be notified by email once your background check is complete.
Follow instructions to start accepting orders.
Are you ready to get behind the wheel?
Making money is one the most potent driving factors in life. We need to support ourselves and those that depend on us. In this economy, it is only natural to look for sources of supplemental income. You can make money online or if you're in a bind, you can always consider our top 5 ways to make fast cash. If you're considering a side gig or two, we have a compilation of the best side hustles.
This is the part where you make an informed decision. Is driving for Uber Eats worth it? I think it is! Working as an Uber Eats driver offers you flexibility which several jobs or gigs may not. You can work as little as you want or as much as 12 hours a day!
Being a one-person army has its own pros and cons. For example, you can skip having to go into an office. You don't need to deal with bosses and coworkers. However, it can get lonely at times, and you don't receive benefits like most W2 employees. You need to factor in the expenses you might have to incur and be aware that customer ratings are vital to getting more deliveries.
If you've thought this through, it's time to take action. Driving for Uber Eats can be a means to an end or it could be more than that. You get to decide how much time you want to spend driving for Uber Eats in a week. There are some set time constraints or quotas that you have to meet. For a lot of individuals, this flexibility can be priceless! Sign up to become an Uber Eats driver and take the world of gig culture by storm, one delivery at a time!