A simple checklist of what you need to look for in your online payday lender
There are times when you find yourself in a situation where you need funds instantly. It can be stressful but you're not alone. My aim is to help you identify the best online payday loans available.
When you seek an online payday loan, you have options to choose from, and it's essential to choose well. Choosing the wrong payday lender could mean paying way more, and nobody likes that.
Look for these 5 factors when picking a payday loan
Picking a payday loan provider is like deciding on dinner at The Cheesecake Factory. The menu is pages long. It's loaded with lots of great options. Deciding is going to take a while. Fortunately, I know the best dinner at The Cheesecake Factory is the Cajun jambalaya pasta with a slice of fresh banana cream cheesecake. It's a no-brainer! I also know the best payday loan organization.
Choosing the best payday loan online can be difficult. In this blog, we've identified five factors to look for in an online payday loan provider. They are:
Finding the best payday loan online starts with looking for a fair cost. Usually, good short-term loan organizations have fees in the range of $15-30 per $100 borrowed. Beyond cost, you should also look for fast approvals, convenient applications, top-level security, and reliable customer service assistance. Use these five factors to identify the best payday loan online.
Let's keep the conversation going. Here's a medium dive into the best of the best in online payday loans. Grab your snorkel and get ready to dive!
1. How much does a payday loan cost?
It's no secret that there's a cost to short-term lending.
Rates for a payday loan vary depending on state regulations. But the norm is a $15 to $30 charge per $100 borrowed on single payday loans. It's definitely cool to price shop but pulling from the discount bin doesn't always yield the best results. Especially when your information is at stake, it's not always worth the risk to take the cheapest option. Doing so could mean your information is tossed around and sold to the highest bidder.
Sold to the highest bidder? Here's what's going on with that.
It's easy to look at the cost. Likewise, it's easy to look for the cheapest. But I prefer not to zero-in on the cheapest payday loan, but the best value. Few lenders bundle safety, simplicity, and exceptional customer service as well as Net Pay Advance does.
Quick note: This is usually where people are quick to comment about payday loan fees. I can't ignore the charges you pay to access your money. But likewise, I can't pretend others don't also charge fees to access your money. Simply put, not having access to your money can cost you. Bank of America, one of the nation's most popular banks, charges $35 on an overdraft transaction — no matter how much that transaction is. I'd personally rather have control of my expenses with a payday loan rather than an overdraft fee or a late fee — or both. At least a payday loan provides me with the funds needed to cover the purchase I'm trying to make. With an overdraft fee, I'm just left with a bank fee, and no funds to cover what I needed to purchase. With a payday loan, you can avoid overdraft charges and late fees.
2. How to get fast loans online
Life doesn't slow down. The best online payday loans are the ones you can access quickly.
Quite often, people will turn to a payday loan for an unexpected expense. When an expense pops up, you don't have time to wait. You need money fast. Bill collectors won't wait. Likewise, you shouldn't have to either.
Payday lenders will either give you cash or direct deposit funds via a bank transfer. With cash, that could prompt an extra trip to the bank to deposit the funds. Via a bank transfer, some lenders may take two or three days to complete the deposit. Doesn't exactly sound fast to me.
Take a look at what Net Pay Advance does. Because their business is all online, Net Pay Advance deposits funds via a direct deposit bank transfer — quickly. Customers with a valid debit card on file can get their funds instantly. Customers without a valid debit card will have cash deposited the next business day. Money transfers are dependent on your bank schedule. But usually, the money is in your account shortly after you wake up in the morning. Funds are not deposited on the weekends or bank holidays. That's fast, simple, and convenient! That's borrowing better.
3. Where to get fast online loans
You're on Google. You search "loan no credit check near me." Sound familiar?
Distance limitations in mind, you likely zero-in on the handful of the nearest locations. And that's assuming you have options. There may only be one or two licensed payday lenders in your area. Or worse — there are no licensed payday lenders in your area.
The best online payday loans are located close to you. Remarkably close to you.
With Net Pay Advance, there's always a licensed payday lender in your area. Net Pay Advance is in your neighborhood. Because they're online, they're accessible from anywhere — like your gym, your work, or even your couch.
Additionally, Net Pay Advance is with you on the go with their convenient mobile app. With the Net Pay Advance app, you can access your account, make payments, and change your due date.
To help as many people as possible, Net Pay Advance built its business online. While Net Pay Advance has no physical locations, their services are accessible online from wherever you are. Loans are available to customers that live where Net Pay Advance is licensed. See the states where we offer online payday loans.
Net Pay Advance has all the benefits of a traditional brick-and-mortar, plus better convenience. You have a trusted payday lender in your neighborhood. It's Net Pay Advance.
4. How secure are payday loans?
I love those calls I get three times a day trying to sell me something. (Totally kidding). Instead, I'm wondering how they got my phone number — and how I get them to stop.
So, I keep my guard high when it comes to my personal information — be it my name, phone number, address, etc. Payday lenders require you to reveal a little bit more. Like an ID and checking account information — essentials to complete the transaction.
Therefore, the absolute last thing I want to risk is some company selling my information to the highest bidder. Sadly, there are quite a few out there in the payday loan space that do exactly that.
Good thing I know that Net Pay Advance is a direct loan provider and doesn't sell information to other loan agencies. My information is kept private to them and no one else. Information like my debit card and passwords are safely stored using 256-bit encryption. High-level encryption means that if there was a data breach, that information remains unreadable. Furthermore, Net Pay Advance goes beyond compliance standards, ensuring top-level security.
Learn more about Net Pay Advance's security straight from their I.T. Director: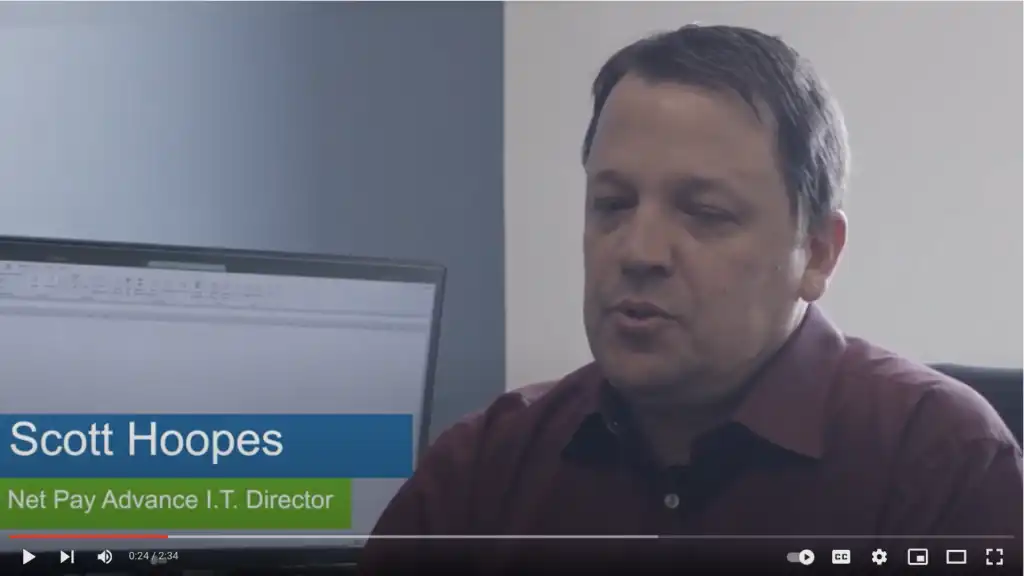 Convenience is one thing. Security is another. With Net Pay Advance, I know that I am getting the best of both.
5. Does customer service matter with online payday loans?
There's nothing more fun than being on hold. Listening to static music. Waiting. And waiting. And waiting. Then finally, s̶p̶e̶a̶k̶i̶n̶g̶ ̶w̶i̶t̶h̶ ̶a̶ ̶r̶e̶p̶r̶e̶s̶e̶n̶t̶a̶t̶i̶v̶e̶ being transferred and put on hold again. (Once more, I'm kidding).
So, when I'm shopping the market — for anything — I look for quality customer service. You know, the kind with real people on the other end.
Over at Net Pay Advance, they have real people helping real people. To know for sure, I looked at their Trustpilot, where they're kind of a big deal. Trustpilot is a customer review service where the reviews are verified. Trustpilot is where Net Pay Advance can track its wins and learn from its mistakes. For instance, it's easy to see Net Pay Advance wins. For one, they're the best-ranked short-term lender on Trustpilot. That's backed by over 7000+ 5-star reviews!
I'll say it again: I really don't like being on hold. I can get in touch with Net Pay Advance in any number of ways. Over the phone, I can call them at 1-888-942-3320. If I'm more comfortable with text, I can message them at 1-844-505-3539. I can even go online and email them at [email protected]. And I know I'll get a response — from a real person — within minutes.
Still debating if Net Pay Advance is a legit lender? Let's clear your confusion!
FAQs (Frequently Asked Questions)
What are the best online payday loans?
The best online payday loans are safe, secure, and convenient! You'll need to work with a trustworthy lender. Always look for state-licensed direct lenders that offer online payday loans with an easy application. Read online reviews to find a lender that hundreds or thousands of customers have worked with and recommend.
What payday loans are fast to get?
Look for "instant" payday loans and "same day" payday loans. Be sure to read the fine print though. Some loan services say they offer same-day loans, but it requires applying early in the morning. Others require you to drive somewhere. At Net Pay Advance, we're upfront. We offer instant payday loans to customers with a valid debit card on file. For our customers that don't have a valid debit card on file, they'll still receive a quick payday loan – their funds will arrive the next business day.
Learn more.
How to get an easy payday loan?
Most payday lenders will need to check that you're over 18 years of age, live in a state where payday loans are licensed to operate, and that you have a bank account in your name which has been active for at least 30 days. They may ask for other information, such as what form of income you have, and a few other details around that. Look for lenders that have a shorter payday loan application – 7 minutes or less. Applications with easy-to-understand questions are best.
Look at Net Pay Advance's application as an example. It only takes about 5 minutes to fill out, and the questions are easy to answer.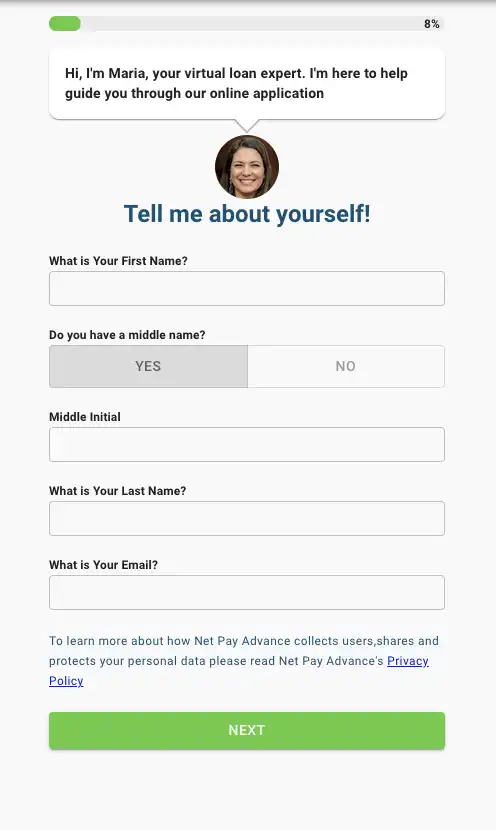 Try their application yourself
Put it all together and what do you get?
Net Pay Advance is the Cajun jambalaya pasta with a slice of fresh banana cream cheesecake of online payday loan providers.
OK, that metaphor is a little cheesy (and delicious). I'm well aware. But the point is, Net Pay Advance meets all five factors of a top-notch online payday loan organization. According to our reviews, Net Pay Advance is the best provider for bad credit payday loans. Need I remind you why?
For one, Net Pay Advance is in your neighborhood. They're available online – right at your computer or mobile device.
Even more, their application process is incredibly simple. It's always nice when you have the easiest payday loan to get online. Applying takes about five minutes, and approvals typically happen in 15 minutes or less.
Your money is in your account quickly. Either the same day, or the very next business day.
Not to mention, their fees are clear and competitive.
Plus, and most importantly, they have the best people.
Better borrowing. Better service. Better security.
Net Pay Advance is the better lender.
See what you might be missing. Apply today.