Discover how you can make the most out of a virtual job interview
The job market keeps changing but Zoom interviews are here to stay. Nothing offers the same convenience of a video interview. Technology has really helped simplify the hiring process. In this piece, we discuss the various tips and tricks to ace a virtual job interview.
Thanks to Covid, we have all had to get used to newer technology. Several jobs became fully remote. Others transitioned to hybrid schedules. Even the hiring process changed as it went from in-person interviews to virtual ones. In the last few years, more and more interviews have been conducted on platforms like Zoom, Microsoft Teams, and Skype.
In fact, 74% of recruiters claim that video interviewing has made the interviewing and shortlisting process easier. They also help save time.
The Society of Human Resource Management states that the cost of hiring is just above $4,000. Therefore, companies need to hire the right person and prevent turnover. Video interviews are your chance to really shine and show why you're the right fit for the job.
PS: Don't have a college degree? Don't let that be a hindrance. There are some high-paying careers that don't require a degree.
If you're a job seeker, you need to brush up on your video interviewing skills. Video adds a whole new layer of complexity. In this blog, we will attempt to provide tried and tested strategies for acing a Zoom interview. Let's get started!
How do you make a good impression on a Zoom interview
The good news is that when it comes to video interviews, there are still a lot of similarities with traditional interviews. Consider our list of 10 tips for traditional interviews.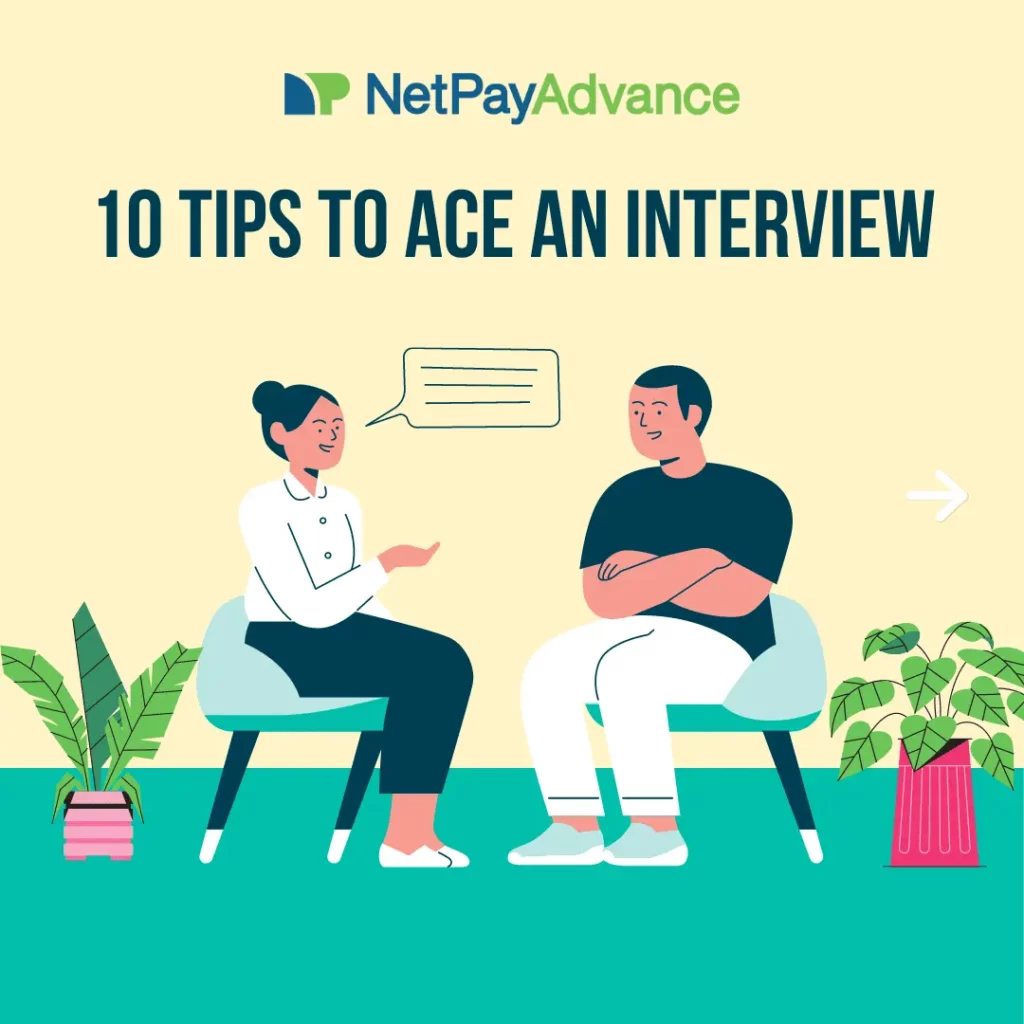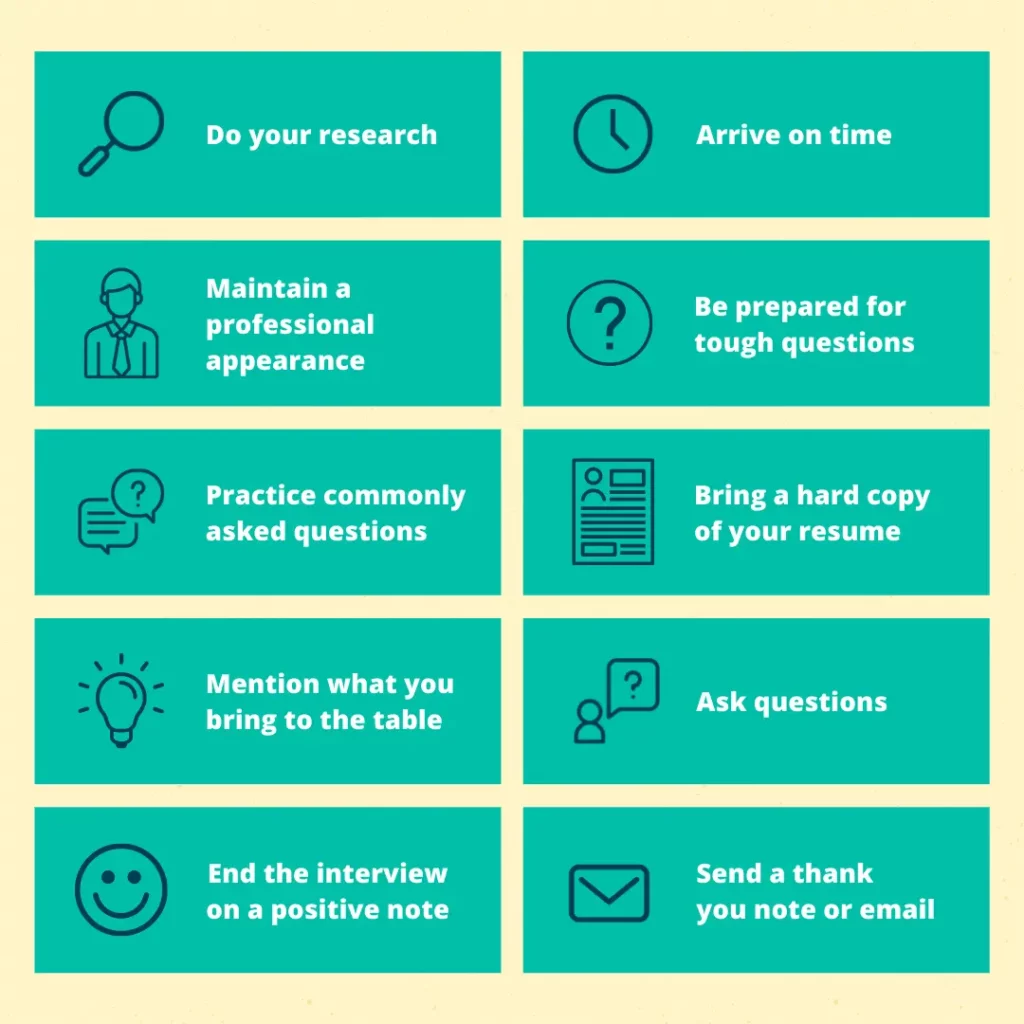 Most of these same best practices are applicable to Zoom or virtual interviews as well. Following these will give you an edge over your competition and will help you make a good impression.
We reached out to Janella Smith, Director of Finance and Accounting, and head of our Human Resources, at Net Pay Advance. Janella helped us compile a list of pointers aimed towards helping you ace a virtual job interview. Take a look: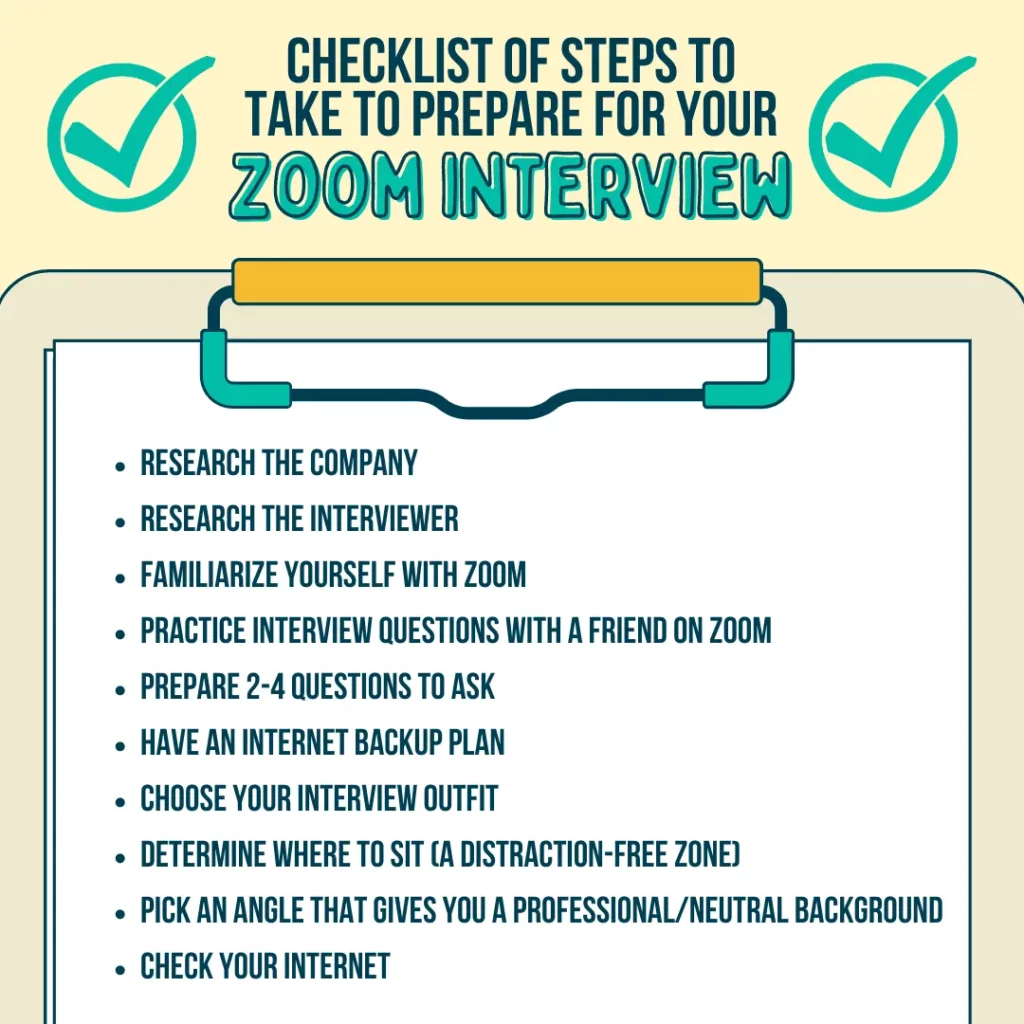 Alright, let's dive a little deeper into some of these topics.
First impressions matter
This is true in both in-person and virtual situations. You get 7 seconds to make a solid first impression. When it comes to a Zoom interview, several factors make up the first impression.
Janella laughs and shares, "Dress for success, even remotely. And fully. We do not want to see your underwear or pajama pants because you only dressed the part from the waist up."
How you dress has an impact on how you're perceived by an interviewer. 71% of employers say that they won't hire a candidate if they don't dress appropriately. We recommend dressing professionally and definitely wearing pants!
What is the best color to wear for a Zoom interview
Wearing neutral colors makes a candidate seem more authentic. Colors can often have a significant impact on our lives. Take a look at the list of colors you might want to avoid here.
Zoom interview background basics
Zoom and most other platforms give you the option to select a neutral professional backdrop. You can play around with angles and lighting to find the most flattering formats. You should have a distraction-free zone to do your interview.
Janella adds, "Think about your background. Do the interview from some place [comfortable] and free of distractions… Please [don't join from] your bedroom or from your bed." Also, don't forget to turn off notifications and silence your phone before your interview.
Zoom offers a mute button. This button prevents the interviewer from hearing distracting noises from your end when you're not speaking. This can be helpful if you have pets or live in noisy downtown.
Do your research
This applies to both in-person and virtual interviews. You need to conduct thorough research on the company, the position, and the interviewer ahead of time. There's nothing more unattractive than an interviewee who appears to be clueless and unprepared.
Janella advises, "Do not Google answers to questions in the middle of the interview, especially when it is a technical interview. You are either prepared or not hired. We can see when you are typing the question on the computer." Just because it's a Zoom interview doesn't mean you can skip out on preparation.
Test your technology in advance
It is vital that you check your app, internet connection, speakers, camera, and microphone in advance. Technology is a boon but at times it might create a few hassles. It is best to be prepared and this includes ensuring your devices are working well.
Having an internet backup plan is a wise move. Set yourself up for success by doing the necessary preparation. Remember to charge and update your laptop and look into the camera while speaking during a Zoom interview.
Pro tip: First time using Zoom? Don't be afraid to ask a friend to help you practice a few traditional interview questions ahead of time on the Zoom platform. It will give you a good idea of what to expect.
How do you stand out in a Zoom interview
Preparing for your interview can take a lot of work. But your scheduled interview time is where you should shine. Here's how to make an impression and stand out during your interview.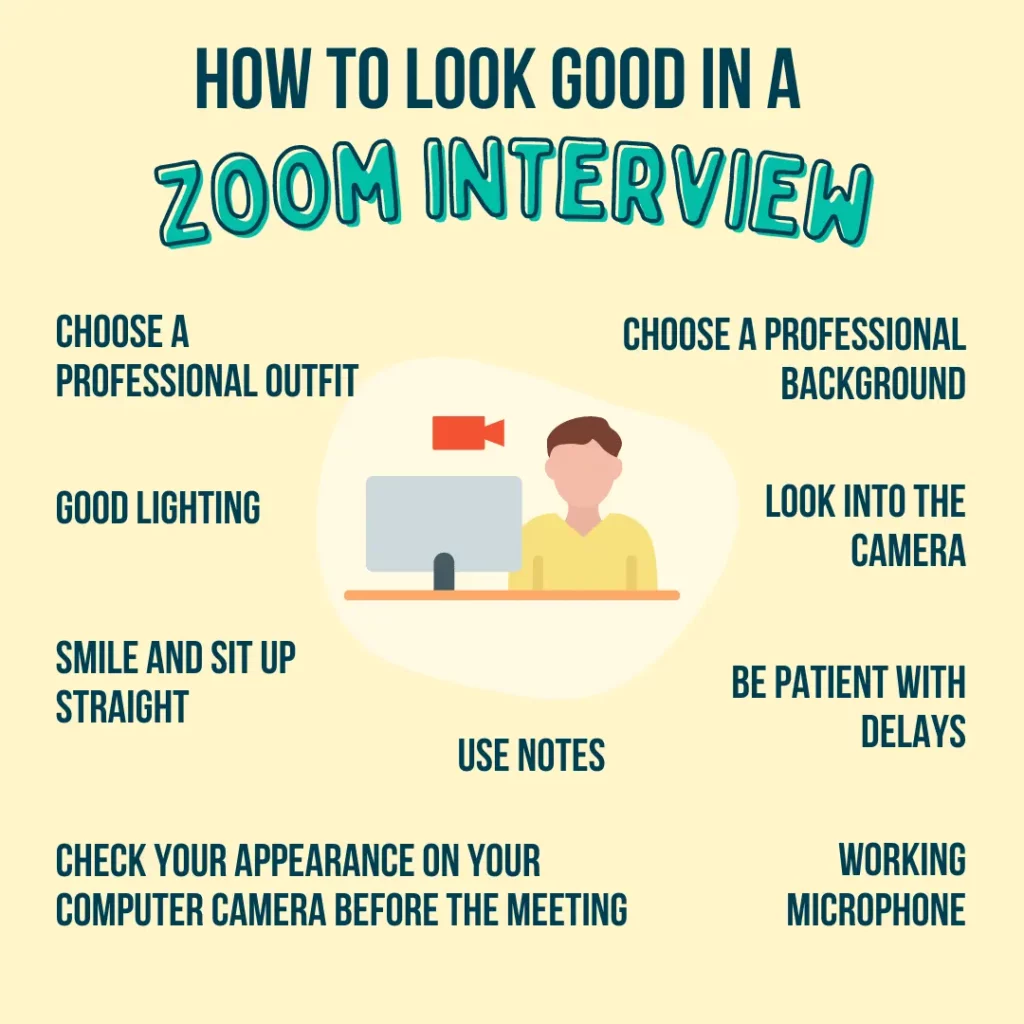 Let's take a closer look at some of these video interview best practices.
Punctuality is essential
You wouldn't normally be late for an in-person interview, would you? Then why not do the same for a Zoom interview? Make it a point to join the meeting or interview a few minutes beforehand. It isn't nice to keep an interviewer waiting. Double check your interview time and be prepared to join early. Janella adds, "Show up on time. This is even more important in a virtual interview. You did not have to drive anywhere to get to the interview. Traffic is not an excuse."
Pay attention to non-verbal cues
Virtual interviews can make it difficult to read body language. However, you should try to come across as personable. Janella says, "Sit up straight, smile, emote, be engaged. The interviewer is interviewing for personality and culture fit. That can get lost online. Do your best to make a connection. Be yourself." The idea here is to try and build a connection. You can do this even though you're separated by physical distance and maybe even time zones.
Answer the questions to the best of your ability
Interviews can feel overwhelming and a little detached when they're in a virtual setting. Listen closely to the questions the interviewer asks you. Take a moment to think over your answer, and then respond.
When it comes to answering interview questions, we recommend the STAR Method. With the STAR Method, your response usually shares an example of work experience you have that shows exactly how you have, and would, respond in a situation.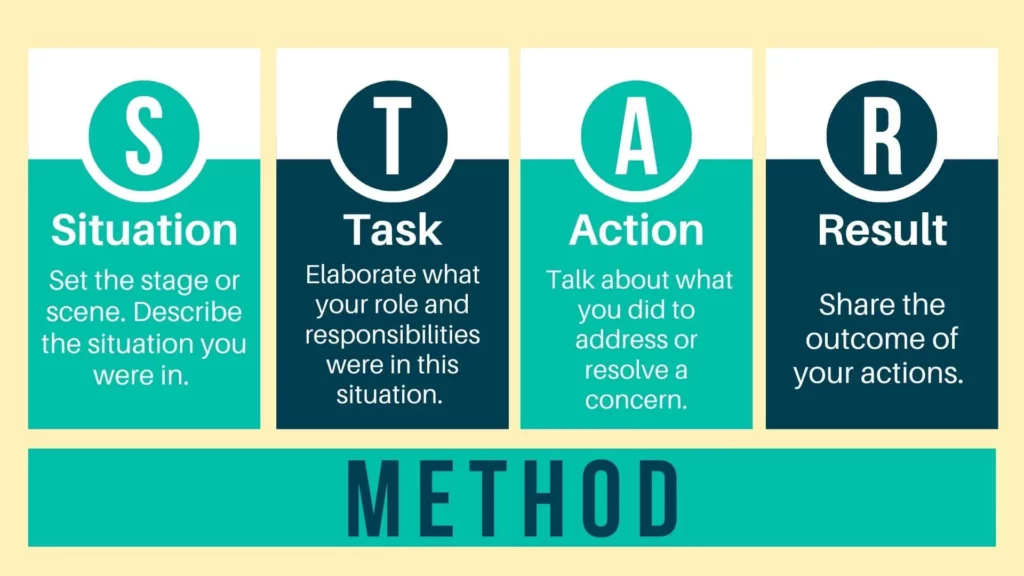 Following the STAR Method is the most effective way to ensure you answer their question fully.
Post-interview etiquette
Make it a point to send the interviewer a thank you email after your Zoom interview. Just express how nice it was to meet them and to have had the opportunity to interview with them. Mention that you're interested in the company and in the role. Let them know that you're hoping to hear from them soon. Here's an example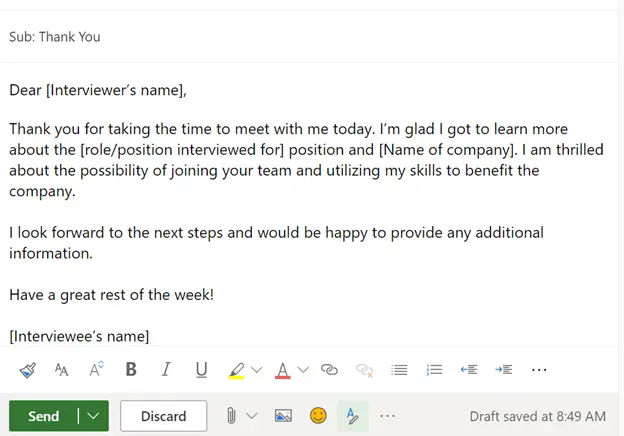 It is always a good idea to send a thank you email. 80% of HR Managers believe that thank you notes help them evaluate candidates.
Conclusion
Interviews can be stressful. As a job seeker, you want to do your best. Although Zoom offers some convenience, it does have a few challenges. It's a side to interviewing, that's still relatively new. Here are a few virtual interview statistics you might find useful.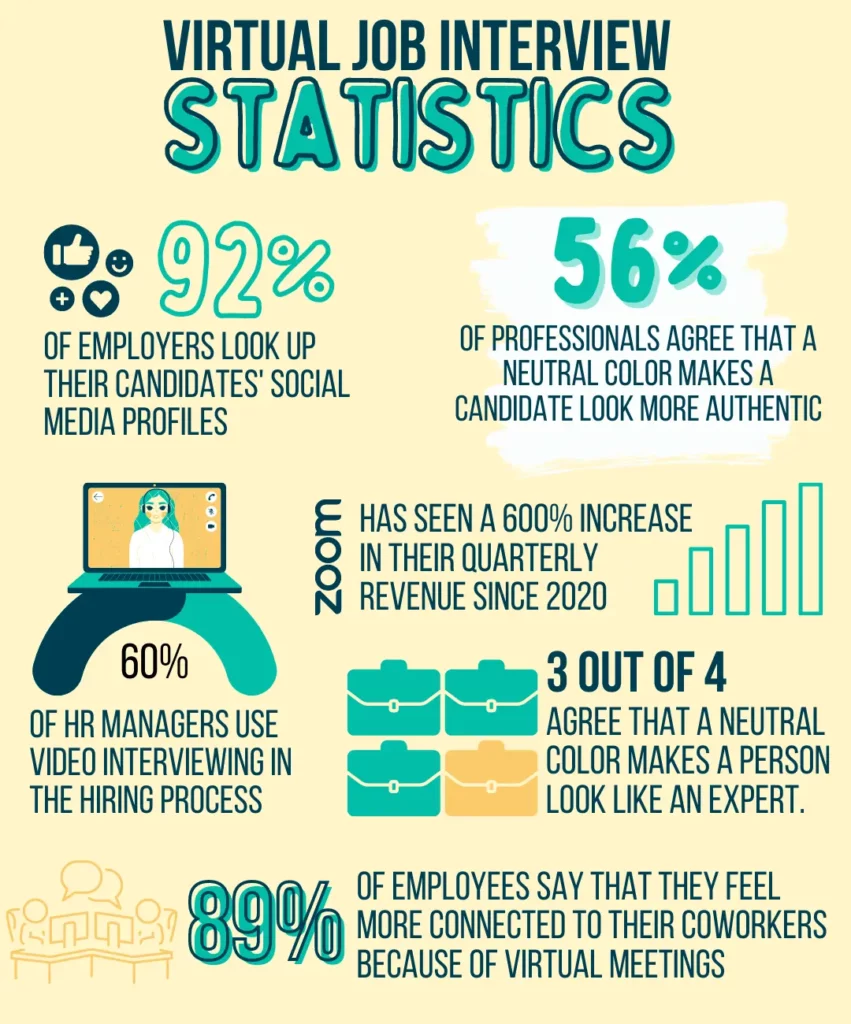 Since virtual interviews aren't going anywhere anytime soon, it is best to prepare ourselves. Job hunting can be draining and exhausting! We hope our pointers offer help and guidance if you're currently navigating the job market. It can be intimidating to apply and interview virtually. Luckily, you're not alone in this.
We recommend checking out our 10 Interview Tips to Improve Your Shot at Getting Hired.
Are you an introvert? Be it in-person or in a Zoom interview, we can all agree that introverts often struggle in social situations. Take a look at our piece on Job Interview Skills for Introverts for expert insight.
If you're looking to work at a fun and dynamic organization that cares about your growth, we invite you to explore our current openings.
Till then, happy hunting!