Confused between a Kansas personal loan vs personal line of credit? Let's dig deeper!
If you live in Kansas and are contemplating choosing a loan option that works for you, we might be able to help. Personal installment loans and personal lines of credit can each have their benefits. Let's uncover which one would work best for you.
We all know that money and finance play an integral role in our adult lives. To afford a mortgage or a car or even college, we might find ourselves taking out loans. Borrowing money from a bank or credit union comes with the expectation of repayment along with an interest rate.
In this piece, we shall discuss two different types of loans: a line of credit loan option and installment loans! We'll look at their unique characteristics, and how each type can benefit you.
Skip to:
If you'd like to compare our other loan types, look here:
What is a line of credit and how does it work?
A Kansas line of credit is like a credit card. You can borrow money from whenever you need. However, there is a borrowing limit.
A line of credit may also be called a personal line of credit when it's borrowed by one person instead of by a company. It is mainly used for home renovations, projects with unknown costs, unexpected vehicle expenses etc. Also, a personal line of credit loan is open-ended. Therefore, the line of credit loan doesn't close after full repayment but is available for use again in the future.
A line of credit may be a secured loan or an unsecured loan. Secured loans involve putting up an asset as collateral. Failure to repay your loan can enable your lender to seize this collateral. Unsecured loans don't require you to put your home or car up for collateral. Instead, the lender reviews your application to determine your likelihood of repayment.
A line of credit is treated as a form of revolving credit. Credit cards are another form of revolving credit. You can withdraw as many times as you need up to your borrowing or credit limit.
Net Pay Advance has a Kansas line of credit that can go on for as long as you want. All you have to do is make at least the monthly minimum payments.
Other line of credit lenders may have a draw period which is a time frame in which you can borrow and repay freely. There is also a repayment period in which you can't borrow anymore and must repay the remaining balance.
With our Net Pay Advance Kansas line of credit, we provide you with more flexibility. You can decide when you want to withdraw money and when you want to repay. The only constraints are the minimum monthly payments and the credit limit.
We offer credit limits ranging from $500 to $3,000.
Is it worth getting a line of credit?
It depends on your individual needs and circumstances. In a 2022 Net Pay Advance survey we found that almost 36% of borrowers only want $100-500. Only 15% want to borrow a larger amount like $1,200+. Based on financial needs, a line of credit may not be as popular as other personal loan options. However, if you have large expenses coming up, having flexible access to funds is always a good thing. It just depends on your needs.
A Kansas line of credit is an open-ended loan that offers you access to a certain amount of money without any set date for repayment of all the money drawn. Best of all, lines of credit can change. A line of credit is one of the few types of personal loans that allow you to borrow more and more when you build up a good repayment history. Most finance experts advise that you can request a higher credit limit after about 6 months. The flexibility and ease of a Kansas line of credit make it worthwhile to get one.
Is it good to have a personal line of credit?
Yes, it could be good to have a personal line of credit. It could be a quick and easy source of cash for emergencies or major projects. A line of credit may also be more affordable than a credit card.
Many people with bad credit or no credit choose a personal line of credit over a credit card. A personal line of credit that doesn't require a hard credit check may provide them with more opportunities than a traditional credit card. That's one of the major selling points of lines of credit in Kansas.
What are the cons of a line of credit?
Downsides or disadvantages to some line of credit could be:
They have a variable interest rate which means you could be paying higher interest every month. Interest rate is dependent upon the amount of principal that is taken out, the less that the consumer draws, the less they are paying in interest.
Sometimes, the monthly payments may only be towards the interest and not the main balance. So, you might have to make a balloon payment at the end of the term. However, it is important to know that not all line of credit products are set up this way.
They may require collateral. Failure to repay could result in you losing that collateral to the lender or bank. A Net Pay Advance Kansas line of credit is an unsecured loan. We don't think people should risk losing their home or car if they need a little bit of cash.
Unsecured personal lines of credit may be at a higher fee than secured since there is no collateral against the loan.
Application fees, maintenance fees, and service fees might apply. These fees are in addition to your monthly payments. Some companies stay quiet on their fees. At Net Pay Advance, we believe in transparency. You can see a list of all our rates and terms for our Kansas line of credit here.
Do lines of credit affect credit score?
At Net Pay Advance, a Kansas line of credit won't impact your credit score. We don't run a hard credit check – there's no impact to your credit with our application. We don't believe that people deserve to be judged on their credit score when 1/3 of people don't have stellar credit. It's more common than we think.
Because we believe in helping people regardless of credit, our loans also don't impact your credit score either way.
However, for other lenders, lines of credit can affect credit scores in the same way a credit card account does. It can impact your credit score in the following ways:
Available credit on your line of credit can help or hurt your credit utilization, which in turn contributes to 30% of your FICO score. Timely payments on your line of credit are beneficial to your credit score. Missed payments can hurt your credit score.
When you have a long-standing line of credit, over time it adds to the length of your credit history which could help your credit score.
Applying for a line of credit that requires a hard credit check could negatively impact your credit score regardless of if you're approved or denied.
APPLY FOR A KANSAS PERSONAL LINE OF CREDIT
What is a personal installment loan and how does it work?
A personal installment loan lets you borrow a fixed amount of money from a lender and pay back in small payments, or installments, over time. You are required to make regular scheduled payments over a period of time.
For some lenders, their installment loan may have a time span of 12-60 months, although some can run longer. When you fully repay your loan, your account is closed, and you'll need to apply for a new loan if you require more money.
Note: Net Pay Advance does offer installment loans, but only in the state of Texas.
Personal installment loans may be unsecured or secured. Unsecured loans do not require collateral and the lender determined your likelihood of repaying based on your finances and credit. Secured personal installment loans are backed by a savings account or a certificate of deposit as collateral.
Borrowers often choose personal installment loans for debt consolidation, major medical expenses, large purchases, emergency expenses, etc.
Is a personal installment loan the same as a line of credit?
No, a personal installment loan is not the same as a line of credit. A personal installment loan offers you a fixed amount of money at a fixed rate of interest over a fixed time period. This is different from a line of credit where you can borrow from a set amount of money at a variable interest rate over a period of time known as the draw period.
A line of credit is more flexible. A personal installment loan is more rigid.
What is one benefit of taking a line of credit vs an installment loan?
In our 2022 survey we found that 64% of borrowers choose a certain loan product if there is a longer time period to pay it back. A Net Pay Advance Kansas line of credit allows you the flexibility of borrowing money continually till you hit the preset credit limit. Installment loans do not offer that flexibility. With a personal installment loan, you get a fixed amount of money. You receive the amount loaned at one time and then repay the balance over time, without the ability to loan again until it's repaid.
What is one benefit of taking an installment loan vs line of credit?
Some people prefer the convenience of a 1-time loan, like an installment loan. They like to know that once they pay off their loan, they can close their loan without any issues. Their goal is to rely on their own finances after they pay off their installment loan. Some borrowers feel that with a line of credit, it's too easy to access fast cash.
Personal loans and lines of credit: frequently asked questions (FAQs)
We have the answers to some of the most commonly asked questions when it comes to personal installment loans and lines of credit. Let's explore them!
How to qualify?
The eligibility criteria for both personal loans and lines of credit at Net Pay Advance are:
Applicant needs to be of legal age (18 or older)
They must have a resident address in the state they're applying from. We offer payday loans in CA, TX, & KS. We offer line of credit in KS. We offer installment loans in TX.
They need to have a bank account in their name that has been active for at least 30 days
Meeting these criteria does not guarantee approval, but we encourage you to apply if you meet the requirements above.
At Net Pay Advance, there is no hard credit check for either type of loan. We work with people with bad credit, good credit, and no credit.
To qualify for a personal loan or a line of credit from other lenders, you'll likely need:
Credit score of 640 and above can get you a better APR (Annual Rate Percentage). Some lenders may accept borrowers with lower or no credit, but they will protect themselves by lending at a higher interest rate.
Debt-to-income ratio of 35% or below is preferred
Payment history showing timely payments increases your chances of getting approved
Steady income is necessary to qualify for either type of loan
Some lenders may require you to be in better credit standing to qualify for a line of credit as compared to personal loans.
What are the maximum amounts you can get?
For a line of credit, Net Pay Advance offers a maximum amount of $3,000 in Kansas. Net Pay Advance does not offer Kansas personal installment loans.
For other lenders, the maximum loan amount depends on the appraised value of your collateral after deducting the balance on your mortgage if any.
Repaying process
A personal installment loan requires you to make monthly payments of a fixed amount. You'll pay down the full amount over the course of several months.
A line of credit may require you to make monthly minimum payments on the interest of amounts drawn from your balance. To end the loan, you'd need to repay the remaining balance as a lump sum.
How does interest rate work?
In case of personal loans, you are charged interest on the principal you borrowed. It is a fixed rate of interest.
Other lenders may offer interest rate ranges in between 4.49% and 35.99%. But often lower rates are only reserved for individuals with an excellent credit rating.
A line of credit requires you to pay interest only on the amount borrowed from your preset credit. Interest is not paid on the unused portion. The rate of interest is variable, which means it can change every month.
For a complete list of rates and terms at Net Pay Advance, click here.
Are there any fees?
Other personal installment loan lenders may have the following fees:
Application fee
Origination fee
Prepayment penalty
Overdue or late payment fee
Fee for returned checks
Payment protection insurance fee
Line of credit fees look a little different.
At Net Pay Advance, you can review our rates and terms any time. Our Kansas line of credit customers pay the following fees:
2% of their total outstanding principal + applicable interest and fees at the end of each billing cycle.
If payment is missed, there's a late fee of $5-$10 depending on how much is owed.
To close the line of credit, they need to repay the loan along with interest.
Line of credit with other lenders may have the fees listed above, plus the following fees:
Application fee
Maintenance fee
Annual service fee
Personal installment loan Vs personal line of credit

Personal Installment Loan

Personal Line of Credit

1. It involves a fixed sum of money lent

2. It is a revolving credit
2. Monthly

payments of a fixed amount

2. Payments of variable amounts as long as they meet the monthly requirements
3. Interest charges apply to all payments
3. Interest applies only to the amount drawn
4. Fixed interest rate
4. Variable interest rate
5. You only borrow one initial lump sum
5. Flexibility to draw money as needed
6. No balloon payments
6. Balloon payment at the end of the term
Learn More
Take this quiz below to determine if a Kansas personal installment loan or personal line of credit is right for you.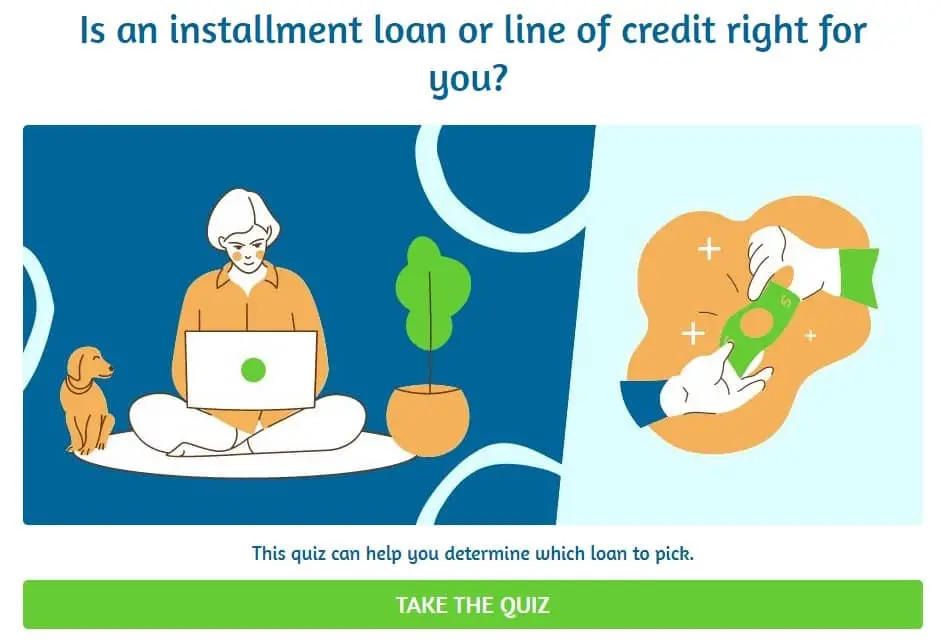 Closing thoughts:
People need financing for a plethora of reasons. If you ever find yourself in need of some cash, don't worry, we've got your back. Apply for a loan today!
Choosing a personal loan can be a tough decision. We hope our insights can help you pick one over the other depending on your needs and circumstances. Each type of loan has its own set of advantages that can benefit you. At Net Pay Advance we offer several kinds of personal loans. If you're looking for something a little different, we recommend checking out our additional resources: