Want to get in touch with us? Here's how you can
Contacting us or any business shouldn't be difficult at all. After all, businesses exist to serve customers. Being available to answer questions and resolve issues is what any customer support team aims to do. Here, our customer support team talks about the many ways you can reach us.
What makes a business better than others? Is it just the quality of product and services? Or is it based on awards and recognition alone? The best business is one that cares about its customers. Such businesses not only focus on improving their products and services, but they also go above and beyond to cater to their customers.
Customer service does not end as soon as a purchase is made. In fact, after-sales service is a crucial component when it comes to building customer loyalty.
As a company, Net Pay Advance is committed to providing support to our customers at every stage. From approving loan applications to creating financial literacy resources, we try to offer the best to our customers.
We train our staff to be friendly when interacting with customers. Check out these reviews: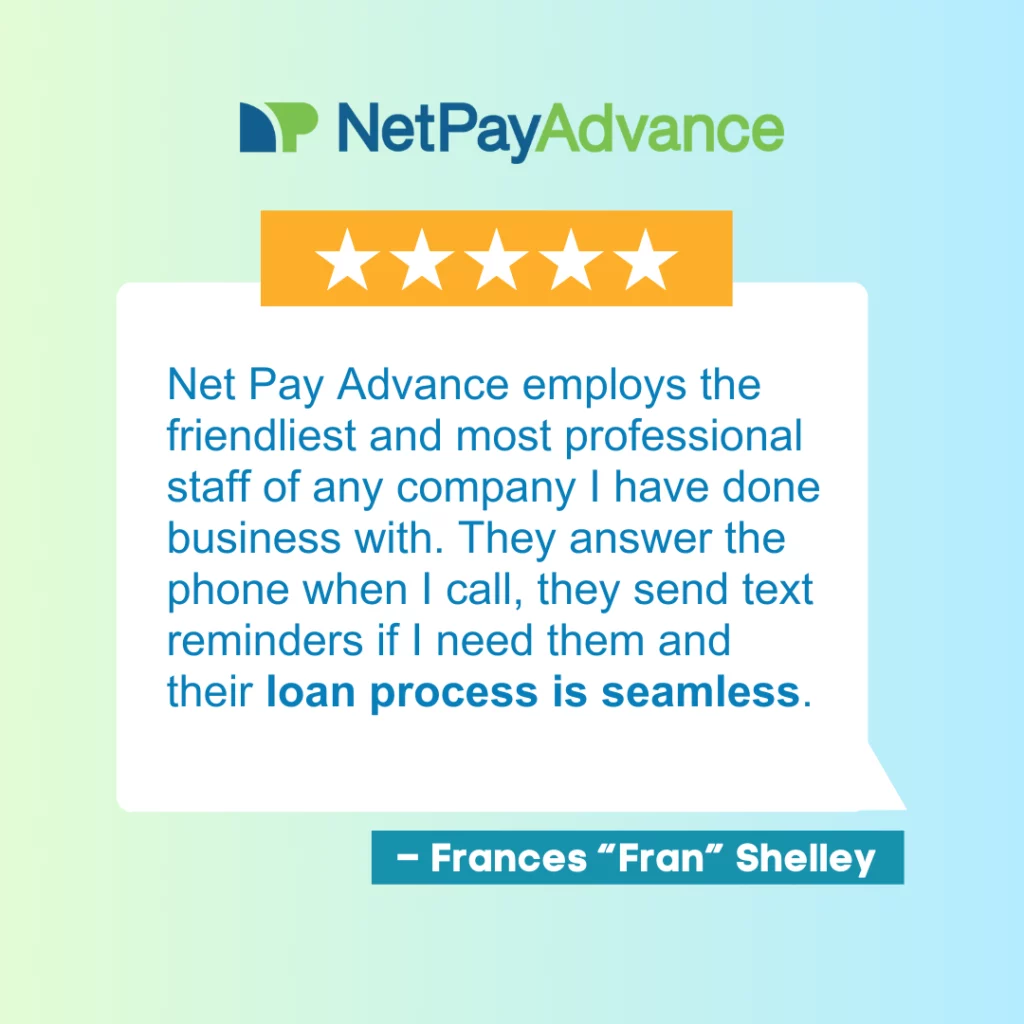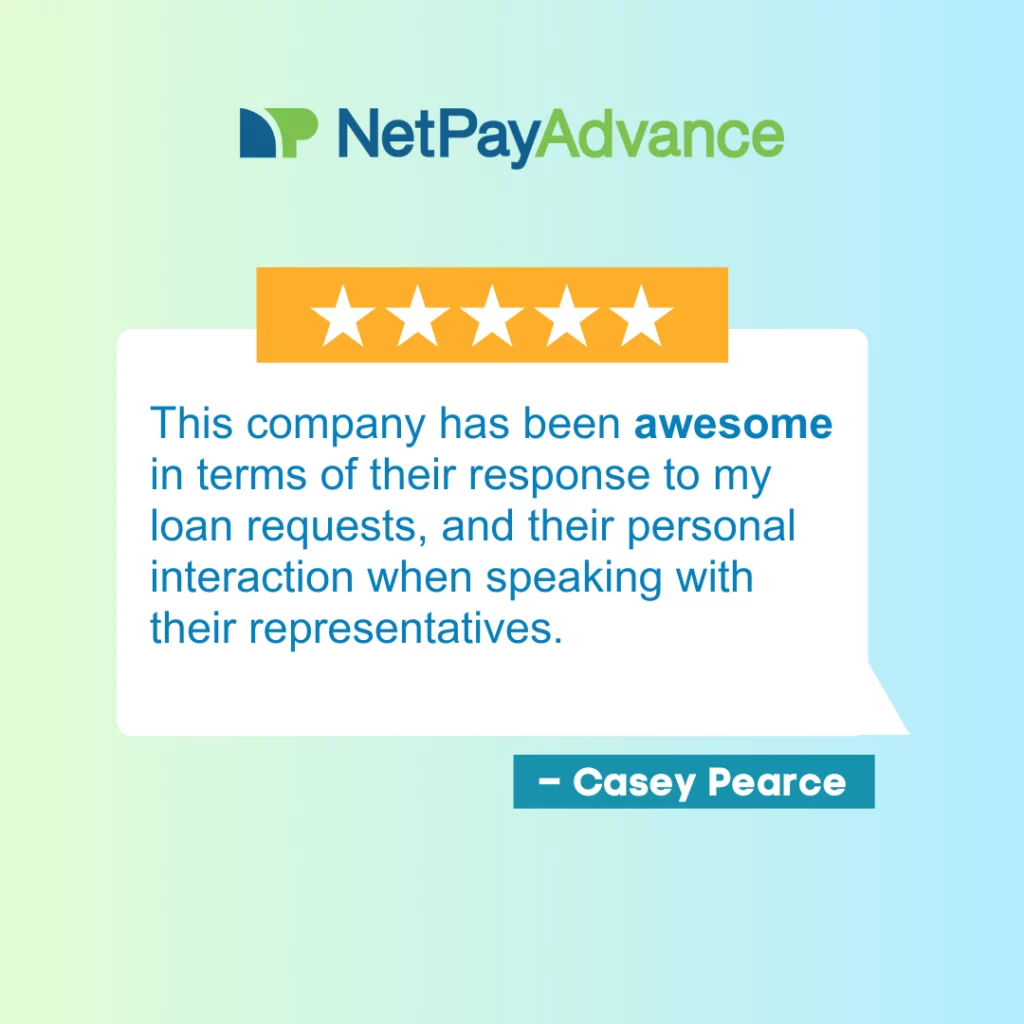 Also, Net Pay Advance is a legit and trusted lender with thousands of happy customers. Read more customer reviews.
How to contact Net Pay Advance
We understand that not every customer prefers the same mode of communication. Some prefer to just talk to someone while others choose options that don't require directly talking to one another. There are three simple yet effective ways to contact our team. They are: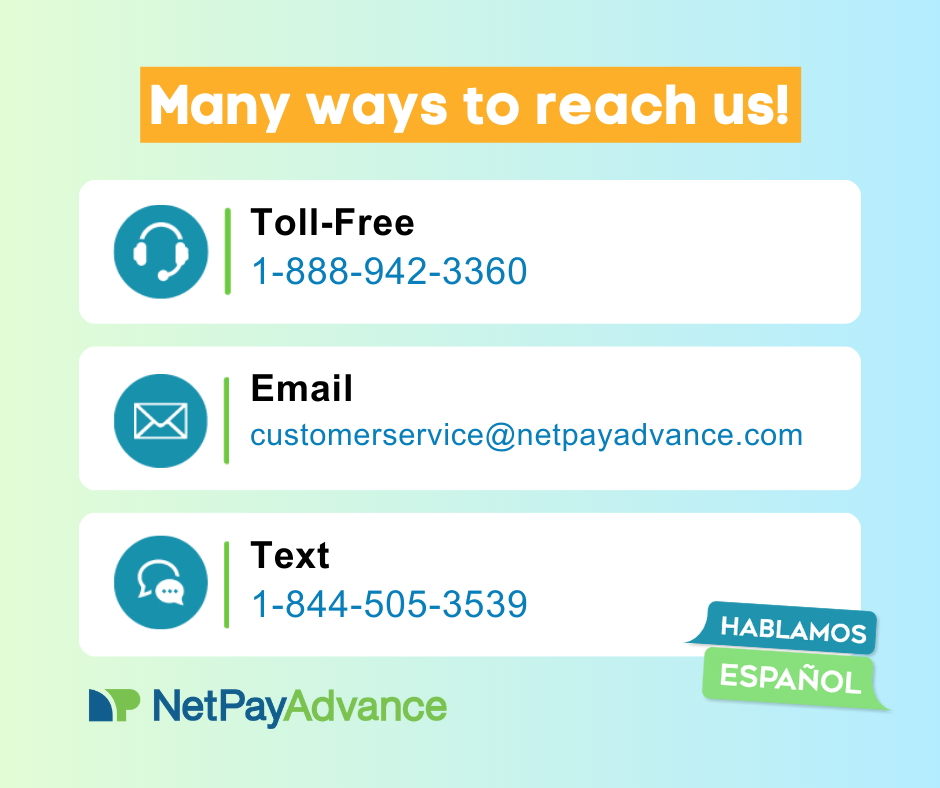 1. Toll-free call at the Net Pay Advance phone number: 1-888-942-3320
It is very simple. Grab your phone and call us on the toll-free Net Pay Advance phone number. Our customer service team will be there to assist you with anything you need. They're trained to answer any questions you may have along with directing you towards any other resources you may need.
2. Email communication with customer service
Not a fan of over-the-phone conversations? Phone network a little spotty? No worries, you can email us instead at [email protected] and our team will respond as soon as they can.
How it all works when a customer texts us
Depending on where a customer is in their application process, they may receive an automated or manual text response from us. Applicants are more likely to get a real person. Current customers may start with an automated prompt to get them where they need to go fast. This helps speed up your process and get you to where you want to go as soon as possible.
Texting outside of business hours is likely to result in an automated response from us. It is to inform the customer what our business hours are and that we'll get back to them at the as soon as we can.
Our Customer Service Manager, Kelsey says, "We answer communications in the order received".
When we receive text messages from customers, they are categorized based on loan status. This helps our advocates to efficiently respond to text messages so that we can better serve you. It keeps our response time fast.
Kelsey adds, "We [typically] respond within 1-2 business days."
Are there questions we can't answer via text or email?
This is a question we're often asked. To answer it in the best way, we decided to speak with Jamie, Business Integration Manager at Net Pay Advance.
She responded, "99% of the time, we can handle all questions via text or email".
Jamie continued, "If the customer texts us to change their number, we may ask them to verify their [account]"
To maintain enhanced security and confidentiality in these cases, we often ask for a few different types of verification. First, it could be something the customer knows, such as date of birth or social security number. Second, it could be something that the customer has, such as a phone number or email address. Typically, these two forms of verification are sufficient.
Discover what MFA (Multi-factor Authentication) is and why we use it for our loan applications.
We recently launched new security measures. We're always updating to improve our service and security. Kelsey, Customer Service Lead, shares: "We no longer can add debit cards via text or email so we would advise the customer to add online or call."
Log into your account to add a debit card or simply call us at 1-888-942-3320. It's easy to do. Having a valid debit card on-file could even help speed up your funding time in the future!
We have instructions on how to add a debit card to your account (with pictures) for your reference!
Are there security measures protecting customers during email and text interactions?
At Net Pay Advance, we take security very seriously, it's the same for text.
Not only do we follow measures to secure customers from external elements, but we also redact sensitive information such as credit card numbers from customer texts and email summaries.
This ensures that even our staff aren't privy to information shared with us after a certain number of days! Regardless of if you text, call, or email us, your information stays secure.
We're happy to hear from you!
At Net Pay Advance, we strive to offer stellar customer service to our customers. That's just one way we create the best online payday loans experience for you. We aim to answer questions and assist in any way possible.
Got questions for us? Contact us today!